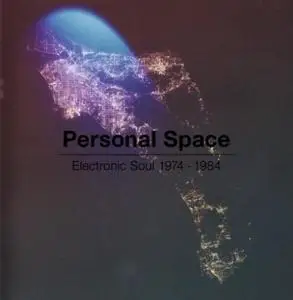 VA - Personal Space: Electronic Soul 1972-1984 (2012)
XLD Rip | FLAC (tracks, cue, log) - 465 MB | MP3 CBR 320 kbps - 155 MB
1:04:26 | Soul, Funk, Disco, Electronic | Label: Chocolate Industries
There's underground, and then there's the small-scale independent releases compiled on Personal Space: Electronic Soul 1974-1984. If rhythm box and/or synthesizer-armed cult artists such as Timmy Thomas, Shuggie Otis, and Mandré were just under the surface, much of this was dislodged from beneath the earth's crust. Disco freaks will recognize the name of Boris Midney, who wrote and released Makers' breathy and squelchy "Don't Challenge Me." Radio DJ Lynn Tolliver, member of the Broadcasters Hall of Fame, was behind Sexual Harassment's early-'80s electro-sleaze; he's present with the New Year's "My Bleeding Wound," a howling, lewd, reverb-soaked blues number. Deborah Washington, who performed with Cincinnati bluesman husband Albert Washington, appears with "Shortest Lady" – synth funk so distant and lo-fi that it probably wasn't intentional to have her sound like she'd need to grow four feet taller to be near the microphone.
Then there's the Contours' Jerry Green, whose harsh and desperate "I Finally Found the Love I Need" is the sonic opposite of what his onetime peers were releasing during the early '80s (think Marvin Gaye's "Sexual Healing" and Dennis Edwards' "Don't Look Any Further"). Otherwise, these artists weren't being sought by anyone. Deeper highlights come in the form of Spontaneous Overthrow's "All About Money" (a spaced-out, sobering rumination), Starship Commander Woo Woo's "Master Ship" (Bill Summers' "Call It What You Want" as instrumental space-exile theme), Cotillion's "If You Give a Dance" (slippery, charismatic funk à la Junie Morrison's solo work), and two tracks from Jeff Phelps' charming 1985 album Magnetic Eyes (reissued in 2010 by Tomlab). Like the releases from the label's distributor, The Numero Group, the disc – put together by veteran DJ/compiler Dante Carfagna – has limited appeal beyond those who seek marginal music that reached few ears. There's a paragraph of informative text for each track, along with sleeve and label scans, to place all of this enjoyable oddness into some kind of context.
Tracklist
1. Jeff Phelps – Excerpts From Autumn (01:41)
2. Guitar Red – Disco From A Space Show (03:38)
3. Jerry (J.G.) Green "The Voice Master" – I Finally Found The Love I Need (04:12)
4. Key & Cleary – A Man (03:56)
5. Spontaneous Overthrow – All About Money (05:39)
6. Cotillion – If You Give A Dance (04:08)
7. USAries – Are You Ready To Come? (With Me) Pt.1 (03:12)
8. Makers – Don't Challenge Me (03:04)
9. T. Dyson And Company – It's All Over (03:28)
10. Starship Commander Woo Woo – Master Ship (Excerpt) (06:23)
11. Johnnie Walker – Love Vibrator (02:35)
12. Jeff Phelps – Super Lady (03:26)
13. Deborah Washington & The Astros – Shortest Lady (03:57)
14. Steve Elliott – One More Time (04:00)
15. USAries – Are You Ready To Come? (With Me) Pt.2 (03:18)
16. The New Year – My Bleeding Wound (03:30)
17. Otis G. Johnson – Time To Go Home (04:19)
X Lossless Decoder version 20120226 (139.1)

XLD extraction logfile from 2012-03-28 14:08:57 +0000

Various Artists / Personal Space

Used drive : HL-DT-ST DVDRAM GP30NB20 (revision 1.00)

Ripper mode : XLD Secure Ripper
Disable audio cache : OK for the drive with a cache less than 1375KiB
Make use of C2 pointers : NO
Read offset correction : 6
Max retry count : 100
Gap status : Analyzed, Appended

TOC of the extracted CD
Track | Start | Length | Start sector | End sector
––––––––––––––––––––––––––––-
1 | 00:00:00 | 01:40:38 | 0 | 7537
2 | 01:40:38 | 03:37:74 | 7538 | 23886
3 | 05:18:37 | 04:11:39 | 23887 | 42750
4 | 09:30:01 | 03:55:65 | 42751 | 60440
5 | 13:25:66 | 05:39:01 | 60441 | 85866
6 | 19:04:67 | 04:08:17 | 85867 | 104483
7 | 23:13:09 | 03:12:01 | 104484 | 118884
8 | 26:25:10 | 03:04:20 | 118885 | 132704
9 | 29:29:30 | 03:27:67 | 132705 | 148296
10 | 32:57:22 | 06:22:38 | 148297 | 176984
11 | 39:19:60 | 02:35:21 | 176985 | 188630
12 | 41:55:06 | 03:25:62 | 188631 | 204067
13 | 45:20:68 | 03:57:17 | 204068 | 221859
14 | 49:18:10 | 04:00:04 | 221860 | 239863
15 | 53:18:14 | 03:18:29 | 239864 | 254742
16 | 56:36:43 | 03:30:21 | 254743 | 270513
17 | 60:06:64 | 04:19:24 | 270514 | 289962

AccurateRip Summary
Disc not found in AccurateRip DB.

All Tracks
Album gain : -9.42 dB
Peak : 0.988525
Statistics
Read error : 0
Jitter error (maybe fixed) : 0
Retry sector count : 0
Damaged sector count : 0

Track 01
Filename : /CD rips/Various Artists - Personal Space (Unknown Year) [FLAC]/01 - Excerpts From Autumn.flac
/CD rips/Various Artists - Personal Space (Unknown Year) [V0]/01 - Excerpts From Autumn.mp3
Pre-gap length : 00:02:00

Track gain : -6.97 dB
Peak : 0.988525
CRC32 hash (test run) : AD704C91
CRC32 hash : AD704C91
CRC32 hash (skip zero) : 8C5D8F37
AccurateRip signature : 2BD85B41
->Track not present in AccurateRip database.
Statistics
Read error : 0
Jitter error (maybe fixed) : 0
Retry sector count : 0
Damaged sector count : 0

Track 02
Filename : /CD rips/Various Artists - Personal Space (Unknown Year) [FLAC]/02 - Disco From A Space Show.flac
/CD rips/Various Artists - Personal Space (Unknown Year) [V0]/02 - Disco From A Space Show.mp3

Track gain : -7.39 dB
Peak : 0.988525
CRC32 hash (test run) : AE7B93F8
CRC32 hash : AE7B93F8
CRC32 hash (skip zero) : 33836167
AccurateRip signature : CA4E24CC
->Track not present in AccurateRip database.
Statistics
Read error : 0
Jitter error (maybe fixed) : 0
Retry sector count : 0
Damaged sector count : 0

Track 03
Filename : /CD rips/Various Artists - Personal Space (Unknown Year) [FLAC]/03 - I Finally Found The Love I Need.flac
/CD rips/Various Artists - Personal Space (Unknown Year) [V0]/03 - I Finally Found The Love I Need.mp3

Track gain : -10.11 dB
Peak : 0.988525
CRC32 hash (test run) : 7D3658DC
CRC32 hash : 7D3658DC
CRC32 hash (skip zero) : 5DC920FE
AccurateRip signature : 77CEEF54
->Track not present in AccurateRip database.
Statistics
Read error : 0
Jitter error (maybe fixed) : 0
Retry sector count : 0
Damaged sector count : 0

Track 04
Filename : /CD rips/Various Artists - Personal Space (Unknown Year) [FLAC]/04 - I'm A Man.flac
/CD rips/Various Artists - Personal Space (Unknown Year) [V0]/04 - I'm A Man.mp3

Track gain : -6.55 dB
Peak : 0.988525
CRC32 hash (test run) : 3800ADC1
CRC32 hash : 3800ADC1
CRC32 hash (skip zero) : 68041C5B
AccurateRip signature : F6A0BA29
->Track not present in AccurateRip database.
Statistics
Read error : 0
Jitter error (maybe fixed) : 0
Retry sector count : 0
Damaged sector count : 0

Track 05
Filename : /CD rips/Various Artists - Personal Space (Unknown Year) [FLAC]/05 - Money.flac
/CD rips/Various Artists - Personal Space (Unknown Year) [V0]/05 - Money.mp3

Track gain : -8.11 dB
Peak : 0.988525
CRC32 hash (test run) : 7B973EF4
CRC32 hash : 7B973EF4
CRC32 hash (skip zero) : 87CD1184
AccurateRip signature : 5D39D0C0
->Track not present in AccurateRip database.
Statistics
Read error : 0
Jitter error (maybe fixed) : 0
Retry sector count : 0
Damaged sector count : 0

Track 06
Filename : /CD rips/Various Artists - Personal Space (Unknown Year) [FLAC]/06 - If You Give A Dance.flac
/CD rips/Various Artists - Personal Space (Unknown Year) [V0]/06 - If You Give A Dance.mp3

Track gain : -9.69 dB
Peak : 0.988525
CRC32 hash (test run) : 5CF59666
CRC32 hash : 5CF59666
CRC32 hash (skip zero) : 5908A3D4
AccurateRip signature : 5BF75543
->Track not present in AccurateRip database.
Statistics
Read error : 0
Jitter error (maybe fixed) : 0
Retry sector count : 0
Damaged sector count : 0

Track 07
Filename : /CD rips/Various Artists - Personal Space (Unknown Year) [FLAC]/07 - Are You Ready To Come?.flac
/CD rips/Various Artists - Personal Space (Unknown Year) [V0]/07 - Are You Ready To Come?.mp3

Track gain : -9.19 dB
Peak : 0.988525
CRC32 hash (test run) : 2C6306DD
CRC32 hash : 2C6306DD
CRC32 hash (skip zero) : 66CF3043
AccurateRip signature : A75C51BC
->Track not present in AccurateRip database.
Statistics
Read error : 0
Jitter error (maybe fixed) : 0
Retry sector count : 0
Damaged sector count : 0

Track 08
Filename : /CD rips/Various Artists - Personal Space (Unknown Year) [FLAC]/08 - Don't Challenge Me.flac
/CD rips/Various Artists - Personal Space (Unknown Year) [V0]/08 - Don't Challenge Me.mp3

Track gain : -9.09 dB
Peak : 0.988525
CRC32 hash (test run) : EC4B7824
CRC32 hash : EC4B7824
CRC32 hash (skip zero) : D645C791
AccurateRip signature : 30E84BAE
->Track not present in AccurateRip database.
Statistics
Read error : 0
Jitter error (maybe fixed) : 0
Retry sector count : 0
Damaged sector count : 0

Track 09
Filename : /CD rips/Various Artists - Personal Space (Unknown Year) [FLAC]/09 - It's All Over.flac
/CD rips/Various Artists - Personal Space (Unknown Year) [V0]/09 - It's All Over.mp3

Track gain : -9.13 dB
Peak : 0.988525
CRC32 hash (test run) : 7E0C4DA8
CRC32 hash : 7E0C4DA8
CRC32 hash (skip zero) : FDFE5512
AccurateRip signature : 99867E5F
->Track not present in AccurateRip database.
Statistics
Read error : 0
Jitter error (maybe fixed) : 0
Retry sector count : 0
Damaged sector count : 0

Track 10
Filename : /CD rips/Various Artists - Personal Space (Unknown Year) [FLAC]/10 - Master Ship (Excerpt).flac
/CD rips/Various Artists - Personal Space (Unknown Year) [V0]/10 - Master Ship (Excerpt).mp3

Track gain : -9.50 dB
Peak : 0.988525
CRC32 hash (test run) : 4FD072B4
CRC32 hash : 4FD072B4
CRC32 hash (skip zero) : 1437E754
AccurateRip signature : 3F857892
->Track not present in AccurateRip database.
Statistics
Read error : 0
Jitter error (maybe fixed) : 0
Retry sector count : 0
Damaged sector count : 0

Track 11
Filename : /CD rips/Various Artists - Personal Space (Unknown Year) [FLAC]/11 - Love Vibrator.flac
/CD rips/Various Artists - Personal Space (Unknown Year) [V0]/11 - Love Vibrator.mp3

Track gain : -8.62 dB
Peak : 0.988525
CRC32 hash (test run) : 662C7F8B
CRC32 hash : 662C7F8B
CRC32 hash (skip zero) : 5B040996
AccurateRip signature : 7F36B9F9
->Track not present in AccurateRip database.
Statistics
Read error : 0
Jitter error (maybe fixed) : 0
Retry sector count : 0
Damaged sector count : 0

Track 12
Filename : /CD rips/Various Artists - Personal Space (Unknown Year) [FLAC]/12 - Super Lady.flac
/CD rips/Various Artists - Personal Space (Unknown Year) [V0]/12 - Super Lady.mp3

Track gain : -7.67 dB
Peak : 0.988525
CRC32 hash (test run) : A56AC4D7
CRC32 hash : A56AC4D7
CRC32 hash (skip zero) : 657C4361
AccurateRip signature : D8A56C81
->Track not present in AccurateRip database.
Statistics
Read error : 0
Jitter error (maybe fixed) : 0
Retry sector count : 0
Damaged sector count : 0

Track 13
Filename : /CD rips/Various Artists - Personal Space (Unknown Year) [FLAC]/13 - Shortest Lady.flac
/CD rips/Various Artists - Personal Space (Unknown Year) [V0]/13 - Shortest Lady.mp3

Track gain : -11.34 dB
Peak : 0.988525
CRC32 hash (test run) : FD001C1C
CRC32 hash : FD001C1C
CRC32 hash (skip zero) : FC1EA8E8
AccurateRip signature : 5B906E57
->Track not present in AccurateRip database.
Statistics
Read error : 0
Jitter error (maybe fixed) : 0
Retry sector count : 0
Damaged sector count : 0

Track 14
Filename : /CD rips/Various Artists - Personal Space (Unknown Year) [FLAC]/14 - One More Time.flac
/CD rips/Various Artists - Personal Space (Unknown Year) [V0]/14 - One More Time.mp3

Track gain : -9.55 dB
Peak : 0.988525
CRC32 hash (test run) : 5810CE65
CRC32 hash : 5810CE65
CRC32 hash (skip zero) : AC88100A
AccurateRip signature : 10566CE2
->Track not present in AccurateRip database.
Statistics
Read error : 0
Jitter error (maybe fixed) : 0
Retry sector count : 0
Damaged sector count : 0

Track 15
Filename : /CD rips/Various Artists - Personal Space (Unknown Year) [FLAC]/15 - Are You Ready To Come?.flac
/CD rips/Various Artists - Personal Space (Unknown Year) [V0]/15 - Are You Ready To Come?.mp3

Track gain : -8.16 dB
Peak : 0.988525
CRC32 hash (test run) : 1B98656B
CRC32 hash : 1B98656B
CRC32 hash (skip zero) : 1DFEE42C
AccurateRip signature : 14ABC4F2
->Track not present in AccurateRip database.
Statistics
Read error : 0
Jitter error (maybe fixed) : 0
Retry sector count : 0
Damaged sector count : 0

Track 16
Filename : /CD rips/Various Artists - Personal Space (Unknown Year) [FLAC]/16 - My Bleeding Wound.flac
/CD rips/Various Artists - Personal Space (Unknown Year) [V0]/16 - My Bleeding Wound.mp3

Track gain : -9.65 dB
Peak : 0.988525
CRC32 hash (test run) : A3673B56
CRC32 hash : A3673B56
CRC32 hash (skip zero) : 3AA73958
AccurateRip signature : 21D4C2A1
->Track not present in AccurateRip database.
Statistics
Read error : 0
Jitter error (maybe fixed) : 0
Retry sector count : 0
Damaged sector count : 0

Track 17
Filename : /CD rips/Various Artists - Personal Space (Unknown Year) [FLAC]/17 - Time To Go Home.flac
/CD rips/Various Artists - Personal Space (Unknown Year) [V0]/17 - Time To Go Home.mp3

Track gain : -10.56 dB
Peak : 0.988525
CRC32 hash (test run) : 0BEA635A
CRC32 hash : 0BEA635A
CRC32 hash (skip zero) : E80E6756
AccurateRip signature : D5C56AD8
->Track not present in AccurateRip database.
Statistics
Read error : 0
Jitter error (maybe fixed) : 0
Retry sector count : 0
Damaged sector count : 0

No errors occurred

End of status report