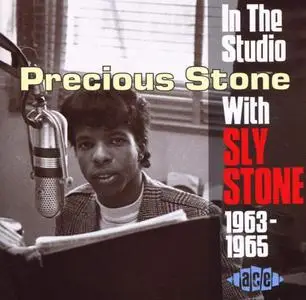 VA - Precious Stone: In The Studio With Sly Stone 1963-1965 (1994)
XLD Rip | FLAC (tracks, cue, log) - 402 MB | MP3 CBR 320 kbps - 169 MB
1:13:59 | Rhythm & Blues, Soul | Label: Ace
Before forming the Family Stone, Sly Stone gained a lot of experience in the studio as the virtual in-house producer for the San Francisco-based Autumn label. The sessions he worked on during this era (performed by both himself and other artists) have appeared on numerous scattershot compilations. This 28-song anthology is the most comprehensive and intelligently assembled of these, including Sly solo performances, Sly collaborations with Billy Preston, and obscure soul-pop sides by Bobby Freeman, Gloria Scott, George & Teddy, and others. Over half of the cuts were previously unissued, and the lengthy liner notes provide an in-depth overview of his early accomplishments. Only serious collectors should seek this out, though. While Autumn afforded Stone the opportunity to experiment in the studio and devise various primitive collisions of soul and pop, his compositional, instrumental, and vocal skills were still in a very formative (if very promising) stage. Much of this is routinely pleasant, if lightly eccentric, period pop-soul, with occasional bursts of inspiration like Sly's wild scat vocals on "Scat Swim," and the folk-rockish "As I Get Older," and a few songs that would be reworked for inclusion on the first couple of Family Stone albums.
Tracklist
1. Sly Stone & Rose - The Swim (2:42)
2. Sly Stone - Scat Swim (2:27)
3. Gloria Scott & The Tonettes - I Taught Him (2:08)
4. Gloria Scott & The Tonettes - Don't Say I Didn't Warn You (2:31)
5. Sly Stone - Help Me With My Broken Heart (3:09)
6. Sly Stone - Out of Sight (3:07)
7. Emile O'Connor - The Nerve of You (2:52)
8. Emile O'Connor - Every Dog Has His Day (2:18)
9. Sly Stone - On Broadway (2:35)
10. Sly Stone - Searchin' (2:33)
11. Sly Stone - Lord, Lord (2:25)
12. Sly Stone - The Seventh Son (2:18)
13. Sly Stone & Sal - The Jerk (2:45)
14. Bobby Freeman - That Little Old Heartbreaker Me (2:56)
15. Bobby Freeman - I'Ll Never Fall in Love Again (2:37)
16. Sly Stone & Billy Preston - Ain't That Lovin' You Baby (2:31)
17. Sly Stone - Buttermilk (Part 1) (2:14)
18. George & Teddy - Fake It (3:25)
19. George & Teddy - Laugh (2:14)
20. Sly Stone & Billy Preston - Little Latin Lupe Lu (2:21)
21. Sly Stone & Freddie - Dance All Night (2:55)
22. Sly Stone - Temptation Walk (2:16)
23. Sly Stone - Underdog [Demo] (3:33)
24. Sly Stone & Billy Preston - Can't You Tell I Love Her [Demo] (3:03)
25. Sly Stone & Billy Preston - Life of Fortune and Fame [Demo] (2:26)
26. Sly Stone & Billy Preston - Take My Advice (3:05)
27. Sly Stone & Billy Preston - As I Get Older [Demo] (3:00)
28. Sly Stone - Radio Spot (1:33)