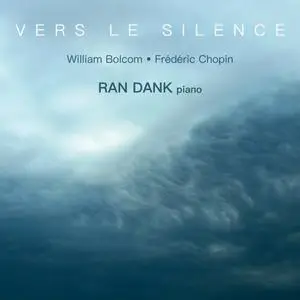 Ran Dank - Vers Le Silence: William Bolcom - Frédéric Chopin (2021)
FLAC tracks | 1:13:15 | 170 Mb
Genre: Classical / Label: Avie Records
At first glance, the musical worlds of Frédéric Chopin and William Bolcom would seem strange bedfellows. But on his solo debut recording, Israeli American pianist Ran Dank makes a convincing case for pairing the two composers.The former, Poland's national composer, is synonymous with pianistic panache. The latter, a leading American, possesses one of contemporary music's most bold and inventive voices. Juxtaposing the works of these two pianist-composers reveals their common affinity for the keyboard and ear for sound and sense of structure.William Bolcom's Twelve New Etudes won the Pulitzer Prize in 1988. Wonderfully eclectic, they move effortlessly between one musical idiom to another with endless ingenuity, exhibiting all the traits of Bolcom's compositional craft. Chopin equally excelled with his Etudes, but Dank turns to his plentiful Polonaises, Mazurkas and Waltzes which range in style from heroic, to dark and brooding, haunting and beautiful.
Track List:
01. Polonaise in C Minor, Op. 40 No. 2 (9:32)
02. 12 New Etudes for Piano, Book I- I. Fast, Furious (0:53)
03. 12 New Etudes for Piano, Book I- II. Récitatif (4:26)
04. 12 New Etudes for Piano, Book I- III. Mirrors (1:55)
05. Mazurka in C Major, Op. 68 No. 1 (1:49)
06. Mazurka in G Minor, Op. 67 No. 2 (2:14)
07. Mazurka in A Minor, "Emile Gaillard" (3:01)
08. 12 New Etudes for Piano, Book II- IV. Scène d'oper (2:39)
09. 12 New Etudes for Piano, Book II- V. Butterflies, (2:23)
10. 12 New Etudes for Piano, Book II- VI. Nocturne (2:30)
11. Waltz in B Minor, Op. 69 No. 2 (3:56)
12. Waltz in A-Flat Major, Op. 42 (4:00)
13. 12 New Etudes for Piano, Book III- VII. Premonitio (3:03)
14. 12 New Etudes for Piano, Book III- VIII. Rag Infer (2:22)
15. 12 New Etudes for Piano, Book III- IX. Invention (3:11)
16. Polonaise in A-Flat Major, Op. 53 (7:33)
17. 12 New Etudes for Piano, Book IV- X. Vers Le Silen (7:16)
18. 12 New Etudes for Piano, Book IV- XI. Hi-jinks (2:07)
19. 12 New Etudes for Piano, Book IV- XII. Hymne à l' (6:20)
20. Mazurka in F Minor, Op. 68 No. 4 (2:13)
ANALYZER: auCDtect: CD records authenticity detector, version 0.8.2
Copyright © 2004 Oleg Berngardt. All rights reserved.
Copyright © 2004 Alexander Djourik. All rights reserved.


FILE: 01. Ran Dank - Polonaise in C Minor, Op. 40 No. 2.flac
Size: 27496973 Hash: 7CDF90E2686CA5D47ACFC888CFB84B38 Accuracy: -m40
Conclusion: CDDA 99%
Signature: 878C290844FA567785614500FF97C67641674E30
FILE: 02. Ran Dank - 12 New Etudes for Piano, Book I I. Fast, Furious.flac
Size: 2362552 Hash: 7068C1B65E114E3FC6D8509CB48C40CA Accuracy: -m40
Conclusion: CDDA 100%
Signature: 02CD961D117504349DB6CF77650A565170F07B04
FILE: 03. Ran Dank - 12 New Etudes for Piano, Book I II. Récitatif.flac
Size: 7842227 Hash: 607F68282B56F4F2493B388E13ED5C0E Accuracy: -m40
Conclusion: CDDA 76%
Signature: 9731EC57D3AC76F4A783FEE910856FA5E1B12450
FILE: 04. Ran Dank - 12 New Etudes for Piano, Book I III. Mirrors.flac
Size: 4136094 Hash: E71CDA6D0EAE197C88471F0AFCACBAB1 Accuracy: -m40
Conclusion: CDDA 100%
Signature: 4949D5F1AA4CA9BBE0369F73C74C51AD1CD399F4
FILE: 05. Ran Dank - Mazurka in C Major, Op. 68 No. 1.flac
Size: 5092632 Hash: 231403EC318210910283AE1E620B6559 Accuracy: -m40
Conclusion: CDDA 100%
Signature: D949C3A1152DE5E19A278E6D8A8844DA98A74845
FILE: 06. Ran Dank - Mazurka in G Minor, Op. 67 No. 2.flac
Size: 4844390 Hash: CCD48DF8CB9B53B3D7E23C338296363C Accuracy: -m40
Conclusion: CDDA 100%
Signature: 398AB458DA5746517DC4147BDB08F2778A9D23A5
FILE: 07. Ran Dank - Mazurka in A Minor, "Emile Gaillard".flac
Size: 8072044 Hash: 9AE6A6A53B430EF2EF1B6B6EDE64FA53 Accuracy: -m40
Conclusion: CDDA 100%
Signature: 8D719A15C733D39C142D9043219D02E2B36BB63F
FILE: 08. Ran Dank - 12 New Etudes for Piano, Book II IV. Scène d'opera.flac
Size: 6617544 Hash: 0023EC8E6CFD37010B7BA2EB658863D0 Accuracy: -m40
Conclusion: MPEG 89%
Signature: 6F983FAE96B1BE22ADDADE51884C6DFA7FE0F359
FILE: 09. Ran Dank - 12 New Etudes for Piano, Book II V. Butterflies, Hummingbirds.flac
Size: 5968833 Hash: 8EB74E4FEDA1D62C9EF1CEB8F218DE9B Accuracy: -m40
Conclusion: MPEG 93%
Signature: 8238DD83E119E03FD3FF218ED58C16EEB18EDB6B
FILE: 10. Ran Dank - 12 New Etudes for Piano, Book II VI. Nocturne.flac
Size: 4577985 Hash: 72A22A13CEBC3DB70695AED0C3D58115 Accuracy: -m40
Conclusion: MPEG 100%
Signature: E7A9066A33D82C3648FE4786671A26213BE6A966
FILE: 11. Ran Dank - Waltz in B Minor, Op. 69 No. 2.flac
Size: 9459920 Hash: C024C011B3B77CC50F7BCD4F61326FDD Accuracy: -m40
Conclusion: MPEG 97%
Signature: EB8F364BFCBB43AF19DBFE7FF8F4D2CAAFE47C72
FILE: 12. Ran Dank - Waltz in A-Flat Major, Op. 42.flac
Size: 11117093 Hash: 94025C8FA80562FEABF161ADA6214B2F Accuracy: -m40
Conclusion: CDDA 100%
Signature: 450F62883B99234750113CD673975CFEEBA9659B
FILE: 13. Ran Dank - 12 New Etudes for Piano, Book III VII. Premonitions.flac
Size: 6976282 Hash: 44EFA4928D4441210A215EF3A45675B2 Accuracy: -m40
Conclusion: CDDA 92%
Signature: 06C8342410B65C8E34A9D63ACD9804D6271FFF09
FILE: 14. Ran Dank - 12 New Etudes for Piano, Book III VIII. Rag Infernal (Syncopes apocalyptiques).flac
Size: 5799811 Hash: 2B68902CA8CBA907C95CA4550A2E0A99 Accuracy: -m40
Conclusion: CDDA 100%
Signature: 8F0515B0330F2813274C6BAEFB3B71BEAA64033B
FILE: 15. Ran Dank - 12 New Etudes for Piano, Book III IX. Invention.flac
Size: 5758656 Hash: 37D64E13536BCCB014D8E56B174E43A8 Accuracy: -m40
Conclusion: MPEG 93%
Signature: 3585FC92B9E463E1AD51E4DB3B47F1C6BA93D711
FILE: 16. Ran Dank - Polonaise in A-Flat Major, Op. 53.flac
Size: 24663270 Hash: 4B5304BC83A6187CEB772735F7B54D69 Accuracy: -m40
Conclusion: CDDA 100%
Signature: 56A922699700A1C8E41B05E4CB27CB767CF04AD1
FILE: 17. Ran Dank - 12 New Etudes for Piano, Book IV X. Vers Le Silence.flac
Size: 14536414 Hash: BFA7916CBF66FE9BAE99E80C067A4B3B Accuracy: -m40
Conclusion: CDDA 43%
Signature: 7F5DDD96E73C914C571D1758C43BD224436A66FD
FILE: 18. Ran Dank - 12 New Etudes for Piano, Book IV XI. Hi-jinks.flac
Size: 5194689 Hash: 79F65F6730A0263C29BF362478F39C4D Accuracy: -m40
Conclusion: CDDA 100%
Signature: CA1D4411B494982E49882504A98A25D9508C3F48
FILE: 19. Ran Dank - 12 New Etudes for Piano, Book IV XII. Hymne à l'amour.flac
Size: 17472272 Hash: F0A6D4F52AA7DD5D65DB9A69EC25CBDF Accuracy: -m40
Conclusion: CDDA 85%
Signature: 4AB9EAE19DC6B67C0721A8C04D06D2112AE21CB6
FILE: 20. Ran Dank - Mazurka in F Minor, Op. 68 No. 4.flac
Size: 4588246 Hash: 5A31992B0B45D516DA9104F60E60DDF3 Accuracy: -m40
Conclusion: CDDA 100%
Signature: 3DA943845F2DF7FAAD9C1D2A51AEFCEBAEE1371D