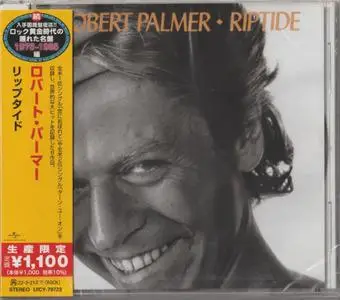 Robert Palmer - Riptide (1985) [2021, Japan]
Pop/Rock, Dance-Rock, R&B, Soul | EAC Rip | FLAC, Tracks+CUE+LOG+Scans (JPEG) | 35:25 | 230,25 Mb
Label: Island Records/Universal Music (Japan) | Cat.# UICY-79723 | Released: 2021-09-22 (1985)
"Riptide" is the 8th studio album by English singer Robert Palmer, released in November 1985 by Island Records. The album was recorded over a period of three months in 1985 at Compass Point Studios in Nassau, Bahamas. The album peaked at #5 on the UK Albums Chart and at #8 on the US Billboard 200. It was certified double Platinum in the US by the RIAA in March 1996 and certified Gold in the UK by BPI in August 1986. It features the songs "Addicted to Love", "I Didn't Mean to Turn You On", "Hyperactive", "Discipline of Love", and "Riptide" which were all released as singles. The single "Addicted to Love" was accompanied by an iconic and much-imitated music video, directed by Terence Donovan, in which Palmer is surrounded by a bevy of near-identically clad, heavily made-up (and appropriately pouty) female "musicians," either mimicking or mocking the painting style of Patrick Nagel. In September 1986, Palmer performed "Addicted to Love" at the 1986 MTV Video Music Awards in Los Angeles, California. In 1987, he won the Grammy Award for Best Male Rock Vocal Performance for "Addicted to Love". At the 1987 Brit Awards, Palmer received his first nomination for Best British Male. Another single from Riptide, his cover of R&B singer Cherrelle's "I Didn't Mean to Turn You On", also performed well (US #2, UK #9). The song, "Trick Bag," was written by one of Palmer's major influences, New Orleans blues artist Earl King. For the album, Palmer collaborated with two former members of his band the Power Station: guitarist Andy Taylor and drummer Tony Thompson. The Power Station's producer Bernard Edwards also played bass and produced the album. The album also features contributions from Chaka Khan and notable session musicians such as Guy Pratt, Wally Badarou, Jeff Bova, Eddie Martinez, Dony Wynn, and Jack Waldman (who died a year after the album's release). The title track of the album is a cover of a 1933 song written by Walter Donaldson and Gus Kahn and first recorded by Eddy Duchin and his orchestra.
~Wikipedia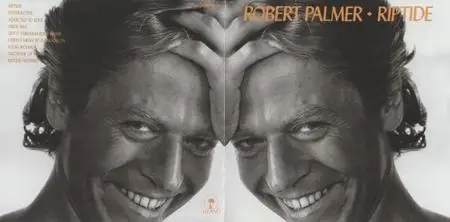 Coming on the heels of the massive success of the Power Station, Riptide packages Robert Palmer's voice and suave personality into a commercial series of mostly rocking songs that seem custom-tailored to be chart hits. The Power Station connection threatens to overpower Palmer's usually more eclectic musical interest, but with that band's producer/member Bernard Edwards handling production duties and members Andy Taylor and Tony Thompson contributing as well, stylistic similarities were inevitable. "Flesh Wound," though, sounds like a retread of "Some Like It Hot," with its squelching staccato guitars and tribal drums mimicking the hit single. "Hyperactive" adds a bit of a pop veneer to the formula, with its bright keyboards dating the song to the Miami Vice era; that's not to say it doesn't hold nostalgic charm. "Addicted to Love" shares some of the same punch, somewhat slowing down the Power Station's bombast into slinkier, blues territory, while maintaining a heavy rock crunch. The song skyrocketed to the top of the U.S. charts and sold more than a million copies as a single worldwide. A music video for the song, featuring sexy models gyrating blankly, no doubt helped sales and launched a new phase of Palmer's career, where music videos would nearly overshadow his songwriting. Equally catchy and almost as successful is the brilliant take on the Jimmy Jam/Terry Lewis song "I Didn't Mean to Turn You On." It is perhaps Riptide's most daring track, with its fractured jittery notes, funky basslines, and pounding drums matching Palmer's bothered, sweaty vocals to create a yearning song that drips with passion. Also not to be missed is Earl King's "Trick Bag," which Palmer translates into a fun Clues-style minimalist modern blues song. Even if Riptide uses the Power Station as a blueprint, its only true faults reside in the cheesy album-opening and album-closing refrains of "Riptide," which seemingly satisfy Palmer's tropical proclivities. They might be relaxing and humorous as elevator music, but they are sharply at odds with the tone of the album and Palmer's usually impeccable musical taste. Cheesy opening and ending aside, Riptide has some truly addictive moments and it set him firmly on course, for better or worse, for the even harder-rocking Heavy Nova.
~Review by Tim DiGravina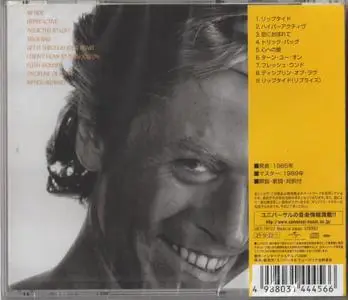 Release of the album:
1985, November [LP Island Records, Cat.# ILPS 9801, UK]
Release of this CD:
2021, September, 22 [CD Universal Music (Japan), Cat.# UICY-79723 / EAN: 4988031444566]
An Island Records Release. ℗&© 1985 Universal Music Operations Ltd.
International / USM, a Universal Music Company.
Marketed & Distributed by Universal Music LLC.
Made in Japan
Credits:
Arranged By [Vocal Arrangement] – Chaka Khan (tracks: 3)
Backing Vocals – Benny Diggs (tracks: 3, 8), Fonzie Thornton (tracks: 3, 8)
Bass – Bernard Edwards (tracks: 1 to 7, 9), Guy Pratt (tracks: 8)
Design – Robert Palmer
Drums – Donny Wynn (tracks: 5, 8), Tony Thompson (tracks: 1 to 4, 6, 7, 9)
Guitar – Andy Taylor (tracks: 3), Eddie Martinez (tracks: 1, 2, 4 to 9)
Horns – Lenny Pickett
Keyboards – Jack Waldman, Jeff Nova, Wally Badarou
Photography By – Giuseppe Pino
Post Production – Eric "ET" Thorngren, Robert Palmer
Producer – Bernard Edwards
Tracklist:
01. Riptide (02:28)
02. Hyperactive (05:10)
03. Addicted To Love (06:04)
04. Trick Bag (03:04)
05. Get It Through Your Heart (02:51)
06. I Didn't Mean To Turn You On (03:45)
07. Flesh Wound (03:46)
08. Discipline Of Love (06:09)
09. Riptide (Reprise) (02:08)
Exact Audio Copy V1.3 from 2. September 2016

Отчёт EAC об извлечении, выполненном 28. сентября 2021, 11:36

Robert Palmer / Riptide

Дисковод: ASUS DRW-24D5MT Adapter: 1 ID: 0

Режим чтения : Достоверность
Использование точного потока : Да
Отключение кэша аудио : Да
Использование указателей C2 : Нет

Коррекция смещения при чтении : 6
Способность читать области Lead-in и Lead-out : Нет
Заполнение пропущенных сэмплов тишиной : Да
Удаление блоков с тишиной в начале и конце : Нет
При вычислениях CRC использовались нулевые сэмплы : Да
Интерфейс : Встроенный Win32-интерфейс для Win NT/2000
Обработка зазоров : Добавлено к предыдущему треку

Выходной формат : Пользовательский кодировщик
Выбранный битрейт : 128 kBit/s
Качество : Высокий
Добавление ID3-тега : Нет
Утилита сжатия : C:\Program Files\flac-1.3.2-git-20170314-x64-icl\flac.exe
Дополнительные параметры : -8 -V -T "ARTIST=%artist%" -T "TITLE=%title%" -T "ALBUM=%albumtitle%" -T "DATE=%year%" -T "TRACKNUMBER=%tracknr%" -T "GENRE=%genre%" -T "COMMENT=EAC FLAC -8" %source%


TOC извлечённого CD

Трек | Старт | Длительность | Начальный сектор | Конечный сектор
––––––––––––––––––––––––––––––––––-
1 | 0:00.00 | 2:27.62 | 0 | 11086
2 | 2:27.62 | 5:10.10 | 11087 | 34346
3 | 7:37.72 | 6:03.45 | 34347 | 61616
4 | 13:41.42 | 3:04.33 | 61617 | 75449
5 | 16:46.00 | 2:51.32 | 75450 | 88306
6 | 19:37.32 | 3:44.60 | 88307 | 105166
7 | 23:22.17 | 3:45.58 | 105167 | 122099
8 | 27:08.00 | 6:08.60 | 122100 | 149759
9 | 33:16.60 | 2:08.15 | 149760 | 159374


Трек 1

Имя файла D:\FLAC EAC\01 Riptide.wav

Длина предзазора 0:00:02.00

Пиковый уровень 34.1 %
Скорость извлечения 4.0 X
Качество трека 100.0 %
CRC теста FBCB51CB
CRC копии FBCB51CB
Точность не определена (достоверность 1) [B81B38F7], AccurateRip вернул [60D18C87] (AR v2)
Копирование… OK

Трек 2

Имя файла D:\FLAC EAC\02 Hyperactive.wav

Длина предзазора 0:00:01.10

Пиковый уровень 87.1 %
Скорость извлечения 5.0 X
Качество трека 100.0 %
CRC теста 715C8AC2
CRC копии 715C8AC2
Точность не определена (достоверность 1) [5DF212FA], AccurateRip вернул [E161C0F4] (AR v2)
Копирование… OK

Трек 3

Имя файла D:\FLAC EAC\03 Addicted To Love.wav

Пиковый уровень 81.8 %
Скорость извлечения 5.7 X
Качество трека 100.0 %
CRC теста EFC31FA2
CRC копии EFC31FA2
Точность не определена (достоверность 1) [44814455], AccurateRip вернул [C1B4E25B] (AR v2)
Копирование… OK

Трек 4

Имя файла D:\FLAC EAC\04 Trick Bag.wav

Пиковый уровень 74.5 %
Скорость извлечения 5.6 X
Качество трека 100.0 %
CRC теста 11CEA24D
CRC копии 11CEA24D
Точность не определена (достоверность 1) [38A4637A], AccurateRip вернул [B917EAD2] (AR v2)
Копирование… OK

Трек 5

Имя файла D:\FLAC EAC\05 Get It Through Your Heart.wav

Длина предзазора 0:00:00.63

Пиковый уровень 43.6 %
Скорость извлечения 5.8 X
Качество трека 100.0 %
CRC теста 4B090E38
CRC копии 4B090E38
Точность не определена (достоверность 1) [DB1286DF], AccurateRip вернул [1E8B0E7C] (AR v2)
Копирование… OK

Трек 6

Имя файла D:\FLAC EAC\06 I Didn't Mean To Turn You On.wav

Пиковый уровень 85.2 %
Скорость извлечения 6.2 X
Качество трека 100.0 %
CRC теста 3E452F74
CRC копии 3E452F74
Точность не определена (достоверность 1) [CE302295], AccurateRip вернул [599B8E07] (AR v2)
Копирование… OK

Трек 7

Имя файла D:\FLAC EAC\07 Flesh Wound.wav

Пиковый уровень 71.3 %
Скорость извлечения 5.8 X
Качество трека 99.9 %
CRC теста 64186CD9
CRC копии 64186CD9
Точность не определена (достоверность 1) [EEDF52CE], AccurateRip вернул [3B012FAA] (AR v2)
Копирование… OK

Трек 8

Имя файла D:\FLAC EAC\08 Discipline Of Love.wav

Пиковый уровень 86.4 %
Скорость извлечения 7.3 X
Качество трека 100.0 %
CRC теста 96C124E6
CRC копии 96C124E6
Точность не определена (достоверность 1) [82D2F098], AccurateRip вернул [341A9808] (AR v2)
Копирование… OK

Трек 9

Имя файла D:\FLAC EAC\09 Riptide (Reprise).wav

Пиковый уровень 43.1 %
Скорость извлечения 6.4 X
Качество трека 100.0 %
CRC теста 688666B4
CRC копии 688666B4
Точность не определена (достоверность 1) [E1E6F351], AccurateRip вернул [C61BDEEB] (AR v2)
Копирование… OK


Ни один трек не прошёл проверки на точность
В вашей базе может быть иной вариант штамповки диска

Ошибок не произошло

Конец отчёта

–– CUETools DB Plugin V2.1.6

[CTDB TOCID: cM1EGYGXD4a1K10P5_r2I.9m.WY-] found
Submit result: cM1EGYGXD4a1K10P5_r2I.9m.WY- has been confirmed
Track | CTDB Status
1 | (10/10) Accurately ripped
2 | (10/10) Accurately ripped
3 | (10/10) Accurately ripped
4 | (10/10) Accurately ripped
5 | (10/10) Accurately ripped
6 | (10/10) Accurately ripped
7 | (10/10) Accurately ripped
8 | (10/10) Accurately ripped
9 | (10/10) Accurately ripped


==== Контрольная сумма отчёта F9FF6304A32415CC72CD8A5EAC7B7E5CD0434059A0B2C2D8929AB2537FFABB32 ====
––––––––––––––––––––––––––––––––––––––––
Analyzed: Robert Palmer / Riptide
––––––––––––––––––––––––––––––––––––––––

DR Peak RMS Duration Track
––––––––––––––––––––––––––––––––––––––––
DR12 -9.33 dB -24.39 dB 2:28 01-Riptide
DR14 -1.19 dB -16.78 dB 5:10 02-Hyperactive
DR13 -1.74 dB -16.60 dB 6:04 03-Addicted To Love
DR17 -2.55 dB -20.89 dB 3:04 04-Trick Bag
DR12 -7.20 dB -22.05 dB 2:51 05-Get It Through Your Heart
DR16 -1.38 dB -19.05 dB 3:45 06-I Didn't Mean To Turn You On
DR14 -2.93 dB -19.19 dB 3:46 07-Flesh Wound
DR15 -1.26 dB -18.11 dB 6:09 08-Discipline Of Love
DR11 -7.30 dB -22.59 dB 2:08 09-Riptide (Reprise)
––––––––––––––––––––––––––––––––––––––––

Number of tracks: 9
Official DR value: DR14

Samplerate: 44100 Hz
Channels: 2
Bits per sample: 16
Bitrate: 606 kbps
Codec: FLAC
================================================================================
Thanks to oppaoppa