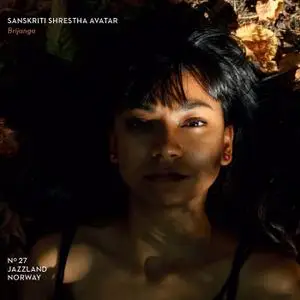 Sanskriti Shrestha Avatar - Brijanga (2018)
Jazz, World Music | 00:53:25 | WEB FLAC (tracks) | 267 MB
Label: OK World
Sanskriti Shrestha Avatar blends Indian and Eastern musical influences with jazz and improvisation music. The result is colourful, powerful, boundless and beautiful.
The music is the sonic dreamscape of tabla player Sanskriti Shrestha. With Nepalese roots and training in Indian and Nepalese traditions, she developed a fascination for Western creative music after spending a number of years based in Oslo. With the addition of her interest in other Asian musical styles, her music represents a unique alloy of creative expression.
Sanskriti and her musicians represent a new generation of creative musical explorers who build bridges between the new and old, western and eastern, composed and improvised. The music itself has the potential to change according to the musician's mood and intentions and also the receptivity and response of the audience. From such circumstances the music can be regarded as an avatar of a shared consciousness that manifests itself sonically.
Tracklist
:
01.
Sanskriti Shrestha - Avatar
02.
Sanskriti Shrestha - Mysterious Mr. M
03.
Sanskriti Shrestha - Newari
04.
Sanskriti Shrestha - Kula
05.
Sanskriti Shrestha - Vatara
06.
Sanskriti Shrestha - Nasadhya
07.
Sanskriti Shrestha - Sand Sun
08.
Sanskriti Shrestha - Syklus
ANALYZER: auCDtect: CD records authenticity detector, version 0.8.2
Copyright © 2004 Oleg Berngardt. All rights reserved.
Copyright © 2004 Alexander Djourik. All rights reserved.


FILE: 1.08. Syklus.flac
Size: 20709337 Hash: DD2F1FD3BF4FD0385480C64CC6DB3867 Accuracy: -m8
Conclusion: CDDA 100%
Signature: E988ABD585A46066C16FA9A02C34F6CCCA576562
FILE: 1.07. Sand Sun.flac
Size: 31014199 Hash: 8AD7295C47A0308752E3304064126305 Accuracy: -m8
Conclusion: CDDA 100%
Signature: 43801B04805B95A98F53488ACF49535AC17C0261
FILE: 1.06. Nasadhya.flac
Size: 27967903 Hash: 9C4267DDFEE6B0CD8F3638F83E238582 Accuracy: -m8
Conclusion: CDDA 100%
Signature: FEE9BA2D5C37977BD54E9023E3B866EE690C6C22
FILE: 1.05. Vatara.flac
Size: 28451422 Hash: 64D38D4E7CEE4CA45F0996ECDBAE237E Accuracy: -m8
Conclusion: CDDA 100%
Signature: 75827EAA79EF6DF978DE5E5C4B358063598EA9A0
FILE: 1.04. Kula.flac
Size: 69052331 Hash: 54C45615900842E8DCA4E83A062610C3 Accuracy: -m8
Conclusion: CDDA 100%
Signature: E84488DAF7FFD979E7A07D823CDB7C8C03CC50D4
FILE: 1.03. Newari.flac
Size: 18690429 Hash: 8AA67A66DD3901AC93FC0CE184A97674 Accuracy: -m8
Conclusion: CDDA 100%
Signature: 12EFEF1FC2435FA46786CE5556724409BF9485F1
FILE: 1.02. Mysterious Mr. M.flac
Size: 39340674 Hash: E88E9185759BD6A1A7BAE7C3D0AA1C61 Accuracy: -m8
Conclusion: CDDA 100%
Signature: F8B63A0FB4AA67D73030475F0164AB656A724F31
FILE: 1.01. Avatar.flac
Size: 44573964 Hash: 7AB269077BAA0B72CE1685F99CC96069 Accuracy: -m8
Conclusion: CDDA 100%
Signature: 84959B9969C373CB102C38DA36C3F9939AAF1DE4