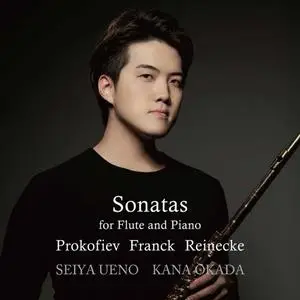 Seiya Ueno & Kana Okada - Prokofiev, Franck & Reinecke: Flute Sonatas (2022)
FLAC tracks +booklet | 1:15:48 | 326 Mb
Genre: Classical / Label: Laplace Records
A new album by Seiya Ueno, a leading Japanese artist who has led the era with numerous famous performances and exceptional creativity. Starting with the 1st and 2nd of "Record Art Special Edition", it was unaccompanied in the latest 4th and 5th, but this work 6th will be released with a pianist (Kana Okada) for the first time in a while. The hugeness of this board lies in the fact that Prokofiev, Frank, and Reinecke, which are the three sonatas of the leading role for any flute player, have been condensed into one. As the strongest flute album, it is a masterpiece that will be heard in the future.
Track List:
01. Flute Sonata in D Major, Op. 94: I. Moderato
02. Flute Sonata in D Major, Op. 94: II. Scherzo
03. Flute Sonata in D Major, Op. 94: III. Andante
04. Flute Sonata in D Major, Op. 94: IV. Allegro con brio
05. Violin Sonata in A Major, FWV 8 (Arr. for Flute & Piano): I. Allegretto ben moderato
06. Violin Sonata in A Major, FWV 8 (Arr. for Flute & Piano): II. Allegro
07. Violin Sonata in A Major, FWV 8 (Arr. for Flute & Piano): III. Recitativo-Fantasia
08. Violin Sonata in A Major, FWV 8 (Arr. for Flute & Piano): IV. Allegretto poco mosso
09. Flute Sonata in E Minor, Op. 167 "Undine": I. Allegro
10. Flute Sonata in E Minor, Op. 167 "Undine": II. Intermezzo
11. Flute Sonata in E Minor, Op. 167 "Undine": III. Andante tranquillo
12. Flute Sonata in E Minor, Op. 167 "Undine": IV. Finale
ANALYZER: auCDtect: CD records authenticity detector, version 0.8.2
Copyright © 2004 Oleg Berngardt. All rights reserved.
Copyright © 2004 Alexander Djourik. All rights reserved.


FILE: 01. Prokofiev Flute Sonata in D Major, Op. 94 I. Moderato.flac
Size: 36872420 Hash: DB0AB8B6C3D732CD5A9FE794B1D7F82F Accuracy: -m40
Conclusion: CDDA 100%
Signature: 1B8BD9DD63887312D5A3C3FFD03A9FB72ED4F10D
FILE: 02. Prokofiev Flute Sonata in D Major, Op. 94 II. Scherzo.flac
Size: 20689604 Hash: A881012C3DECE15A119187A622B7B1A0 Accuracy: -m40
Conclusion: CDDA 100%
Signature: AD139D66A6C2C963F5DE0E66987149EA5DB8B45A
FILE: 03. Prokofiev Flute Sonata in D Major, Op. 94 III. Andante.flac
Size: 13833789 Hash: 055E649EB3EF6A49489E7C9BC973E5AE Accuracy: -m40
Conclusion: CDDA 100%
Signature: F5F953A0814BAF4227C9BBA1B16A83F774D3465C
FILE: 04. Prokofiev Flute Sonata in D Major, Op. 94 IV. Allegro con brio.flac
Size: 31968286 Hash: 909917E1A5EFF1CD672AEBCF7B2D34A6 Accuracy: -m40
Conclusion: CDDA 99%
Signature: 793222142E04313EFD57532A282DE2E997E67A92
FILE: 05. Franck Violin Sonata in A Major, FWV 8 (Arr. for Flute & Piano) I. Allegretto ben moderato.flac
Size: 24459057 Hash: 9805550B7CF57A623DDF769C32455582 Accuracy: -m40
Conclusion: CDDA 94%
Signature: 5467334547548AFF9851D9C4F2D133846E2B4070
FILE: 06. Franck Violin Sonata in A Major, FWV 8 (Arr. for Flute & Piano) II. Allegro.flac
Size: 35792173 Hash: ADD140B302D20AE676F801A943E53599 Accuracy: -m40
Conclusion: CDDA 100%
Signature: 9C1D1D2F32DFCC0EEB52B99D4D5849A77170C4C1
FILE: 07. Franck Violin Sonata in A Major, FWV 8 (Arr. for Flute & Piano) III. Recitativo-Fantasia.flac
Size: 28637359 Hash: CF242093D6A72FDBA3611434D4BDCE0D Accuracy: -m40
Conclusion: CDDA 76%
Signature: 9A102C2EC34E70418EAC8CC3529258138211CB22
FILE: 08. Franck Violin Sonata in A Major, FWV 8 (Arr. for Flute & Piano) IV. Allegretto poco mosso.flac
Size: 30365555 Hash: EBDC8B748367DD33200197684D115BF4 Accuracy: -m40
Conclusion: CDDA 99%
Signature: DBF2BD88A69CEAE749E1191F60293C36DE7D98FB
FILE: 09. Reinecke Flute Sonata in E Minor, Op. 167 Undine I. Allegro.flac
Size: 30592100 Hash: 29F6F7353F87DEEEC509506DD76F1ECD Accuracy: -m40
Conclusion: CDDA 100%
Signature: 7BEF7BBD9C22B01732EC5C040AADA7419C9932AB
FILE: 10. Reinecke Flute Sonata in E Minor, Op. 167 Undine II. Intermezzo.flac
Size: 14751005 Hash: 7DE8DAAC2CEFA2193AA5F54E3BBE3B15 Accuracy: -m40
Conclusion: CDDA 99%
Signature: D35D5A52D5330C83A848280589C9608D2D553766
FILE: 11. Reinecke Flute Sonata in E Minor, Op. 167 Undine III. Andante tranquillo.flac
Size: 14899806 Hash: 493D17082E76A1B1CA77DE8D457589EE Accuracy: -m40
Conclusion: CDDA 100%
Signature: 55C51F143903EBDF323BAF8675350BA841606018
FILE: 12. Reinecke Flute Sonata in E Minor, Op. 167 Undine IV. Finale.flac
Size: 26718558 Hash: 1AD978FB567B883F2224535486F4BAD6 Accuracy: -m40
Conclusion: CDDA 100%
Signature: 2DF1A5E30C8D2C68CBC1C82842AF4B6FDA602B8B