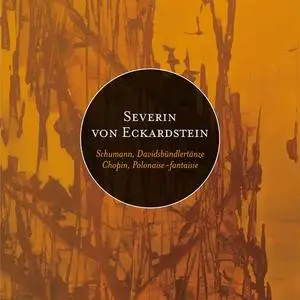 Severin von Eckardstein - Schumann & Chopin: Davidsbündlertänze and Polonaise-fantaisie (2021)
FLAC tracks / MP3 320 kbps | 64:14 | 187 / 147 Mb
Genre: Classical / Label: ARTALINNA
A formidable interpreter of the works of Robert Schumann, the German pianist Severin von Eckardstein here offers an intense version of rare narrative force of one of the most complex cycles of the 19th century, the Davidsbündlertänze Op. 6. This dazzling kaleidoscope of moods is embedded with works by Chopin and Tchaikovsky, of particularly passionate resonance. Great musical moments that confirm Severin von Eckardstein's status as one of the most poetic musicians in the world of the piano.
Track List:
1. Polonaise-fantaisie in A-Flat Major, Op. 61 (Allegro maestoso) (12:43)
2. Davidsbündlertänze, Op. 6: I. Lebhaft (1:30)
3. Davidsbündlertänze, Op. 6: II. Innig (1:21)
4. Davidsbündlertänze, Op. 6: III. Mit Humor (Etwas hahnbüchen) (1:22)
5. Davidsbündlertänze, Op. 6: IV. Ungeduldig (0:45)
6. Davidsbündlertänze, Op. 6: V. Einfach (1:34)
7. Davidsbündlertänze, Op. 6: VI. Sehr rasch und in sich hinein (1:51)
8. Davidsbündlertänze, Op. 6: VII. Nicht schnell, und mit äusserst starker Empfindung (3:07)
9. Davidsbündlertänze, Op. 6: VIII. Frisch (1:01)
10. Davidsbündlertänze, Op. 6: IX. Lebhaft (Hierauf schloss Florestan und es zuckte ihm schmerzlich um die Lippen) (1:07)
11. Davidsbündlertänze, Op. 6: X. Balladenmässig - Sehr rasch (1:21)
12. Davidsbündlertänze, Op. 6: XI. Einfach (1:33)
13. Davidsbündlertänze, Op. 6: XII. Mit Humor (0:43)
14. Davidsbündlertänze, Op. 6: XIII. Wild und lustig (3:06)
15. Davidsbündlertänze, Op. 6: XIV. Zart und singend (2:28)
16. Davidsbündlertänze, Op. 6: XV. Frisch (1:49)
17. Davidsbündlertänze, Op. 6: XVI. Mit gutem Humor (1:29)
18. Davidsbündlertänze, Op. 6: XVII. Wie aus der Ferne (4:07)
19. Davidsbündlertänze, Op. 6: XVIII. Nicht schnell (Ganz zum Überfluss meinte Eusebius noch Folgendes, dabei sprach aber viel Seligke (2:06)
20. 18 Pieces, Op. 72, TH 151: XIV. Chant élégiaque (Adagio - Più mosso moderato assai - Più tosto allegro) (5:10)
21. La maison dans les dunes: I. Dans les dunes, par un clair matin (Alternative Version to the 2018 Recording) (2:54)
22. La maison dans les dunes: II. Voiles sur l'eau (Alternative Version to the 2018 Recording) (3:56)
23. La maison dans les dunes: VII. Le soir dans les pins (Alternative Version to the 2018 Recording) (4:26)
24. La maison dans les dunes: IX. Clair d'étoiles (Alternative Version to the 2018 Recording) (2:59)
ANALYZER: auCDtect: CD records authenticity detector, version 0.8.2
Copyright © 2004 Oleg Berngardt. All rights reserved.
Copyright © 2004 Alexander Djourik. All rights reserved.


FILE: 01 - Polonaise-fantaisie in A-Flat Major, Op. 61 (Allegro maestoso).flac
Size: 39964772 Hash: D0EA051DF5086119498355E83D5770A2 Accuracy: -m40
Conclusion: MPEG 92%
Signature: 5CF7FDCB4062A2557026271F17D503083A7CF7AF
FILE: 02 - Davidsbündlertänze, Op. 6_ I. Lebhaft.flac
Size: 4747795 Hash: D9FF3335FBBA2B491FA04115BFC70B96 Accuracy: -m40
Conclusion: CDDA 100%
Signature: AD49C7857ABF3EB0F62B7A4B8397DC9B41E1978E
FILE: 03 - Davidsbündlertänze, Op. 6_ II. Innig.flac
Size: 3548403 Hash: DE40C7B192AF395F2C933263BEE1B233 Accuracy: -m40
Conclusion: CDDA 100%
Signature: B3FE6381BEC9AA9E2546E79A7712F1050185762D
FILE: 04 - Davidsbündlertänze, Op. 6_ III. Mit Humor (Etwas hahnbüchen).flac
Size: 5169840 Hash: 22E425DBA1D352B6CC8F1BE45F3E0CAD Accuracy: -m40
Conclusion: MPEG 100%
Signature: 06F9440B77B008EED579A484603025FBA525E9AF
FILE: 05 - Davidsbündlertänze, Op. 6_ IV. Ungeduldig.flac
Size: 3005963 Hash: 5E4262543B3F03039CFF93F9974B431A Accuracy: -m40
Conclusion: MPEG 100%
Signature: 8D091244B687E2ACAAA077CE87EAC5CF64630673
FILE: 06 - Davidsbündlertänze, Op. 6_ V. Einfach.flac
Size: 4211256 Hash: 18F87B56E8FB9744B7F71F299CFA65D7 Accuracy: -m40
Conclusion: CDDA 100%
Signature: C50F83248D3FBD204357DBBA7B205979A3BF665F
FILE: 07 - Davidsbündlertänze, Op. 6_ VI. Sehr rasch und in sich hinein.flac
Size: 6756506 Hash: 26C6D9739515F06421B60FD52C10418B Accuracy: -m40
Conclusion: CDDA 87%
Signature: 209FBBF6051908A2FD8E74F80B92EE2E153B6EDB
FILE: 08 - Davidsbündlertänze, Op. 6_ VII. Nicht schnell, und mit äusserst starker Empfindung.flac
Size: 8549965 Hash: 33147F3DBBE48FD309004B99DCE7FD34 Accuracy: -m40
Conclusion: CDDA 49%
Signature: 7CC3E08766A3C7F442D2B87DD3D32CD929A6CB46
FILE: 09 - Davidsbündlertänze, Op. 6_ VIII. Frisch.flac
Size: 3990283 Hash: 0D666F80A6A16507AEE0A5D3A58E3E7F Accuracy: -m40
Conclusion: CDDA 58%
Signature: EC74011BBD82EBE1EDE6902632F986B988B1FFCC
FILE: 10 - Davidsbündlertänze, Op. 6_ IX. Lebhaft (Hierauf schloss Florestan und es zuckte ihm schmerzlich um die Lippen).flac
Size: 4185067 Hash: F9023BF2D2B4E6CB460D12A4A6A0FE63 Accuracy: -m40
Conclusion: CDDA 100%
Signature: 56063C92FC45FAD7B6B1F2B38AB6AAF723FA7EB3
FILE: 11 - Davidsbündlertänze, Op. 6_ X. Balladenmässig - Sehr rasch.flac
Size: 5199628 Hash: C6B647320388F1A66EC573505E8D40EC Accuracy: -m40
Conclusion: CDDA 100%
Signature: A805527EE66B5693B9F4BA8587ED0DC39149ED60
FILE: 12 - Davidsbündlertänze, Op. 6_ XI. Einfach.flac
Size: 4074682 Hash: A621A9F08DEED78E366034A08FF927D7 Accuracy: -m40
Conclusion: CDDA 100%
Signature: BCCD58C34ADD04A2E1B5553C6470F5D74FB62A5A
FILE: 13 - Davidsbündlertänze, Op. 6_ XII. Mit Humor.flac
Size: 2438699 Hash: A527BAE56ABB3FA2FA8A7B760D46149B Accuracy: -m40
Conclusion: CDDA 100%
Signature: 713583C9B011BAAE3B378170E7CEEFF9281D1278
FILE: 14 - Davidsbündlertänze, Op. 6_ XIII. Wild und lustig.flac
Size: 10801322 Hash: D137266110D8E271D29937EAC7CBF287 Accuracy: -m40
Conclusion: MPEG 91%
Signature: 59B0DC380A2B4B67E4AE9D166D3E199E220FD134
FILE: 15 - Davidsbündlertänze, Op. 6_ XIV. Zart und singend.flac
Size: 6252016 Hash: 3BD187FDD0E2438585D4DF7D4F6DF1DA Accuracy: -m40
Conclusion: CDDA 100%
Signature: 6DE1214189043C04851CEC80097004592D13FE43
FILE: 16 - Davidsbündlertänze, Op. 6_ XV. Frisch.flac
Size: 6173209 Hash: 83273F7F6D9B7AFA1B4957383E07180B Accuracy: -m40
Conclusion: CDDA 100%
Signature: ACE0530896D17B38612A717798A9798CCAE5FA25
FILE: 17 - Davidsbündlertänze, Op. 6_ XVI. Mit gutem Humor.flac
Size: 4982384 Hash: B2C95339884B9551D3EB8CD9B310BCB8 Accuracy: -m40
Conclusion: CDDA 100%
Signature: 694BD437F1B90AC74C7518F7C8A4732233658563
FILE: 18 - Davidsbündlertänze, Op. 6_ XVII. Wie aus der Ferne.flac
Size: 11442901 Hash: CA20C84E73090CB00E3070ED8EE74887 Accuracy: -m40
Conclusion: CDDA 100%
Signature: 953A78869704DFD20AC6D86216FDA052CFC6EAAE
FILE: 19 - Davidsbündlertänze, Op. 6_ XVIII. Nicht schnell (Ganz zum Überfluss meinte Eusebius noch Folgendes, dabei sprach aber viel Seligke.flac
Size: 5223599 Hash: 162497667C13FF430CD8D4BF025EEFF1 Accuracy: -m40
Conclusion: CDDA 100%
Signature: ABFFB6D572FE60C46715FAF19F2FD918AE98F798
FILE: 20 - 18 Pieces, Op. 72, TH 151_ XIV. Chant élégiaque (Adagio - Più mosso moderato assai - Più tosto allegro).flac
Size: 16926704 Hash: B1C2E3B58AB705DF675755EAE22D3B2E Accuracy: -m40
Conclusion: CDDA 49%
Signature: AE21332FE82C905ED4C01612C4D519BFF6F70BF2
FILE: 21 - La maison dans les dunes_ I. Dans les dunes, par un clair matin (Alternative Version to the 2018 Recording).flac
Size: 9754200 Hash: D6BD0DE9AC9193EDB158673D061B7AC4 Accuracy: -m40
Conclusion: CDDA 86%
Signature: 9738CED7837F48DBCA95A7AF591873B1C22D5EF9
FILE: 22 - La maison dans les dunes_ II. Voiles sur l'eau (Alternative Version to the 2018 Recording).flac
Size: 11131584 Hash: AB9F04FFC0F0D5891B67B09F67BDBA21 Accuracy: -m40
Conclusion: MPEG 90%
Signature: E11830852AF89442B633F3EC331B64FB9066422F
FILE: 23 - La maison dans les dunes_ VII. Le soir dans les pins (Alternative Version to the 2018 Recording).flac
Size: 12683218 Hash: 030480C98067FFE915AEB053809D6223 Accuracy: -m40
Conclusion: MPEG 89%
Signature: 3692C4FDF9B63C0DDA78D82E52E4B094EFA0D3AE
FILE: 24 - La maison dans les dunes_ IX. Clair d'étoiles (Alternative Version to the 2018 Recording).flac
Size: 7933828 Hash: 880318906061DBF582054727BB47CAE2 Accuracy: -m40
Conclusion: CDDA 100%
Signature: A9ABF82D03B7427DC21274291D0CBEEDDBD92AA4