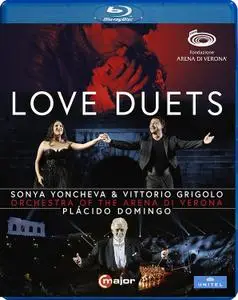 Sonya Yoncheva & Vittorio Grigolo - Love Duets (2021) [Blu-Ray]
BluRay | BDMV | MPEG-4 AVC Video / 22923 kbps / 1080i / 29.970 fps | 101 min | 21,9 Gb
Audio1: LPCM Audio / 2.0 / 24-bit | Audio2: DTS-HD Master Audio / 5.1 / 48 kHz / 3917 kbps / 24-bit
Classical | C Major | Sub: Italian, English, German, French, Korean, Japanese
In the imposing Arena di Verona, soprano Sonya Yoncheva and tenor Vittorio Grigolo present with dramatic and passionate synergy an evening of the most beautiful operatic love arias and duets in opera history. Passion that burns, consumes and sometimes kills is the central theme of this concert including arias from Roméo et Juliette by Charles Gounod as well as from Puccini´s Tosca, La bohème, Madama Butterfly and Verdi´s La traviata, all conducted by Plácido Domingo. Sonya Yoncheva has the full and vibrant timbre of a true lyrical soprano while Vittorio Grigolo, like Cavaradossi and Rodolfo, plays the cards of ardor and passion, with sweet and affectionate colors. An overall successful evening.
Cast:
Sonya Yoncheva, soprano
Vittorio Grigolo, tenor
Mihaela Marcu, soprano
Davide Luciano, baritone
Arena of Verona Orchestra
Plácido Domingo, conductor
Track List:
1. Vorspann
Charles-François Gounod - Roméo et Juliette:
2. Ouvertüre
3. L'amour… Ah! Lève-toi, soleil!
4. Amour, ranime mon courage
5. Va! Je t'ai perdonné
Jules Massenet - Thaïs:
6. Meditation
Giacomo Puccini - Tosca:
7. Mario! - Son qui!
Giacomo Puccini - Manon Lescaut:
8. Intermezzo
Giacomo Puccini - La Bohème:
9. Mimì?! - Speravo di trovarvi qui… Mimì è una civetta… Donde lieta uscì
Georges Bizet - Carmen:
10. Entr'acte
Jules Massenet - Manon:
11. Toi! Vous! - Oui… C'est moi!
Giacomo Puccini - Madama Butterfly:
12. Un bel dì vedremo
Giuseppe Verdi - La Traviata:
13. Libiamo ne' lieti calici
14. Applaus - Abspann

Disc Title: Love Duets
Disc Size: 23 510 085 635 bytes
Protection: AACS
Playlist: 00009.MPLS
Size: 23 386 764 672 bytes
Length: 1:41:16.403
Total Bitrate: 30.79 Mbps
Video: MPEG-4 AVC Video / 22923 kbps / 1080i / 29.970 fps / 16:9 / High Profile 4.1
Audio: Undetermined / LPCM Audio / 2.0 / 48 kHz / 2304 kbps / 24-bit
Audio: Undetermined / DTS-HD Master Audio / 5.1 / 48 kHz / 3917 kbps / 24-bit (DTS Core: 5.1 / 48 kHz / 1152 kbps / 24-bit)
Subtitle: Italian / 9.631 kbps
Subtitle: English / 10.304 kbps
Subtitle: German / 11.572 kbps
Subtitle: French / 10.509 kbps
Subtitle: Korean / 9.856 kbps
Subtitle: Japanese / 10.970 kbps