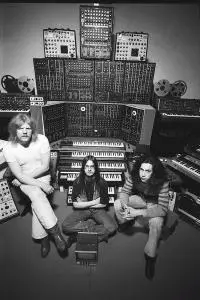 Tangerine Dream - 70's Bootlegs (Not in Tangerine Tree or Lives) [6 Releases] (1974-1978)
MP3 CBR 320 kbps | Run Time: 08:38:17 | 1.21 GB
Genre: Progressive Electronic, Berlin School | Label: Unofficial Releases
Tangerine Dream is a German electronic music band founded in 1967 by Edgar Froese. Tangerine Dream are considered a pioneering act in electronica. Their work with the electronic music Ohr label produced albums that had a pivotal role in the development of the German musical scene known as kosmische ("cosmic"). Their "Virgin Years", so called because of their association with Virgin Records, produced albums that further explored synthesizers and sequencers, including the UK top 20 albums Phaedra (1974) and Rubycon (1975). The group also had a successful career composing film soundtracks, creating over 60 scores, which include those for the films Sorcerer, Thief, The Soldier, Risky Business, Flashpoint, The Keep, Firestarter, Legend, Three O'Clock High, Near Dark, Shy People, and Miracle Mile.
Contains Releases:
1974-10-30 Birmingham Town Hall
1976-11-28 Toulouse
1977-04-05 Avery Fisher Hall
1978-03-12 Valenica Pabellon Deportiro Marcol
1978-03-06 Paris Palais des Congres
1978-03-23 Newcastle City Hall
Tracklist:

1974-10-30 Birmingham Town Hall
Part I (42:05)
Part II (31:35)
Part III (12:16)
Musicians:
Edgar Froese
Christopher Franke
Peter Baumann
1976-11-28 Toulouse
Disc 1:
01 Part I (21'18)
02 Part II (22'04)
Disc 2:
01 Part III (23'20)
02 Part IV (21'53)
03 Part V (8'07)
Musicians:
Edgar Froese
Chris Franke
Peter Baumann
1977-04-05 Avery Fisher Hall
01 Cherokee Lane (15:03)
02 Monolight (17:52)
03 Track 03 (11:55) (cut by tape flip - missing approx 5:00)
04 Track 04 (15:05)
05 Track 05 (9:07) (not on TL55)
06 Track 06 (12:21) (2nd gen at best from my tape appears on TL 55 as "Track 06 Part 5" )
07 Track 07 (14:19) (not on TL55)
Musicians:
Edgar Froese
Chris Franke
Peter Baumann
1978-03-12 Valenica Pabellon Deportiro Marcol
(01) Part I (35:13)
Musicians:
Edgar Froese
Christopher Franke
Steve Jolliffe
Klaus Krüger
1978-03-06 Paris Palais des Congres
Disc one (0:47:13)
101.Set one (cut due to tape flip - fades out)
Disc two (1:03:06)
201.Set two (0:37:27)
202.Encore 1 (0:14:05)
203.Encore 2 (0:11:33)
Musicians:
Edgar Froese
Christopher Franke
Steve Jolliffe
Klaus Krüger
1978-03-23 Newcastle City Hall
Disc 1:
(01) Part I (44:47)
Disc 2:
(01) Part II (44:42)
Musicians:
Edgar Froese
Christopher Franke
Steve Jolliffe
Klaus Krüger