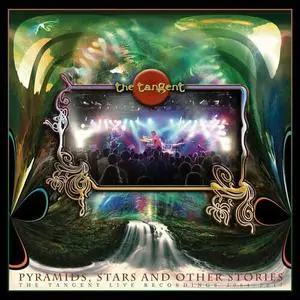 The Tangent - Pyramids, Stars & More: The Tangent's Live Recordings 2004-2017 (2023)
FLAC (tracks), Lossless / MP3 320 kbps | 2:23:16 | 326 / 842 Mb
Genre: Progressive Rock, Symphonic Prog / Label: InsideOutMusic
'Pyramids, Stars & Other Stories: The Tangent Live Recordings 2004-2017' is The Tangent's new Triple Live Vinyl compilation album (also available on CD). 'A Triple Live LP is the stuff of Bucket Lists' says leader Andy Tillison. 'Dreamed of doing one of these since I was a kid' Three concerts are represented, one from 2004, one from 2011 and one from 2017. All have had some form of prior release as 'unofficial bootlegs' but they are presented here on InsideOut for the very first time. Included in its entirety is the 2004 'Pyramids And Stars' concert in Germany featuring the 'Roine Stolt' lineup of The Tangent playing its way through the majority of the debut 'Music That Died Alone' album along with (then) new material from their second album 'The World That We Drive Through'. Added to that, there are tracks from the COMM era line-up of the band (recorded without the knowledge of the musicians) at a concert in the UK - plus tracks recorded in the USA in 2017 by the band's current line-up. These originally appeared on the 'Southend On Sea' and 'Hotel Cantaffordit' fan releases respectively. Presented in a re-imagined Ed Unitsky 'Pyramids and Stars' LP gatefold sleeve and Double CD digipack as well as digital album, the release of this album has been long awaited by the band's enthusiasts.
Track List:
01. The Tangent - The World We Drive Through (Live in Germany, 2004)
02. The Tangent - The Canterbury Sequence (Live in Germany, 2004)
03. The Tangent - The Winning Game (Live in Germany, 2004)
04. The Tangent - In Darkest Dreams (Live in Germany, 2004)
05. The Tangent - The Music That Died Alone (Live in Germany, 2004)
06. The Tangent - Lucky Man (Live in Germany, 2004)
07. The Tangent - A Spark in the Aether (Live in USA, 2017)
08. The Tangent - A Sale of Two Souls (Live in UK, 2012)
09. The Tangent - Perdu Dans Paris (Live in UK, 2012)
10. The Tangent - A Crisis In Mid Life (Live in UK, 2012)
11. The Tangent - Doctor Livingstone (I Presume) (Live in USA, 2017)
12. The Tangent - Titanic Calls Carpathia (Live in UK, 2012)
13. The Tangent - Two Rope Swings (Live in USA, 2017)
ANALYZER: auCDtect: CD records authenticity detector, version 0.8.2
Copyright © 2004 Oleg Berngardt. All rights reserved.
Copyright © 2004 Alexander Djourik. All rights reserved.


FILE: 01 - The World We Drive Through (Live in Germany, 2004).flac
Size: 88600109 Hash: A685BDC022242AEB0D2E00558FAF38BC Accuracy: -m40
Conclusion: CDDA 99%
Signature: 2BEAABD082C52D0CAB993C47616D9F9CBFE2EA38
FILE: 02 - The Canterbury Sequence (Live in Germany, 2004).flac
Size: 61168349 Hash: C86E72A9D414339493320F9192AAC56C Accuracy: -m40
Conclusion: CDDA 100%
Signature: 1E11304DE7BC888D3E5604F2F7F5B26E98EFE254
FILE: 03 - The Winning Game (Live in Germany, 2004).flac
Size: 79310831 Hash: 72CA0E54595F3B4749F76E76B18176AC Accuracy: -m40
Conclusion: CDDA 100%
Signature: 0D8D3E3416DD6B60CB202706A5989BAA04A4B099
FILE: 04 - In Darkest Dreams (Live in Germany, 2004).flac
Size: 135797627 Hash: B6F45CA8EC77334EB3A7F842F8DCDFB2 Accuracy: -m40
Conclusion: MPEG 95%
Signature: B162567040411B009B87369C45B1AFFD8244E497
FILE: 05 - The Music That Died Alone (Live in Germany, 2004).flac
Size: 76214701 Hash: 60EBB893560C8229F9A957FE12B1360A Accuracy: -m40
Conclusion: CDDA 100%
Signature: 63595A9098BE55819FF2C177A0C600DD392CCB50
FILE: 06 - Lucky Man (Live in Germany, 2004).flac
Size: 35350520 Hash: 9527D6D42C58436C95439CAB6FFC56A1 Accuracy: -m40
Conclusion: CDDA 100%
Signature: 476853DD5271CCF36299D7A2DF47A8E33A4E9A40
FILE: 07 - A Spark in the Aether (Live in USA, 2017).flac
Size: 28028005 Hash: 580622E2C39DEE56BE7F65AEDA8F5BBD Accuracy: -m40
Conclusion: CDDA 100%
Signature: 7CCEC00CC2845870C735908B62A64F84859E6D08
FILE: 08 - A Sale of Two Souls (Live in UK, 2012).flac
Size: 34785728 Hash: BD7273D2BCD129AB63AE807A3DA8F103 Accuracy: -m40
Conclusion: CDDA 100%
Signature: BD088B15EC3AF55FE2A07F9F98A644CCE8FE802A
FILE: 09 - Perdu Dans Paris (Live in UK, 2012).flac
Size: 64421536 Hash: 57BD76881C0D728381D63112DA2B9E0F Accuracy: -m40
Conclusion: CDDA 100%
Signature: BC39B767CF3FE1564A21AA05F976D826EFBBB03C
FILE: 10 - A Crisis In Mid Life (Live in UK, 2012).flac
Size: 50562454 Hash: 76B3F4F924066B199CE22D63693A8CF9 Accuracy: -m40
Conclusion: CDDA 100%
Signature: DC4520374F9B4BD1C236D1E71FA3A19E7193EF6B
FILE: 11 - Doctor Livingstone (I Presume) (Live in USA, 2017).flac
Size: 72752811 Hash: 57E653330C8B5B2327AA60319624C724 Accuracy: -m40
Conclusion: MPEG 95%
Signature: 11C0457A5594F21C85025D6D67B1CD64DC68092D
FILE: 12 - Titanic Calls Carpathia (Live in UK, 2012).flac
Size: 114755671 Hash: B3A9AE86CA00582FCC3BC811AA8E2BFC Accuracy: -m40
Conclusion: CDDA 100%
Signature: 647A70B0F1533D9FD7F9FF55EBA0406B07EBCEE3
FILE: 13 - Two Rope Swings (Live in USA, 2017).flac
Size: 42937952 Hash: E5F41F9F0A4D58C5D62A5B16BE6D34A6 Accuracy: -m40
Conclusion: CDDA 99%
Signature: 9A0A68AD37B2B581F92A6191E7BCD204D4CDE950