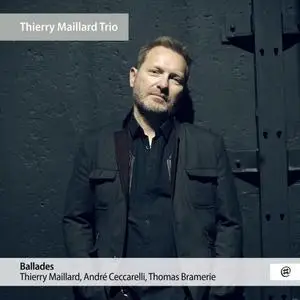 Thierry Maillard - Ballades (2021)
FLAC tracks | 64:52 | 395 Mb
Genre: Classical Jazz / Label: NoMadMusic
The pianist Thierry Maillard, a free spirit of the French jazz scene with classical training, known for complex and impulsive compositions, reveals with this album a rather hidden facet of his work. Time and again in his musical life to date, he has dropped a few lyrical breadcrumbs. He now picked up this trail to record a trio album with his most beautiful ballads. For this long-cherished emotional project, he has enlisted the help of two first-class partners, double bassist Thomas Bramerie and drummer André Ceccarelli.
Track List:
1. Pour Jacques Brel (feat. André Ceccarelli & Thomas BRAMERIE) (5:31)
2. Plus jamais pareil (feat. André Ceccarelli & Thomas BRAMERIE) (3:49)
3. Éperdument (feat. André Ceccarelli & Thomas BRAMERIE) (4:04)
4. Pour te sauver (feat. André Ceccarelli & Thomas BRAMERIE) (3:36)
5. Ilona (feat. André Ceccarelli & Thomas BRAMERIE) (3:27)
6. Lungo mare (feat. André Ceccarelli & Thomas BRAMERIE) (3:52)
7. Comme avant (feat. André Ceccarelli & Thomas BRAMERIE) (4:07)
8. Entre deux mondes (feat. André Ceccarelli & Thomas BRAMERIE) (4:23)
9. Alone (feat. André Ceccarelli & Thomas BRAMERIE) (2:16)
10. Nissanou (feat. André Ceccarelli & Thomas BRAMERIE) (2:54)
11. Notre histoire (feat. André Ceccarelli & Thomas BRAMERIE) (5:03)
12. Si seulement (feat. André Ceccarelli & Thomas BRAMERIE) (3:03)
13. Au bord de la rivière (feat. André Ceccarelli & Thomas BRAMERIE) (5:04)
14. Sans adieu (feat. André Ceccarelli & Thomas BRAMERIE) (3:03)
15. Transylvanie (feat. André Ceccarelli & Thomas BRAMERIE) (5:05)
16. Ton image (feat. André Ceccarelli & Thomas BRAMERIE) (2:40)
17. Vision (feat. André Ceccarelli & Thomas BRAMERIE) (3:04)
ANALYZER: auCDtect: CD records authenticity detector, version 0.8.2
Copyright © 2004 Oleg Berngardt. All rights reserved.
Copyright © 2004 Alexander Djourik. All rights reserved.


FILE: 01. Thierry Maillard, André Ceccarelli, Thomas BRAMERIE - Pour Jacques Brel.flac
Size: 33125729 Hash: 63C8D92F51185BF7075DF8C25EE75E3B Accuracy: -m40
Conclusion: CDDA 99%
Signature: 47D54A52DC8403C00ADC6B68338A457F86697C48
FILE: 02. Thierry Maillard, André Ceccarelli, Thomas BRAMERIE - Plus jamais pareil.flac
Size: 25367028 Hash: 973EB2C4094C52178040D9770DBFA45A Accuracy: -m40
Conclusion: CDDA 100%
Signature: 05B49336E92BFBA3872FE99954A5BA36D35FB17F
FILE: 03. Thierry Maillard, André Ceccarelli, Thomas BRAMERIE - Éperdument.flac
Size: 24268374 Hash: 64B141BA1EAA5399EEBCD161B85D5346 Accuracy: -m40
Conclusion: CDDA 99%
Signature: 1BCDEAF81EC2D5EFFC3026A0258ABE060055E762
FILE: 04. Thierry Maillard, André Ceccarelli, Thomas BRAMERIE - Pour te sauver.flac
Size: 23515609 Hash: FE58939FD98750D6FD24E40F2A50A191 Accuracy: -m40
Conclusion: CDDA 100%
Signature: 278063776E5A52F878F7C418A0B9E79B42BA3257
FILE: 05. Thierry Maillard, André Ceccarelli, Thomas BRAMERIE - Ilona.flac
Size: 21681564 Hash: 84E04354D95E9BCD110B5C6BFBBD92D6 Accuracy: -m40
Conclusion: CDDA 100%
Signature: C860CA612A257FA83BB3FAED667C875DF9337EA9
FILE: 06. Thierry Maillard, André Ceccarelli, Thomas BRAMERIE - Lungo mare.flac
Size: 26263952 Hash: 12284F9BE9855DDFED19990F66021F33 Accuracy: -m40
Conclusion: CDDA 100%
Signature: B06930A9B271E0DFB9BD14B7377853D9C2864C2E
FILE: 07. Thierry Maillard, André Ceccarelli, Thomas BRAMERIE - Comme avant.flac
Size: 27869945 Hash: 56B865B05A26B160D28CD29B2E287E9E Accuracy: -m40
Conclusion: CDDA 100%
Signature: C956D4A6C6CB6408C81FD51419452D9DBE1ABAAD
FILE: 08. Thierry Maillard, André Ceccarelli, Thomas BRAMERIE - Entre deux mondes.flac
Size: 28463627 Hash: 9C8B336DDF53236DD0BFC794FA17893F Accuracy: -m40
Conclusion: CDDA 100%
Signature: CEA0F135B52978156CF0E5E19AC8458784E270C3
FILE: 09. Thierry Maillard, André Ceccarelli, Thomas BRAMERIE - Alone.flac
Size: 15272357 Hash: 13E9DEF6ADC31DCFB0FB306154052350 Accuracy: -m40
Conclusion: CDDA 100%
Signature: B5F518C4B46E4B42BD5E8305BB0240749101651E
FILE: 10. Thierry Maillard, André Ceccarelli, Thomas BRAMERIE - Nissanou.flac
Size: 18629371 Hash: AA62E851A9CEE024AE194B8AC598123A Accuracy: -m40
Conclusion: CDDA 100%
Signature: 9CB58B7073DF96E06B0CDBA969CAC2C36C213035
FILE: 11. Thierry Maillard, André Ceccarelli, Thomas BRAMERIE - Notre histoire.flac
Size: 30715996 Hash: A308CC8A43BBD34E2174AA1178179092 Accuracy: -m40
Conclusion: CDDA 100%
Signature: 5ABAD437D31E6C5B3B5DCE697E832EA3BB85306B
FILE: 12. Thierry Maillard, André Ceccarelli, Thomas BRAMERIE - Si seulement.flac
Size: 18283806 Hash: 2BE8DD3D3A0B19E1E8972584F9B3C42B Accuracy: -m40
Conclusion: CDDA 100%
Signature: 59BD3FD9C8D936FE4555EFA02111FAE1C0533AF9
FILE: 13. Thierry Maillard, André Ceccarelli, Thomas BRAMERIE - Au bord de la rivière.flac
Size: 31906899 Hash: 84DA090067C2D7AB787F2B557FA4AC2B Accuracy: -m40
Conclusion: CDDA 100%
Signature: A8350CE2B679EAF02DCC960A166AE181AB2E53E9
FILE: 14. Thierry Maillard, André Ceccarelli, Thomas BRAMERIE - Sans adieu.flac
Size: 20149920 Hash: 1270AD14E0520ECE18218882B95DE4D8 Accuracy: -m40
Conclusion: CDDA 100%
Signature: 0EBE77653B44C3B15D8BCC8425447B3117552B15
FILE: 15. Thierry Maillard, André Ceccarelli, Thomas BRAMERIE - Transylvanie.flac
Size: 31529966 Hash: 66DA4AA573D4C0F1C2573851C51B8D83 Accuracy: -m40
Conclusion: CDDA 100%
Signature: 631DCB14641D3D2F202E124F055778C2A21399A7
FILE: 16. Thierry Maillard, André Ceccarelli, Thomas BRAMERIE - Ton image.flac
Size: 18074985 Hash: DB90A5F947C4683D2E750EACEC5AA923 Accuracy: -m40
Conclusion: CDDA 100%
Signature: F972D7ECE217AE8B6DD466BA6351AD92F517C402
FILE: 17. Thierry Maillard, André Ceccarelli, Thomas BRAMERIE - Vision.flac
Size: 19565305 Hash: 19152953355EEA921C689718AB958FA4 Accuracy: -m40
Conclusion: CDDA 99%
Signature: ACA2E5912E53E58BD13A2C0150B1392FB91A7870