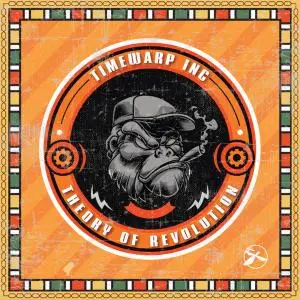 Timewarp Inc - Theory of Revolution (2019)
WEB FLAC (tracks) - 219 MB | Tracks: 19 | 60:01 min
Style: Funk, Nu-Jazz, Breakbeat, Electronic. Nu-Disco | Label: Timewarp Music
After a long time in the waiting line, we are thrilled to present the fourth full length album from Timewarp inc. Yes indeed, this time on wax with a limited 250 copies double 12" black vinyl edition, packaged on a heavy duty gatefold. Yes we are proud to say that this is our third vinyl release to date. Theory of Revolution is a strong album release, bringing 19 freshly produced tracks. A few of them where previous released on singles and ep's and only on the digital domain format though the past years, most of them gained great success & big attention, with many playlists from dj's and radio stations all over the world.
Timewarp inc (aka Angelos Timewarp Stoumpos) managed to provide many new tracks, along the already released ones, while he also managed to remaster them and tried to give a fresh breath to his "old gold" tracks that are still hot and playable out there.
You can expect a wide range of styles and tempos in this album, from dub and reggae to funk and disco, downtempo to house, and from soul to tropical electronica, all produced and based on wide range and borderless music concept, surrounded by some well cooked mediterranean characteristics. All blended with his unique style of producing, mixing and mastering at his "audiophile analogue studio" in Athens.
Featuring artists gave their touch on the album songs. Georges Perin contributes on four songs: Theory of Revolution, I'll Be Ok, Realistic (yes, here he also plays the harmonica) and on Tropicaliente with his great talented voice and unbeatable vocals. Jammaroots contributes on Restart and she provides a wonderful and anti-political riddim jam with her great vocal skills. Gobey contributes on Liberty is Our Destiny with his riddim and everything sparkles out the good vibes, while RSN gives a few delicious scratches.
The Mage provides his story telling on Economic Boom by bringing his warm trip-hop vocals while Beatride plays the hammond hook. Fanis Karoussos brought his talent over Smoke Miash with his amazing anatolian Santur and his master playing skills. Also we have two remastered versions especially for this vinyl album release. Emma Anagnostou participates on Afrofunk with her etherial soul, funk vocal while George T. provides the warm baseline. Salomi Vasileiadou contributes with her amazing performance vocals on the song Yuil Disco Breaks while Dj Tzinas carries the trumpet hooks. Multi instrumentalist George Mitsikaris performs with his Sitar, Tabla and Bansuri Flute on the track Dubwarp. Timewarp Junior (Morpheus) takes the microphone for the first time and he shoots a few words over Tropicaliente. While the seven times DMC champion Sparky T. bring his turntables and scratching skills over four tracks. Alex Ioannou aka Alex The X-King the most wanted main performers on the album provides his great guitars melodies, hooks and riffs on the most album songs but he also brings out a few base lines and the sweet tropical Yukelele sound. Tasos Fotiou appears on Dub in Disco with his sax section, on Reggae on Dope with his silver flute and again with his sax over Yuil Disco Breaks. Niles Philips lents his huge beats for the new version of Bullshit. Nikos BJ and Fanis P. contributes on tracks Afrofunk and Soulfiction with their guitars.
Tracklist:
01. Theory of Revolution
02. Realistic
03. Restart
04. Liberty Is Our Destiny
05. Economic Boom
06. Tropicaliente
07. I'll Be Ok
08. Smoke Miash (Santuri Version)
09. Dubwarp
10. Tweaky
11. Dub in Disco
12. Reggae on Dope
13. Blessed
14. Soulfiction (2019 Mix)
15. Bullshit (2018 Version)
16. Discogirls (Discofunk Version)
17. Afrofunk (Remaster)
18. Yuil Disco Breaks (Remaster)
19. Not Bad Disco


FILE: 01. Theory of Revolution.flac
Size: 28253571 Hash: F13FF2A0DCB54B5EB2EFEFC226212F68 Accuracy: -m0
Conclusion: CDDA 100%
Signature: 4F82ED76F7DE8C4F1DC07DFCA90548FC9BD8F51F
FILE: 02. Realistic.flac
Size: 30268566 Hash: C7B00BA579F8DD229FA462E8B919F6BE Accuracy: -m0
Conclusion: CDDA 100%
Signature: 54A713145D50F43C4786526383CAEE079D7A3F36
FILE: 03. Restart.flac
Size: 33360233 Hash: 81ABDFDCC35E4E02E2DD41BA2DE57A3A Accuracy: -m0
Conclusion: CDDA 100%
Signature: 5518F3208924B9B18B4778DE36B8D8D2B4A533DB
FILE: 04. Liberty Is Our Destiny.flac
Size: 34611439 Hash: FB020ECA70E8F4E3EE16E8398911CE0D Accuracy: -m0
Conclusion: CDDA 100%
Signature: D3410A0FDCABAD001975C8F46E07D731C7511B22
FILE: 05. Economic Boom.flac
Size: 29064582 Hash: A2674D89B0CE6E1558C2C85ED10000E8 Accuracy: -m0
Conclusion: CDDA 100%
Signature: 3A0721B2586AC1C47900F579BEE4EE6F8046C8D8
FILE: 06. Tropicaliente.flac
Size: 37732732 Hash: 3FE920790BDF271FF1E320BE4B5DCC4B Accuracy: -m0
Conclusion: CDDA 100%
Signature: 416594FDBCD2EB77B616B05A659011D1AEEBA7AA
FILE: 07. I'll Be Ok.flac
Size: 23280493 Hash: 814831AB431D435BBB2531AFC9F3065B Accuracy: -m0
Conclusion: CDDA 100%
Signature: 6924CBCE072F4F99820879872F4D7D9D1F474BDA
FILE: 08. Smoke Miash (Santuri Version).flac
Size: 30104608 Hash: 072116D59420CE1CFBFB6B6CB82DF9D8 Accuracy: -m0
Conclusion: CDDA 100%
Signature: C944EFD17652952DD288072357AB32B105C098AC
FILE: 09. Dubwarp.flac
Size: 37826521 Hash: 7EB3C8C451D4BB03A6C69479FA99854F Accuracy: -m0
Conclusion: CDDA 99%
Signature: 49AB6237D3C3966A8BC338A54164EE48E6DE9DD6
FILE: 10. Tweaky.flac
Size: 35948827 Hash: 5D7A2ADF1B820C6B0FACA0DB96332E20 Accuracy: -m0
Conclusion: CDDA 100%
Signature: 8FBEBE241407421D263CCDC89F5099E22E23C750
FILE: 11. Dub in Disco.flac
Size: 35176452 Hash: 87A4B0F6313636B9E75D1F18D2BB9542 Accuracy: -m0
Conclusion: CDDA 92%
Signature: E8BCD4F78A40F4FCC7E06EBFB3DF2E765D9B95E3
FILE: 12. Reggae on Dope.flac
Size: 37828554 Hash: 50F9A9937E719A6103839F5830A5DBF0 Accuracy: -m0
Conclusion: CDDA 86%
Signature: 197DAD88038E284B324121A8CD19D6597A02336E
FILE: 13. Blessed.flac
Size: 36283738 Hash: E9F6D025481C7244BBD707AF31877062 Accuracy: -m0
Conclusion: CDDA 100%
Signature: D82348DAD18A6F8B5A2456151BD9CF889A6D9641
FILE: 14. Soulfiction (2019 Mix).flac
Size: 25398922 Hash: B2FE03CDFED6B5005D61E6EFF34301A3 Accuracy: -m0
Conclusion: CDDA 99%
Signature: 1E91DB621500AE18C0D01CF9AFE3A00966778192
FILE: 15. Bullshit (2018 Version).flac
Size: 33249480 Hash: 4A96E6DD28DB699ABEB4E7D109E73971 Accuracy: -m0
Conclusion: CDDA 100%
Signature: 1AD1A6C7F2CB0EC9F4CB0C1585054506A84244BC
FILE: 16. Discogirls (Discofunk Version).flac
Size: 39826215 Hash: A852ABF5FB1E9B007D4609F6FE573227 Accuracy: -m0
Conclusion: ???
Signature: 07F29D305DC53F479E9E6F847CFB885459D5CA40
FILE: 17. Afrofunk (Remaster).flac
Size: 35250679 Hash: 213ADB68EA0E985C4269FBDFA621C357 Accuracy: -m0
Conclusion: CDDA 99%
Signature: 9177E5435064F5C2DAF53A76F7ECBE2BF9434E1A
FILE: 18. Yuil Disco Breaks (Remaster).flac
Size: 39055647 Hash: FA6BEF0A14295ABD91DAB3CC5A8583DD Accuracy: -m0
Conclusion: CDDA 100%
Signature: D9ADB9C0F9C80F1C147387473EF127D3448550A8
FILE: 19. Not Bad Disco.flac
Size: 38036298 Hash: 190969A89DE1A1ED5C1A52F8B8402D80 Accuracy: -m0
Conclusion: CDDA 99%
Signature: C12805864B213C19FD99111C8E936B24CA9F5182