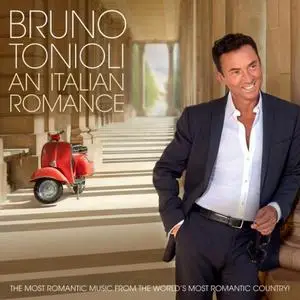 VA - Bruno Tonioli An Italian Romance (2016)
MP3 CBR 320 kbps | 03:09:23 | 445 Mb
Genre: Classical Music, Jazz, Pop, Soundtrack / Label: Decca
Compiled across three CDs, An Italian Romance takes the listener seamlessly from the best of the Italian songbook, to the most heartfelt tracks from Italian cinema, and the many magical moments in Italian opera. Bruno Tonioli dazzles the public every week on the panel of Strictly Come Dancing with his colourful critiques of contestants performances, and priceless insights into the world of dance, drawing on his glittering career in dance choreography over the past 40 years. Here, Bruno delivers the same in-depth knowledge as he explores the world of Italian music.
Track List:
1. Dean Martin - Volare (Nel blu di pinto di blu) 3:00
2. Doris Day - Que sera, sera (Whatever Will Be, Will Be) 2:04
3. Rosemary Clooney - Mambo italiano 2:31
4. Engelbert Humperdinck - Quando quando quando 3:19
5. Sophia Loren & Frank De Vol - Bing! Bang! Bong! 2:20
6. Nat King Cole - Arrivederci Roma 2:44
7. Shirley Bassey - Never Never Never 3:40
8. Sophia Loren - Felicita 3:20
9. Isabella Rossellini - Non dimenticar le mie parole 3:58
10. Zucchero - Senza una donna (feat. Paul Young) 4:27
11. Connie Francis - Return to Me 3:16
12. Pink Martini - Una notte a Napoli 4:44
13. Dean Martin - That's Amore 3:07
14. Patrizio Buanne - On an Evening in Roma 2:25
15. Louis Prima - Buona sera 2:57
16. Rocco Granata - Marina 2:44
17. Renato Carosone - Guaglione 2:21
18. André Rieu & Johann Strauss Orchestra - L'italiano (Lasciatemi cantare) 3:16
19. Mantovani and His Orchestra - Come Back to Sorrento 3:11
20. Matt Monro - On Days Like These 3:41
21. Renato Carosone - Tu vuo fa 'l'americano (From "The American" Soundtrack) 3:27
22. André Rieu - The Godfather 3:00
23. Nino Rota - Love Theme from Romeo and Juliet 2:43
24. Dame Kiri Te Kanawa, London Philharmonic Orchestra & John Pritchard - Gianni Schicchi: O mio babbino caro 2:26
25. The City of Prague Philharmonic Orchestra & Paul Bateman - Love Theme from Cinema Paradiso 3:31
26. Luis Bacalov - Il postino 2:41
27. Nino Rota - La dolce vita (In via veneto) 1:36
28. The City of Prague Philharmonic Orchestra & Derek Wadsworth - Amarcord Suite 5:10
29. I Salonisti - La strada 3:22
30. The City of Prague Philharmonic Orchestra & Kenneth Alwyn - As Far As Florence 2:42
31. Ennio Morricone - Deborah's Theme (From "C'era Una Volta In America") 4:24
32. Ludovico Einaudi - Una mattina 3:22
33. Chet Baker - My Funny Valentine 2:19
34. Dinah Washington - What a Difference a Day Made 2:29
35. Nina Simone - My Baby Just Cares for Me 3:02
36. Bobby Darin - Beyond the Sea 2:49
37. The City of Prague Philharmonic Orchestra & Nic Raine - The Godfather Waltz 3:43
38. José Carreras, Plácido Domingo, Luciano Pavarotti, Orchestra del Teatro dell'Opera di Roma, Orchestra del Maggio Musicale Fiorentino & Zubin Mehta - Turandot: Nessun dorma (Live) 3:12
39. Russell Watson, Royal Philharmonic Orchestra & Nick Ingman - Rigoletto: La donna è mobile 2:08
40. Luciano Pavarotti, Dame Joan Sutherland, The London Opera Chorus, National Philharmonic Orchestra & Richard Bonynge - La traviata: Libiamo ne'lieti calici (Brindisi) 2:49
41. Luciano Pavarotti, Wiener Opernorchester & Nicola Rescigno - Il trovatore: Di quella pira 2:09
42. Jonas Kaufmann, Cristina Reale, Orchestra dell'Accademia Nazionale di Santa Cecilia & Antonio Pappano - Cavalleria rusticana: Mamma, quel vino è generoso 3:41
43. Dame Joan Sutherland, Luciano Pavarotti, Orchestra of the Royal Opera House, Covent Garden & Richard Bonynge - Lucia di Lammermoor: Sulla tomba che rinserra 2:53
44. Nicolai Ghiaurov, Luciano Pavarotti, Orchestra del Teatro Comunale di Bologna & Richard Bonynge - La favorita: Parla, figlio. Una vergine, un'angel di Dio 4:10
45. Mario Lanza - O sole mio 4:21
46. Enrico Caruso - L'elisir d'amore: Una furtiva lagrima 4:16
47. Giuseppe di Stefano - Funiculì, Funiculà 2:32
48. Maria Callas, Coro del Teatro alla Scala di Milano, Orchestra del Teatro alla Scala di Milano & Tullio Serafin - Norma: Casta diva 5:33
49. Renée Fleming, London Philharmonic Orchestra & Sir Charles Mackerras - Madama Butterfly: Un bel dì vedremo 4:50
50. Dame Kiri Te Kanawa, National Philharmonic Orchestra & Sir Georg Solti - Tosca: Vissi d'arte, vissi d'amore 3:17
51. Pumeza Matshikiza, Aarhus Symfoniorkester & Tobias Ringborg - La Wally: Ebben? Ne andrò lontana 3:29
52. Cecilia Bartoli, International Chamber Soloists, Orchestra La Scintilla & Ádám Fischer - Il barbiere di Siviglia: Una voce poco fa 5:29
53. Dame Joan Sutherland, Orchestre de la Société des Concerts du Conservatoire & Nello Santi - Ernani: Ernani! Ernani, involami 2:40
54. Orchester der Deutschen Oper Berlin, Giuseppe Sinopoli & Chor der Deutschen Oper Berlin - Nabucco: Va, pensiero, sull'ali dorate 3:54
55. National Philharmonic Orchestra & Gianandrea Gavazzeni - Cavalleria rusticana: Intermezzo 3:11
56. Alan Loveday, Academy of St. Martin in the Fields & Sir Neville Marriner - Le quattro stagione, Concerto No. 1 in E Major, RV 269 "La primavera": I. Allegro 3:09
57. Sarah Brightman - Time to Say Goodbye (Live) 4:21