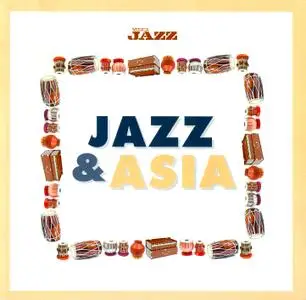 VA - Jazz & Asia (2004) [Musica Jazz Magazine 02/2004]
EAC | FLAC | Tracks (Cue&Log) ~ 382 Mb | Scans included | Time: 01:11:08
Contemporary Jazz, Folk, World | Label: Musica Jazz/ECM | # ECM/IN
Taken from the rich catalog of the ECM label and exclusively intended for the readers of Jazz Music, this anthology contains some of the most important examples of the fruitful marriage between two important musical traditions: that of the African American and Asiatic stock. The origin of the extraordinary meeting dates back to the beginning of the Sixties, continuing to this day in a very singular but far from forced development, and certainly with very suggestive results. The twelve songs offer the occasion, not always frequent, to know musicians linked to technique and spirituality for centuries rooted in the great continent (in this album, especially in India) and together to appreciate the naturalness with which jazz musicians of absolute value have been able to support them: we listen to European and European talents such as Don Cherry, Leroy Jenkins, John McLaughlin, Jan Garbarek, Charlie Mariano, Collin Walcott, John Abercrombie, John Surman, Mat Maneri, singers Karin Krog and Susanne Abbuehl.
Tracklist:
01. Carla Bley & Paul Haines - AIR (3:59)
02. Zakir Hussain - Zakir (6:18)
03. Charlie Mariano & Karnataka College Of Percussion - Saptarshi (6:50)
04. Codona - Codona (6:15)
05. Shankar - Song For Everyone (6:21)
06. Paul Giger - Vindonissa-Intro (2:03)
07. Collin Walcott - Moon Lake (8:26)
08. Susanne Abbuehl - Mane Na (5:42)
09. John Surman - Mother of Light - Persepolis (7:01)
10. Garbarek & UF Ali Khan & Musician from Pakistan - Saga (5:26)
11. Mat Maneri - Sun Ship (7:19)
12. Shankar - Reason (5:29)
Exact Audio Copy V1.3 from 2. September 2016

Отчёт EAC об извлечении, выполненном 9. марта 2018, 17:14

Various Artists / Misica Jazz Jazz & Asia

Дисковод: PLEXTOR DVDR PX-L890SA Adapter: 1 ID: 0

Режим чтения : Достоверность
Использование точного потока : Да
Отключение кэша аудио : Да
Использование указателей C2 : Нет

Коррекция смещения при чтении : 6
Способность читать области Lead-in и Lead-out : Нет
Заполнение пропущенных сэмплов тишиной : Да
Удаление блоков с тишиной в начале и конце : Нет
При вычислениях CRC использовались нулевые сэмплы : Да
Интерфейс : Встроенный Win32-интерфейс для Win NT/2000
Обработка зазоров : Добавлено к предыдущему треку

Выходной формат : Пользовательский кодировщик
Выбранный битрейт : 896 kBit/s
Качество : Высокий
Добавление ID3-тега : Нет
Утилита сжатия : C:\Program Files\Exact Audio Copy\Flac\flac.exe
Дополнительные параметры : -V -8 -T "Genre=%genre%" -T "Artist=%artist%" -T "Title=%title%" -T "Album=%albumtitle%" -T "Date=%year%" -T "Tracknumber=%tracknr%" -T "Comment=%comment%" %source%


TOC извлечённого CD

Трек | Старт | Длительность | Начальный сектор | Конечный сектор
––––––––––––––––––––––––––––––––––-
1 | 0:00.00 | 3:59.10 | 0 | 17934
2 | 3:59.10 | 6:18.37 | 17935 | 46321
3 | 10:17.47 | 6:49.40 | 46322 | 77036
4 | 17:07.12 | 6:15.05 | 77037 | 105166
5 | 23:22.17 | 6:20.63 | 105167 | 133729
6 | 29:43.05 | 2:02.50 | 133730 | 142929
7 | 31:45.55 | 8:25.67 | 142930 | 180871
8 | 40:11.47 | 5:41.45 | 180872 | 206491
9 | 45:53.17 | 7:01.15 | 206492 | 238081
10 | 52:54.32 | 5:26.03 | 238082 | 262534
11 | 58:20.35 | 7:18.50 | 262535 | 295434
12 | 65:39.10 | 5:29.00 | 295435 | 320109


Трек 1

Имя файла H:\Зарубежный джаз\VA - Misica Jazz Jazz & Asia 2004\01 Carla Bley & Paul Haines - AIR.wav

Длина предзазора 0:00:02.00

Пиковый уровень 79.4 %
Скорость извлечения 5.1 X
Качество трека 100.0 %
CRC теста 4407B82D
CRC копии 4407B82D
Точное извлечение (достоверность 1) [C9C21E4C] (AR v2)
Копирование… OK

Трек 2

Имя файла H:\Зарубежный джаз\VA - Misica Jazz Jazz & Asia 2004\02 Zakir Hussain - Zakir.wav

Пиковый уровень 89.1 %
Скорость извлечения 5.0 X
Качество трека 99.9 %
CRC теста F3ABA99A
CRC копии F3ABA99A
Точное извлечение (достоверность 1) [67615F05] (AR v2)
Копирование… OK

Трек 3

Имя файла H:\Зарубежный джаз\VA - Misica Jazz Jazz & Asia 2004\03 Charlie Mariano & Karnataka College Of Percussion - Saptarshi.wav

Пиковый уровень 99.9 %
Скорость извлечения 5.5 X
Качество трека 100.0 %
CRC теста 7265479C
CRC копии 7265479C
Точное извлечение (достоверность 1) [8B88BFB3] (AR v2)
Копирование… OK

Трек 4

Имя файла H:\Зарубежный джаз\VA - Misica Jazz Jazz & Asia 2004\04 Codona - Codona.wav

Пиковый уровень 100.0 %
Скорость извлечения 5.5 X
Качество трека 100.0 %
CRC теста A3843589
CRC копии A3843589
Точное извлечение (достоверность 1) [9EC61D4D] (AR v2)
Копирование… OK

Трек 5

Имя файла H:\Зарубежный джаз\VA - Misica Jazz Jazz & Asia 2004\05 Shankar - Song For Everyone.wav

Пиковый уровень 99.9 %
Скорость извлечения 5.5 X
Качество трека 100.0 %
CRC теста 15D99E25
CRC копии 15D99E25
Точное извлечение (достоверность 1) [EA165F08] (AR v2)
Копирование… OK

Трек 6

Имя файла H:\Зарубежный джаз\VA - Misica Jazz Jazz & Asia 2004\06 Paul Giger - Vindonissa-Intro.wav

Пиковый уровень 56.2 %
Скорость извлечения 4.6 X
Качество трека 100.0 %
CRC теста F56EB249
CRC копии F56EB249
Точное извлечение (достоверность 1) [771AADE9] (AR v2)
Копирование… OK

Трек 7

Имя файла H:\Зарубежный джаз\VA - Misica Jazz Jazz & Asia 2004\07 Collin Walcott - Moon Lake.wav

Пиковый уровень 99.9 %
Скорость извлечения 5.6 X
Качество трека 100.0 %
CRC теста B4CC9367
CRC копии B4CC9367
Точное извлечение (достоверность 1) [B2767500] (AR v2)
Копирование… OK

Трек 8

Имя файла H:\Зарубежный джаз\VA - Misica Jazz Jazz & Asia 2004\08 Susanne Abbuehl - Mane Na.wav

Пиковый уровень 84.1 %
Скорость извлечения 5.0 X
Качество трека 99.9 %
CRC теста 5A23B09B
CRC копии 5A23B09B
Точное извлечение (достоверность 1) [0B9CC7FE] (AR v2)
Копирование… OK

Трек 9

Имя файла H:\Зарубежный джаз\VA - Misica Jazz Jazz & Asia 2004\09 John Surman - Mother of Light - Persepolis.wav

Пиковый уровень 99.9 %
Скорость извлечения 5.6 X
Качество трека 100.0 %
CRC теста F28C08B8
CRC копии F28C08B8
Точное извлечение (достоверность 1) [5A50D490] (AR v2)
Копирование… OK

Трек 10

Имя файла H:\Зарубежный джаз\VA - Misica Jazz Jazz & Asia 2004\10 Garbarek & UF Ali Khan & Musician from Pakistan - Saga.wav

Пиковый уровень 99.9 %
Скорость извлечения 5.4 X
Качество трека 100.0 %
CRC теста AC756720
CRC копии AC756720
Точное извлечение (достоверность 1) [82584BE0] (AR v2)
Копирование… OK

Трек 11

Имя файла H:\Зарубежный джаз\VA - Misica Jazz Jazz & Asia 2004\11 Mat Maneri - Sun Ship.wav

Пиковый уровень 99.9 %
Скорость извлечения 5.6 X
Качество трека 100.0 %
CRC теста 8DC4DD4C
CRC копии 8DC4DD4C
Точное извлечение (достоверность 1) [AC993725] (AR v2)
Копирование… OK

Трек 12

Имя файла H:\Зарубежный джаз\VA - Misica Jazz Jazz & Asia 2004\12 Shankar - Reason.wav

Пиковый уровень 99.9 %
Скорость извлечения 4.8 X
Качество трека 99.9 %
CRC теста 689F58A9
CRC копии 689F58A9
Точное извлечение (достоверность 1) [3090766F] (AR v2)
Копирование… OK


Все треки извлечены точно

Ошибок не произошло

Конец отчёта

–– CUETools DB Plugin V2.1.6

[CTDB TOCID: NSd15KYN5Eyip_qb2R53nsftPA4-] found
Submit result:
Track | CTDB Status
1 | (4/4) Accurately ripped
2 | (4/4) Accurately ripped
3 | (4/4) Accurately ripped
4 | (4/4) Accurately ripped
5 | (4/4) Accurately ripped
6 | (4/4) Accurately ripped
7 | (4/4) Accurately ripped
8 | (4/4) Accurately ripped
9 | (4/4) Accurately ripped
10 | (4/4) Accurately ripped
11 | (4/4) Accurately ripped
12 | (4/4) Accurately ripped


==== Контрольная сумма отчёта 2F156415DBB0502A9BA9F5E9559FB7C4A9EDEAD29FA0289504D93623650F984E ====
[CUETools log; Date: 15.12.2018 15:31:36; Version: 2.1.4]
[CTDB TOCID: NSd15KYN5Eyip_qb2R53nsftPA4-] found.
Track | CTDB Status
1 | (5/5) Accurately ripped
2 | (5/5) Accurately ripped
3 | (5/5) Accurately ripped
4 | (5/5) Accurately ripped
5 | (5/5) Accurately ripped
6 | (5/5) Accurately ripped
7 | (5/5) Accurately ripped
8 | (5/5) Accurately ripped
9 | (5/5) Accurately ripped
10 | (5/5) Accurately ripped
11 | (5/5) Accurately ripped
12 | (5/5) Accurately ripped
[AccurateRip ID: 001eec97-012353f5-9d10ac0c] found.
Track [ CRC | V2 ] Status
01 [1491e950|c9c21e4c] (0+2/2) Accurately ripped
02 [3c608ee7|67615f05] (0+2/2) Accurately ripped
03 [8a1f7026|8b88bfb3] (0+2/2) Accurately ripped
04 [6b46bd10|9ec61d4d] (0+2/2) Accurately ripped
05 [af600fdf|ea165f08] (0+2/2) Accurately ripped
06 [7ca38767|771aade9] (0+2/2) Accurately ripped
07 [80bdf20d|b2767500] (0+2/2) Accurately ripped
08 [ec237339|0b9cc7fe] (0+2/2) Accurately ripped
09 [da1c8fef|5a50d490] (0+2/2) Accurately ripped
10 [1cab650a|82584be0] (0+2/2) Accurately ripped
11 [b85da31e|ac993725] (0+2/2) Accurately ripped
12 [d4c0fc3a|3090766f] (0+2/2) Accurately ripped

Track Peak [ CRC32 ] [W/O NULL] [ LOG ]
– 99,9 [599EA9C1] [01EA4FC7]
01 79,4 [4407B82D] [020B2652] CRC32
02 89,1 [F3ABA99A] [310935FA] CRC32
03 99,9 [7265479C] [066475FD] CRC32
04 99,9 [A3843589] [4A225EAE] CRC32
05 99,9 [15D99E25] [DC5C4D83] CRC32
06 56,2 [F56EB249] [76C5E806] CRC32
07 99,9 [B4CC9367] [87D2AFA6] CRC32
08 84,1 [5A23B09B] [EF8F6617] CRC32
09 99,9 [F28C08B8] [8F95E6EF] CRC32
10 99,9 [AC756720] [9AE2F010] CRC32
11 99,9 [8DC4DD4C] [03E93556] CRC32
12 99,9 [689F58A9] [A16BEB39] CRC32
foobar2000 1.2 / Dynamic Range Meter 1.1.1
log date: 2018-12-15 15:31:22

––––––––––––––––––––––––––––––––––––––––
Analyzed: Carla Bley & Paul Haines / Jazz & Asia (1)
Charlie Mariano & Karnataka College Of Percussion / Jazz & Asia (2)
Codona / Jazz & Asia (3)
Collin Walcott / Jazz & Asia (4)
Garbarek & UF Ali Khan & Musician from Pakistan / Jazz & Asia (5)
John Surman / Jazz & Asia (6)
Mat Maneri / Jazz & Asia (7)
Paul Giger / Jazz & Asia (8)
Shankar / Jazz & Asia (9-10)
Susanne Abbuehl / Jazz & Asia (11)
Zakir Hussain / Jazz & Asia (12)
––––––––––––––––––––––––––––––––––––––––

DR Peak RMS Duration Track
––––––––––––––––––––––––––––––––––––––––
DR10 -2.00 dB -16.28 dB 3:59 01-AIR
DR16 0.00 dB -19.80 dB 6:50 03-Saptarshi
DR11 0.00 dB -17.13 dB 6:15 04-Codona
DR14 0.00 dB -21.13 dB 8:26 07-Moon Lake
DR16 0.00 dB -19.78 dB 5:26 10-Saga
DR12 0.00 dB -15.74 dB 7:01 09-Mother of Light - Persepolis
DR12 0.00 dB -15.52 dB 7:19 11-Sun Ship
DR10 -5.00 dB -21.07 dB 2:03 06-Vindonissa-Intro
DR15 0.00 dB -19.74 dB 6:21 05-Song For Everyone
DR13 0.00 dB -16.93 dB 5:29 12-Reason
DR13 -1.50 dB -18.69 dB 5:42 08-Mane Na
DR13 -1.00 dB -19.26 dB 6:18 02-Zakir
––––––––––––––––––––––––––––––––––––––––

Number of tracks: 12
Official DR value: DR13

Samplerate: 44100 Hz
Channels: 2
Bits per sample: 16
Bitrate: 631 kbps
Codec: FLAC
================================================================================