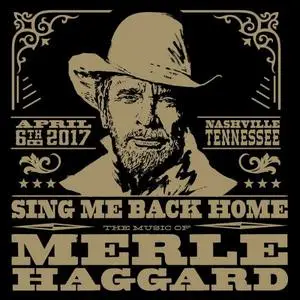 VA - Sing Me Back Home: The Music Of Merle Haggard (2020)
FLAC tracks | 01:42:31 | 641 Mb
Genre: Country / Label: Blackbird Production Partners
In 2017, many of country's biggest and most iconic stars came together for a special tribute concert in honor of the late Merle Haggard. The group celebrated the legend's long list of music and now, fans can bring the live concert home.Media company Blackbird Presents has revealed plans to bring the concert special, Sing Me Back Home: The Music Of Merle Haggard, to CD and DVD on December 11, 2020. Fans will be treated to a multi-disc package, featuring 29 performances from artists including Alabama, Ben Haggard, Billy F Gibbons, Bobby Bare, Buddy Miller, Chris Janson, Connie Smith, Dierks Bentley, Hank Williams Jr., Jake Owen, Jamey Johnson, John Anderson, John Mellencamp, Kacey Musgraves, Keith Richards, Kenny Chesney, Aaron Lewis, Loretta Lynn, Lucinda Williams, Lynyrd Skynyrd, Miranda Lambert, Rodney Crowell, Ronnie Dunn, Sheryl Crow, Tanya Tucker, The Avett Brothers, Toby Keith, Warren Haynes, and Willie Nelson.
Track List:
1. Ben Haggard - What Am I Gonna Do (With The Rest Of My Life) (Live) (4:55)
2. Ben Haggard;Aaron Lewis - Heaven Was A Drink Of Wine (Live) (4:04)
3. Tanya Tucker - The Farmer's Daughter (Live) (2:56)
4. Bobby Bare - I'm A Lonesome Fugitive (Live) (3:30)
5. Connie Smith - That's The Way Love Goes (Live) (3:00)
6. John Anderson - Big City (Live) (3:06)
7. Toby Keith - Carolyn/Daddy Frank (Live) (4:11)
8. Buddy Miller - Don't Give Up On Me (Live) (3:11)
9. Jake Owen;Chris Janson - Footlights (Live) (4:26)
10. Lucinda Williams - Going Where The Lonely Go (Live) (3:40)
11. Jamey Johnson - Kern River (Live) (4:46)
12. Alabama - Silver Wings (Live) (1:53)
13. Hank Williams Jr. - I Think I'll Just Stay Here And Drink (Live) (2:18)
14. Loretta Lynn - Today I Started Loving You Again (Live) (2:32)
15. Lynyrd Skynyrd - Honky Tonk Night Time Man (Live) (4:18)
16. The Avett Brothers - Mama Tried (Live) (3:02)
17. John Mellencamp - White Line Fever (Live) (4:54)
18. Kacey Musgraves - Rainbow Stew (Live) (2:28)
19. Ronnie Dunn - It's All In The Movies (Live) (3:19)
20. Billy F Gibbons - The Bottle Let Me Down (Live) (2:50)
21. Billy F Gibbons;Warren Haynes - Workin' Man Blues (Live) (6:04)
22. Dierks Bentley - If We Make It Through December (Live) (2:36)
23. Sheryl Crow - Natural High (Live) (3:33)
24. Miranda Lambert - Misery And Gin (Live) (3:01)
25. Willie Nelson;Kenny Chesney - Pancho And Lefty (Live) (4:39)
26. Keith Richards - Sing Me Back Home (Live) (5:15)
27. Willie Nelson;Keith Richards - Reasons To Quit (Live) (3:45)
28. Willie Nelson;Toby Keith - Ramblin' Fever (Live) (2:58)
29. Dierks Bentley;Lynyrd Skynyrd;Willie Nelson;Miranda Lambert;Loretta Lynn;Lucinda Williams;Toby Keith;Alabama;John Anderson;Tanya Tucker;Connie Smith;Jamey Johnson;Jake Owen;Hank Williams Jr.;Keith Richards;Buddy Miller;The Avett Brothers;Kacey Musgraves;Ro - Okie From Muskogee (Live) (1:36)
ANALYZER: auCDtect: CD records authenticity detector, version 0.8.2
Copyright © 2004 Oleg Berngardt. All rights reserved.
Copyright © 2004 Alexander Djourik. All rights reserved.


FILE: 01 - What Am I Gonna Do (With The Rest Of My Life) - Live.flac
Size: 30139447 Hash: 899745765FD37A256444D0664E5A5434 Accuracy: -m40
Conclusion: CDDA 100%
Signature: E0AB094E9C0360BD459FC18AC9EFCA6042224794
FILE: 02 - Heaven Was A Drink Of Wine - Live.flac
Size: 25351006 Hash: BC81501CDF91C035D5F8ED44BE559506 Accuracy: -m40
Conclusion: CDDA 100%
Signature: 30062DBA5694E2A740DA6BBC569F231055390DD6
FILE: 03 - The Farmer's Daughter - Live.flac
Size: 16940182 Hash: 67E8245FD77910208D966EACD12487F0 Accuracy: -m40
Conclusion: CDDA 100%
Signature: 45394F89B652D5CF62D92983BBB14085FDE19658
FILE: 04 - I'm A Lonesome Fugitive - Live.flac
Size: 23340072 Hash: AAC6D7E758DDE49E70E3293C9DC62026 Accuracy: -m40
Conclusion: CDDA 100%
Signature: 1AE5FCED7CBA3D385323AF712C995E0F8300842E
FILE: 05 - That's The Way Love Goes - Live.flac
Size: 19217102 Hash: B9165ADD5A86490323B25EB34F43E75E Accuracy: -m40
Conclusion: CDDA 100%
Signature: E121CD01F483276F28A27D54402F7505FB164819
FILE: 06 - Big City - Live.flac
Size: 21498114 Hash: 632E5C84FB14EFBF43218E673FAD7798 Accuracy: -m40
Conclusion: CDDA 100%
Signature: 60DBC91205FAFECF0722E15EC5D3929436D81B5E
FILE: 07 - Carolyn-Daddy Frank - Live.flac
Size: 28438168 Hash: C936A34753D110B4BC4443601E3C06BE Accuracy: -m40
Conclusion: CDDA 99%
Signature: 8573082A54BB0EB57F77FD02202DDE0D44C27B4E
FILE: 08 - Don't Give Up On Me - Live.flac
Size: 21449402 Hash: B04D608309BF3DB84AFE4E54733873C0 Accuracy: -m40
Conclusion: CDDA 100%
Signature: D7C07A4E89F83944D83C449090F23439C23AB4D3
FILE: 09 - Footlights - Live.flac
Size: 28387925 Hash: 57606EA0996FF2AB56D526A873E33A33 Accuracy: -m40
Conclusion: CDDA 99%
Signature: 61E13A6DAA7E0DED98C81C063C4AD1D5415E2BBF
FILE: 10 - Going Where The Lonely Go - Live.flac
Size: 23017644 Hash: 8F8B519A35951A2FB9B2730E8A66D71B Accuracy: -m40
Conclusion: CDDA 100%
Signature: 747463427E45BBAFC36FF30F51ADB1F4A5256FC9
FILE: 11 - Kern River - Live.flac
Size: 28218136 Hash: AC8BCFC4584EDEA47DB4288B73AF0E6E Accuracy: -m40
Conclusion: CDDA 100%
Signature: 67013FC871D659D53718077100568819412E8318
FILE: 12 - Silver Wings - Live.flac
Size: 11563228 Hash: 33F26EC7A01B15B2A439DB310394DACE Accuracy: -m40
Conclusion: CDDA 100%
Signature: 8061988B7B9149F884375384737F5B01A38CB2F1
FILE: 13 - I Think I'll Just Stay Here And Drink - Live.flac
Size: 16973893 Hash: 78EC461B82B8B4FD3831AED8DB2C1018 Accuracy: -m40
Conclusion: CDDA 100%
Signature: 6504FF2B6DA2761BE2B6C91132050578FC5A362C
FILE: 14 - Today I Started Loving You Again - Live.flac
Size: 16800563 Hash: 2EEE89AA8214383DD955C0CA647DC7FD Accuracy: -m40
Conclusion: CDDA 100%
Signature: EAA0CE71BA1EB73C7F71D54D6C12BCA395CE69C4
FILE: 15 - Honky Tonk Night Time Man - Live.flac
Size: 28349649 Hash: D6E11CEB8553451E183A0E5DBADAC6AE Accuracy: -m40
Conclusion: CDDA 100%
Signature: FC08AE2AA8A39E9D7C78329523F9DF44D85A1AE7
FILE: 16 - Mama Tried - Live.flac
Size: 21193661 Hash: 1BC48B03B32AA5B0D58C92FFB21B8114 Accuracy: -m40
Conclusion: CDDA 100%
Signature: E6A67B70D3813C92460952E12E1514259CDEB73E
FILE: 17 - White Line Fever - Live.flac
Size: 33696144 Hash: 1F201725514AE97C3FBA745F1E3C822E Accuracy: -m40
Conclusion: CDDA 100%
Signature: A4460B710C169A2BF275C07E7DDFF7B3CE1BBA80
FILE: 18 - Rainbow Stew - Live.flac
Size: 17330747 Hash: 75D4AC2F335F3767D784B0353ADA0962 Accuracy: -m40
Conclusion: CDDA 100%
Signature: A8F290F604F5A2A403DC043BE7C6D2D0F70CF4C0
FILE: 19 - It's All In The Movies - Live.flac
Size: 21087570 Hash: 48C4E9AAE848D80DD0967FF75A6ABB48 Accuracy: -m40
Conclusion: CDDA 100%
Signature: F2B1D4B4A470D1ED179D3C1FA8BCAE8DB6B2B399
FILE: 20 - The Bottle Let Me Down - Live.flac
Size: 20169212 Hash: 625B5A2DCF034B11DD75CC1233B9D1DB Accuracy: -m40
Conclusion: CDDA 100%
Signature: CC748811FE98261E548FEADA4D09A05177DACAAC
FILE: 21 - Workin' Man Blues - Live.flac
Size: 37357728 Hash: 9407244BC11A588DBDF587E75FF5AF8B Accuracy: -m40
Conclusion: CDDA 100%
Signature: 5CECCD00AC0B1A06D000D2EFE6E2473A09E4DE1C
FILE: 22 - If We Make It Through December - Live.flac
Size: 16471898 Hash: EFF388BA58940BD07FE0227E869271C4 Accuracy: -m40
Conclusion: CDDA 100%
Signature: 6AFBBE09790E563B698CE6C95E276B5452C2FAF1
FILE: 23 - Natural High - Live.flac
Size: 22200171 Hash: 94ABF5C6CC28E9F7A3949E69AFA93E20 Accuracy: -m40
Conclusion: CDDA 100%
Signature: 5F2E58D5E8A39674516980B85CC5DAE7361FF363
FILE: 24 - Misery And Gin - Live.flac
Size: 19184589 Hash: 7086DC8510580AEB95BC302E0D986DC5 Accuracy: -m40
Conclusion: CDDA 99%
Signature: 7F38B0FB816C2DEBD77704137E9750D1C2C22F8D
FILE: 25 - Pancho And Lefty - Live.flac
Size: 33229645 Hash: 0C5788F4DF5108696570C2D82D509AF4 Accuracy: -m40
Conclusion: CDDA 100%
Signature: 1E518B44CEAC34B4BD2E0B2B65928B429886E844
FILE: 26 - Sing Me Back Home - Live.flac
Size: 34480546 Hash: 551F0C00BECAA6903CE3978651C28BA4 Accuracy: -m40
Conclusion: CDDA 100%
Signature: BEE4746F5C55077AE3FFF5ED176C8E4803056887
FILE: 27 - Reasons To Quit - Live.flac
Size: 25126726 Hash: AC81053F4FCE9456D929F38942CA254E Accuracy: -m40
Conclusion: CDDA 100%
Signature: D17C7677138F384C5FA36E6A73C78658F4CEADE8
FILE: 28 - Ramblin' Fever - Live.flac
Size: 22291291 Hash: 0B5959B801C04A1F2DB0B7D9A7475F4B Accuracy: -m40
Conclusion: CDDA 100%
Signature: 6F80B253B56D55D3FB16B8BD176A11B225C26FB6
FILE: 29 - Okie From Muskogee - Live.flac
Size: 11543660 Hash: C4CE0F8DC1801195441438061FE37D70 Accuracy: -m40
Conclusion: CDDA 99%
Signature: 3D302C31B0915292BD503294BCFB9F9A33CA1EDD