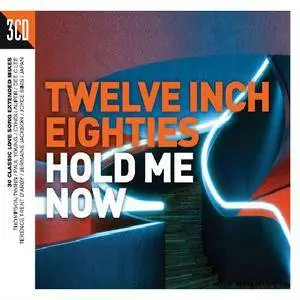 VA - Twelve Inch Eighties: Hold Me Now (2017)
MP3 CBR 320 kbps | 03:01:32 | 460 Mb
Genre: Dance, Disco, Pop / Label: Crimson
2017 three CD set. Hold Me Now is a collection of classic love songs extended, remixed and reimagined. Features 30 classics by the likes of Spandau Ballet, Nick Heyward, Donna Summer, Belinda Carlisle and many others. Contains a whopping eight Top 5 singles, five Top 10 and eight Top 20 hits. Twelve Inch Eighties is the successful range by Crimson Productions, compiling extended alternate mixes of some of the biggest hit singles of the '80s. These carefully selected titles across the range bring together the finest eighties pop, dance and disco, amongst other genres, in all their full 12" single glory.
Track List:
CD1:
1. Through the Barricades (Extended Version) - Spandau Ballet
2. Every Time You Go Away (Extended Remix Version) - Paul Young
3. Whistle Down the Wind (12" Version) - Nick Heyward
4. Hold Me Now (12" Version) - Thompson Twins
5. I Second That Emotion (12" Version) - Japan
6. See the Day (12" Version) - Dee C Lee
7. World Without You (Extended Worldwide Mix) - Belinda Carlisle
8. When Will You (Make My Telephone Ring)?(12" Version) - Deacon Blue
9. The Taste of Your Tears (Breaker Heart Mix) - King
10. Fantastic Day (12" Version) - Haircut 100
CD2:
1. State of Independence (Full Length Album Version) - Donna Summer
2. Do What You Do (12" Remix Version) - Jermaine Jackson
3. How 'Bout Us (12" Version) - Champaign
4. Shake You Down (Extended Club Mix) - Gregory Abbott
5. If You Were Here Tonight (Soft Version) - Alexander O'Neal
6. I Need You (12" Version) - the Pointer Sisters
7. Wishing Well (Three Coins in a Fountain Mix) - Terence Trent D'arby
8. Rain or Shine (Remix) - Five Star
9. Girl I'm Gonna Miss You (Long Version) - Milli Vanilli
10. In and Out of Love (12" Version) - Imagination
CD3:
1. Keeping the Dream Alive (Solang' Mant Räume Noch Leben Kann) (Extended Version) - Münchener Freiheit
2. Broken Wings (12" Version) - Mr Mister
3. I Get Weak (12" Version) - Belinda Carlisle
4. If She Knew What She Wants (Extended Remix) - the Bangles
5. One on One (12" Version) - Daryl Hall & John Oates
6. Change of Heart (12" Extended Club Remix) - Cyndi Lauper & the Bangles
7. Never Knew Love Like This (Extended) - Alexander O'Neal & Cherelle
8. Tell Me If You Still Care (12" Version) - the S O S Band
9. (You Are My) All and All (Take Twenty Three) - Joyce Sims
10. Ring of Ice (Extended UK Remix) - Jennifer Rush