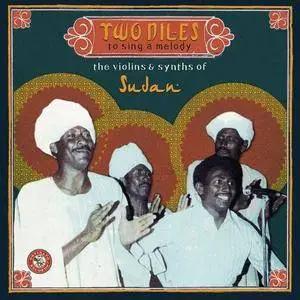 VA - Two Niles to Sing a Melody: The Violins & Synths of Sudan (2018)
WEB FLAC (tracks) / MP3 CBR 320 kbps | 1:35:58 | 221 / 562 Mb
Genre: Pop, Folk, World / Label: Ostinato Records LLC
In Sudan, the political and cultural are inseparable.
In 1989, a coup brought a hardline religious government to power. Music was violently condemned. Many musicians and artists were persecuted, tortured, forced to flee into exile and even murdered, ending one of the most beloved music eras in all of Africa and largely denying some of Sudan's gifted instrumentalists, singers, and poets, from strutting their creative heritage on the global stage. What came before in a special era that protected and promoted the arts was one of the richest music scenes anywhere in the world. Although Sudanese styles are endlessly diverse, this compilation celebrates the golden sound of the capital, Khartoum. Each chapter of the cosmopolitan city's tumultuous musical story is covered through 16 tracks: from the hypnotic violin and accordion-driven orchestral music of the 1970s that captured the ears and hearts of Africa and the Arabic-speaking world, to the synthesizer and drum machine music of the 1980s, and the music produced in exile in the 1990s. The deep kicks of tum tum and Nubian rhythms keep the sound infectious.
Track List:
01. Emad Youssef - Al Bareedo Ana (The One I Love)
02. Abdel El Aziz Al Mubarak - Ma Kunta Aarif Yarait (I Wish I Had Known)
03. Kamal Tarbas - Min Ozzalna Seebak Seeb (Forget Those That Divide Us)
04. Madjzoub Ounsa - Arraid Arraid Ya Ahal (Love, Love Family)
05. Khojali Osman - Malo Law Safeetna Inta (What If You Resolve What's Between Us?)
06. Zaidan Ibrahim - Ma Hammak Azabna (You Don't Care About My Suffering) (Live)
07. Saied Khalifa - Igd Allooli (The Pearl Necklace)
08. Taj Makki - Ma Aarfeen Nagool Shino! (We Don't Know What to Say!)
09. Hanan Bulu Bulu - Alamy Wa Shagiya (My Pain and Suffering) (Live)
10. Abdelmoniem Ekhaldi - Droob A Shoag (Paths to Love)
11. Samira Dunia - Galbi La Tahwa Tani (My Heart, Don't Fall in Love Again)
12. Mohammed Wardi - Al Sourah (The Photo)
13. Abdullah Abdelkader - Al Zaman Zamanak (It's Your Time)
14. Mustafa Modawi & Ibrahim El Hassan - Al Wilaid Al Daif (The Youth Who Came as a Guest)
15. Ibrahim El Kashif - Elhabeeb Wain? (Where is My Sweetheart?)
16. Mohammed Wardi - Al Mursal (The Messenger)
–––––––––––-

DON'T MODIFY THIS FILE

–––––––––––-

ANALYZER: auCDtect: CD records authenticity detector, version 0.8.2
Copyright © 2004 Oleg Berngardt. All rights reserved.
Copyright © 2004 Alexander Djourik. All rights reserved.


FILE: 01. Emad Youssef - Al Bareedo Ana (The One I Love).flac
Size: 44752718 Hash: 36DA025253A9F2537E2595A6F002448C Accuracy: -m40
Conclusion: CDDA 99%
Signature: F0A5F66BDEFF77DA2F440DDDA24F41DE75D47193
FILE: 02. Abdel El Aziz Al Mubarak - Ma Kunta Aarif Yarait (I Wish I Had Known).flac
Size: 47791169 Hash: 9B839E6A21FDFFE97AEC1B83517C32ED Accuracy: -m40
Conclusion: CDDA 100%
Signature: 8AB486A259C1FDA2B2CE89E9903012EF18247B91
FILE: 03. Kamal Tarbas - Min Ozzalna Seebak Seeb (Forget Those That Divide Us).flac
Size: 45767846 Hash: 58488E3DF8894D8E18635828C41CFD95 Accuracy: -m40
Conclusion: CDDA 100%
Signature: 943D73D6736CF54AE7D9A3E1343D6DB584306194
FILE: 04. Madjzoub Ounsa - Arraid Arraid Ya Ahal (Love, Love Family).flac
Size: 34124272 Hash: 5D7F1192DDF0FFD086A6687EFF0459A1 Accuracy: -m40
Conclusion: CDDA 100%
Signature: 3D26CB7DD081C0D1672BD617411E3CCE0061A32A
FILE: 05. Khojali Osman - Malo Law Safeetna Inta (What If You Resolve What's Between Us).flac
Size: 30644003 Hash: 27D24BED28578B2F51188B95979F7686 Accuracy: -m40
Conclusion: CDDA 100%
Signature: EE7D8A5D6440F2491377E63ABBB99C0B3ED549E2
FILE: 06. Zaidan Ibrahim - Ma Hammak Azabna (You Don't Care About My Suffering) (Live).flac
Size: 31647830 Hash: C86BBB0FCB593E0E4DBAAC921C6A7B6F Accuracy: -m40
Conclusion: CDDA 99%
Signature: 437DE3D157A16369FC5BCEADF06C0EA2C719F9DB
FILE: 07. Saied Khalifa - Igd Allooli (The Pearl Necklace).flac
Size: 30790014 Hash: 2C17A7DE7B87D8E574A42A8A6E62F2A7 Accuracy: -m40
Conclusion: CDDA 100%
Signature: AC19B69FE17057E1805190A2E11E25A30E33E94F
FILE: 08. Taj Makki - Ma Aarfeen Nagool Shino! (We Don't Know What To Say!).flac
Size: 23237792 Hash: 13BCA0DF22DF5BF14CDD35A8BA96961B Accuracy: -m40
Conclusion: CDDA 100%
Signature: B452233755EEB3E79AFC107A2D728B73ABF43A5B
FILE: 09. Hanan Bulu Bulu - Alamy Wa Shagiya (My Pain And Suffering) (Live).flac
Size: 25186973 Hash: B78DFEF7C33C6B637F2E1D3BA450D397 Accuracy: -m40
Conclusion: CDDA 100%
Signature: B82468BD26746A588049049C2C3B692A0028EA14
FILE: 10. Abdelmoniem Ekhaldi - Droob A Shoag (Paths To Love).flac
Size: 34826614 Hash: 73D03F05007836C28710D3E4915DB82A Accuracy: -m40
Conclusion: CDDA 100%
Signature: 107CBE76B9E54324E620A3689BE8FDD12DA586AA
FILE: 11. Samira Dunia - Galbi La Tahwa Tani (My Heart, Don't Fall In Love Again).flac
Size: 31724129 Hash: 8D4E15546130352F17453B9305D8A90C Accuracy: -m40
Conclusion: CDDA 100%
Signature: 7DFD9F8262F842A3949EB5285D671B98C0B1CB21
FILE: 12. Mohammed Wardi - Al Sourah (The Photo).flac
Size: 36191669 Hash: FE5E4027314D67187DD7089E06B0BBC4 Accuracy: -m40
Conclusion: CDDA 100%
Signature: 5C52F4D1B17E89CA76308E22D901469078D39C4A
FILE: 13. Abdullah Abdelkader - Al Zaman Zamanak (It's Your Time).flac
Size: 41885616 Hash: 7A896F2D9D52B9FAD4CFE6F005E73ED3 Accuracy: -m40
Conclusion: CDDA 100%
Signature: 53F8ACB1B9267998E1AE8BF88BF5AA76152DBCF8
FILE: 14. Mustafa Modawi & Ibrahim El Hassan - Al Wilaid Al Daif (The Youth Who Came As A Guest).flac
Size: 33776393 Hash: EC81259A20C47F9495001046B5678B16 Accuracy: -m40
Conclusion: CDDA 100%
Signature: 449CD01E53FEDEE9717088905F8A91AA8F9A42DA
FILE: 15. Ibrahim El Kashif - Elhabeeb Wain (Where Is My Sweetheart).flac
Size: 13111578 Hash: 27D33E36E043844D29033F8C6B4CF4D6 Accuracy: -m40
Conclusion: CDDA 100%
Signature: 371C8DB439E7EB989DDE48FC5C4EDE789FD65B51
FILE: 16. Mohammed Wardi - Al Mursal (The Messenger).flac
Size: 77952226 Hash: 37F938BAECD2267A3A720694FC0DEC9C Accuracy: -m40
Conclusion: CDDA 100%
Signature: 0DC93B57FA2FFBCAF6BD67A811C6F61A2E0C9B32