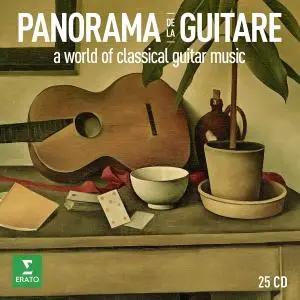 VA - Panorama de la guitare: A world of classical guitar music [25CD Box Set] (2018)
MP3 CBR 320 kbps | WEB Edition | Run Time: 18:35:45 | 2,75 Gb
Genre: Classical | Label: Erato
A treasury of the classical guitar: as a solo and concerto instrument, and as a partner to other instruments, in music from Europe and Latin America that spans five centuries. This box assembles all releases from the ground-breaking series, Panorama de la guitare,which showcased luminaries of the guitar's 'new golden age' in the 1960s and 70s. Most of these recordings are making their first appearance on CD, and all have been remastered from the original tapes in 24bit/96kHz, revealing the sound of the instrument in its true intimacy and beauty.
This box presents the most comprehensive collection dedicated to the classical guitar. It includes all the best-loved music from the Renaissance to today, performed by first-class musicians who demonstrate the infinite possibilities of a multi-faceted instrument with virtuosity and finesse.
The first 24 CDs of this set gather together the complete Panorama de la Guitare series which Robert J. Vidal (1925-2002) curated for Erato between 1969 and 1978. Vidal was close to the great guitarists, especially Andrés Segovia. From 1959 onwards he produced Radio France's International Guitar Competition and he also played a key role in French national radio's broadcasting of guitar music. Vidal, also known as "Mr. Guitar", stimulated interest in the guitar among other musicians and artistic administrators and brought the instrument to a wide audience, both in France and around the world.
Erato's Panorama de la Guitare series, the natural extension of Vidal's policy to raise awareness of the guitar, enjoyed huge commercial success at the time. It presented his favourite interpreters and his protégés, which were all among the finest guitarists of the time.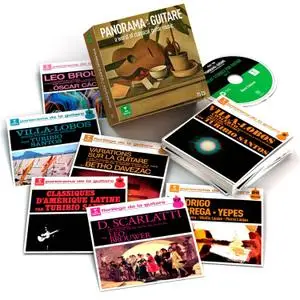 Contains CDs:
CD 1
Villa-Lobos - 12 Etudes
- Turibio Santos
CD 2
Vihuelists, Lutenists & Guitarists
- Óscar Cáceres
CD 3
Music for Lute, Guitar & Organ
- Konrad Ragossnig, Hanni Widmer (organ)
CD 4
Moreno Torroba - 3 Nocturnos for two guitars and orchestra, 7 Pieces for guitar duet
- Graciela Pomponio & Jorge Martínez Zárate
CD 5
Villa Lobos - Guitar Concerto, Sexteto místico
- Turibio Santos
CD 6
JS Bach - Suite No.1 BWV996, Prelude BWV999, Fugue BWV1000, Chaconne BWV1004
- Barbara Polasek
CD 7
Etudes for Guitar
- Óscar Cáceres
CD 8
Baroque Music for Guitar
- Konrad Ragossnig
CD 9
Classics from South America
- Turibio Santos
CD 10
Classics from Cuba
- Leo Brouwer
CD 11
Maria Luisa Anido: the Great Lady of the Guitar
- Maria Luisa Anido
CD 12
French Music for Guitar
- Turibio Santos
CD 13: Leo Brouwer
Pieza sin Titulo No.1, Danza Caracteristica, Micro piezas, Tres Danzas Concertantes, Per Sonare a Tre, Canticum, La Espiral Eterna, Elogio de la Danza
- Óscar Cáceres, Leo Brouwer, Christian Lardé (flute), Serge Collot (viola)
CD 14
Music for Two Guitars
- Turibio Santos & Óscar Cáceres
CD 15
Elizabethan Music
- Betho Davezac
CD 16
Spanish Dances
- Turibio Santos
CD 17
Scarlatti - Sonatas
- Leo Brouwer
CD 18
JS Bach - Preludes BWV995 & BWV999, Fugue BWV1000, Prelude & Fugue BWV998, Suite No.1 BWV996
- Turibio Santos
CD 19
Great Etudes for Guitar
- Óscar Cáceres
CD 20
Music from Brazil
- Turibio Santos
CD 21
Variations for Guitar
- Betho Davezac
CD 22
Music from South America
- Óscar Cáceres
CD 23
Spanish Dances
- Turibio Santos
CD 24
Music for Two Guitars
- Turibio Santos & Óscar Cáceres
CD 25
Bonus: Concierto de Aranjuez, Fantasía para un gentilhombre, Recuerdos de la Alhambra, Jeux interdits…
- Ángel Romero, Wulfin Lieske, Pierre Laniau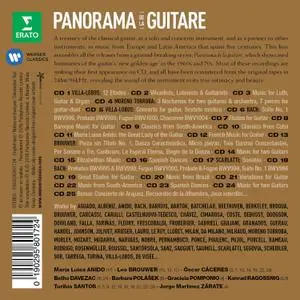 CD1

Disc: 1 1. 12 Estudos, W. 235: No. 1 in E Minor (Allegro non tropo - arpejos) - Turibio Santos
2. 12 Estudos, W. 235: No. 2 in A Major (Allegro - Arpejos) - Turibio Santos
3. 12 Estudos, W. 235: No. 3 in D Major (Allegro moderato - Arpejos) - Turibio Santos
4. 12 Estudos, W 235: No 4 in G Major (Un peu modere - acordes repetidos) - Turibio Santos
5. 12 Estudos, W. 235: No. 5 in C Major (Andantino) - Turibio Santos
6. 12 Estudos, W. 235: No. 6 in E Minor (Poco allegro) - Turibio Santos
7. 12 Estudos, W 235: No 7 in E Minor (Tres anime) - Turibio Santos
8. 12 Estudos, W 235: No 8 in C-Sharp Minor (Modere - Lent) - Turibio Santos
9. 12 Estudos, W 235: No 9 in F-Sharp Minor (Tres peu anime) - Turibio Santos
10. 12 Estudos, W 235: No 10 in B Minor (Tres anime) - Turibio Santos
11. 12 Estudos, W. 235: No. 11 in E Minor (Lent) - Turibio Santos
12. Estudos, W 235: No 12 in A Minor (Anime) - Turibio Santos

Disc: 2
1. Libro de Musica de Vihuela de mano: Pavana No 3 in C Major (Arr for Guitar) - Oscar Caceres
2. Libro de Musica de Vihuela de mano: Pavana No 1 in A Minor (Arr for Guitar) - Oscar Caceres
3. Libro de Musica de Vihuela de mano: Pavana No 4 in D Major (Arr for Guitar) - Oscar Caceres
4. Libro de Musica de Vihuela de mano: Fantasia in F Minor (Arr for Guitar) - Oscar Caceres
5. Baxa de contrapunto (Arr. for Guitar) - Oscar Caceres
6. Cancion del emperador (Arr for Guitar) - Oscar Caceres
7. Pavana II de Alejandro (Arr. for Guitar) - Oscar Caceres
8. Fantasia No. 10 (Arr. for Guitar) - Oscar Caceres
9. Libro de musica de Vihuela: Pavana muy llana para taner (Arr for Guitar) - Oscar Caceres
10. Villano, dile al caballero que … (Arr. for Guitar) - Oscar Caceres
11. Instruccion de musica sobre la guitarra espanola, Book 2: Espanoleta (Arr for Guitar) - Oscar Caceres
12. Instruccion de musica sobre la guitarra espanola, Book 2: Rujero y paradetas (Arr for Guitar) - Oscar Caceres
13. Instruccion de musica sobre la guitarra espanola, Book 2: Clarines y Trompetas (Arr for Guitar) - Oscar Caceres
14. Instruccion de musica sobre la guitarra espanola, Book 2: Zarabanda al aire espanol (Arr for Guitar) - Oscar Caceres
15. Instruccion de musica sobre la guitarra espanola, Book 2: Toques de la Caballeria de Napoles (Arr for Guitar) - Oscar Caceres
16. Instruccion de musica sobre la guitarra espanola, Book 2: Canarios (Arr for Guitar) - Oscar Caceres
17. Galliard No. 17 (Arr. for Guitar) - Oscar Caceres
18. The Schoole of Musicke: No. 18, An Almaigne - Oscar Caceres
19. Captain Digorie Piper his Galliard (Arr. for Guitar) - Oscar Caceres
20. Lute Music: XIII. My Lady Hunsdon's Puffe (Arr. for Guitar) - Oscar Caceres
21. Lachrimae, or Seven Tears: I. Lacrimae Antiquae (Arr. for Guitar - Oscar Caceres
22. Mistress Nichols Almand (Arr. for Guitar) - Oscar Caceres
23. Balletto - Oscar Caceres
24. Suite in D Major: IV. Gavotte - Oscar Caceres

Disc: 3
1. Canzon V Toni (Arr. for Guitar & Organ) - Oscar Caceres
2. Lachrimae, or Seven Tears: I. Lachrimae Antiquae (Arr. for Lute) - Oscar Caceres
3. 9 Ricercari a 3 Voci: No. 9 (Arr. for Lute & Organ) - Oscar Caceres
4. 74 Lute Pieces, US-Ws V.b.280: No. 15 Kemp's Jig (Arr. for Lute) - Oscar Caceres
5. Fantasia No. 6 (Arr. for Lute & Organ) - Oscar Caceres
6. Allemande in G Minor (Arr. for Lute) - Oscar Caceres
7. Danse in D Minor (Arr. for Lute) - Oscar Caceres
8. Recercate Concertante (Arr. for Lute & Organ) - Oscar Caceres
9. The Most Sacred Queene Elizabeth, Her Galliard (Arr. for Lute) - Oscar Caceres
10. Lieto godea sedendo, Ch. 113 (Arr. for Guitar & Organ) - Oscar Caceres
11. Sonata for 2 Keyboards in D Minor: I. Allegro (Arr. for Guitar & Organ) - Oscar Caceres
12. Sonata for 2 Keyboards in D Minor: II. Adagio (Arr. for Guitar & Organ) - Oscar Caceres
13. Sonata for 2 Keyboards in D Minor: III. Vivace (Arr. for Guitar & Organ) - Oscar Caceres
14. Aria detta la Frescobalda, F. 3.32 (Arr. for Guitar & Organ) - Oscar Caceres
15. Trio Sonata in E Minor: I. Grave (Arr. for Organ and Guitar) - Oscar Caceres
16. Trio Sonata in E Minor: II. Allegro (Arr. for Organ and Guitar) - Oscar Caceres
17. Trio Sonata in E Minor: III. Adagio (Arr. for Organ and Guitar) - Oscar Caceres
18. Trio Sonata in E Minor: IV. Prestissimo (Arr. for Organ and Guitar) - Oscar Caceres
19. Trio Sonata in E Minor: V. Andante (Arr. for Organ and Guitar) - Oscar Caceres

Disc: 4
1. 3 Nocturnes for 2 Guitars and Orchestra: I. Hogueras - Graciela Pomponio
2. 3 Nocturnes for 2 Guitars and Orchestra: II. Sombras - Graciela Pomponio
3. Nocturnes for 2 Guitars and Orchestra: III. Brujas - Graciela Pomponio
4. 7 Pieces for Guitar-duet: I. Preludio - Graciela Pomponio
5. 7 Pieces for Guitar-duet: II. Romance de Los Pinos - Graciela Pomponio
6. 7 Pieces for Guitar-duet: III. Capricho - Graciela Pomponio
7. Pieces for Guitar-duet: IV Nina Merse - Graciela Pomponio
8. 7 Pieces for Guitar-duet: V Improvisacion - Graciela Pomponio
9. 7 Pieces for Guitar-duet: VI Bolero menorquin - Graciela Pomponio
10. 7 Pieces for Guitar-duet: VII. Ronda - Graciela Pomponio

Disc: 5
1. Guitar Concerto, W 501: I. Allegro preciso - Turibio Santos
2. Guitar Concerto, W 501: II. Andantino e andante - cadenza - Turibio Santos
3. Guitar Concerto, W 501: III. Allegro non troppo - Turibio Santos
4. Sexteto mistico, W 131: I Allegro non troppo - Turibio Santos
5. Sexteto mistico, W 131: II Adagio - Turibio Santos
6. Sexteto mistico, W 131: III Quasi allegro - Turibio Santos
7. Preludes, W 419: No. 1 Andantino expressivo in E Minor - Turibio Santos
8. Preludes, W 419: No. 2 Andantino in E Major - Turibio Santos
9. Preludes, W 419: No. 3 Andante in A Minor - Turibio Santos
10. Preludes, W 419: No. 4 Lento in E Minor - Turibio Santos
11. Preludes, W 419: No. 5 Poco animato in D Major - Turibio Santos

Disc: 6
1. Prelude in D Minor, BWV 999 (orig. in C Minor) [Arr. for Guitar] - Barbara Polasek
2. Suite No 1 in E Minor, BWV 996: I Prelude (Arr for Guitar) - Barbara Polasek
3. Suite No. 1 in E Minor, BWV 996: II. Allemande (Arr. for Guitar) - Barbara Polasek
4. Suite No. 1 in E Minor, BWV 996: III. Courante (Arr. for Guitar) - Barbara Polasek
5. Suite No. 1 in E Minor, BWV 996: IV. Sarabande (Arr. for Guitar) - Barbara Polasek
6. Suite No 1 in E Minor, BWV 996: V Bourree (Arr for Guitar) - Barbara Polasek
7. Suite No. 1 in E Minor, BWV 996: VI. Gigue (Arr. for Guitar) - Barbara Polasek
8. Fugue in A Minor, BWV 1000 (orig. in G Minor) [Arr. for Guitar] - Barbara Polasek
9. Violin Partita No. 2 in D Minor, BWV 1004: V. Chaconne (Arr. for Guitar) - Barbara Polasek

Disc: 7
1. Escuela de guitarra: Lesson No. 35 in E Minor - Oscar Caceres
2. Guitar Etudes: No. 3 in G Major - Oscar Caceres
3. Guitar Etudes: No. 6 in E Minor - Oscar Caceres
4. 12 Etudes, Op. 6: No. 11 in E Minor - Oscar Caceres
5. 12 Etudes, Op. 6: No. 12 in A Major - Oscar Caceres
6. 12 Etudes, Op. 29: No. 1 in B-Flat Major - Oscar Caceres
7. 24 Exercices tres faciles, Op 35: No 16 in D Minor - Oscar Caceres
8. Etudes, Op. 60: No. 3 in A Major - Oscar Caceres
9. Etudes, Op. 60: No. 10 in D Major - Oscar Caceres
10. Etudes, Op. 60: No. 13 in A Major - Oscar Caceres
11. 24 Etudes, Op. 48: No. 5 in E Minor - Oscar Caceres
12. 25 Etudes for Guitar, Op. 38: No. 22 in A Major - Oscar Caceres
13. La Catedral: II. Andante religioso - Oscar Caceres
14. La Catedral: III. Allegro solemne - Oscar Caceres
15. 12 Estudos, W 235: No 10 in B Minor (Tres anime) - Oscar Caceres
16. 20 Estudios Sencillos, Book 1: No. 1 in E Major - Oscar Caceres
17. 20 Estudios Sencillos, Book 1: No. 2 in G Major - Oscar Caceres
18. 20 Estudios Sencillos, Book 1: No. 3 in E Major - Oscar Caceres
19. 20 Estudios Sencillos, Book 1: No. 4 in D Major - Oscar Caceres
20. Estudios Sencillos, Book 1: No. 5 in C Major - Oscar Caceres
21. Étude No 38 in E Minor - Oscar Caceres
22. Estudio sin luz in B Minor - Oscar Caceres
23. 10 Studies, Book 1: No. 8 - Oscar Caceres
24. 10 Studies, Book 2: No. 13 - Oscar Caceres
25. 2 Études de concert: No 1 - Oscar Caceres

Disc: 8
1. Toccate e partite d'intavolatura, Libro 2: No. 33 Corrente prima, F. 3.33 (Arr. for Guitar) - Konrad Ragossnig
2. Toccate e partite d'intavolatura, Libro 2: No. 32 Aria detta la Frescobalda, F. 3.32 (Arr. for Guitar) - Konrad Ragossnig
3. Componimenti per Cembalo: Corrente prima, F. 2.17 (Arr. for Guitar) - Konrad Ragossnig
4. Toccate e partite d'intavolatura, Libro 2: No. 28 Gagliarda seconda, F. 3.28 (Arr. for Guitar) - Konrad Ragossnig
5. Toccate e partite d'intavolatura, Libro 1: No. 29 Cento partite sopra passacagli, F. 2.29 (Arr. for Guitar) - Konrad Ragossnig
6. Toccate e partite d'intavolatura, Libro 1: Corrente Quarta, F. 2.20 (Arr. for Guitar) - Konrad Ragossnig
7. Abdelazer, Z. 570: VII. Jig (Arr. for Guitar) - Konrad Ragossnig
8. Abdelazer, Z. 570: II. Rondo (Arr. for Guitar) - Konrad Ragossnig
9. Minuet in A Minor, Z. 649 (Arr. for Guitar) - Konrad Ragossnig
10. The Old Bachelor, Z. 607: IV. Hornpipe (Arr. for Guitar) - Konrad Ragossnig
11. Nouvelles suites de Pieces de Clavecin - Suite in G Major, RCT 6: No 3 Menuet I - Menuet II (Arr for Guitar) - Konrad Ragossnig
12. Suite in A Minor, PLW 8: I. Allemande (Arr. for Guitar) - Konrad Ragossnig
13. Suite in A Minor, PLW 8: II. Courante (Arr. for Guitar) - Konrad Ragossnig
14. Suite in A Minor, PLW 8: III. Sarabande (Arr. for Guitar) - Konrad Ragossnig
15. Suite in A Minor, PLW 8: IV. Gigue (Arr. for Guitar) - Konrad Ragossnig
16. Suite No. 4 in D Minor, HWV 437: III. Sarabande & Variations (Arr. for Guitar) - Konrad Ragossnig
17. Minuet in G Major, HWV 531 (Arr. for Guitar) - Konrad Ragossnig
18. Keyboard Sonatina in G Major, HWV 582 (Arr. for Guitar) - Konrad Ragossnig
19. Gavotte in G Major, HWV 491 (Arr. for Guitar) - Konrad Ragossnig

Disc: 9
1. Elogio de la Danza: I. Lento - Turibio Santos
2. Elogio de la Danza: II. Obstinato - Turibio Santos
3. Ecos del paisaje - Turibio Santos
4. 3 Pieces for Guitar: I. Largo - Turibio Santos
5. 3 Pieces for Guitar: II. Tranquillo - Turibio Santos
6. 3 Pieces for Guitar: III. Un poco mosso - Turibio Santos
7. Suite Antiga: I Preludio - Turibio Santos
8. Preludio in G Minor, Op. 5 No. 1 - Turibio Santos
9. La Catedral: II. Andante religioso - Turibio Santos
10. La Catedral: III. Allegro solemne - Turibio Santos
11. Choros No. 1 in E Minor, W. 161 - Turibio Santos
12. Suite populaire bresilienne, W 020: III Valsa-choro - Turibio Santos
13. Vals Venezolano No. 3 - Turibio Santos

Disc: 10
1. 6 Variations on a Theme by Milan - Leo Brouwer
2. Preludio for Guitar - Leo Brouwer
3. Little Suite "en hommage a Ravel" - Leo Brouwer
4. Contradanzas para Piano: I. El Cataclismo (Arr. for Guitar) - Leo Brouwer
5. Contradanzas para Piano: II. La Caridad (Arr. for Guitar) - Leo Brouwer
6. Contradanzas para Piano: III. Recuerdos tristes (Arr. for Guitar) - Leo Brouwer
7. Contradanzas para Piano: IV. La Quejosita (Arr. for Guitar) - Leo Brouwer
8. Contradanzas para Piano: V. Los ojos de Pepa (Arr. for Guitar) - Leo Brouwer
9. La Espiral eterna - Leo Brouwer
10. Cantos Yoruba de Cuba - Leo Brouwer
11. Danza del Diablito - Leo Brouwer
12. 2 Aires Populares Cubanos: II. Zapateado - Leo Brouwer
13. 2 Aires Populares Cubanos: I. Guajira criolla - Leo Brouwer

Disc: 11
1. Aire Norteno - Maria Luisa Anido
2. Preludio pampeano - Maria Luisa Anido
3. Impresiones argentinas: Procesion Coya - Maria Luisa Anido
4. Preludios Nostalgicos: I Lejania - Maria Luisa Anido
5. Melodia Popular Catalana: El Testament d'Amelia - Maria Luisa Anido
6. Pieces, Op. 5: No. 5 Andante largo - Maria Luisa Anido
7. Premier livre de pieces de clavecin, RCT 1: IX Menuet (Arr for Guitar) - Maria Luisa Anido
8. 6 Anonymous Pieces from the Renaissance: I. Aria (Arr. for Guitar) - Maria Luisa Anido
9. 6 Anonymous Pieces from the Renaissance: II. Danse (Arr. for Guitar) - Maria Luisa Anido
10. 6 Anonymous Pieces from the Renaissance: III. Berceuse (Arr. for Guitar) - Maria Luisa Anido
11. 6 Anonymous Pieces from the Renaissance: IV. Chanson (Arr. for Guitar) - Maria Luisa Anido
12. 6 Anonymous Pieces from the Renaissance: V. Sicilienne (Arr. for Guitar) - Maria Luisa Anido
13. 6 Anonymous Pieces from the Renaissance: VI. Saltarello (Arr. for Guitar) - Maria Luisa Anido
14. Cantiga de Santa Maria (Arr for Guitar) - Maria Luisa Anido
15. Aria del Gran Duca (Arr. for Guitar) - Maria Luisa Anido
16. Keyboard Sonata in B-Flat Major, K. 440 (Arr. for Guitar) - Maria Luisa Anido
17. Rondo - Maria Luisa Anido
18. Menuet in G Major (From Don Giovanni, K. 527, Act 1 "Signor, guardate un poco") - Maria Luisa Anido

Disc: 12
1. Introduction and variations on "Malbrough s'en va-t-en guerre", Op. 28 - Turibio Santos
2. Passemeze (Arr for Guitar) - Turibio Santos
3. J'aimeroy mieulx dormir (Arr. for Guitar) - Turibio Santos
4. Allemande (Arr. for Guitar) - Turibio Santos
5. Suite in G Major: I Prelude (Arr for Guitar) - Turibio Santos
6. Suite in G Major: II. Allemande (Arr. for Guitar) - Turibio Santos
7. Suite in G Major: III. Courante (Arr. for Guitar) - Turibio Santos
8. Suite in G Major: IV Bourree (Arr for Guitar) - Turibio Santos
9. Suite in G Major: V. Sarabande (Arr. for Guitar) - Turibio Santos
10. Suite in G Major: VI. Gavotte (Arr. for Guitar) - Turibio Santos
11. Suite in G Major: VII. Menuet (Arr. for Guitar) - Turibio Santos
12. Suite in G Major: VIII. Gigue (Arr. for Guitar) - Turibio Santos
13. Segovia, Op. 29 - Turibio Santos
14. Sarabande pour guitare, FP 179 - Turibio Santos
15. Soliloque - Turibio Santos
16. Segoviana for Guitar, Op. 366 - Turibio Santos
17. 2 Études de concert for Guitar: I Comme un Prelude - Turibio Santos
18. Estudio sobre una sonatina de Alard - Turibio Santos

Disc: 13
1. Pieza sin Titulo No. 1 for Guitar - Oscar Caceres
2. Danza Caracteristica for Guitar - Oscar Caceres
3. 4 Micro piezas for 2 Guitars "Hommage a Darius Milhaud": I Tranquillo - Oscar Caceres
4. Micro piezas for 2 Guitars "Hommage a Darius Milhaud": II Allegro vivace - Oscar Caceres
5. 4 Micro piezas for 2 Guitars "Hommage a Darius Milhaud": III Vivacissimo muy ritmico - Oscar Caceres
6. 4 Micro piezas for 2 Guitars "Hommage a Darius Milhaud": IV Sonoro - Oscar Caceres
7. 3 Danzas Concertantes for Guitar and Orchestra: I. Allegro - Oscar Caceres
8. 3 Danzas Concertantes for Guitar and Orchestra: II. Andantino (quasi allegretto) - Oscar Caceres
9. 3 Danzas Concertantes for Guitar and Orchestra: III. Toccata - Oscar Caceres
10. Per Sonare a Tre - Oscar Caceres
11. Canticum for Guitar: I. Eclosion - Oscar Caceres
12. Canticum for Guitar: II. Ditirambo - Oscar Caceres
13. La Espiral Eterna for Guitar - Oscar Caceres
14. Elogio de la Danza for Guitar: I. Lento - Oscar Caceres
15. Elogio de la Danza for Guitar: II. Obstinato - Oscar Caceres

Disc: 14
1. Keyboard Sonata in A Major, K. 432 (orig. in G Major) [Arr. for Guitar] - Turibio Santos
2. Jane Pickering's Lute Book: La Rossignol (Arr. for Guitar) - Turibio Santos
3. Jane Pickering's Lute Book: Drewries Accords (Arr. for Guitar) - Turibio Santos
4. Preludes, Book 1, L 125: VIII La fille aux cheveux de lin (Transc Caceres for Guitar) - Turibio Santos
5. Sonata in A Minor, C 72 (orig in G Minor) [Transc Caceres for Guitar] - Turibio Santos
6. 51 Contradanzas: No. 12 La Virtuosa (Transc. Ortega) - Turibio Santos
7. 51 Contradanzas: No 24 La Nene (Transc Ortega) - Turibio Santos
8. 51 Contradanzas: No. 20 La Quejosita (Transc. Ortega) - Turibio Santos
9. Tonadilla for 2 Guitars: I. Allegro ma non troppo - Turibio Santos
10. Tonadilla for 2 Guitars: II. Minueto pomposo - Turibio Santos
11. Tonadilla for 2 Guitars: III. Allegro vivace - Turibio Santos
12. Sonatina canonica, Op 196: I Mosso, graciozo e leggero - Turibio Santos
13. Sonatina canonica, Op 196: II Tempo di Siciliane - Turibio Santos
14. Sonatina canonica, Op 196: III Fandango en Rondeau - Turibio Santos

Disc: 15
1. Tarletones Riserrectione (Arr. for Guitar) - Betho Davezac
2. EarI of Essex's Galliard (Arr. for Guitar) - Betho Davezac
3. Mrs Vauxes Gigge, P. 57 (Arr. for Guitar) - Betho Davezac
4. Melancholy GaIliard (Arr. for Guitar) - Betho Davezac
5. Sir John Smith, his Almain (Arr. for Guitar) - Betho Davezac
6. Farewell Fancy (Arr. for Guitar) - Betho Davezac
7. Queen Elizabeth's Galliard (Arr. for Guitar) - Betho Davezac
8. Earl of Derby, His Galliard (Arr. for Guitar) - Betho Davezac
9. Fantasie No. 7 (Arr. for Guitar) - Betho Davezac
10. Almain (Arr. for Guitar) - Betho Davezac
11. Walsingham (Arr. for Guitar) - Betho Davezac
12. Pavan (Arr. for Guitar) - Betho Davezac
13. Carman's Whistle (Arr. for Guitar) - Betho Davezac
14. 2 Almaines (Arr. for Guitar) - Betho Davezac
15. Pavan (Arr. for Guitar) - Betho Davezac
16. Monsieur's Almaine (Arr. for Guitar) - Betho Davezac

Disc: 16
1. Suite Espanola No 1, Op 47: V Asturias (Leyenda) [Arr for Guitar] - Turibio Santos
2. Suite Espanola No 1, Op 47: III Sevilla (Sevillanas) - Turibio Santos
3. Marizapalos (Transc Santos for Guitar) - Turibio Santos
4. Folk Songs: La Garzona (Transc. Santos for Guitar) - Turibio Santos
5. Folk Songs: Canciones (Transc. Santos for Guitar) - Turibio Santos
6. Folk Songs: La Coquina Francesa (Transc. Santos for Guitar) - Turibio Santos
7. Folk Songs: La Esfachata de Napoles (Transc Santos for Guitar) - Turibio Santos
8. Folk Songs: La Minona de Cataluna (Transc Santos for Guitar) - Turibio Santos
9. Fandanguillo, Op. 36 - Turibio Santos
10. Rafaga - Turibio Santos
11. 3 piezas espanolas: III Zapateado - Turibio Santos
12. 3 piezas espanolas: I Fandango - Turibio Santos
13. Folk Dances: Fanfarra - Turibio Santos
14. Folk Dances: Zarabanda - Turibio Santos
15. Folk Dances: Ruggero - Turibio Santos
16. Folk Dances: Paradetas - Turibio Santos
17. Folk Dances: Espanoletas - Turibio Santos
18. Folk Dances: Canarios - Turibio Santos
19. Homenaje a Tarrega, Op 69: I Garrotin - Turibio Santos
20. Homenaje a Tarrega, Op 69: II Soleares - Turibio Santos

Disc: 17
1. Keyboard Sonata in G Major, K. 14 (Arr. for Guitar) - Leo Brouwer
2. Keyboard Sonata in A Major, K. 208 (Arr. for Guitar) - Leo Brouwer
3. Keyboard Sonata in D Major, K. 178 (Arr. for Guitar) - Leo Brouwer
4. Keyboard Sonata in E Major, K. 206 (Arr. for Guitar) - Leo Brouwer
5. Keyboard Sonata in D Major, K. 443 (Arr. for Guitar) - Leo Brouwer
6. Keyboard Sonata in G Major, K. 259 (Arr. for Guitar) - Leo Brouwer
7. Keyboard Sonata in G Major, K. 146 (Arr. for Guitar) - Leo Brouwer
8. Keyboard Sonata in A Major, K. 474 (orig. in E-Flat Major) [Arr. for Guitar] - Leo Brouwer
9. Keyboard Sonata in D Major, K. 544 (orig. in B-Flat Major) [Arr. for Guitar] - Leo Brouwer
10. Keyboard Sonata in D Minor, K. 1 (Arr. for Guitar) - Leo Brouwer
11. Keyboard Sonata in E Major, K. 380 (Arr. for Guitar) - Leo Brouwer
12. Keyboard Sonata in E Minor, K. 19 (orig. in F Minor) [Arr. for Guitar] - Leo Brouwer

Disc: 18
1. Suite in G Minor, BWV 995: I Prelude - Turibio Santos
2. Prelude in D Minor, BWV 999 (orig. in C Minor) [Arr. for Guitar] - Turibio Santos
3. Fugue in A Minor, BWV 1000 (orig. in G Minor) [Arr. for Guitar] - Turibio Santos
4. Prelude, Fugue and Allegro in E-Flat Major, BWV 998: I. Prelude (Arr. for Guitar) - Turibio Santos
5. Prelude, Fugue and Allegro in E-Flat Major, BWV 998: II. Fugue (Arr. for Guitar) - Turibio Santos
6. Suite No. 1 in E Minor, BWV 996: I. Prelude (Arr. for Guitar) - Turibio Santos
7. Suite No. 1 in E Minor, BWV 996: II. Allemande (Arr. for Guitar) - Turibio Santos
8. Suite No. 1 in E Minor, BWV 996: III. Courante (Arr. for Guitar) - Turibio Santos
9. Suite No. 1 in E Minor, BWV 996: IV. Sarabande (Arr. for Guitar) - Turibio Santos
10. Suite No 1 in E Minor, BWV 996: V Bouree (Arr for Guitar) - Turibio Santos
11. Suite No. 1 in E Minor, BWV 996: VI. Gigue (Arr. for Guitar) - Turibio Santos

Disc: 19
1. Introduction a l'etude de la guitare, Op 60: Lesson No 22 (Allegro moderato in E Minor) - Oscar Caceres
2. 24 Exercices tres faciles, Op 35: No 22 (Allegretto in B Minor) - Oscar Caceres
3. 24 Exercices tres faciles, Op 35: No 17 (Moderato in D Major) - Oscar Caceres
4. 12 Etudes, Op. 6: No. 4 in G Major - Oscar Caceres
5. Lesson No. 29 in E Minor - Oscar Caceres
6. Etude No. 11 in A Major - Oscar Caceres
7. Etude in A Major, Op. 1 No. 11 - Oscar Caceres
8. Etude in A Minor, Op. 139 No. 4 - Oscar Caceres
9. Etude No. 42 in A Minor, Op. 241: Larghetto alla siciliana - Oscar Caceres
10. Etude No. 48 in D Major, Op. 241 - Oscar Caceres
11. Etudes, Op. 60: No. 21 in A Major - Oscar Caceres
12. 25 Etudes for Guitar, Op. 38: No. 2 in C Major - Oscar Caceres
13. Lesson No 13 in A Minor (From Methode pour la guitare by F Sor augmented by N Coste) - Oscar Caceres
14. 25 Etudes for Guitar, Op. 38: No. 8 in E Minor - Oscar Caceres
15. Estudio No. 19 in E Minor - Oscar Caceres
16. Estudio No. 1 en forma de Minuetto in A Major - Oscar Caceres
17. Estudio in B Minor - Oscar Caceres
18. 12 Estudos, W 235: No. 5 in C Major (Andantino) - Oscar Caceres
19. 12 Estudos, W 235: No. 6 in E Minor (Poco allegro) - Oscar Caceres
20. 12 Estudos, W 235: No 8 in C-Sharp Minor (Modere - Lent) - Oscar Caceres
21. 20 Estudios Sencillos, Book 2: No. 6 - Oscar Caceres
22. 20 Estudios Sencillos, Book 2: No. 7 - Oscar Caceres
23. 20 Estudios Sencillos, Book 2: No. 8 - Oscar Caceres
24. 20 Estudios Sencillos, Book 2: No. 9 - Oscar Caceres
25. 20 Estudios Sencillos, Book 2: No. 10 - Oscar Caceres
26. Study No. 1 - Oscar Caceres
27. Study No. 4 - Oscar Caceres
28. Estudio No. 2 in B Minor, "Remembranza" - Oscar Caceres

Disc: 20
1. Suite populaire bresilienne, W 020: I Mazurka-Choro - Turibio Santos
2. Suite populaire bresilienne, W 020: IV Gavota-Choro - Turibio Santos
3. Suite populaire bresilienne, W 020: II Schottisch-Choro - Turibio Santos
4. Suite populaire bresilienne, W 020: V Chorinho - Turibio Santos
5. Livro para seis cordas: I. Discourso - Turibio Santos
6. Livro para seis cordas: II Meditacao - Turibio Santos
7. Livro para seis cordas: III Memoria - Turibio Santos
8. Interrogando (Jongo) - Turibio Santos
9. Sons de CarriIhoes - Turibio Santos
10. Choros No. 1 in E Minor, W. 161 - Turibio Santos
11. Momentos No. 1 - Turibio Santos
12. Ritmata (Lent - Cadenza - Allegro energico) - Turibio Santos
13. 3 Brazilian Songs: Sambalele (Arr Santos for Guitar) - Turibio Santos
14. 3 Brazilian Songs: O cravo e a rosa (Arr. Santos for Guitar) - Turibio Santos
15. 3 Brazilian Songs: Sapo cururu (Arr. Santos for Guitar) - Turibio Santos

Disc: 21
1. Introduction and Variations on Que ne suis-je la fougere!, Op 26 - Betho Davezac
2. 6 Variations sur les Folies d'Espagne, Op. 45 - Betho Davezac
3. Variations plaisantes sur un petit air populaire "J'ai du bon tabac", Op. 95 - Betho Davezac
4. In Memoriam Django Reinhardt "2 Variations and a Theme", Op. 64a - Betho Davezac
5. Theme varie et Finale - Betho Davezac
6. Soliloquio - Betho Davezac
7. Variations pour guitare - Betho Davezac
8. Theme and Variations, Op. 77 - Betho Davezac

Disc: 22
1. Nortena - Oscar Caceres
2. La firmeza - Oscar Caceres
3. Pago largo - Oscar Caceres
4. Malambo - Oscar Caceres
5. Aire criollo No. 1 (Arr. for Guitar) - Oscar Caceres
6. 3 Canciones Populares Mexicanas: I. La pajarera - Oscar Caceres
7. 3 Canciones Populares Mexicanas: II. Junto a tu corazon - Oscar Caceres
8. 3 Canciones Populares Mexicanas: III. La Valentina - Oscar Caceres
9. Scherzino Mexicano - Oscar Caceres
10. Ecos del paisaje - Oscar Caceres
11. Vidalal - Oscar Caceres
12. Choros No. 1 in E Minor, W. 161 - Oscar Caceres
13. Suite populaire bresilienne, W 020: III Valsa-Choro - Oscar Caceres
14. 51 Contradanzas: No. 23 El Cataclismo (Arr. for Guitar) - Oscar Caceres
15. 51 Contradanzas: No. 28 Recuerdos Tristes (Arr. for Guitar) - Oscar Caceres
16. 51 Contradanzas: No. 20 La Quejosita (Arr. for Guitar) - Oscar Caceres
17. Cancion triste - Oscar Caceres
18. 2 Aires Populares Cubanos: I. Guajira criolla - Oscar Caceres
19. 2 Aires Populares Cubanos: II. Zapateado - Oscar Caceres
20. 2 Temas Populares Cubanos: I Cancion de cuna - Oscar Caceres
21. Choro da saudade - Oscar Caceres

Disc: 23
1. 12 Danzas Espanolas: No 10 (Danza triste) [Transc Santos for Guitar] - Turibio Santos
2. 12 Tonadillas al estilo antiguo, H. 136: La Maja de Goya (Transc. Llobet for Guitar) - Turibio Santos
3. 12 Danzas Espanolas: No 5 (Playera-Andaluza) [Transc Santos for Guitar] - Turibio Santos
4. Villano (Transc. Pujol for Guitar) - Turibio Santos
5. Canarios (Transc. Pujol for Guitar) - Turibio Santos
6. Corranda (Old Catalan dance) [Arr. for Guitar] - Turibio Santos
7. Mallorca, Op. 202 (Transc. Segovia for Guitar) - Turibio Santos
8. Recuerdos de viaje, Op 71: VI Rumores de la caleta (Malagena) [Transc Santos for Guitar] - Turibio Santos
9. Zarabanda lejana y Villancico: I. Zarabanda lejana - Turibio Santos
10. En los trigales (Castilian scene) - Turibio Santos
11. Homenaje "Le Tombeau de Debussy" - Turibio Santos

Disc: 24
1. Andante con variazioni in A Major, WoO 44b for 2 Guitars (orig. in D Major) [Transc. Santos for 2 Guitars] - Turibio Santos
2. Sonatina in A Minor, WoO 43a for 2 Guitars (orig. in C Minor) [Transc. Santos for 2 Guitars] - Turibio Santos
3. Sonatina in E Major, WoO 44a for 2 Guitars (orig. in C Major) [Transc. Santos for 2 Guitars] - Turibio Santos
4. Sonata in D Major, Op. 21: I. Allegro (Transc. Scheidt for 2 Guitars) - Turibio Santos
5. Sonata in D Major, Op. 21: II. Romance (Transc. Scheidt for 2 Guitars) - Turibio Santos
6. Sonata in D Major, Op. 21: III. Rondo (Transc. Scheidt for 2 Guitars) - Turibio Santos
7. 2 danzas espanolas, Op 164: II Tango (Transc Pujol for 2 Guitars) - Turibio Santos
8. Romanian Folk Dances, Sz 56: I Jocul cu bata (Transc Caceres for 2 Guitars) - Turibio Santos
9. Romanian Folk Dances, Sz 56: II Braul (Transc Caceres for 2 Guitars) - Turibio Santos
10. Romanian Folk Dances, Sz 56: III Pe loc (Transc Caceres for 2 Guitars) - Turibio Santos
11. Romanian Folk Dances, Sz 56: IV Buciumeana (Transc Caceres for 2 Guitars) - Turibio Santos
12. Romanian Folk Dances, Sz 56: V Poarga Romaneasca (Transc Caceres for 2 Guitars) - Turibio Santos
13. Romanian Folk Dances, Sz 56: VI Maruntel (Transc Caceres for 2 Guitars) - Turibio Santos
14. Micro piezas for 2 Guitars, "Hommage a Darius Milhaud": I Tranquillo - Turibio Santos
15. Micro piezas for 2 Guitars, "Hommage a Darius Milhaud": II Allegro vivace - Turibio Santos
16. Micro piezas for 2 Guitars, "Hommage a Darius Milhaud": III Vivacissimo muy ritmico - Turibio Santos
17. Micro piezas for 2 Guitars, "Hommage a Darius Milhaud": IV Sonoro - Turibio Santos
18. La vida breve, Act 1: Danza (Transc Caceres for 2 Guitars) - Turibio Santos

Disc: 25
1. Concierto de Aranjuez: I. Allegro con spirito - Angel Romero
2. Concierto de Aranjuez: II. Adagio - Angel Romero
3. Concierto de Aranjuez: III. Allegro gentile - Angel Romero
4. Fantasia para un gentilhombre: I Villano y ricercare (Adagietto - Andante moderato) - Angel Romero
5. Fantasia para un gentilhombre: II Espanoleta y fanfare de la caballeria de Napoles (Adagio - Allegretto - Adagio) - Angel Romero
6. Fantasia para un gentilhombre: III Danza de las hachas (Allegro con brio) - Angel Romero
7. Fantasia para un gentilhombre: IV Canario (Allegro ma non troppo) - Angel Romero
8. Recuerdos de la Alhambra - Wulfin Lieske
9. Capricho arabe - Wulfin Lieske
10. Romance Anonimo (From "Jeux Interdits") - Pierre Laniau