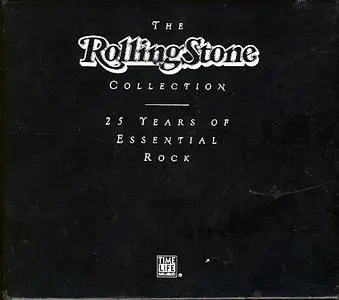 VA - The Rolling Stone Collection: 25 Years Of Essential Rock [7CD Box Set] (1993)
MP3 CBR 320 kbps | Run Time: 05:46:56 | 1,06 Gb | 5,40 Mb
Genre: Pop Rock, Psychedelic Rock, Blues Rock, Soft Rock
Classic Rock, Hard Rock, Soul, Punk, Alternative Rock
Label: Time-Life Music/Sony Music Special Products
This collection retailed for $100.00 when first released in 1993. There has never been a better collection of Rock Classics - probably never will be, what with the difficulties of gaining clearances and gathering the best materials. The seven CDs are divided into the years covered: 1967-69; 1969-70; 1971-73; 1973-77; 1977-82; 1982-86; 1986-92. Enclosed in each CD is a booklet with a capsule history of the music and a complete artist/title list. All of which contain from 15 to 17 tracks, for a total of 110.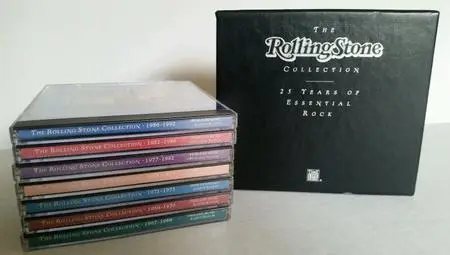 Contains CDs:
CD1: 1967 - 1969
CD2: 1969 - 1970
CD3: 1971 - 1973
CD4: 1973 - 1977
CD5: 1977 - 1982
CD6: 1982 - 1986
CD7: 1986 - 1992
CD1: 1967 - 1969
01. Bob Dylan - Like a Rolling Stone (06:09)
02. Buffalo Springfield - For What It's Worth (02:37)
03. Moby Grape - Omaha (02:22)
04. Quicksilver Messenger Service - Dino's Song (03:07)
05. Donovan - Season of the Witch (04:56)
06. The Doors - Crystal Ship (02:33)
07. The Jimi Hendrix Experience - Spanish Castle Magic (03:02)
08. Cream - Crossroads (04:12)
09. The Who - I Can See for Miles (04:07)
10. The Jimi Hendrix Experience - All Along the Watchtower (04:00)
11. Jeff Beck Group - Beck's Bolero (02:53)
12. Big Brother and the Holding Company - Piece of My Heart (04:14)
13. The Band - The Weight (04:36)
14. The Byrds - Wasn't Born to Follow (02:02)
15. Johnny Winter - Highway 61 Revisited (05:05)
16. Jefferson Airplane - Three Fifths of a Mile in Ten Seconds (04:45)
17. Traffic - Dear Mr. Fantasy (05:32)

CD2: 1969 - 1970

01. MC5 - Kick Out the Jams (02:59)
02. Santana - Everybody's Everything (03:29)
03. The Steve Miller Band - My Dark Hour (03:08)
04. Neil Young - The Loner (03:53)
05. Bob Dylan - Lay Lady Lay (03:19)
06. Crosby, Stills, Nash & Young - Ohio (03:00)
07. Boz Scaggs - Loan Me a Dime (12:33)
08. The Jackson Five - I Want You Back (2:57)
09. Sly and the Family Stone - Thank You (Falletin Me Be Mice Elf Agin) (04:53)
10. John Lennon / Plastic Ono Band - Working Class Hero (03:51)
11. Creedence Clearwater Revival - Fortunate Son (02:21)
12. Eric Clapton - Blues Power (03:09)
13. Grateful Dead - Casey Jones (04:28)
14. The Allman Brothers Band - Dreams (07:18)
15. Led Zeppelin - Friends (03:54)

CD3: 1971 - 1973

01. Rod Stewart - Maggie May (05:14)
02. The Who - Won't Get Fooled Again (08:31)
03. Stevie Wonder - Superstition (04:26)
04. Marvin Gaye - What's Going On (03:48)
05. Joni Mitchell - California (03:49)
06. Paul Simon - Mother and Child Reunion (03:06)
07. Randy Newman - Sail Away (02:52)
08. Eagles - Take It Easy (03:31)
09. Bonnie Raitt - Give It Up (Or Let Me Go) (04:30)
10. Little Feat - Dixie Chicken (03:51)
11. The Allman Brothers Band - Ramblin' Man (04:44)
12. Derek and the Dominos - Bell Bottom Blues (05:02)
13. Mott the Hoople - All the Young Dudes (03:31)
14. Lou Reed - Walk on the Wild Side (04:12)
15. Bob Dylan - Knockin' on Heaven's Door (02:30)

CD4: 1973 - 1977

01. David Bowie - Rebel Rebel (04:31)
02. Ry Cooder - It's All Over Now (04:53)
03. Bob Marley and the Wailers - No Woman No Cry (03:42)
04. Elton John - Daniel (03:55)
05. James Taylor - Mexico (02:59)
06. Bob Dylan - Simple Twist of Fate (04:19)
07. Neil Young - Tonight's the Night (04:44)
08. Led Zeppelin - Trampled Under Foot (05:36)
09. Bruce Springsteen - Born to Run (04:32)
10. Graham Parker - Heat Treatment (03:07)
11. Ramones - Blitzkrieg Bop (02:14)
12. Fleetwood Mac - Go Your Own Way (03:39)
13. Bonnie Raitt - Runaway (03:23)
14. Jackson Browne - The Pretender (05:51)
15. Eagles - Hotel California (06:27)
16. Wings - Maybe I'm Amazed (05:18)

CD5: 1977 - 1982

01. Sex Pistols - God Save the Queen (03:21)
02. Television - See No Evil (03:54)
03. Elvis Costello - Watching the Detectives (03:44)
04. Patti Smith Group - We Three (04:18)
05. Ian Dury and the Blockheads - Sex & Drugs & Rock 'n' Roll (03:05)
06. Warren Zevon - Werewolves of London (03:27)
07. Tom Petty and the Heartbreakers - Refugee (03:22)
08. Ry Cooder - Little Sister (03:46)
09. The Kinks - A Rock 'n' Roll Fantasy (05:01)
10. Dire Straits - Sultans of Swing (05:47)
11. The Cars - Just What I Needed (03:45)
12. The Clash - Train in Vain (Stand by Me) (03:09)
13. Pretenders - Brass in Pocket (03:04)
14. U2 - I Will Follow (03:37)
15. Prince - When U Were Mine (03:44)
16. Richard and Linda Thompson - Wall of Death (03:44)
17. Grandmaster Flash and the Furious Five - The Message (07:10)

CD6: 1982 - 1986

01. Eurythmics - Sweet Dreams (Are Made of This) (04:52)
02. The J. Geils Band - Freeze Frame (03:58)
03. Prince - Little Red Corvette (05:05)
04. Talking Heads - Life During Wartime [Live] (05:53)
05. Sting - If You Love Somebody Set Them Free (04:15)
06. Don Henley - The Boys of Summer (04:50)
07. Prince - When Doves Cry (05:55)
08. Bruce Springsteen - Born in the U.S.A. (04:38)
09. U2 - Pride (In the Name of Love) (03:48)
10. Madonna - Borderline (03:58)
11. Cyndi Lauper - She Bop (03:49)
12. Paul Simon - Diamonds on the Soles of Her Shoes (05:49)
13. John Mellencamp - Rain on the Scarecrow (03:45)
14. Jackson Browne - Lives in the Balance (04:12)
15. Foreigner - I Want to Know What Love Is (04:59)

CD7: 1986 - 1992

01. Bangles - Manic Monday (03:06)
02. Run-D.M.C. - Walk This Way (05:13)
03. Robert Cray - Smoking Gun (04:07)
04. Living Colour - Cult of Personality (04:56)
05. The B-52's - Love Shack (05:24)
06. Grateful Dead - Touch of Grey (05:48)
07. Don Henley - The End of the Innocence (05:15)
08. Tracy Chapman - Talkin' Bout a Revolution (02:40)
09. Public Enemy - Fight the Power (04:46)
10. The Vaughan Brothers - White Boots (03:48)
11. Bonnie Raitt - Thing Called Love (03:53)
12. The Black Crowes - Hard to Handle (03:11)
13. R.E.M. - Losing My Religion (04:29)
14. Robbie Robertson - Shake This Town (05:21)
15. Spin Doctors - Little Miss Can't Be Wrong (03:53)