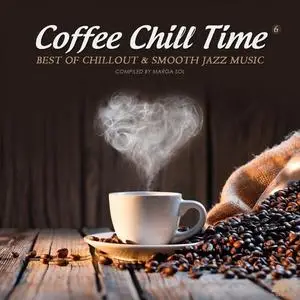 Various Artists - Coffee Chill Time Vol.6 (2020)
MP3 320 kbps | 1:21:09 | 185 Mb
Genre: Easy Listening, Chillout, Jazz / Label: M-Sol Records
It's time for your Coffee Break with the finest Smooth Jazz and Chillout Music. Total Enjoyment and Relaxation with your favorite Cup of Coffee. Enjoy Your special moments!
Track List:
[04:25] 01. Raquel Silva Joly - Estate (Original Mix)
[03:44] 02. Brazil Beat - Garota De Ipanema (Original Mix)
[02:46] 03. Raquel Silva Joly - Que Reste T'il De Nos Amours (Original Mix)
[04:19] 04. Giovanni Tornambene - Like a Cup of Wine
[03:08] 05. Gabrielle Chiararo - Fragile (Original Mix)
[04:08] 06. Giacomo Bondi - Parole Parole (Original Mix)
[03:53] 07. Gabrielle Chiararo - La Mer (Original Mix)
[03:52] 08. Alyssa Zezza - Do It Again
[04:52] 09. Viktor (UA) - Watercolor (Original Mix)
[07:47] 10. Dharma Buds - She Knows
[05:14] 11. Chillson, Marc Hartman - Six String Jam (Original Mix)
[04:27] 12. Marga Sol - Chillvibes (Original Mix)
[03:59] 13. Martin Liege - Chillin in La (Original Mix)
[03:39] 14. Alyssa Zezza - Snow on the Sahara
[02:38] 15. Brazil Beat - Triste (Original Mix)
[03:32] 16. Mistura Electro-Brasiliera - Triste Carnaval (Original Mix)
[04:28] 17. Alyssa Zezza - All Around the World
[03:10] 18. Gabrielle Chiararo - Sweet Dreams (Are Made of This) (Original Mix)
[03:45] 19. Jean-Paul Artero - Cancao Pra L (Original Mix)
[03:14] 20. Conexao Tupi - Samba De Verao (Original Mix)