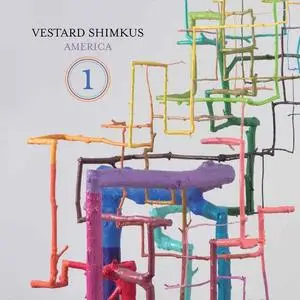 Vestard Shimkus - America 1 (2021)
FLAC tracks / MP3 320 kbps | 01:02:32 | 143 / 190 Mb
Genre: Classical / Label: ARTALINNA
In programming terms alone, this America-themed programme from Latvian pianist-composer and former Pēteris Vasks pupil Vestard Shimkus is extremely nicely put together. Philip Glass's Mad Rush serves as the curtain-raiser – a work originally created and performed on the organ of New York's cathedral of St. John the Divine in honour of the Dalai Lama's 1979 first public address in North America, but now largely performed on the piano. Onwards, and Shimkus leads us through a succession of hops back and forth between the 20th and 21st centuries, beginning with Charles Tomlinson Griffes' Piano Sonata, sitting as a pleasingly organic segue despite its much earlier composition date of 1917, thanks to its own concise, abstract language (in fact "wandering in the nowhere" was how Musical America's bemused Herbert Peyser described it when it first appeared).
Track List:
01. Mad Rush: Part A - Part B (until Bar 101). Flowing
02. Mad Rush: Part B (Bar 102 - Bar 154)
03. Mad Rush: Part C (Bar 155 - Bar 231)
04. Mad Rush: Part D (Bar 232 - Bar 273)
05. Piano Sonata, A. 85: Feroce - Allegretto con moto
06. Piano Sonata, A. 85: Tempo primo, flebile - Agitato molto - Poco agitato - Tranquillamente, espressivo
07. Piano Sonata, A. 85: Molto tranquillo - Poco agitato - Appassionato - Tranquillo
08. Piano Sonata, A. 85: Allegro vivace - Appassionato - Lento - Presto
09. Two Thoughts About the Piano: I. Intermittences. Tempo flessibile
10. Two Thoughts About the Piano: II. Caténaires. Jaillissant
11. Processional: Sempre pulsando, estaticamente (Second Version)
12. Piano Sonata "Light Years Away": I. There. Volando e intimico
13. Piano Sonata "Light Years Away": II. Here. Molto rubato
ANALYZER: auCDtect: CD records authenticity detector, version 0.8.2
Copyright © 2004 Oleg Berngardt. All rights reserved.
Copyright © 2004 Alexander Djourik. All rights reserved.


FILE: 01 - Mad Rush_ Part A - Part B (until Bar 101). Flowing.flac
Size: 17496084 Hash: 54239796B251ABAE73D80AFF06F4780A Accuracy: -m40
Conclusion: CDDA 99%
Signature: F9B45560022245D813EB2161490FC3F12F687B8D
FILE: 02 - Mad Rush_ Part B (Bar 102 - Bar 154).flac
Size: 10248705 Hash: 625BB1A6DFE571E1B2A438B5E84CD918 Accuracy: -m40
Conclusion: CDDA 86%
Signature: 0FFF3296FA098CA5BFD65FECD6782A7E58113A1F
FILE: 03 - Mad Rush_ Part C (Bar 155 - Bar 231).flac
Size: 11989810 Hash: 85EA23B53A2B767A4C700D54FC571D53 Accuracy: -m40
Conclusion: CDDA 100%
Signature: 81A90AC71D9D3E1F951E3AED0FE6F4F99B26C87B
FILE: 04 - Mad Rush_ Part D (Bar 232 - Bar 273).flac
Size: 9924331 Hash: 88E8625966C1978DE5A5BF6CEEC4C908 Accuracy: -m40
Conclusion: CDDA 100%
Signature: 258EF1239E0CA13A1023132DED64FAC1B2880787
FILE: 05 - Piano Sonata, A. 85_ Feroce - Allegretto con moto.flac
Size: 11471893 Hash: 89023A4257D064CD0568F79FDCFC76D2 Accuracy: -m40
Conclusion: MPEG 100%
Signature: 7DD2E05D6A14183ED555499C41A979F7728E6C1F
FILE: 06 - Piano Sonata, A. 85_ Tempo primo, flebile - Agitato molto - Poco agitato - Tranquillamente, espressivo.flac
Size: 13265178 Hash: 80769C504F2E25EF80278F2A13A85B92 Accuracy: -m40
Conclusion: MPEG 90%
Signature: 3DAB629C641AE9555976FFB3326CDAA23E795802
FILE: 07 - Piano Sonata, A. 85_ Molto tranquillo - Poco agitato - Appassionato - Tranquillo.flac
Size: 13066783 Hash: 5F338136FFB01D04E016A0C54CBE38E6 Accuracy: -m40
Conclusion: MPEG 91%
Signature: 80B54903E7836CAABC35035AF7A3BDFA19261792
FILE: 08 - Piano Sonata, A. 85_ Allegro vivace - Appassionato - Lento - Presto.flac
Size: 18467186 Hash: BF0ADD8DC342DC54CEA57D65CB0692F7 Accuracy: -m40
Conclusion: MPEG 100%
Signature: 08D2FFD7B9BC2DAA1D6B8B1AB1DADA1B04339421
FILE: 09 - Two Thoughts About the Piano_ I. Intermittences (Tempo flessibile).flac
Size: 23633547 Hash: FAEE5B7AD7CA75581533A1B6F373F687 Accuracy: -m40
Conclusion: MPEG 90%
Signature: EFC9C66B792DBDB3E914F4080BE72B75CA27ABD7
FILE: 10 - Two Thoughts About the Piano_ II. Caténaires (Jaillissant).flac
Size: 12018513 Hash: 7BFD54A08AC41E12B42DA4333F2191DE Accuracy: -m40
Conclusion: MPEG 89%
Signature: C72677C5A1DE745199EC35F67DAA7688A2805E18
FILE: 11 - Processional (Sempre pulsando, estaticamente) (Second Version).flac
Size: 29421942 Hash: 7D5369ED8497C90D9CB1C9BFD47F217A Accuracy: -m40
Conclusion: CDDA 43%
Signature: 2911F4710CE03EAC3AABF646C1A81D99C5A3A292
FILE: 12 - Piano Sonata _Light Years Away__ I. There (Volando e intimico).flac
Size: 12026917 Hash: 9AD4BFDD5DEC83B47F9CB5C8BE23A81A Accuracy: -m40
Conclusion: CDDA 100%
Signature: 6FB8F0AAA54B2EFC3311A964F06D431D2A787F1B
FILE: 13 - Piano Sonata _Light Years Away__ II. Here (Molto rubato).flac
Size: 18765114 Hash: BE1426F4517DFF653CF33B326B1B02A8 Accuracy: -m40
Conclusion: CDDA 100%
Signature: 7CB9E034E5DA90D06B3C9CBF0CC33D15F408196A