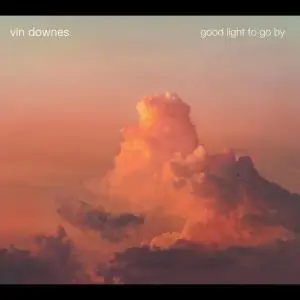 Vin Downes - Good Light to Go By (2020)
WEB FLAC (tracks) - 228 MB | Tracks: 12 | 51:40 min
Style: New Age, Instrumental, Guitar | Label: Riverwide Records
Vin Downes began studying guitar at the age of eleven. His early interests were in electric guitar, but this all changed when he heard the opening notes of David Cullen's "Along the Way" on a Windham Hill Records guitar sampler. He immediately immersed himself in the fingerstyle music of Will Ackerman, Michael Hedges, David Cullen, Leo Kottke, and Mississippi John Hurt.
Greatly influenced by the music of artists on Windham Hill Records in the late 1980's, Downes furthered his interest of fingerstyle guitar technique and music composition by earning a degree in classical performance/music education from William Paterson University in New Jersey.
Vin Downes has released four studio albums, two of which were produced by Grammy Award winning guitarist and producer, Will Ackerman and award winning engineer/producer, Tom Eaton. He has performed nationally as a soloist and as a member of "The Gathering – A Concert Series presented by Will Ackerman" and is a member of Will Ackerman's group Four Guitars.
He has written, recorded, and performed music with musicians including Will Ackerman, David Crosby, Trevor Gordon Hall, Todd Mosby, David Cullen, Tom Eaton, Eugene Friesen, Tony Levin, and Michael Manring.
Vin Downes is a public school music teacher in New Jersey, where he currently teaches an award winning classical guitar program at Bayonne High School.
Tracklist:
01. Falling into Place
02. The Flawed Heart
03. Parting
04. Oak Lane
05. Each Other's Home
06. Good Light to Go By
07. The Red Shirt Is for Crying
08. Belmont
09. Dream in the Valley
10. So She Spins
11. Waiting for Fullness
12. Each Other's Home (Alternate Mix)


FILE: 01. Falling into Place.flac
Size: 21003638 Hash: 41A615080023CDA243241885C13B30B4 Accuracy: -m0
Conclusion: CDDA 100%
Signature: E7B6282453620C326E4C27CE18D3C64F60CE0435
FILE: 02. The Flawed Heart.flac
Size: 18402113 Hash: 668F994FCDF785E71F98C56562A54F30 Accuracy: -m0
Conclusion: CDDA 100%
Signature: 4B5F9087DEF271ACEE12A20181EA3E5B7FB88C26
FILE: 03. Parting.flac
Size: 15323043 Hash: 67B53904249C8BDE7F83EF3C0F16BF37 Accuracy: -m0
Conclusion: CDDA 100%
Signature: BA2F71A385A74EA18653EEA5935C3D295C117502
FILE: 04. Oak Lane.flac
Size: 15852165 Hash: 877786541EF91492DB1A2721EC54A48E Accuracy: -m0
Conclusion: CDDA 100%
Signature: 2E0D4BFAAF21A12260E902BAC1482AE0A8FD8072
FILE: 05. Each Other's Home.flac
Size: 25821180 Hash: 54E8F418ED5390F2DC06AC6494F4D155 Accuracy: -m0
Conclusion: CDDA 100%
Signature: DC7E6BA0317046A3FB878CD801DE0F1253DC297F
FILE: 06. Good Light to Go By.flac
Size: 21470263 Hash: 271D2B2CFF8284788BCD41C54AA52566 Accuracy: -m0
Conclusion: CDDA 100%
Signature: DF4FD5E3A6F79B8765C6AFBB9A800BE7C8C173C0
FILE: 08. Belmont.flac
Size: 19469575 Hash: 517987BD29368641949FF7294BB4BEFC Accuracy: -m0
Conclusion: CDDA 100%
Signature: DAF9D4E5DCFA9491A560F5FBCBB70C8B09858E22
FILE: 09. Dream in the Valley.flac
Size: 20384408 Hash: E8E3511A854020734CA00AA91CF5E3A7 Accuracy: -m0
Conclusion: CDDA 100%
Signature: 6EC65638E613C9B548B552093273C3801ABEFD6A
FILE: 10. So She Spins.flac
Size: 19588346 Hash: 63B1E7038B807F54083138AA24B924E0 Accuracy: -m0
Conclusion: CDDA 100%
Signature: E69086AFE1295642A900B351792F7D4B85E78F6C
FILE: 11. Waiting for Fullness.flac
Size: 16674782 Hash: 8F312B8D784946265EA503C3B269CF12 Accuracy: -m0
Conclusion: CDDA 100%
Signature: 59F5F51881ABE22A1111E754C23482D4016DB5EA
FILE: 12. Each Other's Home (Alternate Mix).flac
Size: 28876327 Hash: 2945FA76979976A79366D0592E808010 Accuracy: -m0
Conclusion: CDDA 100%
Signature: B12E23FB088D7A09AAA9BBCFDBC74F2EDDBE3661