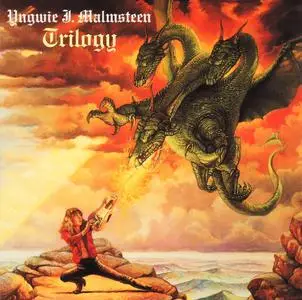 Yngwie Malmsteen - Trilogy (1986) [2007 Remastered]
Sweden | MP3 CBR 320 Kbps | 100 MB
Neoclassical Power Metal/Shred | Label : Polydor K.K.
Trilogy is the third studio album by guitarist Yngwie Malmsteen, released on 4 November 1986 through Polydor Records. The album reached No. 44 on the US Billboard 200 and charted within the top 60 in the Netherlands and Sweden. In the liner notes, Malmsteen dedicates the album to the memory of the late Swedish prime minister Olof Palme, who was assassinated on 28 February 1986.
Tracklist:
1. You Don't Remember, I'll Never Forget
2. Liar
3. Queen in Love
4. Crying
5. Fury
6. Fire
7. Magic Mirror
8. Dark Ages
9. Trilogy Suite Op:5
Total playing time 40:40