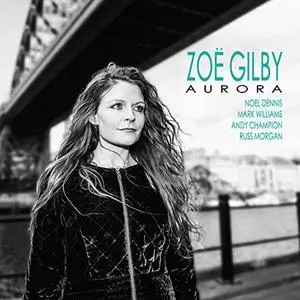 Zoe Gilby - Aurora (2021)
WEB FLAC (Tracks) - 260 MB | Cover | MP3 CBR 320 kbps - 105 MB | 00:45:32
Jazz, Vocal Jazz | Label: Evening Play Records
Parliamentary Awards Jazz Vocalist of the Year 2019, Zoe Gilby, releases her fourth album "Aurora" Inspired by the instrumental compositions of award winning, Grammy nominated U.S trumpeter Tom Harrell.
"This is a brand new album of material and we are so excited to be augmenting the exciting instrumental compositions of US trumpet player and composer Tom Harrell with my own lyrics. As a songwriter, I have always composed the melody and the lyrics myself. This however, is an entirely different beast, and a one I have loved rising to the challenge of. I've loved illustrating Tom's music further with my own lyrics, absorbing his intricate ideas, his serene delivery and portraying it sensitively with my own, awesome musicians, who help bring my words and these compositions to life."
"Zoe and her musicians deserve to be congratulated on the way they have delivered Tom Harrell's music which, lyrically, has been brought to life by a singer with a distinct style of her own, a style that I very much enjoyed and look forward to hearing more of" Simply Jazz Talk.
TRACKLIST
01. Zoe Gilby - Leap To The Limelight
02. Zoe Gilby - The All Night Diner
03. Zoe Gilby - Your Dear Heart, My Dear Heart
04. Zoe Gilby - Forget The Past
05. Zoe Gilby - A Momentary Place Of Peace
06. Zoe Gilby - This Is New
07. Zoe Gilby - Ebb & Flow
08. Zoe Gilby - Shadowed In Solitude
09. Zoe Gilby - Celestial Delight
Personnel:
Zoe Gilby - Vocals
Noel Dennis - Trumpet & Flugelhorn
Mark Williams - Guitar
Andy Champion - Double Bass
Russ Morgan - Drums
–––––––––––-
DON'T MODIFY THIS FILE
–––––––––––-
PERFORMER: auCDtect Task Manager, ver. 1.6.0 RC1 build 1.6.0.1
Copyright © 2008-2010 y-soft. All rights reserved
http://y-soft.org
ANALYZER: auCDtect: CD records authenticity detector, version 0.8.2
Copyright © 2004 Oleg Berngardt. All rights reserved.
Copyright © 2004 Alexander Djourik. All rights reserved.
FILE: 09 - Celestial Delight.flac
Size: 36045698 Hash: D2B55AD8C6A058FECDCC1FB6897F2C18 Accuracy: -m0
Conclusion: CDDA 100%
Signature: B7D1CAA536E29D2A7A53EAA604D3924EA499D7A8
FILE: 08 - Shadowed In Solitude.flac
Size: 26486006 Hash: AF60CC81BEF3865BB05F6043D539750F Accuracy: -m0
Conclusion: CDDA 100%
Signature: 92467087E1A43A68FDC2FD6FC53DD05D267FC296
FILE: 07 - Ebb & Flow.flac
Size: 35714948 Hash: 24C2E71372360589030CFDBE79C798FC Accuracy: -m0
Conclusion: CDDA 100%
Signature: 023990B5B6F2A11CCFC89FA2CAE0D9264606AF7E
FILE: 06 - This Is New.flac
Size: 29992639 Hash: 54E4AF8CB4A605E1175AC68E5F4992AB Accuracy: -m0
Conclusion: CDDA 100%
Signature: 2455609A24CD99DFAD2176E5FC157396FC961FCA
FILE: 05 - A Momentary Place Of Peace.flac
Size: 30085720 Hash: 814332A2506513F1F8FA19D70059E9DC Accuracy: -m0
Conclusion: CDDA 100%
Signature: 89CB674CE2DD4FF78389CE6123BA6E80178B173D
FILE: 04 - Forget The Past.flac
Size: 26599622 Hash: F8A1929E2BEA412549C6EBB2926F094E Accuracy: -m0
Conclusion: CDDA 100%
Signature: 95E5891D68FF77564865364696ED2E02A59576CA
FILE: 03 - Your Dear Heart, My Dear Heart.flac
Size: 20995571 Hash: EBC91FF98ED1670D6220FFFE7ACCCB50 Accuracy: -m0
Conclusion: CDDA 100%
Signature: 7D79E6AB613DC5A6727D891A81B1BAF063EE9C0E
FILE: 02 - The All Night Diner.flac
Size: 36423157 Hash: A41FBB05B81E6320921BCA2E01FD29A9 Accuracy: -m0
Conclusion: CDDA 100%
Signature: 90EF0AD2D3DB106DA00DC54B7A4BD7931316E031
FILE: 01 - Leap To The Limelight.flac
Size: 30277421 Hash: 343449EA8F8E314E196C8C045D8D01C8 Accuracy: -m0
Conclusion: CDDA 100%
Signature: DCEA092815A90FDE88985A492DD5493ACB341B98
All thanks go to the original releaser