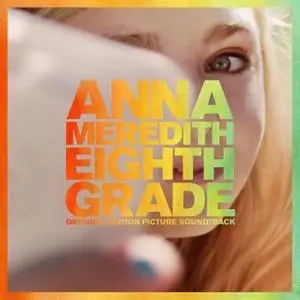 Anna Meredith - Eighth Grade (2018)
XLD Rip | FLAC (tracks+.cue) | 00:40:30 | 198,21 MB
Soundtrack | Label: Columbia Records
Anna Meredith is a composer, producer and performer of both acoustic and electronic music. Her sound is frequently described as 'uncategorisable' and 'genre-defying' and straddles the different worlds of contemporary classical, art pop, electronica, ambient installations and experimental rock - or as the Guardian said: "majestic bangers"…
Her music has been performed everywhere from the BBC Last Night of the Proms to flashmob body-percussion performances in the M6 Services, PRADA & Fendi fashion campaigns, numerous films, installations and documentaries, pop festivals, clubs and classical concert halls worldwide and broadcast on Radio 1, 2, 3, 4 & 6.
Her debut album, Varmints was released in March 2016 on Moshi Moshi/PIAS to huge critical acclaim with numerous 4 and 5 star reviews from press and media around the world including Pitchfork's coveted Best New Music. Varmints was Loud & Quiet's Album of the Year 2016 & won the 2016 Scottish Album of the Year (SAY Award).
She is published by a new partnership between Warp Publishing & Faber Music Publishing, and is one of the first Somerset House Studios Residents. Much to Anna's surprise she was voted Number One in The List's Hot100 (of Cultural Contributors to 2016).
Anna is also a regular presenter for BBC Radio3 and 6Music and a radio and TV guest, judge and panel member on numerous shows including as Goldie's mentor for the TV show Classic Goldie.
She has been Composer in Residence with the BBC Scottish Symphony Orchestra, RPS/PRS Composer in the House with Sinfonia ViVA, the classical music representative for the 2009 South Bank Show Breakthrough Award and winner of the 2010 Paul Hamlyn Award for Composers.
Her recent piece Connect It was written for the BBC's award winning Ten Pieces scheme which involved half of all UK Primary school children working on Connect It as well as Anna leading broadcasts, workshops and performances including at Radio 2's Proms in the Park to 40,000 people.
Anna's two EPs - Black Prince Fury and Jet Black Raider were released on Moshi Moshi Records to critical acclaim including Drowned in Sound's Single of the Year.
Her band has a line-up of Anna on clarinet and electronics, plus cello (Maddie Cutter/Gemma Kost), electric guitar (Jack Ross), tuba (Tom Kelly) and drums (Sam Wilson).
After a sell-out Varmints album shows (awarded 5 stars by the Guardian) at London's ICA & Scala, the band are touring and performing at numerous UK and EU headline shows and festivals throughout 2016/2017 including Glastonbury, Field Day, Latitude, Rewire, End of the Road, & Transmusicales.
In March 2017 the band went on their first US tour including performances at SXSW, which the New York Times reviewed as "sheer exhilaration" while NPR's Bob Boilen described the show as "a stormy, ecstatic, endlessly danceable thrill to behold…the best artist I've seen at SXSW and one of the most creative bands I've seen in years. Music for the head, the heart, the ass and the feet".
Other recent projects have included collaborations with Laura Marling and The Stranglers for the first 6Music Prom, commissions for the Aurora Orchestra, Scottish Ensemble, Netherlands Chamber Orchestra and Living Earth Duo, Installations for Sleep-Pods in Singapore and Park Benches in Hong Kong and the world's first Concerto for Beatboxer and Orchestra. Projects in 2016 included a new piece for the Kronos Quartet, working with her sister, illustrator Eleanor Meredith on a new piece Anno, incorporating Vivaldi's Four Seasons for the Scottish Ensemble, pieces for Big Band, remixes, arrangements of David Bowie for the Tribute concert at the BBC Proms and film work including new music for Jaques Audiard's latest film Dheepan.
Plans for 2017 include an installations for the lifts inbetween M&S and Selfridges for Manchester International Festival, arrangements for Sigur Ros & the LA Phil in Disney Hall, an installation for custom whirly tubes and UV lights for the Barbican Centre and starting work on album two…
Tracklist:
01. Anna Meredith - Being Yourself
02. Anna Meredith - Putting Yourself Out There
03. Anna Meredith - Nautilus
04. Anna Meredith - How To Be Confident
05. Anna Meredith - Stay Calm
06. Anna Meredith - The Banana
07. Anna Meredith - High School
08. Anna Meredith - Rhododendron
09. Anna Meredith - How To Be Confident (Again)
10. Anna Meredith - A Lot At Once
11. Anna Meredith - Honeyed Words
12. Anna Meredith - MGMS Class of 2017
13. Anna Meredith - The Coolest Girl in The World
14. Anna Meredith - REDBLUEGREEN
15. Anna Meredith - MIDI
16. Anna Meredith - Nervous All the Time
17. Anna Meredith - A Really Good Day
18. Anna Meredith - How To Be Confident (For Real)
X Lossless Decoder version 20181019 (151.1)

XLD extraction logfile from 2019-05-09 09:35:30 -0700

Anna Meredith / Eighth Grade

Used drive : PIONEER BD-RW BDR-XD05 (revision 3.10)
Media type : Pressed CD

Ripper mode : XLD Secure Ripper
Disable audio cache : OK for the drive with a cache less than 1375KiB
Make use of C2 pointers : NO
Read offset correction : 667
Max retry count : 100
Gap status : Analyzed, Appended (except HTOA)

TOC of the extracted CD
Track | Start | Length | Start sector | End sector
––––––––––––––––––––––––––––-
1 | 00:00:00 | 02:47:07 | 0 | 12531
2 | 02:47:07 | 01:38:20 | 12532 | 19901
3 | 04:25:27 | 05:29:25 | 19902 | 44601
4 | 09:54:52 | 02:40:57 | 44602 | 56658
5 | 12:35:34 | 01:19:56 | 56659 | 62639
6 | 13:55:15 | 00:53:37 | 62640 | 66651
7 | 14:48:52 | 01:08:52 | 66652 | 71803
8 | 15:57:29 | 03:34:48 | 71804 | 87901
9 | 19:32:02 | 01:10:50 | 87902 | 93201
10 | 20:42:52 | 00:57:06 | 93202 | 97482
11 | 21:39:58 | 03:13:63 | 97483 | 112020
12 | 24:53:46 | 01:09:03 | 112021 | 117198
13 | 26:02:49 | 01:54:18 | 117199 | 125766
14 | 27:56:67 | 03:58:50 | 125767 | 143666
15 | 31:55:42 | 03:42:26 | 143667 | 160342
16 | 35:37:68 | 01:58:32 | 160343 | 169224
17 | 37:36:25 | 01:40:25 | 169225 | 176749
18 | 39:16:50 | 01:13:49 | 176750 | 182273

AccurateRip Summary
Disc not found in AccurateRip DB.

All Tracks
Album gain : -7.50 dB
Peak : 0.992493
Statistics
Read error : 0
Jitter error (maybe fixed) : 0
Retry sector count : 0
Damaged sector count : 0

Track 01
Filename : /Volumes/Hollywood and Vine/Rips/Anna Meredith - Eighth Grade (2018) [FLAC]/01 Being Yourself.flac
Pre-gap length : 00:02:00

Track gain : -8.32 dB
Peak : 0.989929
CRC32 hash (test run) : C599D10A
CRC32 hash : C599D10A
CRC32 hash (skip zero) : A1833F6B
AccurateRip v1 signature : 4F48834E
AccurateRip v2 signature : 23E782C4
->Track not present in AccurateRip database.
Statistics
Read error : 0
Jitter error (maybe fixed) : 0
Retry sector count : 0
Damaged sector count : 0

Track 02
Filename : /Volumes/Hollywood and Vine/Rips/Anna Meredith - Eighth Grade (2018) [FLAC]/02 Putting Yourself Out There.flac

Track gain : -9.27 dB
Peak : 0.987366
CRC32 hash (test run) : E45CEB35
CRC32 hash : E45CEB35
CRC32 hash (skip zero) : 871D7515
AccurateRip v1 signature : C1038F02
AccurateRip v2 signature : 44AD1B3F
->Track not present in AccurateRip database.
Statistics
Read error : 0
Jitter error (maybe fixed) : 0
Retry sector count : 0
Damaged sector count : 0

Track 03
Filename : /Volumes/Hollywood and Vine/Rips/Anna Meredith - Eighth Grade (2018) [FLAC]/03 Nautilus.flac

Track gain : -9.39 dB
Peak : 0.989929
CRC32 hash (test run) : 63869695
CRC32 hash : 63869695
CRC32 hash (skip zero) : 67598B5D
AccurateRip v1 signature : 452B261B
AccurateRip v2 signature : BB008CDD
->Track not present in AccurateRip database.
Statistics
Read error : 0
Jitter error (maybe fixed) : 0
Retry sector count : 0
Damaged sector count : 0

Track 04
Filename : /Volumes/Hollywood and Vine/Rips/Anna Meredith - Eighth Grade (2018) [FLAC]/04 How to Be Confident.flac

Track gain : -6.13 dB
Peak : 0.989929
CRC32 hash (test run) : FC74C203
CRC32 hash : FC74C203
CRC32 hash (skip zero) : 76C04E9F
AccurateRip v1 signature : E943A554
AccurateRip v2 signature : D8702525
->Track not present in AccurateRip database.
Statistics
Read error : 0
Jitter error (maybe fixed) : 0
Retry sector count : 0
Damaged sector count : 0

Track 05
Filename : /Volumes/Hollywood and Vine/Rips/Anna Meredith - Eighth Grade (2018) [FLAC]/05 Stay Calm.flac

Track gain : -7.31 dB
Peak : 0.992493
CRC32 hash (test run) : 58FBC183
CRC32 hash : 58FBC183
CRC32 hash (skip zero) : 4CBAC9E6
AccurateRip v1 signature : 6BCA1216
AccurateRip v2 signature : 1A88416A
->Track not present in AccurateRip database.
Statistics
Read error : 0
Jitter error (maybe fixed) : 0
Retry sector count : 0
Damaged sector count : 0

Track 06
Filename : /Volumes/Hollywood and Vine/Rips/Anna Meredith - Eighth Grade (2018) [FLAC]/06 The Banana.flac

Track gain : -6.30 dB
Peak : 0.989929
CRC32 hash (test run) : F2007944
CRC32 hash : F2007944
CRC32 hash (skip zero) : EC901787
AccurateRip v1 signature : D9E3CC8B
AccurateRip v2 signature : B270936F
->Track not present in AccurateRip database.
Statistics
Read error : 0
Jitter error (maybe fixed) : 0
Retry sector count : 0
Damaged sector count : 0

Track 07
Filename : /Volumes/Hollywood and Vine/Rips/Anna Meredith - Eighth Grade (2018) [FLAC]/07 High School.flac

Track gain : -9.09 dB
Peak : 0.989929
CRC32 hash (test run) : 99BCC1DD
CRC32 hash : 99BCC1DD
CRC32 hash (skip zero) : D2468846
AccurateRip v1 signature : 248D3B82
AccurateRip v2 signature : 5EC9E756
->Track not present in AccurateRip database.
Statistics
Read error : 0
Jitter error (maybe fixed) : 0
Retry sector count : 0
Damaged sector count : 0

Track 08
Filename : /Volumes/Hollywood and Vine/Rips/Anna Meredith - Eighth Grade (2018) [FLAC]/08 Rhododendron.flac

Track gain : -8.96 dB
Peak : 0.989929
CRC32 hash (test run) : 31C5343F
CRC32 hash : 31C5343F
CRC32 hash (skip zero) : 4768FFED
AccurateRip v1 signature : 5D5AC821
AccurateRip v2 signature : 799F8DFE
->Track not present in AccurateRip database.
Statistics
Read error : 0
Jitter error (maybe fixed) : 0
Retry sector count : 0
Damaged sector count : 0

Track 09
Filename : /Volumes/Hollywood and Vine/Rips/Anna Meredith - Eighth Grade (2018) [FLAC]/09 How to Be Confident (Again).flac

Track gain : -7.83 dB
Peak : 0.989929
CRC32 hash (test run) : 6CF93027
CRC32 hash : 6CF93027
CRC32 hash (skip zero) : CD388A83
AccurateRip v1 signature : D50EF19F
AccurateRip v2 signature : 8DA23A1F
->Track not present in AccurateRip database.
Statistics
Read error : 0
Jitter error (maybe fixed) : 0
Retry sector count : 0
Damaged sector count : 0

Track 10
Filename : /Volumes/Hollywood and Vine/Rips/Anna Meredith - Eighth Grade (2018) [FLAC]/10 A Lot at Once.flac

Track gain : -5.11 dB
Peak : 0.989929
CRC32 hash (test run) : 6A097E7D
CRC32 hash : 6A097E7D
CRC32 hash (skip zero) : 3B52B204
AccurateRip v1 signature : 1774CBAD
AccurateRip v2 signature : B659E707
->Track not present in AccurateRip database.
Statistics
Read error : 0
Jitter error (maybe fixed) : 0
Retry sector count : 0
Damaged sector count : 0

Track 11
Filename : /Volumes/Hollywood and Vine/Rips/Anna Meredith - Eighth Grade (2018) [FLAC]/11 Honeyed Words.flac

Track gain : -5.32 dB
Peak : 0.895721
CRC32 hash (test run) : 1BCEB4EC
CRC32 hash : 1BCEB4EC
CRC32 hash (skip zero) : C2E584E2
AccurateRip v1 signature : F86748AD
AccurateRip v2 signature : FAA6AF30
->Track not present in AccurateRip database.
Statistics
Read error : 0
Jitter error (maybe fixed) : 0
Retry sector count : 0
Damaged sector count : 0

Track 12
Filename : /Volumes/Hollywood and Vine/Rips/Anna Meredith - Eighth Grade (2018) [FLAC]/12 MGMS Class of 2017.flac

Track gain : -8.00 dB
Peak : 0.989929
CRC32 hash (test run) : 735AAE32
CRC32 hash : 735AAE32
CRC32 hash (skip zero) : AC6269BF
AccurateRip v1 signature : CA389111
AccurateRip v2 signature : E3D3A519
->Track not present in AccurateRip database.
Statistics
Read error : 0
Jitter error (maybe fixed) : 0
Retry sector count : 0
Damaged sector count : 0

Track 13
Filename : /Volumes/Hollywood and Vine/Rips/Anna Meredith - Eighth Grade (2018) [FLAC]/13 The Coolest Girl in the World.flac

Track gain : -6.16 dB
Peak : 0.989929
CRC32 hash (test run) : 2E967C27
CRC32 hash : 2E967C27
CRC32 hash (skip zero) : 3C3D95EA
AccurateRip v1 signature : F3EE8605
AccurateRip v2 signature : F6097514
->Track not present in AccurateRip database.
Statistics
Read error : 0
Jitter error (maybe fixed) : 0
Retry sector count : 0
Damaged sector count : 0

Track 14
Filename : /Volumes/Hollywood and Vine/Rips/Anna Meredith - Eighth Grade (2018) [FLAC]/14 RedBlueGreen.flac

Track gain : -3.71 dB
Peak : 0.987366
CRC32 hash (test run) : FD97FEF3
CRC32 hash : FD97FEF3
CRC32 hash (skip zero) : A8CB15AE
AccurateRip v1 signature : AAA2F486
AccurateRip v2 signature : 105A27DF
->Track not present in AccurateRip database.
Statistics
Read error : 0
Jitter error (maybe fixed) : 0
Retry sector count : 0
Damaged sector count : 0

Track 15
Filename : /Volumes/Hollywood and Vine/Rips/Anna Meredith - Eighth Grade (2018) [FLAC]/15 MIDI.flac

Track gain : -6.70 dB
Peak : 0.989929
CRC32 hash (test run) : 593C6060
CRC32 hash : 593C6060
CRC32 hash (skip zero) : 0E7E122A
AccurateRip v1 signature : 63FE103C
AccurateRip v2 signature : 80C519CB
->Track not present in AccurateRip database.
Statistics
Read error : 0
Jitter error (maybe fixed) : 0
Retry sector count : 0
Damaged sector count : 0

Track 16
Filename : /Volumes/Hollywood and Vine/Rips/Anna Meredith - Eighth Grade (2018) [FLAC]/16 Nervous All the Time.flac

Track gain : -4.33 dB
Peak : 0.992401
CRC32 hash (test run) : FF06CE56
CRC32 hash : FF06CE56
CRC32 hash (skip zero) : DD1A1B1F
AccurateRip v1 signature : AFE3C58B
AccurateRip v2 signature : 8C78E3C4
->Track not present in AccurateRip database.
Statistics
Read error : 0
Jitter error (maybe fixed) : 0
Retry sector count : 0
Damaged sector count : 0

Track 17
Filename : /Volumes/Hollywood and Vine/Rips/Anna Meredith - Eighth Grade (2018) [FLAC]/17 A Really Good Day.flac

Track gain : -6.55 dB
Peak : 0.987366
CRC32 hash (test run) : E4EFA2EE
CRC32 hash : E4EFA2EE
CRC32 hash (skip zero) : AF84D706
AccurateRip v1 signature : 257DAB65
AccurateRip v2 signature : 6FA3B558
->Track not present in AccurateRip database.
Statistics
Read error : 0
Jitter error (maybe fixed) : 0
Retry sector count : 0
Damaged sector count : 0

Track 18
Filename : /Volumes/Hollywood and Vine/Rips/Anna Meredith - Eighth Grade (2018) [FLAC]/18 How to Be Confident (For Real).flac

Track gain : -7.56 dB
Peak : 0.987366
CRC32 hash (test run) : 66508556
CRC32 hash : 66508556
CRC32 hash (skip zero) : 313B8DDB
AccurateRip v1 signature : D473DC6B
AccurateRip v2 signature : CBFB43ED
->Track not present in AccurateRip database.
Statistics
Read error : 0
Jitter error (maybe fixed) : 0
Retry sector count : 0
Damaged sector count : 0

No errors occurred

End of status report

––-BEGIN XLD SIGNATURE––-
zE9HSbl594gyaea3pIYJ3Nz1kjOTirxDFZGD0ikWF0WJHex77FtSYwtWIRDl1Rye3vwCDCn_IIfTZzSbAOVV_V0g0Ap6E3b2RHzfQ0q
––-END XLD SIGNATURE––-