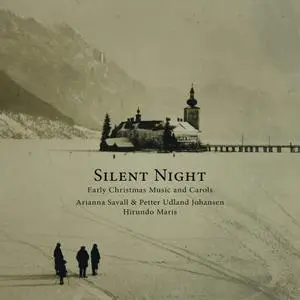 Arianna Savall, Petter Udland Johansen & Hirundo Maris - Silent Night: Early Christmas Music and Carols (2018)
WEB FLAC (tracks) - 326 Mb | MP3 CBR 320 kbps - 144 Mb | 01:02:40
Classical, Sacred, Vocal | Label: deutsche harmonia mundi
Mediterranean and Nordic Christmas music with Arianna Savall and her Baroque ensemble Hirundo Maris. Since the founding of their ensemble in 2009, Hirundo Maris, the Catalan harpist and singer Arianna Savall, and the Norwegian tenor and violist Petter Udland Johansen have committed themselves to music from the Middle Ages up to the Baroque period. And a special emphasis has been Mediterranean and Nordic music. For their current album, 'Silent Night Early Christmas Music and Carols' both musicians and ensemble conductors have chosen traditional Christmas songs from the north and south. And in doing so, invite you along on a journey of sound into the magical world of centuries-old winter, Advent, and Christmas music. The German song 'Silent Night' is laid out on the program alongside the Norwegian Christmas song 'Mitt hjerte alltid vanker', the Provençal 'Ô nuit brillante' and the Catalonish, 'El cant dels ocells', which the legendary early music pioneer Jordi Savall, Arianna Savalls famous father, orchestrated for the recording. ''Every country has its own Christmas traditions and its own treasure trove of Christmas songs'' says the musician from the Hirundo Maris ensemble (the ensemble name is the Latin term for 'sea swallow'). ''Some of them, like 'Silent Night' are known throughout the world and are translated in numerous languages, but many of these songs have remained hidden in their home countries like a national treasure. Hirundo Maris now showcases many such musical treasures in imaginative compositions that fuse the old with the present day. The expressive voices of Arianna Savall and Petter Udland Johansen give rise to an atmospheric dialogue with multifaceted instrumental parts. Such sounds emanate from cheerful bagpipes, an expertly played Cornetto, the poetic slide guitar 'Dobro' and violins, flutes, harps and percussion. ''Our music is based on four important elements: early music, folk music, our own composition, and improvisation. We all play different instruments, but the voices of Arianna and Petter are the main focus of our group.'' The musicians of Hirundo Maris all come from many European countries: Norway, England, Germany, Poland, Spain, and Catalonia. And accordingly, the recording of beautiful melodies has become a kind of sound mirror reflecting the diverse musical traditions of European Christmas celebrations. "The singing of heavenly Christmas music brings everyone peace and hope'' says Arianna Savall. ''Singing is one of the best opportunities to bring people together. It is very spiritual. We cannot touch it, but we all feel it deep in our hearts."
Tracklist:1.
The Holly and the Ivy
(04:25)
2.
El desembre congelat
(05:29)
3.
¡Ay, que me abraso, ay!
(04:43)
4.
Mitt hjerte alltid vanker
(05:21)
5.
Es ist ein Ros entsprungen
(03:27)
6.
Wexford Carol
(07:44)
7.
Ô nuit brillante
(07:19)
8.
El cant dels ocells
(06:09)
9.
Kling no, klokka
(02:39)
10.
La salve
(06:50)
11.
Rug Muire Mac do Dhia
(04:33)
12.
Stille Nacht
(03:55)
–––––––––––-

DON'T MODIFY THIS FILE

–––––––––––-

PERFORMER: auCDtect Task Manager, ver. 1.6.0 RC1 build 1.6.0.1
Copyright © 2008-2010 y-soft. All rights reserved

ANALYZER: auCDtect: CD records authenticity detector, version 0.8.2
Copyright © 2004 Oleg Berngardt. All rights reserved.
Copyright © 2004 Alexander Djourik. All rights reserved.


FILE: 12 Stille Nacht.flac
Size: 22661948 Hash: 4417E07EA855B5B1F17E131CA1CFEE22 Accuracy: -m0
Conclusion: CDDA 100%
Signature: EDA4DF626E1349A3B1C4FE2F747930E83AF0E2D6
FILE: 11 Rug Muire Mac do Dhia.flac
Size: 20458639 Hash: 139D9E82786C3E227520061B248758F4 Accuracy: -m0
Conclusion: MPEG 100%
Signature: 473D8DD644AE9D9FD97E27FF98474BE45554BCF4
FILE: 10 La salve.flac
Size: 45944322 Hash: 2E31AA42DAD5280482A49A533B85255B Accuracy: -m0
Conclusion: CDDA 100%
Signature: 8F294C4387A4A2CC2175F7775907D74C66BE2D74
FILE: 09 Kling no klokka.flac
Size: 10980172 Hash: 71ABDEAC97D14DB1ABB6AD60A0BBAB94 Accuracy: -m0
Conclusion: MPEG 80%
Signature: 8B19B247560DCC697C0B141349855D52927B3040
FILE: 08 El cant dels ocells.flac
Size: 31256770 Hash: FB819AB14BCE83BAA300916106DE177B Accuracy: -m0
Conclusion: CDDA 42%
Signature: B58AC8BC1744FB306233FD68CA080063966EB378
FILE: 07 Ô nuit brillante.flac
Size: 39928343 Hash: FFE383735D203293D66971FBAB96A194 Accuracy: -m0
Conclusion: CDDA 62%
Signature: 51EEBBCB2230683BF2CFEFF9831F32B02BEDDA9C
FILE: 06 Wexford Carol.flac
Size: 38378781 Hash: 74BACFBB924D9F8EBCB4EFF5B6AFF703 Accuracy: -m0
Conclusion: CDDA 49%
Signature: 6449EE3211B710F4705C80EEC5D6E2A68DEDEF37
FILE: 05 Es ist ein Ros entsprungen.flac
Size: 15535677 Hash: 382EB3DEA703BDB3C1E73BB75703E2AB Accuracy: -m0
Conclusion: CDDA 54%
Signature: F62E635D36AE6649B9D85B504000738CCA999FF6
FILE: 04 Mitt hjerte alltid vanker.flac
Size: 22821520 Hash: B1AA3DC7D10A05C2A7F1F17F75636E85 Accuracy: -m0
Conclusion: MPEG 93%
Signature: 1CE98A475DE4028FE858D010A3F04607B3CBF63D
FILE: 03 ¡Ay que me abraso ay!.flac
Size: 32475840 Hash: F2B03DC4AE7B94E2CB1839B4222C6C02 Accuracy: -m0
Conclusion: CDDA 100%
Signature: CB1E33EF1093D9F1687B7DE64053D5850846EFFC
FILE: 02 El desembre congelat.flac
Size: 33658458 Hash: 4F1BCD0E39EC2819A91F7C038DDAAAD3 Accuracy: -m0
Conclusion: CDDA 100%
Signature: FC1ECC22DDBF79381FF24F360E92B028153C4C55
FILE: 01 The Holly and the Ivy.flac
Size: 27273288 Hash: BA9D7A86F5011003DC4D356F27396363 Accuracy: -m0
Conclusion: CDDA 100%
Signature: E9EC1C6B2683C05E3FDBD6DA51720C5D87432FEF