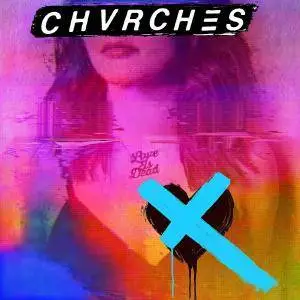 CHVRCHES - Love Is Dead (2018)
WEB FLAC (tracks) - 351 Mb | MP3 CBR 320 kbps - 113 Mb | 00:49:10
Synthpop, Indie Pop, Female Vocal | Label: Glassnote Records
Love Is Dead is the upcoming third studio album by Scottish synthpop band Chvrches, scheduled to be released on 25 May 2018 through Glassnote Records. The album was co-produced by Greg Kurstin, making this the band's first album not independently produced. The band collaborated with David Stewart from Eurythmics and Matt Berninger from The National during production. The album was announced by Martin Doherty at the start of January, with frontwoman Lauren Mayberry accidentally revealing the album's name in a now-deleted interview that same month.

In an interview with Entertainment Weekly, the band described their work with Kurstin as "the most pop stuff we've done and also the most aggressive and vulnerable at the same time". On Annie Mac's BBC Radio 1 show, on the premiere of "Get Out", Mayberry said that, "After ['Every Open Eye'], we went back into a little writing studio – this time in New York – but we still wanted to take a little time to work out where we wanted to go and what we wanted to do. We decided this time we wanted to work with a producer. I think it was really good for us to be pushed to do things differently and take risks." She also explained the album will take an "honest" approach on the new record. "If it's going to be more pop it should be more aggressively pop – there's no doing things in half measures. It was nice to not be second guessing ourselves. It's still consistent with what we've done before but it feels like it'll be more of a live experience."
Tracklist:
1. Graffiti (03:38)
2. Get Out (03:51)
3. Deliverance (04:12)
4. My Enemy (feat. Matt Berninger) (03:53)
5. Forever (03:44)
6. Never Say Die (04:23)
7. Miracle (03:08)
8. Graves (04:43)
9. Heaven/Hell (05:05)
10. God's Plan (03:31)
11. Really Gone (03:11)
12. ii (01:09)
13. Wonderland (04:35)
–––––––––––-

DON'T MODIFY THIS FILE

–––––––––––-

PERFORMER: auCDtect Task Manager, ver. 1.6.0 RC1 build 1.6.0.1
Copyright © 2008-2010 y-soft. All rights reserved

ANALYZER: auCDtect: CD records authenticity detector, version 0.8.2
Copyright © 2004 Oleg Berngardt. All rights reserved.
Copyright © 2004 Alexander Djourik. All rights reserved.


FILE: 13 - Wonderland.flac
Size: 33052211 Hash: AA637562BDC479EAAE1EF0B3B001A5F6 Accuracy: -m0
Conclusion: CDDA 100%
Signature: 78F7F96C9890A2280A859E1609765B7CDE1A92CA
FILE: 12 - ii.flac
Size: 6051894 Hash: 0306ACF367B806CEA30AE54604EA5869 Accuracy: -m0
Conclusion: CDDA 100%
Signature: 1419386B5EB4F614A3669D4575E370D0D4205E4D
FILE: 11 - Really Gone.flac
Size: 16909423 Hash: A2F44E095FAB23E146601F298EA31141 Accuracy: -m0
Conclusion: CDDA 100%
Signature: 23E5AE2A99A6272B9303DDA52AC0956A1B1A2134
FILE: 10 - God's Plan.flac
Size: 25697802 Hash: 09B803E5675767DC89C1E252A8FC93A4 Accuracy: -m0
Conclusion: CDDA 100%
Signature: BDA8DE1410482D7BA73BDAAE07C4CF44585B217E
FILE: 09 - HeavenHell.flac
Size: 36355821 Hash: 8AD967D0AD627A53C832B29871E047E4 Accuracy: -m0
Conclusion: CDDA 100%
Signature: 7C9D81A22572D9AFA39510F3D39C7866F885F3A4
FILE: 08 - Graves.flac
Size: 37789913 Hash: EE5AFE08CCCEBD6BFDECE50AD939D570 Accuracy: -m0
Conclusion: CDDA 100%
Signature: 1FFD9855BC224D415B7FBF7073946A6059EF3243
FILE: 07 - Miracle.flac
Size: 24962473 Hash: 6D73826DDC0DF47019FF4278A870F486 Accuracy: -m0
Conclusion: CDDA 99%
Signature: 68167DE5F3CEBCBE242ADFA0CCF99C7AD3CCBBA6
FILE: 06 - Never Say Die.flac
Size: 34384846 Hash: FE061EB07BA1F1AA1CC3C6C4731161C9 Accuracy: -m0
Conclusion: CDDA 100%
Signature: AE0C6605A13DD9C363602F45A06E0106BD8FE7B5
FILE: 05 - Forever.flac
Size: 29932693 Hash: 6D20006A00A845E9A577C9E674EEA127 Accuracy: -m0
Conclusion: CDDA 100%
Signature: 58ED38B64BEE9854AAD0F3C15810303AFDF3E112
FILE: 04 - My Enemy (feat. Matt Berninger).flac
Size: 26891598 Hash: 761FA33D80D1AECFF3AF7BAC32900A28 Accuracy: -m0
Conclusion: CDDA 99%
Signature: 49E14676EAB7B82F20149A5E852CFD580C853D31
FILE: 03 - Deliverance.flac
Size: 33213079 Hash: 556B3BA7D588004DBA30F24353B56B4B Accuracy: -m0
Conclusion: CDDA 100%
Signature: 82625B0643D1FDE9D853DEC5C0026FB30D060001
FILE: 02 - Get Out.flac
Size: 31539613 Hash: 411B6BC0A7B34F711C0891BB69AC6C63 Accuracy: -m0
Conclusion: CDDA 100%
Signature: 083EF02EB88851F1864CDCDABB18B48ADE4DAAFC
FILE: 01 - Graffiti.flac
Size: 30816775 Hash: C06D335C348598CA3BB9400B752053DB Accuracy: -m0
Conclusion: CDDA 100%
Signature: D00117E9575D96309766171E4418C252362708C1