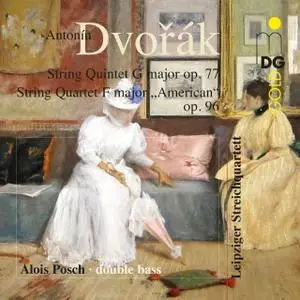 Leipziger Streichquartett, Alois Posch - Dvorák: String Quintet, Op. 77 & String Quartet Op. 96 "American" (2014)
WEB | FLAC (tracks) - 299 MB | 58:56
Genre: Classical | Label: MDG Gold
The pairing of the String Quintet in G major, Op. 77, and the String Quartet in F major, Op. 96 ("American"), both major Dvorák chamber works, is a common one, but this one has several aspects setting it apart. Most distinctive is the sound from the German audiophile label MDG, working in an old abbey hall. The space is warm, clear, and perfectly sized for the music, in other words as close as you can get to actually having been there in the late 19th century when the music was first played. Moreover, the prolific Leipzig String Quartet, joined in Op. 77 by double bassist Alois Posch, delivers a superior performance of the "American" quintet that gets away from the overly consistent tone that mars so many Dvorák performances.