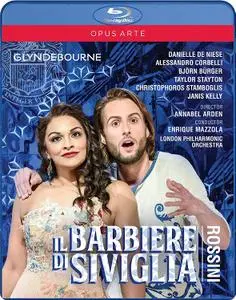 Enrique Mazzola, London Pholharmonic Orchestra - Rossini: Il Barbiere di Siviglia (2017) [BDRip]
BluRay-rip | AVC | MKV 1920x1080 / 6215 kbps / 29,97 fps | 164 min | 7,94 Gb
Audio: Italiano / AC3 / 6ch / 48.0 KHz / 640 Kbps
Classical | Opus Arte | Sub: English, French, German, Japanese, Korean
The 'sheer visual sophistication' of Annabel Arden's Barbiere serves 'a triumphant celebration of Rossini's musical genius', featuring de Niese's 'powerfully sung' Rosina, Bürger's 'gale-force' Figaro and Stayton's 'pure and mellifluous' Almaviva – a leading trio 'musically and dramatically beyond compare' (The Independent ★★★★★). Contributing to the 'ensemble precision', the rest of the cast includes a 'scene-stealing' Berta in Kelly, a 'suavely unctuous' Basilio from Stamboglis and Corbelli's Bartolo, 'an object lesson in comic understatement' (The Guardian). With Enrique Mazzola at the helm of the London Philharmonic Orchestra, 'the score bubbles along on a Puckish current of merry mischief' (The Telegraph).