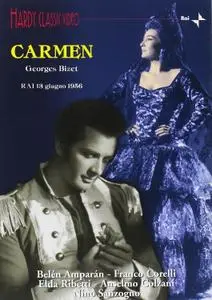 Nino Sanzogno, Orchestra e Coro della RAI di Milano, Franco Corelli, Belén Amparán - Bizet: Carmen (2004/1956)
NTSC 4:3 (720x480) | Italiano (Dolby AC3, 1 ch) | 7.28 Gb (DVD9) | 143 min
Classical | Hardy | Sub.: Italiano, English, Francais
Franco Corelli's charismatic Don Josè finally available on home video in this 1956 production with the great tenor in his early prime. Carmen is sung by Belén Amparan and Anselmo Colzani contributes a swaggering Escamillo.