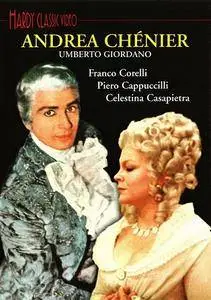 Bruno Bartoletti, Orchestra della RAI Radiotelevisione Italiana, Franco Corelli, Piero Cappuccilli - Giordano: Andrea Chénier (2005/1973)
NTSC 4:3 (720x480) VBR | Italiano (Dolby AC3, 1 ch) | 6.89 Gb (DVD9) | 110 min
Classical | Hardy Classic | Sub: English, Francais, Italiano
"This is something of a find – a production produced in Milan's television studios in 1973 that does more than justice to Giordano's verismo work about personal conflicts at the time of the French Revolution. It's directed, with considerable imagination, by the Czech Vaclav Kaslik, at the top of his profession in the 70s. In realistic period sets he unerringly creates the milieu of a degenerate aristocracy in Act 1 and of the raw mob-rule of the Revolution in the succeeding acts. The only drawback is the poor lip-synch. Conductor Bruno Bartoletti makes certain we're unaware of the score's weaker moments and releases all the romantic passion in Giordano's highly charged writing for his principals.