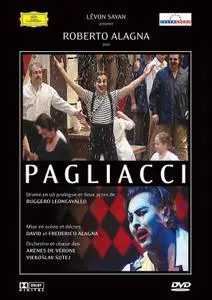 Vjekoslav Šutej, Orchestra of the Arena di Verona - Leoncavallo: I Pagliacci (2006/2002)
NTSC 16:9 (720x480) | Italiano (LinearPCM, 2 ch) | (DTS, 6 ch) | 5.27 Gb (DVD9) | 80 min
Classical | Deutsche Grammophon | Sub.: Italiano, English, Deutsch, Francais, Espanol
Voici une représentation filmée au Teatro Filarmonico de Vérone en février 2002 dans une mise en scène de la famille Alagna. Paillasse (en italien Pagliacci, qui signifie « Les clowns ») est un opéra en deux actes écrit et composé par Ruggero Leoncavallo, créé le 21 mai 1892 au Teatro Dal Verme à Milan. L'opéra évoque, à travers la vie d'une troupe de commedia dell'arte, la condition des comédiens de théâtre qui doivent en toute circonstance faire bonne figure en scène, quelles que soient les difficultés de leur vie privée.