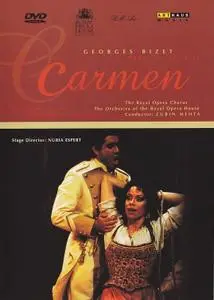 Zubin Mehta, Chorus and Orchestra of the Royal Opera House - Georges Bizet: Carmen (2001)
PAL 4:3 (720x576) | Français (LinearPCM, 2 ch) | 164 min | 7,52 Gb (DVD9)
Classical | Label: Arthaus Musik | Sub: English, Deutsch | Recorded: 1991
The libretto, by Henri Meilac and Ludovic Halévy, is based on a novella by Prosper Mérimée. The first performance of Carmen on 3 March 1875, produced such a hostile reaction that Bizet left Paris physically and psychologically ill, and died only three months later on 3 June 1875, following two serious heart attacks. The massive scandal of the premiere may have been partially the result of Bizet's attempt to reform the Opéra Comique genre, yet it must still be said that Carmen is operatic history's most famous example of a failure being corrected by the passage of time: Carmen is now one of the most frequently performed operas in the world.