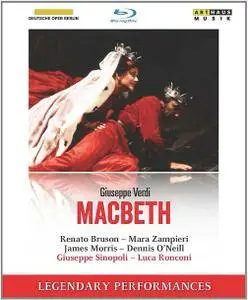 Giuseppe Sinopoli, Orchestra and Chorus of the Deutsche Oper Berlin - Verdi: Macbeth (2015/1987) [BDRip]
BluRay-rip | AVC | MKV 1920x1080 / 6215 kbps / 29,97 fps | 149 min | 8,09 Gb
Audio: Italiano / PCM / 2ch / 48.0 KHz / 16 bits
Classical | Arthaus Musik | Sub: English, German, French, Spanish, Italian
Macbeth signifies the beginning of Verdi"s life-long preoccupation with William Shakespeare where he came close to emulating the master with his congenial composition of Othello and whom he even surpassed with Falstaff. Aware of the great musical as well as literary challenge, Verdi wrote the scenario himself and essentially concentrated the piece on three main protagonists: Macbeth, Lady Macbeth and the prophecy of the witches . . . During the first performance on 14 March 1847 in Florence the audience reacted with great displeasure. The piece only gradually established itself in the world of opera. Luca Ronconi's new production of Verdi's early masterpiece which was first performed in June 1987 at the Deutsche Oper in Berlin was received in Germany and around the world with great praise.