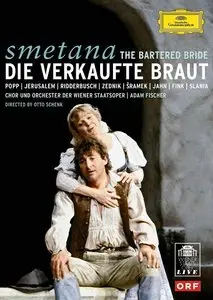 Adam Fischer, Orchester der Wiener Staatsoper, Lucia Popp, Siegfried Jerusalem - Smetana: Die verkaufte braut [Prodaná nevěsta] (2007/1982)
NTSC 4:3 (720x480) VBR | Deutsch (LinearPCM, 2 ch) | (Dolby AC3, 6 ch) | 7.55 Gb (DVD9) | 155 min
Classical | Deutsche Grammophon | Sub: Deutsch, English, Francais, Espanol, Chinese
This Bartered Bride 's acting and singing is generally of a high level. Lucia Popp was caught at a perfect time for this role. She'd gradually been developing her voice into a larger, more dramatic instrument, and here displays a lyric's warmth with the power of a spinto. She clearly enjoys the challenge of the only serious aria in the entire work (in act III; performed in German as "Wie fremd und tot"), providing many fine interpretative points and a great deal of tonal variety. The audience goes wild, as well they might.