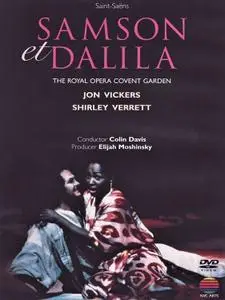 Colin Davis, Orchestra of the Royal Opera House - Saint-Saëns: Samson et Dalila (2006/1981)
NTSC 4:3 (720x480) | Français (Dolby AC3, 2 ch) | 5.93 Gb (DVD9) | 133 min
Classical | NVC Arts | Sub.: English, Deutsch, Espanol, Francais, Italiano, Portugues, Japanese
Filmed live at Covent Garden's Royal Opera House in 1981, this staging of Camille Saint-Saens's opera takes on one of the Bible's most famous tales. After trying to force the Hebrews to worship his god, the Philistine ruler meets an untimely end at the hands of the prodigiously powerful Samson (Jon Vickers), who leads the Hebrews in a revolt. But beautiful Philistine Dalila (Shirley Verrett) uses her seductive wiles to weaken the strapping hero.