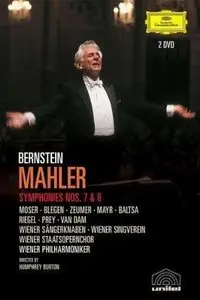 Leonard Bernstein, Wiener Philharmoniker - Mahler: Symphonies Nos. 7 & 8 (2005/1975)
NTSC 4:3 (720x480) | Deutsch (LinearPCM, 2 ch) | (DTS, 6 ch) | 7.15 Gb+6.87 Gb (2xDVD9) | 168 min
Classical | Deutsche Grammophon | Sub: Latin, Deutsch, English, Francais, Espanol, Chinese
"Bernstein stamps his outsize personality on every bar and regularly has you convinced it is Mahler's own" (Gramophone). Leonard Bernstein, whose performances of the Seventh were instrumental in pushing the woek towards mainstream status, conducts it here with white-hot communicative power. When he prepared the huge "Symphony of a Thousand" with the Vienna Philharmonic for the 1975 Salzburg Festival there had been only one previous Austrian performance. The DVD encompasses the exultancy of the opening movement, Mahler's setting of the final scene from Goethe's Faust, Bernstein drives the music to the final redemptive blaze of glory.