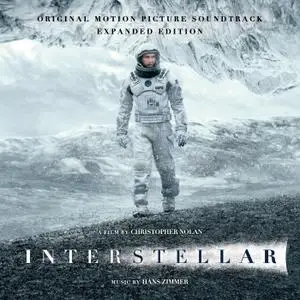 Hans Zimmer - Interstellar (Original Motion Picture Soundtrack) (Expanded Edition) (2014/2020)
WEB FLAC (tracks) - 586 Mb | MP3 CBR 320 kbps - 320 Mb | 02:19:22
Soundtrack | Label: Watertower Music
Interstellar: Original Motion Picture Soundtrack is the soundtrack album to the 2014 film Interstellar directed by Christopher Nolan. The film score is composed by Hans Zimmer, who previously scored Nolan's Batman film trilogy and Inception. Tremendously popular several years after its initial release, the Interstellar: Expanded Edition features music from the film by Zimmer, and is available on LP with special etching. The Expanded Edition features additional music that was not available on the standard CD and digital releases of the original soundtrack.
Tracklist:
01. Dreaming of the Crash
02. Cornfield Chase
03. Dust
04. Day One
05. Stay
06. Message from Home
07. The Wormhole
08. Mountains
09. Afraid of Time
10. A Place Among the Stars
11. Running Out
12. I'm Going Home
13. Coward
14. Detach
15. S.T.A.Y.
16. Where We're Going
17. First Step
18. Flying Drone
19. Atmospheric Entry
20. No Need to Come Back
21. Imperfect Lock
22. No Time for Caution
23. What Happens Now?
24. Who's They?
25. Murph
26. Organ Variation
27. Tick-Tock
28. Day One (Original Demo)
29. Day One Dark
30. Do Not Go Gentle Into That Good Night
–––––––––––-

DON'T MODIFY THIS FILE

–––––––––––-

PERFORMER: auCDtect Task Manager, ver. 1.6.0 RC1 build 1.6.0.1
Copyright © 2008-2010 y-soft. All rights reserved

ANALYZER: auCDtect: CD records authenticity detector, version 0.8.2
Copyright © 2004 Oleg Berngardt. All rights reserved.
Copyright © 2004 Alexander Djourik. All rights reserved.


FILE: 04 Day One.flac
Size: 13757100 Hash: 3405CBE3D6F1B5B95D9440B7E57DB016 Accuracy: -m8
Conclusion: CDDA 100%
Signature: 346D66C0CC80D5E33D695410682FF35C64FBD31B
FILE: 03 Dust.flac
Size: 27429764 Hash: 5BC0DDF74A5ED409F6DAC3A23DBEB59F Accuracy: -m8
Conclusion: CDDA 100%
Signature: 65287B7D0FF59D90F62BE6A9D4CAC7BABD0E553B
FILE: 02 Cornfield Chase.flac
Size: 10416651 Hash: F54C66CE221162AA564299EDD1783037 Accuracy: -m8
Conclusion: CDDA 100%
Signature: 4A94EA7DBF15322BBE6108529B01B9A9B5F269CD
FILE: 01 Dreaming of the Crash.flac
Size: 15545143 Hash: 86F081DB73F129A9910C061A4AE1EA29 Accuracy: -m8
Conclusion: CDDA 100%
Signature: 03E35502774B31D4B8E4958653E28E5BE9CEB61B
FILE: 30 Do Not Go Gentle Into That Good Night.flac
Size: 5591599 Hash: E07AF16E612742CB4A0A2191DD567434 Accuracy: -m8
Conclusion: CDDA 100%
Signature: BD6CC6C9B342BA0A98786109AB13866C60E9DB49
FILE: 29 Day One Dark.flac
Size: 34077060 Hash: 59EB8B789C26B368015A7BFB08BEEE7E Accuracy: -m8
Conclusion: CDDA 100%
Signature: A6471F49D48D66BD4F5E6F6EC6A50FC77D8E8BF5
FILE: 28 Day One (Original Demo).flac
Size: 15649577 Hash: F9318871420140F14A0753FF95BC3A62 Accuracy: -m8
Conclusion: CDDA 100%
Signature: 199029009138BCB7D7DF0D73A1A3E91F6DA81BD8
FILE: 27 Tick-Tock.flac
Size: 40006978 Hash: CEE21029E22D4FC09AFEF84C735B6A0B Accuracy: -m8
Conclusion: CDDA 100%
Signature: 05B40937D9B2D988DB62ED9FBB4F6C368D8D12EA
FILE: 26 Organ Variation.flac
Size: 15044598 Hash: A641126AABB6C36236D033629BC5CF90 Accuracy: -m8
Conclusion: CDDA 100%
Signature: F8B1E5E95B6488E3657BC223A14EA027505B1F18
FILE: 25 Murph.flac
Size: 53469581 Hash: 3935D6115AF356B7B86203200CDDF406 Accuracy: -m8
Conclusion: CDDA 100%
Signature: 4B357EC2BDF311EC24CE7ACEE575C3E64E9EDF09
FILE: 24 Who's They.flac
Size: 30516192 Hash: 90317EB3786AB44DFD540260416C97F8 Accuracy: -m8
Conclusion: CDDA 100%
Signature: 61478C0C16AD7D2BCE5F304B9B0D2726E67AE6CC
FILE: 23 What Happens Now.flac
Size: 10013646 Hash: 9154086085ADC2B927BC5B9659157524 Accuracy: -m8
Conclusion: CDDA 100%
Signature: 124B39B3D97C2248DBD04725F49A35924CF1DDAF
FILE: 22 No Time for Caution.flac
Size: 20184477 Hash: 97C20CB0E8216D63ABE9F8BCF7C1D1B3 Accuracy: -m8
Conclusion: CDDA 100%
Signature: 9A1277916B5B6CE654ACD8C899C0943BE00033FB
FILE: 21 Imperfect Lock.flac
Size: 33166314 Hash: E95EAC9AB29BC79F817EFABC6BF6F3AA Accuracy: -m8
Conclusion: CDDA 100%
Signature: 6C0E19F4C855DDC15E77C6DB2801BC396BDC64BE
FILE: 20 No Need to Come Back.flac
Size: 16588383 Hash: 9030AF5487FF75D6A2CF2D49061F2453 Accuracy: -m8
Conclusion: CDDA 99%
Signature: D83994D4B453503814CC870DDBEFC6C8BEE82F27
FILE: 19 Atmospheric Entry.flac
Size: 6729536 Hash: D27766FEF6203F7F3A042A83B7B2BE2E Accuracy: -m8
Conclusion: CDDA 99%
Signature: 3C8C5AF07EC86373D06EE8A779796E91DF355A52
FILE: 18 Flying Drone.flac
Size: 9137819 Hash: 039CB9E4B709D22B9882B0C213F72A0B Accuracy: -m8
Conclusion: CDDA 100%
Signature: 61CA378722838BC7585E3F87016CE9FDDFCA3096
FILE: 17 First Step.flac
Size: 8489827 Hash: 576A7AC873D4F87C7BD82D93D5DB0C3E Accuracy: -m8
Conclusion: CDDA 100%
Signature: E920B69D3DAB6C7F0D79B3892414834D63DBD896
FILE: 16 Where We're Going.flac
Size: 29301278 Hash: 041E4FCBFB1C8947DD6F633E268D7EBE Accuracy: -m8
Conclusion: CDDA 99%
Signature: 3BA98E9CBB90D764157EC8F2200F61A34FBDA090
FILE: 15 S.T.A.Y.flac
Size: 24249469 Hash: 6D72946CAEB798DB0A3BDBFC2099C11C Accuracy: -m8
Conclusion: CDDA 100%
Signature: E7187DD9A7DAF25F64628473A26C574D28AC2BBB
FILE: 14 Detach.flac
Size: 33081419 Hash: 9A963C7B91783ACEC46FB4B7EEF35AB5 Accuracy: -m8
Conclusion: CDDA 100%
Signature: 13B1458E1A6B3FD52DE6DD21A25E61D36E262C68
FILE: 13 Coward.flac
Size: 40144394 Hash: 221F7FA6A6449AA0FDD1DFECEC26A0A9 Accuracy: -m8
Conclusion: CDDA 100%
Signature: C1E87EDDB9703F6A509F034D6F7803CC5F816028
FILE: 12 I'm Going Home.flac
Size: 28726677 Hash: 3DABCD01DAA3CC19D777AC2526AB43AB Accuracy: -m8
Conclusion: CDDA 99%
Signature: EFE35FF258AD16493CDFFD4DD7D4F2CB6BB0313D
FILE: 11 Running Out.flac
Size: 7257838 Hash: C5C96F2AB7BC33B412D99629FD805BD5 Accuracy: -m8
Conclusion: CDDA 100%
Signature: 79C19184940ECE2FBDB39A79B69E29FCBC80D737
FILE: 10 A Place Among the Stars.flac
Size: 15054240 Hash: 640E944740327B143CCA000BCFE8E735 Accuracy: -m8
Conclusion: CDDA 100%
Signature: 98C9F27301E144A6D6DF12095965B3CC6E7CEA1B
FILE: 09 Afraid of Time.flac
Size: 8623277 Hash: 16D104B18AC35ECE6EED84792CDD4D0D Accuracy: -m8
Conclusion: CDDA 100%
Signature: 716CE71F84FA2A71416FA913857B1B9ADE2B86AA
FILE: 08 Mountains.flac
Size: 17182176 Hash: B1EC1AECBF3EEC30FB881D864FA643AB Accuracy: -m8
Conclusion: CDDA 100%
Signature: A4B298073346289A2D5AC9A073159355356FA216
FILE: 07 The Wormhole.flac
Size: 7155838 Hash: 106CE6E68F7E7F0D9F9A4BB08DA06761 Accuracy: -m8
Conclusion: CDDA 100%
Signature: 3F510D4D528A64CDF32F7D8D090379E480551A81
FILE: 06 Message from Home.flac
Size: 5951062 Hash: BE6E97CC81F13CFB0D58C25D86498587 Accuracy: -m8
Conclusion: CDDA 99%
Signature: 1B42412E666A4DE244E5A652F5832394CF664609
FILE: 05 Stay.flac
Size: 31362307 Hash: 11B02FD5A96D025F3EA2CE56ED123D6A Accuracy: -m8
Conclusion: CDDA 100%
Signature: 7CC0893809FE7862F9047EC82578C92C1E72A9D6