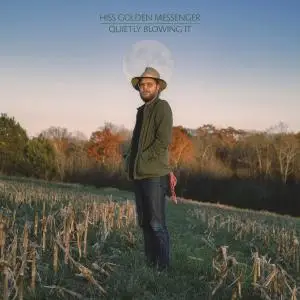 Hiss Golden Messenger - Quietly Blowing It (2021)
WEB FLAC (tracks) - 207 Mb | MP3 CBR 320 kbps - 90 Mb | 00:39:19
Folk Rock, Alt. Country | Label: Merge Records
Hiss Golden Messenger's Quietly Blowing It was written and arranged by M.C. Taylor in his home studio—his 8' × 10' sanctuary packed floor to ceiling with books, records, and old guitars—as he watched the chaotic world spin outside his window. Between March and June 2020, Taylor wrote and recorded upwards of two dozen songs—in most cases playing all of the instruments himself—before winnowing the collection down and bringing them to the Hiss band. In July, the group of musicians, with Taylor in the production seat, went into Overdub Lane in Durham, NC, for a week, where they recorded Quietly Blowing It as an organic unit honed to a fine edge from their years together on the road.

Throughout Quietly Blowing It, Taylor brings his keen eye to our "broken American moment"—as he first sang on Hiss Golden Messenger's critically acclaimed, GRAMMY®-nominated Terms of Surrender—in ways that feel devastatingly intimate and human.
Tracklist:
1.
Way Back in the Way Back
(04:00)
2.
The Great Mystifier
(02:56)
3.
Mighty Dollar
(04:22)
4.
Quietly Blowing It
(04:16)
5.
It Will If We Let It
(03:06)
6.
Hardlytown
(03:17)
7.
If It Comes in the Morning
(04:05)
8.
Glory Strums (Loneliness of the Long-Distance Runner)
(03:28)
9.
Painting Houses
(03:26)
10.
Angels in the Headlights
(01:53)
11.
Sanctuary
(04:26)
–––––––––––-

DON'T MODIFY THIS FILE

–––––––––––-

PERFORMER: auCDtect Task Manager, ver. 1.6.0 RC1 build 1.6.0.1
Copyright © 2008-2010 y-soft. All rights reserved

ANALYZER: auCDtect: CD records authenticity detector, version 0.8.2
Copyright © 2004 Oleg Berngardt. All rights reserved.
Copyright © 2004 Alexander Djourik. All rights reserved.


FILE: 11. Sanctuary.flac
Size: 27098735 Hash: 49C5A5A5C99C64288A4B197E28519923 Accuracy: -m8
Conclusion: CDDA 100%
Signature: A9AE2F8EE4211C578B708F82C6214685F26A2A39
FILE: 10. Angels in the Headlights.flac
Size: 6668337 Hash: C45F69473D694FD0F2751E2B7686D30A Accuracy: -m8
Conclusion: CDDA 100%
Signature: 7D0126B8DBF8E18104FCEF887652541188750FF3
FILE: 09. Painting Houses.flac
Size: 17101344 Hash: 07B64442B9178249DC8F89A99A402AD4 Accuracy: -m8
Conclusion: CDDA 100%
Signature: 298FF03A0A980D360A50C2AF6A3964C3EC64E2B2
FILE: 08. Glory Strums (Loneliness of the Long-Distance Runner).flac
Size: 19474877 Hash: 9F0DE8F221312E3CC968B849C744F396 Accuracy: -m8
Conclusion: CDDA 100%
Signature: 29E364F4C9F949C8C8673470BA2273A83929B44D
FILE: 07. If It Comes in the Morning.flac
Size: 21144297 Hash: CBD7CCF9D9269EA2665DACF907A57221 Accuracy: -m8
Conclusion: CDDA 100%
Signature: 2F8A8C176D562889344032737435DD47BAAD9E8B
FILE: 06. Hardlytown.flac
Size: 21744874 Hash: 27E15F7B540B33BE38692D025FDDE512 Accuracy: -m8
Conclusion: CDDA 100%
Signature: 11578B4A3592E0FBDF981CE7A51C672409CEE38E
FILE: 05. It Will If We Let It.flac
Size: 15456230 Hash: 8ECD4744BF0B9B1D82DCDC6A7110D568 Accuracy: -m8
Conclusion: CDDA 100%
Signature: 35CAEE57640C3B8BA85BCB0133440F6A000AA5C0
FILE: 04. Quietly Blowing It.flac
Size: 22125606 Hash: 8CC2A08A4B997644DED5CC157858CDDB Accuracy: -m8
Conclusion: CDDA 100%
Signature: 92389315BD7D62076F9A03CD3547D80A617B2ECF
FILE: 03. Mighty Dollar.flac
Size: 26930065 Hash: B1CBD638C63DFFF8E91DE56619760A57 Accuracy: -m8
Conclusion: CDDA 100%
Signature: B2D1FEA38A4EBAE676D4A85A5B18619397FB9D8C
FILE: 02. The Great Mystifier.flac
Size: 18468006 Hash: BFD765EC75AB9AA3272E83927F98C389 Accuracy: -m8
Conclusion: CDDA 100%
Signature: 8177D65EC23921E1187A8F94A65F3E9F0F9A1DAB
FILE: 01. Way Back in the Way Back.flac
Size: 21048707 Hash: CAD71FE3DDC80C6F7D1EF263FDAB1E1C Accuracy: -m8
Conclusion: CDDA 100%
Signature: C38032D66D700C85B652F891AE8ACD3319807ED6