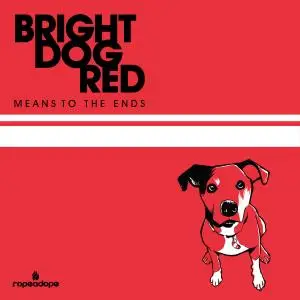 Bright Dog Red - Means to the Ends (2018)
free improvisation, jazz | 00:52:17 | WEB FLAC (tracks) | 340 MB
Label: Ropeadope
Bright Dog Red (BDR), an improvising collective from Albany, New York, fuses free improvisation, electronica, jazz, hip hop, psychedelia, and noise music into a proliferation of beats, bars, and blasts of sonic energy.
In early 2018, BDR signed on to release an album with Ropeadope, the Philadelphia based record label. The band's first full-length album, "Means to the Ends," is due out October 5, 2018. Ropeadope, long at the nexus of jazz, hip hop, and electronica, seems a natural home for BDR's innovative and psychedelic mesh of jazz, hip-hop and electronica (The Alt Weekly).
"Means to the Ends" follows two independently distributed EPS, 2017's "Bullet Proof Shoes" and 2015's "Teasers." BDR's initial forays prompted bloggers Peck and JT to declare, Put Albany's Bright Dog Red on your radar as this jazzy psychedelic hip hop posse has potential for some progressive golden era goodness. The UK's Emerging Indie deemed the band's extemporised psychedelic jazz-hop worthy of repeated listening.
BDR's regular performances at New York destination venues like ShapeShifter Lab, Nublu, and Spectrum, have garnered the ensemble comparisons to Mahavishnu Orchestra meets Digable Planets (Paul Schulman), electronic Ahmad Jamal, (Don Lucoff), and to other psychedelic, jazz fusion, and hip hop luminaries.
Founded by drummer and composer Joe Pignato, BDR features core members MC Cully, electronic musician Cody Davies, trumpeter Jarritt Sheel, saxophonist Mike LaBombard, and bassist Anthony Berman.
The group's music, all improvised, has its roots in a series of marathon jam sessions. Pignato, a professor at the State University of New York, Oneonta, explains: I was inspired by one of my teachers, Yusef Lateef, who held jam sessions with his students. I'd have students out to my cabin in the Catskills and we'd play for hours, all of it improvised. They had such singular voices, different references than I anticipated. I recorded all of it, often thinking it might become something.
That "something" remained little more than an inkling until some 10 years later. Encouraged by recordings of those early sessions, Pignato decided to formulate a fixed incarnation of the group, reaching out to former students from the ensembles he directs at Oneonta.
Although their time in Pignato's groups proved excellent training for BDR's particular brand of improvisation, the group stands apart from the members' previous endeavors. Bassist Berman explains, It's like spontaneous, collective meditation. We get into a trance state and ideas just flow. MC Cully notes, at its best, the music is an impossibly divided form of unity, with each participant as expressive as a soloist and supportive as a side-player. Saxophonist LaBombard echoes those sentiments, "with BDR, I can stretch, with the support of the others, melodically, harmonically, stylistically. It's the group and the individual." Cody Davies summed up, "You have to give in. There's an interdependency to BDR. It feels more like we push each other to be vulnerable rather than jam or play tunes." Trumpeter Jarritt Sheel, a friend of Pignato's and a faculty member at Berklee College of Music, extolled his immersion into BDR's "heartfelt and inspired improvisational music."
Since debuting in September of 2015, Bright Dog Red has played a number of high profile bookings, including opening for George Clinton and Parliament Funkadelic at the historic Paramount Hudson Valley Theater, opening for Hip Hop sensation Decora, sharing bills with Italian Surf Academy and with pianist Zack Clarke, and featuring guest soloists such as saxophonist Morgan Guerin and keyboardist Matt Mottel of Talibam!
In addition, the band has become a fixture on the New York jazz and improvisation scene, playing regularly at venues such as ShapeShifter Lab, Nublu, and Spectrum. Beyond New York, the band has performed at the Berklee College of Music, twice headlined Albany's Madison Theatre, played BSP Lounge in Kingston NY, Lilypad at Inman in Cambridge, MA, Olive's in Nyack, NY, and the O+ Festival three years in a row.
Tracklist
:
01.
Bright Dog Red - Breaking Down Barriers
02.
Bright Dog Red - Feen for Greener Grass
03.
Bright Dog Red - It's a Thing or it Ain't
04.
Bright Dog Red - Cruisin'
05.
Bright Dog Red - Out There, There's a Field
06.
Bright Dog Red - I Would Remain Reticent
07.
Bright Dog Red - Perfect Circle
08.
Bright Dog Red - Feel the Vibes
09.
Bright Dog Red - Wake Up
10.
Bright Dog Red - But When?
11.
Bright Dog Red - Means to the Ends
–––––––––––-

DON'T MODIFY THIS FILE

–––––––––––-

PERFORMER: auCDtect Task Manager, ver. 1.6.0 RC1 build 1.6.0.1
Copyright © 2008-2010 y-soft. All rights reserved

ANALYZER: auCDtect: CD records authenticity detector, version 0.8.2
Copyright © 2004 Oleg Berngardt. All rights reserved.
Copyright © 2004 Alexander Djourik. All rights reserved.


FILE: 11. Means to the Ends.flac
Size: 33435248 Hash: 5D4C11F61CDBF3FAFC3FB5797254BA0B Accuracy: -m8
Conclusion: CDDA 100%
Signature: 8A60AC709AF82916E9C8FA1ACBDA4415028635ED
FILE: 10. But When.flac
Size: 48920059 Hash: 278C8B32D1260542F977D28301B3519A Accuracy: -m8
Conclusion: CDDA 100%
Signature: 3393710B7F3159869F22D5B0F5B93177555A43D6
FILE: 09. Wake Up.flac
Size: 24796081 Hash: B9E69C62AAA70FAF4A50EE42166FAF80 Accuracy: -m8
Conclusion: CDDA 100%
Signature: 043BB72AD717C1602C914837812C1615F512DEC5
FILE: 08. Feel the Vibes.flac
Size: 38464255 Hash: F1BDA3ADE5C8B9D16F2542E185062F9D Accuracy: -m8
Conclusion: CDDA 100%
Signature: A7D1526543269ECEA69B2A69CE0F170A223A5367
FILE: 07. Perfect Circle.flac
Size: 30012646 Hash: 1C5D119AA66BE089FCD7E5CC9CC543BD Accuracy: -m8
Conclusion: CDDA 100%
Signature: B3896F48829CD246AA7D511D5DE06D807D07A2C6
FILE: 06. I Would Remain Reticent.flac
Size: 17109140 Hash: F5DF3B46275298C923BF60134FF3D39B Accuracy: -m8
Conclusion: CDDA 100%
Signature: 18054242FD5DAEDA4A8C644B55A4683EE6C47A42
FILE: 05. Out There, There's a Field.flac
Size: 28165792 Hash: 68AD70660EDA837A0C8844DB2AAF6E51 Accuracy: -m8
Conclusion: CDDA 100%
Signature: 3867D3D4CA86B810A3BAE395D3DC7834030F030C
FILE: 04. Cruisin'.flac
Size: 27782403 Hash: F9B1294EE325B9E136922ECAAEB55E03 Accuracy: -m8
Conclusion: MPEG 100%
Signature: 2D10E821E1CAE72FE6FE5459BE528EF546F5B19C
FILE: 03. It's a Thing or it Ain't.flac
Size: 25126906 Hash: 28E42E31A170C3970F1A2EB076606D55 Accuracy: -m8
Conclusion: CDDA 99%
Signature: BA9E6EF7F0E9E9029767F024AC5950EF2C68CCE1
FILE: 02. Feen for Greener Grass.flac
Size: 44459775 Hash: 1BF24611CEB3CF2B88C98AD00D4A762C Accuracy: -m8
Conclusion: CDDA 100%
Signature: 1F1D30C554B86973A3E9B4318F09BE02C36E219E
FILE: 01. Breaking Down Barriers.flac
Size: 38320108 Hash: 0E225A31EBDE94528FFF242561005E84 Accuracy: -m8
Conclusion: CDDA 100%
Signature: E6BA97C5FD601BF7EBF94604C75E069BF395C857