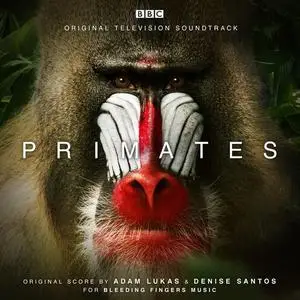 Adam Lukas and Denise Santos - Primates (Original Television Soundtrack) (2021)
FLAC tracks / MP3 320 kbps | 53:23 | 123 / 293 Mb
Genre: Soundtrack / Label: Silva Screen Records
The soundtrack will be released digitally on March 5, 2021. Primates created by the BBC Studios Natural History and narrated by Chris Packham follows our closest animal relatives and reveals how much we have in common with them. The 3-part series, which was filmed over two years in locations around the world, from the snowy Atlas Mountains to the flooded jungles of Sumatra and Brazil, premiered last May in the UK on BBC One and made its U.S. debut last fall on PBS.
Track List:
[02:18] 01. Adam Lukas; Denise Santos - Primates Theme
[02:46] 02. Adam Lukas; Denise Santos - Gibbon Learns
[00:54] 03. Adam Lukas; Denise Santos - Lizard Hunting
[01:48] 04. Adam Lukas; Denise Santos - One Family
[03:32] 05. Adam Lukas; Denise Santos - Monkey Spa
[01:40] 06. Adam Lukas; Denise Santos - Gentle Guardian
[00:34] 07. Adam Lukas; Denise Santos - Ringtailed Lemur
[02:28] 08. Adam Lukas; Denise Santos - Face Slapping Monkey
[02:06] 09. Adam Lukas; Denise Santos - Wild Cashews
[01:30] 10. Adam Lukas; Denise Santos - Unknown Monkey
[01:57] 11. Adam Lukas; Denise Santos - Mountain Gorilla
[01:34] 12. Adam Lukas; Denise Santos - Giant Fruit Tree
[01:36] 13. Adam Lukas; Denise Santos - Lonesome Louis
[00:32] 14. Adam Lukas; Denise Santos - Mouthful
[03:52] 15. Adam Lukas; Denise Santos - Grey Slender Loris
[01:23] 16. Adam Lukas; Denise Santos - Macaques
[02:41] 17. Adam Lukas; Denise Santos - Battlefield
[03:37] 18. Adam Lukas; Denise Santos - Baboon vs. Leopard
[00:50] 19. Adam Lukas; Denise Santos - Orangutan Infants
[02:03] 20. Adam Lukas; Denise Santos - Sleepy Blue Eye Black Lemur
[01:23] 21. Adam Lukas; Denise Santos - Low Profile
[01:04] 22. Adam Lukas; Denise Santos - Barbary Macaque
[02:26] 23. Adam Lukas; Denise Santos - Spider Monkey II
[01:32] 24. Adam Lukas; Denise Santos - Only 800 Left
[02:05] 25. Adam Lukas; Denise Santos - Winters in Atlas
[01:41] 26. Adam Lukas; Denise Santos - Guardians and Navigators
[00:46] 27. Adam Lukas; Denise Santos - Owl Monkey
[01:17] 28. Adam Lukas; Denise Santos - Python Danger
[01:15] 29. Adam Lukas; Denise Santos - Primate Decline

ANALYZER: auCDtect: CD records authenticity detector, version 0.8.2
Copyright © 2004 Oleg Berngardt. All rights reserved.
Copyright © 2004 Alexander Djourik. All rights reserved.


FILE: 01 - Primates Theme.flac
Size: 14246539 Hash: CE07ABD56455A31D480053ED1F8DCC88 Accuracy: -m40
Conclusion: CDDA 100%
Signature: EB349B77F454D17F2A1AB84923C726DDB8E6F220
FILE: 02 - Gibbon Learns.flac
Size: 16198809 Hash: 5346955416C2F271493CD415281185A0 Accuracy: -m40
Conclusion: CDDA 100%
Signature: 4917A9F7D27892F20CE7A43A68031A7899837C12
FILE: 03 - Lizard Hunting.flac
Size: 5525651 Hash: 57D4DC518AD1FCEC384337F25A157C3E Accuracy: -m40
Conclusion: CDDA 100%
Signature: 77729C27E03357840455DD16353C3FCA12B0A517
FILE: 04 - One Family.flac
Size: 11700100 Hash: 27E62F25BD9D04D233415F64712EE581 Accuracy: -m40
Conclusion: CDDA 100%
Signature: C2A598BED7D4DFCC8EDBFF619FC28B8C5D507B58
FILE: 05 - Monkey Spa.flac
Size: 19940507 Hash: 05ACD947606699BC5AA38A2D9F18936B Accuracy: -m40
Conclusion: CDDA 100%
Signature: C81CF51C2B697B6B80C225CF6373F680B40368F7
FILE: 06 - Gentle Guardian.flac
Size: 9207698 Hash: AD15E8138D5589004802D441844706E2 Accuracy: -m40
Conclusion: CDDA 100%
Signature: 88A0824103EF96F27AD628CE6FD817B843A08A9A
FILE: 07 - Ringtailed Lemur.flac
Size: 3617971 Hash: E4CFB66227F5A529F679F8D2CD9F062C Accuracy: -m40
Conclusion: CDDA 100%
Signature: BF9B5FF093BD158E692D014DAF8BE9AF025F44DE
FILE: 08 - Face Slapping Monkey.flac
Size: 13113889 Hash: 90AB3D385534039CDFE3A61321012FB3 Accuracy: -m40
Conclusion: CDDA 100%
Signature: 6AA5BD5573E2144E35034110E7D5A5D8795C0BC0
FILE: 09 - Wild Cashews.flac
Size: 11444114 Hash: 7D315EFAFF8032A2541FF77992019875 Accuracy: -m40
Conclusion: CDDA 100%
Signature: 3F85B72916EBF07A0AE94B02F9D5E00D5FDE4220
FILE: 10 - Unknown Monkey.flac
Size: 8472137 Hash: 84BA2B21BEB710B2E4BD0A5B80D73BD8 Accuracy: -m40
Conclusion: CDDA 100%
Signature: 7FA2CB23285ADF6ADA6D19AE6422339405AA3833
FILE: 11 - Mountain Gorilla.flac
Size: 11584096 Hash: BB951DB6AB15A3F0FA10D30F24E5DB85 Accuracy: -m40
Conclusion: CDDA 100%
Signature: 286D709971484F02C05E43E259D68000134384F0
FILE: 12 - Giant Fruit Tree.flac
Size: 9216850 Hash: 21A8B0FDCBBB835C1599CEC2E56868AD Accuracy: -m40
Conclusion: CDDA 100%
Signature: 923B8D43DEE446157AB78CA0E4B3A110E819EA43
FILE: 13 - Lonesome Louis.flac
Size: 9285231 Hash: FE901B6CFFFDD92E1434694FAD1D2161 Accuracy: -m40
Conclusion: CDDA 100%
Signature: C9B20EC5034B436EF70D5D61777DA7F64844F7A5
FILE: 14 - Mouthful.flac
Size: 3156570 Hash: 4BA0C7BF6F26272F1F43F43F5E726BC6 Accuracy: -m40
Conclusion: CDDA 100%
Signature: 297C9FF7DC3FB52918AAA35D2B6FCBC08B37E508
FILE: 15 - Grey Slender Loris.flac
Size: 21769078 Hash: E2E3CF91F6ED04A9FC204903D83684AF Accuracy: -m40
Conclusion: CDDA 100%
Signature: 91353AC6A1FC4E2461EF80D2F42FA431B781A098
FILE: 16 - Macaques.flac
Size: 8914260 Hash: 26A3C35B5F380A84EC3E35FF583A5CF7 Accuracy: -m40
Conclusion: CDDA 100%
Signature: 78B41C8805E7C63EB3A51C276660E0F95232B981
FILE: 17 - Battlefield.flac
Size: 15998451 Hash: 08651F82626B582347C9C0E018BA7AFE Accuracy: -m40
Conclusion: CDDA 100%
Signature: 2D5C1BF26E24FE0A0CB6325F6F48E8EE0B9F4C6A
FILE: 18 - Baboon vs. Leopard.flac
Size: 21527097 Hash: 1DCFEDC3B9D3B936017CF8C0FFEADC2C Accuracy: -m40
Conclusion: CDDA 100%
Signature: 83966FD36958BB8C736347402EAAB75469F4D9FB
FILE: 19 - Orangutan Infants.flac
Size: 4600278 Hash: 9D53DEDDD529DDD90F0154718B82A4F7 Accuracy: -m40
Conclusion: CDDA 100%
Signature: DED54087319283D16F51207DF1FB583CF4D60B9A
FILE: 20 - Sleepy Blue Eye Black Lemur.flac
Size: 11502998 Hash: 86ED603246A7A6C837A1A0691E11B605 Accuracy: -m40
Conclusion: CDDA 100%
Signature: 0026499804D299BD75529A4D1535097926FCF587
FILE: 21 - Low Profile.flac
Size: 7336992 Hash: E3F94F447A02ED6F334DB64348A6112D Accuracy: -m40
Conclusion: CDDA 100%
Signature: FFEC686467895F9BE4EB717F64B11022CBFEC34B
FILE: 22 - Barbary Macaque.flac
Size: 6543678 Hash: CD41B10601569F99C3DEB883C03EA38D Accuracy: -m40
Conclusion: CDDA 100%
Signature: 9DD8444BFA2D9B955C30906C6748C6128A3E8FBE
FILE: 23 - Spider Monkey II.flac
Size: 14443023 Hash: 9CC1EABA43A57904552D642BAD1D8CBE Accuracy: -m40
Conclusion: CDDA 100%
Signature: CE1E2246D39EF7748060E935674758549A621062
FILE: 24 - Only 800 Left.flac
Size: 8835610 Hash: 11AFCF597EC9934E7D74264611CE4715 Accuracy: -m40
Conclusion: CDDA 99%
Signature: E2A5B28D6AD54E0EA328F1C73FA5FE1E651EA856
FILE: 25 - Winters in Atlas.flac
Size: 10646032 Hash: BCE6BE46F53ECB2816F3B459D5898415 Accuracy: -m40
Conclusion: CDDA 100%
Signature: 0938B9B5FD4F673CE64E3CBCF02898F096C48ACD
FILE: 26 - Guardians and Navigators.flac
Size: 10913580 Hash: 80B5784ADDFEEEDB4D246020F08A2238 Accuracy: -m40
Conclusion: CDDA 100%
Signature: 1CE8321153544703449864411C13CA98811D258D
FILE: 27 - Owl Monkey.flac
Size: 4110164 Hash: 1E550A390AA4375C35B54557136E5AE5 Accuracy: -m40
Conclusion: CDDA 100%
Signature: 08C20DE21B4DC2B5AA5BA1FDEEFD0030CF8450EB
FILE: 28 - Python Danger.flac
Size: 7707280 Hash: 3ACD904F2E12C45F530DC11AD5CA7395 Accuracy: -m40
Conclusion: CDDA 100%
Signature: 3D6823AE7F1BD640F523EE5B6E1A1E4A4E6B6869
FILE: 29 - Primate Decline.flac
Size: 6141260 Hash: 91D7CE48500F95810BF97EF874E36880 Accuracy: -m40
Conclusion: CDDA 100%
Signature: 58027C72B5269A75D4ED17B98AB36B654EB2DB65