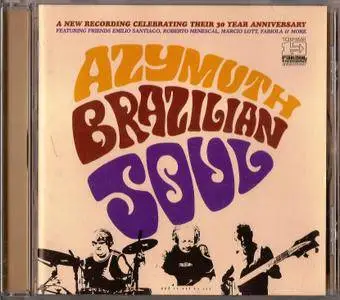 Azymuth - Brazilian Soul (2004)
EAC | FLAC | Tracks (Cue&Log) ~ 461 Mb | Mp3 (CBR320) ~ 172 Mb | Scans included
Label: Far Out Recordings | # COCB-53246 | Time: 01:07:48
Brazilian Jazz, Fusion, Jazz-Funk, Bossa Nova
hree decades after Azymuth made their first tentative steps into bossa nova society, Brazilian Soul is a return to their blistering form of the early '80s. The new album sees them borrowing from the musical vocabulary that has always been one of the most exciting narratives of Brazilian music, as well as indulging their enthusiasm for new sounds that still makes them heroes and inspirations to a generation of 21st Century producers, from 4Hero to Masters At Work. They have linked up again with a truly great cast of celebrated Brazilian performers, some who were there at the genesis of Azymuth, and some who hitched a ride during the last 30 years – any history of Brazilian music that didn't include names featured on the album like Roberto Menescal, Fabiola, Emilio Santiago and Marcio Lott wouldn't be one to be trusted. Although their sound hails from the tropical funk scene which emerged in Rio in the mid '70s, their music is still as pertinent now as was then – their live shows demonstrate that the percussive furnace which drives their sound is still burning bright.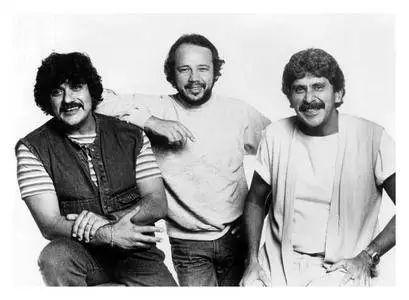 Tracklist:
01. Estatico (4:27)
02. Demais (4:18)
03. Sambafrica (5:11)
04. Pra Ze (4:00)
05. Te Querendo (8:16)
06. Gubbio (5:35)
07. Retro Visor (3:14)
08. Sao Pedro (5:17)
09. O Lance (5:33)
10. Sem Destino (6:58)
11. Ed Lincoln (3:49)
12. Roda Piao (6:37)
13. Proximo Verao (4:33)
Exact Audio Copy V1.0 beta 2 from 29. April 2011

Отчёт EAC об извлечении, выполненном 4. мая 2017, 13:35

Azymuth / Brazilian Soul

Дисковод: PLEXTOR BDDVDRPX-B330SA Adapter: 0 ID: 1

Режим чтения : Достоверность
Использование точного потока : Да
Отключение кэша аудио : Да
Использование указателей C2 : Нет

Коррекция смещения при чтении : 702
Способность читать области Lead-in и Lead-out : Нет
Заполнение пропущенных сэмплов тишиной : Да
Удаление блоков с тишиной в начале и конце : Нет
При вычислениях CRC использовались нулевые сэмплы : Да
Интерфейс : Встроенный Win32-интерфейс для Win NT/2000
Обработка зазоров : Добавлено к предыдущему треку

Выходной формат : Пользовательский кодировщик
Выбранный битрейт : 128 kBit/s
Качество : Высокий
Добавление ID3-тега : Нет
Утилита сжатия : C:\Program Files\Exact Audio Copy\FLAC\FLAC.EXE
Дополнительные параметры : -6 -V -T "ARTIST=%artist%" -T "TITLE=%title%" -T "ALBUM=%albumtitle%" -T "DATE=%year%" -T "TRACKNUMBER=%tracknr%" -T "GENRE=%genre%" -T "COMMENT=%comment%" -T "BAND=%albuminterpret%" -T "COMPOSER=%composer%" %haslyrics%–tag-from-


TOC извлечённого CD

Трек | Старт | Длительность | Начальный сектор | Конечный сектор
––––––––––––––––––––––––––––––––––-
1 | 0:00.00 | 4:26.63 | 0 | 20012
2 | 4:26.63 | 4:18.00 | 20013 | 39362
3 | 8:44.63 | 5:11.00 | 39363 | 62687
4 | 13:55.63 | 4:00.00 | 62688 | 80687
5 | 17:55.63 | 8:16.00 | 80688 | 117887
6 | 26:11.63 | 5:35.00 | 117888 | 143012
7 | 31:46.63 | 3:14.00 | 143013 | 157562
8 | 35:00.63 | 5:17.00 | 157563 | 181337
9 | 40:17.63 | 5:33.00 | 181338 | 206312
10 | 45:50.63 | 6:58.00 | 206313 | 237662
11 | 52:48.63 | 3:49.00 | 237663 | 254837
12 | 56:37.63 | 6:36.51 | 254838 | 284588
13 | 63:14.39 | 4:33.24 | 284589 | 305087


Трек 1

Имя файла D:\FLAC\01 Estatico.wav

Длина предзазора 0:00:02.00

Пиковый уровень 100.0 %
Скорость извлечения 2.0 X
Качество трека 100.0 %
CRC теста FBF53A24
CRC копии FBF53A24
Трек не обнаружен в базе AccurateRip
Копирование… OK

Трек 2

Имя файла D:\FLAC\02 Demais.wav

Длина предзазора 0:00:01.67

Пиковый уровень 100.0 %
Скорость извлечения 2.2 X
Качество трека 100.0 %
CRC теста 8B483A10
CRC копии 8B483A10
Трек не обнаружен в базе AccurateRip
Копирование… OK

Трек 3

Имя файла D:\FLAC\03 Sambafrica.wav

Длина предзазора 0:00:02.49

Пиковый уровень 100.0 %
Скорость извлечения 2.5 X
Качество трека 100.0 %
CRC теста DD980F5F
CRC копии DD980F5F
Трек не обнаружен в базе AccurateRip
Копирование… OK

Трек 4

Имя файла D:\FLAC\04 Pra Ze.wav

Длина предзазора 0:00:02.54

Пиковый уровень 100.0 %
Скорость извлечения 2.3 X
Качество трека 99.9 %
CRC теста BE73CD9D
CRC копии BE73CD9D
Трек не обнаружен в базе AccurateRip
Копирование… OK

Трек 5

Имя файла D:\FLAC\05 Te Querendo.wav

Длина предзазора 0:00:02.33

Пиковый уровень 100.0 %
Скорость извлечения 2.8 X
Качество трека 99.9 %
CRC теста 1EF42AEF
CRC копии 1EF42AEF
Трек не обнаружен в базе AccurateRip
Копирование… OK

Трек 6

Имя файла D:\FLAC\06 Gubbio.wav

Длина предзазора 0:00:02.28

Пиковый уровень 100.0 %
Скорость извлечения 2.7 X
Качество трека 99.9 %
CRC теста 01924F6F
CRC копии 01924F6F
Трек не обнаружен в базе AccurateRip
Копирование… OK

Трек 7

Имя файла D:\FLAC\07 Retro Visor.wav

Длина предзазора 0:00:02.09

Пиковый уровень 100.0 %
Скорость извлечения 3.0 X
Качество трека 100.0 %
CRC теста FEB874C2
CRC копии FEB874C2
Трек не обнаружен в базе AccurateRip
Копирование… OK

Трек 8

Имя файла D:\FLAC\08 Sao Pedro.wav

Длина предзазора 0:00:02.29

Пиковый уровень 100.0 %
Скорость извлечения 3.4 X
Качество трека 100.0 %
CRC теста EC72299B
CRC копии EC72299B
Трек не обнаружен в базе AccurateRip
Копирование… OK

Трек 9

Имя файла D:\FLAC\09 O Lance.wav

Длина предзазора 0:00:01.62

Пиковый уровень 100.0 %
Скорость извлечения 3.2 X
Качество трека 99.9 %
CRC теста A556E5AE
CRC копии A556E5AE
Трек не обнаружен в базе AccurateRip
Копирование… OK

Трек 10

Имя файла D:\FLAC\10 Sem Destino.wav

Длина предзазора 0:00:02.38

Пиковый уровень 100.0 %
Скорость извлечения 3.6 X
Качество трека 99.9 %
CRC теста D46EF273
CRC копии D46EF273
Трек не обнаружен в базе AccurateRip
Копирование… OK

Трек 11

Имя файла D:\FLAC\11 Ed Lincoln.wav

Длина предзазора 0:00:02.26

Пиковый уровень 100.0 %
Скорость извлечения 3.7 X
Качество трека 100.0 %
CRC теста 049E36C7
CRC копии 049E36C7
Трек не обнаружен в базе AccurateRip
Копирование… OK

Трек 12

Имя файла D:\FLAC\12 Roda Piao.wav

Длина предзазора 0:00:02.05

Пиковый уровень 100.0 %
Скорость извлечения 4.1 X
Качество трека 100.0 %
CRC теста 67F8EFF0
CRC копии 67F8EFF0
Трек не обнаружен в базе AccurateRip
Копирование… OK

Трек 13

Имя файла D:\FLAC\13 Proximo Verao.wav

Длина предзазора 0:00:02.45

Пиковый уровень 100.0 %
Скорость извлечения 2.2 X
Качество трека 100.0 %
CRC теста 819E9216
CRC копии 819E9216
Трек не обнаружен в базе AccurateRip
Копирование… OK


Ни одного трека нет в базе AccurateRip

Ошибок не произошло

Конец отчёта

–– CUETools DB Plugin V2.1.4

[CTDB TOCID: B64Oz5zq2L93ZujaDxzi3tLHjVA-] found
Submit result: B64Oz5zq2L93ZujaDxzi3tLHjVA- has been confirmed
Track | CTDB Status
1 | (2/2) Accurately ripped
2 | (2/2) Accurately ripped
3 | (2/2) Accurately ripped
4 | (2/2) Accurately ripped
5 | (2/2) Accurately ripped
6 | (2/2) Accurately ripped
7 | (2/2) Accurately ripped
8 | (2/2) Accurately ripped
9 | (2/2) Accurately ripped
10 | (2/2) Accurately ripped
11 | (2/2) Accurately ripped
12 | (2/2) Accurately ripped
13 | (2/2) Accurately ripped


==== Контрольная сумма отчёта 8A883C3A331F639B17D2C14054130960C63901E96B02441EEA86E271508465BC ====
[CUETools log; Date: 27.10.2017 23:46:22; Version: 2.1.4]
[CTDB TOCID: B64Oz5zq2L93ZujaDxzi3tLHjVA-] found.
Track | CTDB Status
1 | (3/3) Accurately ripped
2 | (3/3) Accurately ripped
3 | (3/3) Accurately ripped
4 | (3/3) Accurately ripped
5 | (3/3) Accurately ripped
6 | (3/3) Accurately ripped
7 | (3/3) Accurately ripped
8 | (3/3) Accurately ripped
9 | (3/3) Accurately ripped
10 | (3/3) Accurately ripped
11 | (3/3) Accurately ripped
12 | (3/3) Accurately ripped
13 | (3/3) Accurately ripped
[AccurateRip ID: 001fe825-01424299-c30fe30d] found.
Track [ CRC | V2 ] Status
01 [cffeb2c8|bff8332c] (0+1/1) Accurately ripped
02 [0879474a|c610a78f] (0+1/1) Accurately ripped
03 [3bb84fdd|5fdfaa2b] (0+1/1) Accurately ripped
04 [9132873f|2e4f4447] (0+1/1) Accurately ripped
05 [bffb9208|75b5ebe3] (0+1/1) Accurately ripped
06 [9bd151a6|21316f11] (0+1/1) Accurately ripped
07 [e517d50a|cc32378c] (0+1/1) Accurately ripped
08 [07f9c16c|3e866856] (0+1/1) Accurately ripped
09 [56c337ed|a213bf8d] (0+1/1) Accurately ripped
10 [34812558|282783d4] (0+1/1) Accurately ripped
11 [f3b248ed|8915b136] (0+1/1) Accurately ripped
12 [37e8d738|83182093] (0+1/1) Accurately ripped
13 [39562107|a63c8690] (0+1/1) Accurately ripped

Track Peak [ CRC32 ] [W/O NULL] [ LOG ]
– 100,0 [CC120840] [39D61371]
01 100,0 [FBF53A24] [8D5A2640] CRC32
02 100,0 [8B483A10] [CDC97900] CRC32
03 100,0 [DD980F5F] [9AA88176] CRC32
04 100,0 [BE73CD9D] [649C41BA] CRC32
05 100,0 [1EF42AEF] [D1D39BC0] CRC32
06 100,0 [01924F6F] [591CE25E] CRC32
07 100,0 [FEB874C2] [CE26D7E3] CRC32
08 100,0 [EC72299B] [8E4B95D9] CRC32
09 100,0 [A556E5AE] [79CFA6C7] CRC32
10 100,0 [D46EF273] [E4C59739] CRC32
11 100,0 [049E36C7] [2E89F760] CRC32
12 100,0 [67F8EFF0] [ADAEA285] CRC32
13 100,0 [819E9216] [9DE6CCA1] CRC32
foobar2000 1.2 / Dynamic Range Meter 1.1.1
log date: 2017-10-28 02:09:43

––––––––––––––––––––––––––––––––––––––––
Analyzed: Azymuth / Brazilian Soul
––––––––––––––––––––––––––––––––––––––––

DR Peak RMS Duration Track
––––––––––––––––––––––––––––––––––––––––
DR11 0.00 dB -13.42 dB 4:27 01-Estatico
DR14 0.00 dB -15.39 dB 4:18 02-Demais
DR13 0.00 dB -14.88 dB 5:11 03-Sambafrica
DR11 0.00 dB -12.44 dB 4:00 04-Pra Ze
DR10 0.00 dB -13.01 dB 8:16 05-Te Querendo
DR11 0.00 dB -12.94 dB 5:35 06-Gubbio
DR12 0.00 dB -14.00 dB 3:14 07-Retro Visor
DR14 0.00 dB -15.12 dB 5:17 08-Sao Pedro
DR13 0.00 dB -14.43 dB 5:33 09-O Lance
DR13 0.00 dB -15.05 dB 6:58 10-Sem Destino
DR14 0.00 dB -15.15 dB 3:49 11-Ed Lincoln
DR12 0.00 dB -13.20 dB 6:37 12-Roda Piao
DR14 0.00 dB -15.93 dB 4:33 13-Proximo Verao
––––––––––––––––––––––––––––––––––––––––

Number of tracks: 13
Official DR value: DR13

Samplerate: 44100 Hz
Channels: 2
Bits per sample: 16
Bitrate: 764 kbps
Codec: FLAC
================================================================================