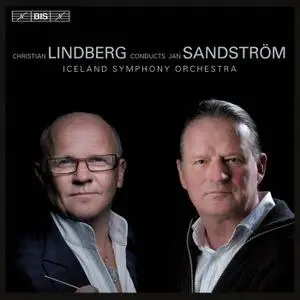 Christian Lindberg, Iceland Symphony Orchestra - Christian Lindberg Conducts Jan Sandstrom (2011)
WEB | FLAC (tracks) - 247 MB | 01:01:42
Genre: Classical | Label: BIS
Jan Sandström (b. 1954) is among the most frequently performed Swedish composers on the international scene today. His 'Motorbike Concerto' for trombone and orchestra is for instance one of the most played Swedish orchestral works of all times, with more than 600 performances since its première in 1989. The Motorbike Concerto was the first major result of the collaboration between Sandström and the trombone virtuoso Christian Lindberg – a collaboration which has evolved over the years, to the point that Lindberg here conducts the Iceland Symphony Orchestra in four works reflecting Sandström's trajectory as composer for orchestra, from Éra (1979–80) to Ocean Child in its revised 2004 version. In Sandström's music different compositional strands co-exist: Eastern philosophy, minimalism and the world of serialism were early influences, and for many years Sandström also worked in the field of spectral music. But with the ballet En herrgårdssägen (A Manor Saga) from 1987, heard here in the form of a suite for orchestra, the composer discovered a new approach to composition, stimulated by the idea of music as narrative, an approach which culminated in Sandström's expressed wish to 'incorporate the whole world' in his music. One result is Ocean Child, which was inspired by a snorkelling trip the composer made with his daughter to Thailand. Sandström himself has called the work 'a tribute to life, to curiosity and childish naïvety', and the result is music that is deceptively simple, yet which draws the audience in, inviting them to embark on a musical adventure.
Track List:
Indri (Jan Sandstrom)
1. Indri: Cave canem 09:44
Era (Jan Sandstrom)
2. Era 09:44
Ocean Child (Jan Sandstrom)
3. Ocean Child 14:42
En herrgardssagen (A Mansion Legend) (Jan Sandstrom)
4. I. Blomgrens: Moderato 05:43
5. II. Munkhyttan: Presto 02:15
6. III. Vinterstormen (The Winter Storm): Larghetto 07:16
7. IV. Getabocken (The He-Goat): Andante 03:07
8. V. Ingrid: Andante con moto 09:11
Performers:
Iceland Symphony Orchestra
Christian Lindberg, conductor
–––––––––––-
DON'T MODIFY THIS FILE
–––––––––––-
PERFORMER: auCDtect Task Manager, ver. 1.6.0 RC1 build 1.6.0.1
Copyright © 2008-2010 y-soft. All rights reserved
http://y-soft.org
ANALYZER: auCDtect: CD records authenticity detector, version 0.8.2
Copyright © 2004 Oleg Berngardt. All rights reserved.
Copyright © 2004 Alexander Djourik. All rights reserved.
FILE: 01 - Indri_ Cave canem.flac
Size: 39398889 Hash: 168488613B61FFA2DB9FD114C8B7411F Accuracy: -m0
Conclusion: CDDA 100%
Signature: 95D59ED5274827B6CD5D90D65C3007B268BE2435
FILE: 02 - Era.flac
Size: 31640546 Hash: CF16308485A83DD7BC23E19F899963D6 Accuracy: -m0
Conclusion: CDDA 94%
Signature: 8713C1F8B057399BA6E2AC53E3EB20EEAE6CE665
FILE: 03 - Ocean Child.flac
Size: 50780287 Hash: 60AD9679BEE6BB05D3E04B020E985A26 Accuracy: -m0
Conclusion: CDDA 100%
Signature: E1D653FF9F873991FC30F8B53912395FED428F0A
FILE: 04 - I. Blomgrens_ Moderato.flac
Size: 21388012 Hash: 7894047E588FB6A9A2AAD23D79C6696E Accuracy: -m0
Conclusion: CDDA 100%
Signature: 9DB09DF8C8EDEDDCD6CA162E4286A80DD086154D
FILE: 05 - II. Munkhyttan_ Presto.flac
Size: 9531905 Hash: 6360558CFECDBDC26D8E270823CF8B85 Accuracy: -m0
Conclusion: CDDA 100%
Signature: F315E6FBC5D472424BEBF68E80C4C6574E7F9564
FILE: 06 - III. Vinterstormen (The Winter.flac
Size: 26612675 Hash: D1BACA6DE864370EEF5EBE4063FF249B Accuracy: -m0
Conclusion: CDDA 92%
Signature: B72EBF50B7CCA340454ED4DCBE085860835A54CB
FILE: 07 - IV. Getabocken (The He-Goat)_ A.flac
Size: 12156447 Hash: 0CA31396B05242E5156CCA88F425F04A Accuracy: -m0
Conclusion: CDDA 100%
Signature: 625FBCB8BD23EE07CEB67B2D8E992E362407FB8D
FILE: 08 - V. Ingrid_ Andante con moto.flac
Size: 35323791 Hash: 72E2E94AAD07BF207DE35D8F541ADCA8 Accuracy: -m0
Conclusion: CDDA 100%
Signature: 89B1649342644DB630187D9E7766DF881F153A54