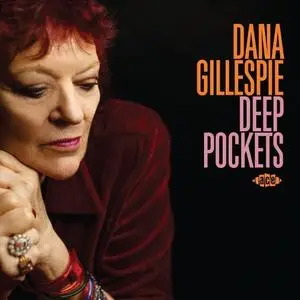 Dana Gillespie - Deep Pockets (2021)
FLAC tracks / MP3 320 kbps | 51:22 | 305 / 118 Mb
Genre: Blues / Label: Ace Records
Strong new work from Dana Gillespie – a British singer, but one who's always had a love of American roots in her music – way back to when she was just performing as a schoolgirl back in the 60s! Yet somehow along the way, Dana didn't always get the setting that her voice deserved – sometimes records that were too polished, or to commercial – which is definitely not the case here – as Gillespie sings in this moody, mature vibe that really fits her look on the cover – given small group backing headed up by guitarist Jake Zaitz, who also co-produced the record, and wrote most of the songs with Dana too. The whole thing's great – understated, in a way that maybe even brings out more magic in Dana's vocals than she had back in the day – on titles that include "Putting My Dreams On Hold", "Howling Howling", "The Truth About Lying", "We Share The Same Sky", "Beat Of My Own Drum", and "Back In The Day".
Track List:
01. Beat Of My Own Drum
02. We Share The Same Sky
03. The Truth About Lying
04. Deep Pockets
05. When You're Feeling Blue
06. Back In The Day
07. Your Heart Sets You Apart
08. In Times Like These
09. Now You're Stardust
10. Up Yours
11. Howling, Howling
12. Putting My Dreams On Hold
ANALYZER: auCDtect: CD records authenticity detector, version 0.8.2
Copyright © 2004 Oleg Berngardt. All rights reserved.
Copyright © 2004 Alexander Djourik. All rights reserved.


FILE: 01. Dana Gillespie - Beat Of My Own Drum.flac
Size: 39865558 Hash: BFA05C6C63001AF4ADC71E5166D2B15D Accuracy: -m40
Conclusion: CDDA 99%
Signature: 93A7CD4297F3E26A73F017C2678CE9664362BCD3
FILE: 02. Dana Gillespie - We Share The Same Sky.flac
Size: 21529627 Hash: C2C871687484948C6FBC408F23FE720B Accuracy: -m40
Conclusion: CDDA 100%
Signature: B9090312D02676D338E0009C01D5AD1505AED8EF
FILE: 03. Dana Gillespie - The Truth About Lying.flac
Size: 21945153 Hash: B37C17C15205BF2C1B6FBC5F850ED5AC Accuracy: -m40
Conclusion: CDDA 100%
Signature: 94758E7594D4740D461885D908926AF095DAD8F0
FILE: 04. Dana Gillespie - Deep Pockets.flac
Size: 23989503 Hash: 7A192E28E0C7DB4E1AC2151FBE7331F5 Accuracy: -m40
Conclusion: CDDA 100%
Signature: 2AE5D0E6321857A0B48B68E431D6E5C924896BCB
FILE: 05. Dana Gillespie - When You're Feeling Blue.flac
Size: 25772425 Hash: D642930EF3539BA0EAE9DB331514AD35 Accuracy: -m40
Conclusion: CDDA 100%
Signature: BD54E97356DC01606ED9191C4E7AE9E3B7F4C40C
FILE: 06. Dana Gillespie - Back In The Day.flac
Size: 25151526 Hash: EF7963CAF8C855E9D944065FA60E605F Accuracy: -m40
Conclusion: CDDA 100%
Signature: 32114F16E722374653DF5C9EFC04B18405A5FC4E
FILE: 07. Dana Gillespie - Your Heart Sets You Apart.flac
Size: 29614678 Hash: E69FD84F01338A430D2ADE3A202D5C3D Accuracy: -m40
Conclusion: CDDA 100%
Signature: B294C788A951D603A704F3884402DD3315451B2D
FILE: 08. Dana Gillespie - In Times Like These.flac
Size: 29426607 Hash: 50AE89058B107BBFBB6FAD084E2FAC5A Accuracy: -m40
Conclusion: CDDA 100%
Signature: 7A2D18F7F669558FAA89C04CB6429696BBDDE898
FILE: 09. Dana Gillespie - Now You're Stardust.flac
Size: 28996563 Hash: 5F319C8E38E99C513AC4035E4C79C0F5 Accuracy: -m40
Conclusion: CDDA 100%
Signature: AB9564C8E68CECBD002ECAD9AB73194F9E25EEF4
FILE: 10. Dana Gillespie - Up Yours.flac
Size: 22173760 Hash: 4A7017F5E1B267741CAE61B1F2347556 Accuracy: -m40
Conclusion: CDDA 100%
Signature: 3A56EF46137ACCAA9E8F854471C073BCCCBAABFC
FILE: 11. Dana Gillespie - Howling, Howling.flac
Size: 29473699 Hash: B65483B0B721998ABB5E51A9CAC415ED Accuracy: -m40
Conclusion: CDDA 100%
Signature: 1D2777D600B9F1B1C8D8EF1091868A2B0885AAB2
FILE: 12. Dana Gillespie - Putting My Dreams On Hold.flac
Size: 28027591 Hash: 05398F0C6AE22EFB41B9B1C631DC5175 Accuracy: -m40
Conclusion: CDDA 99%
Signature: 86780438197842B8C7478674380357667C17EA62