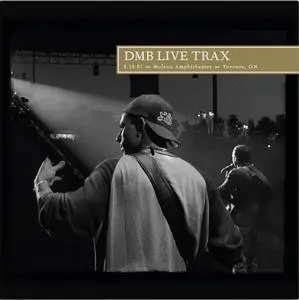 Dave Matthews Band - Live Trax Vol. 56: Molson Amphitheatre (2021)
FLAC tracks / MP3 320 kbps | 2:38:04 | 369 / 957 Mb
Genre: Rock / Label: Bama Rags
This 2001 DMB performance from Toronto is the band's first Live Trax release out of Canada. From the very first pulse of the heartbeat intro to Pantala Naga Pampa and Rapunzel and all the way to the last beats of Two Step, this show offers solid renditions of songs off the new album, Everyday, as well as road tested gems like JTR and Say Goodbye. The Lovely Ladies' extra vocal power elevates the performances throughout and specifically on Don't Drink The Water and Stay (Wasting Time).
Track List:
1. Pantala Naga Pampa>Rapunzel (13:11)
2. Don't Drink the Water (7:53)
3. Say Goodbye (8:19)
4. So Much To Say>Anyone Seen the Bridge?> (5:49)
5. Too Much (4:41)
6. Captain (1:29)
7. When the World Ends (4:01)
8. So Right (6:43)
9. The Space Between (5:53)
10. True Reflections (8:54)
11. Big Eyed Fish> (6:25)
12. Bartender (11:57)
13. Angel (14:52)
14. I Did It (3:48)
15. If I Had It All (4:46)
16. JTR (6:46)
17. All Along the Watchtower (11:54)
18. Stay (Wasting Time) (7:52)
19. #40 (1:00)
20. Funny How Time Slips Away (3:49)
21. Two Step (18:11)
ANALYZER: auCDtect: CD records authenticity detector, version 0.8.2
Copyright © 2004 Oleg Berngardt. All rights reserved.
Copyright © 2004 Alexander Djourik. All rights reserved.


FILE: 01 - 01 - Dave Matthews Band - Live Trax vol_ 56 Molson Amphitheatre - Pantala Naga Pampa_Rapunzel.flac
Size: 86397268 Hash: F6EFEFCAA1242DC96173A4FF8C17A0F0 Accuracy: -m40
Conclusion: CDDA 100%
Signature: 3C5960C02A31DF6CC24DB01A35CE4FDF6911F2C0
FILE: 01 - 02 - Dave Matthews Band - Live Trax vol_ 56 Molson Amphitheatre - Don't Drink the Water.flac
Size: 56761658 Hash: F5228A9261C8FF736102A543A1CA0E5D Accuracy: -m40
Conclusion: CDDA 100%
Signature: 36F809CF7F60B5749C84041325A490B3A6D08D68
FILE: 01 - 03 - Dave Matthews Band - Live Trax vol_ 56 Molson Amphitheatre - Say Goodbye.flac
Size: 52456448 Hash: 45EF197A3E911D89E8F1BC59EE5FEDDC Accuracy: -m40
Conclusion: CDDA 99%
Signature: 88D5A494206DB5F27EA6FE49BC37BA1DDF3D6E7B
FILE: 01 - 04 - Dave Matthews Band - Live Trax vol_ 56 Molson Amphitheatre - So Much To Say_Anyone Seen the Bridge'_.flac
Size: 38763954 Hash: C4F4284C1DFE832651EB677E88AB9C79 Accuracy: -m40
Conclusion: CDDA 100%
Signature: 5DD5E9CBC3302D5C42BF80857169E175B1A70EF8
FILE: 01 - 05 - Dave Matthews Band - Live Trax vol_ 56 Molson Amphitheatre - Too Much.flac
Size: 33158379 Hash: 7A28AB41BAD2982834D957927451198B Accuracy: -m40
Conclusion: CDDA 100%
Signature: D82A9BEA1CBACD244BB7132BF6668F5AE7751C01
FILE: 01 - 06 - Dave Matthews Band - Live Trax vol_ 56 Molson Amphitheatre - Captain.flac
Size: 6949639 Hash: 0904B81033B32F2AC60ED9D12FD40469 Accuracy: -m40
Conclusion: CDDA 100%
Signature: 214E8423B389151AF78513DDC4C8154DB0BAAB7F
FILE: 01 - 07 - Dave Matthews Band - Live Trax vol_ 56 Molson Amphitheatre - When the World Ends.flac
Size: 26440589 Hash: 42F6AF7E32444F73D22FEBB0CBC0BA74 Accuracy: -m40
Conclusion: CDDA 100%
Signature: 23CD8091DEB1865DEB5ED4B3B171B058B782647B
FILE: 01 - 08 - Dave Matthews Band - Live Trax vol_ 56 Molson Amphitheatre - So Right.flac
Size: 46014894 Hash: A8A6F070344FF5BFE9E79E4A606E9A15 Accuracy: -m40
Conclusion: CDDA 99%
Signature: C473E6D909EF9A48DC785584C564B499581EECE7
FILE: 02 - 09 - Dave Matthews Band - Live Trax vol_ 56 Molson Amphitheatre - The Space Between.flac
Size: 35955874 Hash: E886254B78234B9B99459977712C36BC Accuracy: -m40
Conclusion: CDDA 100%
Signature: B0057BAE8A41AFE8F9697E61E555D1AF9AE4AFFD
FILE: 02 - 10 - Dave Matthews Band - Live Trax vol_ 56 Molson Amphitheatre - True Reflections.flac
Size: 59070087 Hash: 04367A2A9F075806076AA782202CF65F Accuracy: -m40
Conclusion: CDDA 100%
Signature: E80E0BF006F771821D4C062E49783C7DE9D164FF
FILE: 02 - 11 - Dave Matthews Band - Live Trax vol_ 56 Molson Amphitheatre - Big Eyed Fish_.flac
Size: 38789296 Hash: 4AA50AF5DD8C61BEDC0F71F758F40C23 Accuracy: -m40
Conclusion: CDDA 100%
Signature: B0AB642D3997CEB721095832C20D85D986100641
FILE: 02 - 12 - Dave Matthews Band - Live Trax vol_ 56 Molson Amphitheatre - Bartender.flac
Size: 70791803 Hash: 65F205A2C86F45F1F992F84E2A3F502B Accuracy: -m40
Conclusion: CDDA 100%
Signature: 587AF42B9CCC6DDDA129917EBDF04304939BF4F0
FILE: 02 - 13 - Dave Matthews Band - Live Trax vol_ 56 Molson Amphitheatre - Angel.flac
Size: 84597063 Hash: 606007D0055AA60C041C62C600400AB4 Accuracy: -m40
Conclusion: CDDA 100%
Signature: 157F1B19B0E3A3F4718A1F42F6703DDA56A10EF3
FILE: 02 - 14 - Dave Matthews Band - Live Trax vol_ 56 Molson Amphitheatre - I Did It.flac
Size: 25236694 Hash: 8070A2FA5FE062318AC58634C6338070 Accuracy: -m40
Conclusion: CDDA 99%
Signature: 73A930CF90045028947833EABA5C26C5548DC835
FILE: 02 - 15 - Dave Matthews Band - Live Trax vol_ 56 Molson Amphitheatre - If I Had It All.flac
Size: 29887273 Hash: 9DB5BB3EC1CD68149DC207AA5D883618 Accuracy: -m40
Conclusion: CDDA 100%
Signature: 05C33F5AA9F8444E648F4DB519F0CB5B40FB4C49
FILE: 03 - 16 - Dave Matthews Band - Live Trax vol_ 56 Molson Amphitheatre - JTR.flac
Size: 45662213 Hash: E0BC94AEF501D44E98C52AA29423E2E8 Accuracy: -m40
Conclusion: CDDA 100%
Signature: CA30E299BB4170ACDD71D112926831C486BCA5AD
FILE: 03 - 17 - Dave Matthews Band - Live Trax vol_ 56 Molson Amphitheatre - All Along the Watchtower.flac
Size: 73393864 Hash: 0049050B05176AD81A46E619738A8A06 Accuracy: -m40
Conclusion: CDDA 100%
Signature: D12A96D6E8C610059A9CB02BE2CA4C3C646E3253
FILE: 03 - 18 - Dave Matthews Band - Live Trax vol_ 56 Molson Amphitheatre - Stay (Wasting Time).flac
Size: 55022333 Hash: 75BD30B3EB7AA765394A432FA15659EF Accuracy: -m40
Conclusion: CDDA 100%
Signature: 651CC35AEAEEEE143139166A92526A4FFAD5F993
FILE: 03 - 19 - Dave Matthews Band - Live Trax vol_ 56 Molson Amphitheatre - #40.flac
Size: 5420392 Hash: F82CE2013BEF6CA777F9126FDBB459D6 Accuracy: -m40
Conclusion: CDDA 100%
Signature: CF6D925739A72147F5EA6AB9E7990424AFE5FC51
FILE: 03 - 20 - Dave Matthews Band - Live Trax vol_ 56 Molson Amphitheatre - Funny How Time Slips Away.flac
Size: 19845427 Hash: 213FA4C33EF07EFE1BF887A46EC4F80F Accuracy: -m40
Conclusion: CDDA 100%
Signature: D69DD2CC9540F01F2E5B0AA758EDD0F3574E6CCD
FILE: 03 - 21 - Dave Matthews Band - Live Trax vol_ 56 Molson Amphitheatre - Two Step.flac
Size: 112951419 Hash: DE0E618FDB3E8880E02F0B06F480A195 Accuracy: -m40
Conclusion: CDDA 100%
Signature: 9BB516E33483715EF4F2E0433FF7D5088A204472