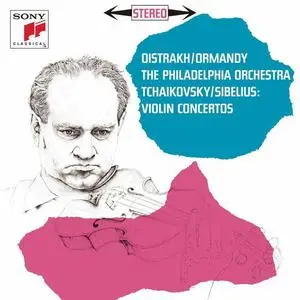 David Oistrakh - The Art of David Oistrakh (2022)
FLAC (tracks), Lossless / MP3 320 kbps | 2:09:56 | 710 / 297 Mb
Genre: Classical / Label: Sony Classical
David Oistrakh is considered the premiere violinist of mid-20th century Soviet Union. His recorded legacy includes nearly the entire standard violin repertory up to and including Prokofiev and Bartók. Oistrakh's violin studies began in 1913 with famed teacher Pyotr Stolyarsky. Later he officially joined Stolyarsky's class at the Odessa Conservatory, graduating in 1926 by playing Prokofiev's First Violin Concerto. Performances of the Glazunov concerto in Odessa and Kiev in 1927, and a 1928 debut in Leningrad (Tchaikovsky concerto), gave Oistrakh the confidence to move to Moscow. He made his premiere there in early 1929, but the event went largely unnoticed. In 1934, however, after several years of patiently refining his craft, Oistrakh was invited to join the Moscow Conservatory, eventually rising to the rank of full professor in 1939.
Track List:
Disc 1
1. David Oistrakh, Eugene Ormandy & The Philadelphia Orchestra – Violin Concerto in D Major, Op. 35, TH 59: I. Allegro moderato (2022 Remastered Version) (18:53)
2. David Oistrakh, Eugene Ormandy & The Philadelphia Orchestra – Violin Concerto in D Major, Op. 35, TH 59: II. Canzonetta. Andante (2022 Remastered Version) (06:39)
3. David Oistrakh, Eugene Ormandy & The Philadelphia Orchestra – Violin Concerto in D Major, Op. 35, TH 59: III. Finale. Allegro vivacissimo (2022 Remastered Version) (09:40)
4. David Oistrakh, Eugene Ormandy & The Philadelphia Orchestra – Violin Concerto in D Minor, Op. 47: I. Allegro moderato (2022 Remastered Version) (14:57)
5. David Oistrakh, Eugene Ormandy & The Philadelphia Orchestra – Violin Concerto in D Minor, Op. 47: II. Adagio di molto (2022 Remastered Version) (08:26)
6. David Oistrakh, Eugene Ormandy & The Philadelphia Orchestra – Violin Concerto in D Minor, Op. 47: III. Allegro ma non tanto (2022 Remastered Version) (07:27)
Disc 2
1. David Oistrakh, Isaac Stern, Eugene Ormandy & The Philadelphia Orchestra – Concerto for 2 Violins, Strings and Continuo in D Minor, RV 514: I. Allegro non molto (2022 Remastered Version) (04:07)
2. David Oistrakh, Isaac Stern, Eugene Ormandy & The Philadelphia Orchestra – Concerto for 2 Violins, Strings and Continuo in D Minor, RV 514: II. Adagio (2022 Remastered Version) (03:34)
3. David Oistrakh, Isaac Stern, Eugene Ormandy & The Philadelphia Orchestra – Concerto for 2 Violins, Strings and Continuo in D Minor, RV 514: III. Allegro molto (2022 Remastered Version) (03:17)
4. David Oistrakh, Isaac Stern, Eugene Ormandy, William R. Smith & The Philadelphia Orchestra – Concerto for 2 Violins, Strings and Continuo in C Minor, RV 509: I. Allegro ma poco e cantabile (2022 Remastered Version) (04:09)
5. David Oistrakh, Isaac Stern, Eugene Ormandy, William R. Smith & The Philadelphia Orchestra – Concerto for 2 Violins, Strings and Continuo in C Minor, RV 509: II. Andante molto (2022 Remastered Version) (02:54)
6. David Oistrakh, Isaac Stern, Eugene Ormandy, William R. Smith & The Philadelphia Orchestra – Concerto for 2 Violins, Strings and Continuo in C Minor, RV 509: III. Allegro (2022 Remastered Version) (02:50)
7. David Oistrakh, Isaac Stern, Eugene Ormandy, William R. Smith & The Philadelphia Orchestra – Concerto for 2 Violins, Strings and Continuo in G Minor, RV 517: I. Allegro (2022 Remastered Version) (03:33)
8. David Oistrakh, Isaac Stern, Eugene Ormandy, William R. Smith & The Philadelphia Orchestra – Concerto for 2 Violins, Strings and Continuo in G Minor, RV 517: II. Andante (2022 Remastered Version) (02:08)
9. David Oistrakh, Isaac Stern, Eugene Ormandy, William R. Smith & The Philadelphia Orchestra – Concerto for 2 Violins, Strings and Continuo in G Minor, RV 517: III. [ ] [2022 Remastered Version] (03:34)
10. David Oistrakh, Isaac Stern, Eugene Ormandy & The Philadelphia Orchestra – Concerto for 2 Violins and Strings in D Major, RV 512: I. Allegro molto (2022 Remastered Version) (03:11)
11. David Oistrakh, Isaac Stern, Eugene Ormandy & The Philadelphia Orchestra – Concerto for 2 Violins and Strings in D Major, RV 512: II. Largo (2022 Remastered Version) (02:39)
12. David Oistrakh, Isaac Stern, Eugene Ormandy & The Philadelphia Orchestra – Concerto for 2 Violins and Strings in D Major, RV 512: III. Allegro (2022 Remastered Version) (03:09)
13. David Oistrakh, Charles Münch & Boston Symphony Orchestra – Poème, Op.25 (2022 Remastered Version) (15:36)
14. David Oistrakh, Charles Münch & Boston Symphony Orchestra – Introduction et rondo capriccioso, Op. 28 (2022 Remastered Version) (09:04)
ANALYZER: auCDtect: CD records authenticity detector, version 0.8.2
Copyright © 2004 Oleg Berngardt. All rights reserved.
Copyright © 2004 Alexander Djourik. All rights reserved.


FILE: 01 - Concerto for 2 Violins, Strings and Continuo in D Minor, RV 514 (2022 Remastered Version) _ I. Allegro non molto (2022 Remastered Version).flac
Size: 25574276 Hash: 630F835BE174BCFC5FB81C45EADB49A3 Accuracy: -m40
Conclusion: CDDA 99%
Signature: 1D5D64515889FAF8849EC562136CBEBF01B8E446
FILE: 02 - Concerto for 2 Violins, Strings and Continuo in D Minor, RV 514 (2022 Remastered Version) _ II. Adagio (2022 Remastered Version).flac
Size: 20488594 Hash: 8AD2188B88FC8A8077D135C2482B3E76 Accuracy: -m40
Conclusion: CDDA 100%
Signature: 92B5C81325D0C7C7DF3F1382C84ED9A06D8CB929
FILE: 03 - Concerto for 2 Violins, Strings and Continuo in D Minor, RV 514 (2022 Remastered Version) _ III. Allegro molto (2022 Remastered Version).flac
Size: 20541257 Hash: AB81DBC116CA221831533E98E9D690D4 Accuracy: -m40
Conclusion: CDDA 100%
Signature: D4698B3AB630F34820C3CD10B784577198FB8264
FILE: 04 - Concerto for 2 Violins, Strings and Continuo in C Minor, RV 509 (2022 Remastered Version) _ I. Allegro ma poco e cantabile (2022 Remastered Version).flac
Size: 25744451 Hash: 3A71FB5B1C65D2F6E17E3998C43B15DE Accuracy: -m40
Conclusion: CDDA 100%
Signature: E0138C408C3D30BC711943D16CDD9D129E5035D6
FILE: 05 - Concerto for 2 Violins, Strings and Continuo in C Minor, RV 509 (2022 Remastered Version) _ II. Andante molto (2022 Remastered Version).flac
Size: 17197685 Hash: 727DC9CB68F8918BEC43C2C2D2F88A9F Accuracy: -m40
Conclusion: CDDA 99%
Signature: DF0079DB58AA0AC16BBEE90028DDB501DBEED810
FILE: 06 - Concerto for 2 Violins, Strings and Continuo in C Minor, RV 509 (2022 Remastered Version) _ III. Allegro (2022 Remastered Version).flac
Size: 17477747 Hash: 6F4C2421586930E01C6980EA01AFC4CE Accuracy: -m40
Conclusion: CDDA 100%
Signature: DE3A1F21F328A713BF1A03520E1FFFA70915359C
FILE: 07 - Concerto for 2 Violins, Strings and Continuo in G Minor, RV 517 (2022 Remastered Version) _ I. Allegro (2022 Remastered Version).flac
Size: 22536910 Hash: 581B239D1454D6F3CCDCCF4D27ACC858 Accuracy: -m40
Conclusion: CDDA 99%
Signature: DA4ECFFA4D0DE275A21D7F96F49EE069E93018F7
FILE: 08 - Concerto for 2 Violins, Strings and Continuo in G Minor, RV 517 (2022 Remastered Version) _ II. Andante (2022 Remastered Version).flac
Size: 12731145 Hash: 9CB3A05AC6BC7EF2E6881B6FEDAA63F7 Accuracy: -m40
Conclusion: CDDA 99%
Signature: 684BCF80783D96420A887138BC5D6F45CCE92D8C
FILE: 09 - Concerto for 2 Violins, Strings and Continuo in G Minor, RV 517 (2022 Remastered Version) _ III. [ ] (2022 Remastered Version).flac
Size: 22679136 Hash: A7A688158D0457C4708D855C5D7E92B9 Accuracy: -m40
Conclusion: CDDA 100%
Signature: 611FBEB20D3BD4C7816C93845608931B1413E967
FILE: 10 - Concerto for 2 Violins and Strings in D Major, RV 512 (2022 Remastered Version) _ I. Allegro molto (2022 Remastered Version).flac
Size: 20417894 Hash: F1C992237E9DB9169F3F81DE8601657F Accuracy: -m40
Conclusion: CDDA 100%
Signature: 8A79B277E7A1DA2039148F15F9FDD9AD93FD7982
FILE: 11 - Concerto for 2 Violins and Strings in D Major, RV 512 (2022 Remastered Version) _ II. Largo (2022 Remastered Version).flac
Size: 15904614 Hash: BF9A567E953941B46205F542A952C39F Accuracy: -m40
Conclusion: CDDA 100%
Signature: A85822CCF8B969E72170B1E49BB928A1B733DF8E
FILE: 12 - Concerto for 2 Violins and Strings in D Major, RV 512 (2022 Remastered Version) _ III. Allegro (2022 Remastered Version).flac
Size: 20122058 Hash: EBED279AA6A5B996A9727D75F7F28FA6 Accuracy: -m40
Conclusion: CDDA 100%
Signature: 4710E193F6D0128861991F74CDB49DFF4B5D5184
FILE: 13 - Poème, Op.25 (2022 Remastered Version).flac
Size: 84848115 Hash: 84FDD9D3412FE64AE85A0E3DCDE4D8BD Accuracy: -m40
Conclusion: CDDA 99%
Signature: 2C088D9865BE485DECF20CC634D4787F91B0DBB4
FILE: 14 - Introduction et rondo capriccioso, Op. 28 (2022 Remastered Version).flac
Size: 46904079 Hash: D2C22A44C75AEB6C69D168E3842718AF Accuracy: -m40
Conclusion: CDDA 100%
Signature: 16B8470EE93E3BCF85F77BBCC57C5A239D598A9F
FILE: 01 - Violin Concerto in D Major, Op. 35, TH 59 (2022 Remastered Version) _ I. Allegro moderato (2022 Remastered Version).flac
Size: 107789640 Hash: 67D46D72A44E31D343EF54EBC32ACA30 Accuracy: -m40
Conclusion: CDDA 100%
Signature: 646EBE4B55751090DF64780120815ED47232B53D
FILE: 02 - Violin Concerto in D Major, Op. 35, TH 59 (2022 Remastered Version) _ II. Canzonetta. Andante (2022 Remastered Version).flac
Size: 35289434 Hash: 1FD3FF8A9589E75651606E913413A9FD Accuracy: -m40
Conclusion: CDDA 100%
Signature: 1F486868ECE8B8F3EFE68EA3EFAA1FBB2B20ADFC
FILE: 03 - Violin Concerto in D Major, Op. 35, TH 59 (2022 Remastered Version) _ III. Finale. Allegro vivacissimo (2022 Remastered Version).flac
Size: 52682041 Hash: A5B57596DEE21EEAC7162142A811CBDF Accuracy: -m40
Conclusion: CDDA 100%
Signature: 05F51237640234D170A3BDE9D605F78A6F11FF60
FILE: 04 - Violin Concerto in D Minor, Op. 47 (2022 Remastered Version) _ I. Allegro moderato (2022 Remastered Version).flac
Size: 85196613 Hash: A4065A4A22BA5A2AC127A0F9A67C596A Accuracy: -m40
Conclusion: CDDA 100%
Signature: 0A3C3EE71F3D9051EE7A4647EDF320F5A8739A7D
FILE: 05 - Violin Concerto in D Minor, Op. 47 (2022 Remastered Version) _ II. Adagio di molto (2022 Remastered Version).flac
Size: 46783001 Hash: 31D708C6475B35BE1C56205B616AF903 Accuracy: -m40
Conclusion: CDDA 100%
Signature: E94288427D37C8EDB2969F49D0A9B2F66E77DAE6
FILE: 06 - Violin Concerto in D Minor, Op. 47 (2022 Remastered Version) _ III. Allegro ma non tanto (2022 Remastered Version).flac
Size: 44100470 Hash: 3251F81C2233A692633DFE672C7D1928 Accuracy: -m40
Conclusion: CDDA 100%
Signature: 1527452BD8924BFEDE761303275A3A53C2FA87F9