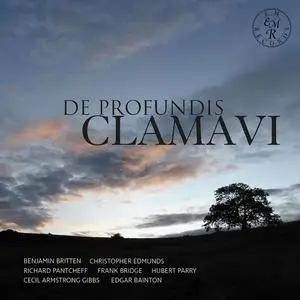 Duncan Honeybourne - De Profundis Clamavi (2021)
FLAC tracks | 2:36:42 | 424 Mb
Genre: Classical / Label: EM Records
De Profundis Clamavi is a two-disc recording of English piano music, contrasting three dramatic sonatas with a vibrant selection of shorter pieces ranging from the sublimely poetic to the darkly rhapsodic. Frank Bridge began writing his grandiose Piano Sonata exactly a century ago, in the wake of the First World War, and it is suffused with a mood of desolation and torment. Contemporary composer Richard Pantcheff's own sonata was completed in 2017 and evokes a similarly intense emotional landscape; hence the quote from Psalm 130 that gives the album it's name ("Out of the deep have I called unto Thee, O Lord"). Also here making it's first recorded appearance, the 1938 Sonata by Christopher Edmunds bubbles over with vivid pianistic colours, melting tenderness and an irresistible romantic warmth. The three sonatas are complemented and contextualised by Parry's delicious Shulbrede Tunes - affectionate portraits of the composer's family and their Sussex home - plus the first recordings of two stunning romantic showpieces by a composer better known for his vocal writing, Cecil Armstrong Gibbs. Three unpublished - and previously unrecorded - gems by Edgar Bainton add further distinctiveness to the disc. Many links of friendship and association underpin the selection of composers represented on the discs, and a special pedagogical thread connects the sonatas of Bridge and Pantcheff. The young Richard Pantcheff was mentored by Benjamin Britten, Bridge's most celebrated student, and Britten is represented by his captivating Night Piece, composed for the first Leeds International Piano Competition. Duncan Honeybourne studied the work with the competition's founder, Dame Fanny Waterman, who commissioned it in 1963 and died recently at the age of one hundred. Honeybourne says: "It was a joy to devise this programme, featuring some masterpieces I've known for a long time and love dearly, alongside the stunning Pantcheff Sonata, which I premiered in 2019 in London at an English Music Festival concert. It is a special privilege to present the recorded premieres of some terrific pieces that have languished in manuscript for many decades, and I hope listeners will get as much pleasure from hearing these wonderful gems as I have from all the excavation and preparation. It's a great honour to bring them all together on this release."
Track List:
CD1
01. Piano Sonata in B Minor: I. Allegro, fieramente e rubato
02. Piano Sonata in B Minor: II. Lento e mesto
03. Piano Sonata in B Minor: III. Allegro scherzoso (Poco rubato)
04. Variations & Fugue in B Minor, Op. 1
05. An Essex Rhapsody, Op. 36
06. Ballade for Piano in D-Flat Major
07. Nocturnus, Op. 90: No. 5, Wind oor die Branders
08. Shulbrede Tunes: No. 1, Shulbrede
09. Shulbrede Tunes: No. 2, Elizabeth
10. Shulbrede Tunes: No. 3, Dolly No. 1
11. Shulbrede Tunes: No. 4, Bogies and Sprites That Gambol by Nights
12. Shulbrede Tunes: No. 5, Matthew
13. Shulbrede Tunes: No. 6, Prior's Chamber by Firelight
14. Shulbrede Tunes: No. 7, Children's Pranks
15. Shulbrede Tunes: No. 8, Dolly No. 2
16. Shulbrede Tunes: No. 9, In the Garden with the Dew on the Grass
17. Shulbrede Tunes: No. 10, Father Playmate
CD2
01. Willows
02. The Making of the Nightingale
03. Piano Sonata, H. 160: I. Lento ma non troppo - Andante ben moderato - Allegro energico
04. Piano Sonata, H. 160: II. Andante ben moderato
05. Piano Sonata, H. 160: III. Lento - Allegro non troppo
06. Night-Piece for Piano
07. Piano Sonata, Op. 99: I. Inquieto
08. Piano Sonata, Op. 99: II. Elegia. Lento e tenebroso
09. Piano Sonata, Op. 99: III. Alla vortice
ANALYZER: auCDtect: CD records authenticity detector, version 0.8.2
Copyright © 2004 Oleg Berngardt. All rights reserved.
Copyright © 2004 Alexander Djourik. All rights reserved.


FILE: 01 - Willows.flac
Size: 17589789 Hash: 974C986F81F245797FC2B811557C502D Accuracy: -m40
Conclusion: CDDA 100%
Signature: D08FC269808AFA1B4AEC1DFE7769F7BA82D6F664
FILE: 02 - The Making of the Nightingale.flac
Size: 7189183 Hash: 844A8658E33680B47FF326B3ADD59102 Accuracy: -m40
Conclusion: CDDA 100%
Signature: C846CF31C912C2616258F725A68CC91BC4670C9C
FILE: 03 - Piano Sonata, H. 160_ I. Lento ma non troppo - Andante ben moderato - Allegro energico.flac
Size: 51793207 Hash: 964324AB77A279214C653E2E472E1AF8 Accuracy: -m40
Conclusion: CDDA 100%
Signature: 7A7FA9702468C5DB977E6E5B452B86040FEB1924
FILE: 04 - Piano Sonata, H. 160_ II. Andante ben moderato.flac
Size: 22682717 Hash: 99350C860DEC882198F186501FB8400B Accuracy: -m40
Conclusion: CDDA 100%
Signature: 40F028A30185B58D49444D1895B53ABEEAA1BD5A
FILE: 05 - Piano Sonata, H. 160_ III. Lento - Allegro non troppo.flac
Size: 33395817 Hash: 4BBC80F8BFAF892C035C31DFA5075CEA Accuracy: -m40
Conclusion: CDDA 100%
Signature: 52347EF8B5FA62B6585E7741DC488A6C59709C44
FILE: 06 - Night-Piece for Piano.flac
Size: 16591267 Hash: 921D8DE7EF2D03CB39929CF5CC2A3AB9 Accuracy: -m40
Conclusion: CDDA 100%
Signature: 0B9783CB6FA9D58DE22D090A92EF12BF12CC952F
FILE: 07 - Piano Sonata, Op. 99_ I. Inquieto.flac
Size: 22336830 Hash: E6476E9D97AADDF5125148B3E44F0B1E Accuracy: -m40
Conclusion: CDDA 99%
Signature: C3AC8E57B2D8CB535BBA325F128B34638A48DC5F
FILE: 08 - Piano Sonata, Op. 99_ II. Elegia. Lento e tenebroso.flac
Size: 21416199 Hash: 9DF5AAE33955CAF81ADDCAF702CCA120 Accuracy: -m40
Conclusion: CDDA 100%
Signature: 0E7E4BD1AA86D21590F091C3E59512F1DE9A8387
FILE: 09 - Piano Sonata, Op. 99_ III. Alla vortice.flac
Size: 27237692 Hash: 259283473321E5529719CB38EBDA7429 Accuracy: -m40
Conclusion: CDDA 100%
Signature: CCB12D57F3B31ED84CC68ED3E0612E261C793B3D
FILE: 01 - Piano Sonata in B Minor_ I. Allegro, fieramente e rubato.flac
Size: 28007842 Hash: EB6DEBF94F7F5E9479AE92C6C0DD7603 Accuracy: -m40
Conclusion: CDDA 99%
Signature: 5ACB5D223FADF601DB9CE54CE22C4A7EFD72521F
FILE: 02 - Piano Sonata in B Minor_ II. Lento e mesto.flac
Size: 10097020 Hash: 1CB6352FD7A4031870E56CBD00993BAF Accuracy: -m40
Conclusion: CDDA 100%
Signature: 2D41279650F48E8FA69B9A491D950DB227FEA24A
FILE: 03 - Piano Sonata in B Minor_ III. Allegro scherzoso (Poco rubato).flac
Size: 17857357 Hash: A67D8379DB19A0826DDDD6F382B2E0DB Accuracy: -m40
Conclusion: CDDA 100%
Signature: 540CFBCB2A6DC02E2792699280A1471FE22ED48A
FILE: 04 - Variations & Fugue in B Minor, Op. 1.flac
Size: 34857701 Hash: 2E6E65080739051CFCEC3AE2894CCFDC Accuracy: -m40
Conclusion: CDDA 100%
Signature: E318AF865AFA3D252A1F9849A4EEFB702639F210
FILE: 05 - An Essex Rhapsody, Op. 36.flac
Size: 25274601 Hash: D576160293C97FF2675756DF9AF0D1A2 Accuracy: -m40
Conclusion: CDDA 43%
Signature: 38B43EC385C195192B23C0A6C59A76028AF51BF3
FILE: 06 - Ballade for Piano in D-Flat Major.flac
Size: 13138740 Hash: 13BECD4B914ECA0393806385706300C1 Accuracy: -m40
Conclusion: CDDA 100%
Signature: E7963922D90316BBF6D49D2053DEE8C168A59DD7
FILE: 07 - Nocturnus, Op. 90_ No. 5, Wind oor die Branders.flac
Size: 10650665 Hash: C7251CC19855DA5DACEADA7DFE7C64E1 Accuracy: -m40
Conclusion: CDDA 100%
Signature: A56CD0C4B22EB689142523D703677C7A5EB52AAB
FILE: 08 - Shulbrede Tunes_ No. 1, Shulbrede.flac
Size: 6848026 Hash: 6C88D8B4A318E4B62F2E9C3CA994143A Accuracy: -m40
Conclusion: CDDA 100%
Signature: 26013ADE22E3EBB72435EA0B96512EFF66D8C3B4
FILE: 09 - Shulbrede Tunes_ No. 2, Elizabeth.flac
Size: 5521147 Hash: 2C01670BE37D6B28C16B1085986FEB39 Accuracy: -m40
Conclusion: CDDA 100%
Signature: 3B6193EF37DC73F6A0A3493E854B098DF6138129
FILE: 10 - Shulbrede Tunes_ No. 3, Dolly No. 1.flac
Size: 6425169 Hash: 533D4F231AFDAA94A8A9596232F7D767 Accuracy: -m40
Conclusion: CDDA 99%
Signature: 31C842F300442DDF15D1876B48CCAAF59C5C8BD8
FILE: 11 - Shulbrede Tunes_ No. 4, Bogies and Sprites That Gambol by Nights.flac
Size: 7707867 Hash: 2BE1132AEE41E918BC62BED428471323 Accuracy: -m40
Conclusion: CDDA 100%
Signature: C14C448A1BFFAA18DB58E80753DFAA62273B65CE
FILE: 12 - Shulbrede Tunes_ No. 5, Matthew.flac
Size: 8500373 Hash: 5694FFD19F2825F8967E7A6C581ECB75 Accuracy: -m40
Conclusion: CDDA 86%
Signature: EC3ABACFCDC766E7FFAA715F5CCBA7BA15D4ADE8
FILE: 13 - Shulbrede Tunes_ No. 6, Prior's Chamber by Firelight.flac
Size: 13878031 Hash: 027281031E2B988F3212333B23B3CC39 Accuracy: -m40
Conclusion: CDDA 100%
Signature: E2DD0E8997D05E885719E8145CECF3DA7FDBF64F
FILE: 14 - Shulbrede Tunes_ No. 7, Children's Pranks.flac
Size: 9622429 Hash: C6733DC1ECBDD2A99524A567A0E1D98F Accuracy: -m40
Conclusion: CDDA 99%
Signature: B122D0850CFF43FA6602D5A2F778FF25955DEE1E
FILE: 15 - Shulbrede Tunes_ No. 8, Dolly No. 2.flac
Size: 8849057 Hash: 6621E9BFBC3460A29771374C586D90F1 Accuracy: -m40
Conclusion: CDDA 99%
Signature: CF2D8B67B09AA0F3F687BF11ADDD4E6A99B3AE2E
FILE: 16 - Shulbrede Tunes_ No. 9, In the Garden with the Dew on the Grass.flac
Size: 6192309 Hash: A1888E676D54706BDB1D5CD7759BAE5D Accuracy: -m40
Conclusion: CDDA 100%
Signature: 276EA4512DD79BDCD57A7699A37D5A39BD681196
FILE: 17 - Shulbrede Tunes_ No. 10, Father Playmate.flac
Size: 18366436 Hash: 2D5A198735FF5EE3CD95CDE5ADFC853D Accuracy: -m40
Conclusion: CDDA 100%
Signature: 4D08260B5356E445AF434E33422656BBD822C2F8