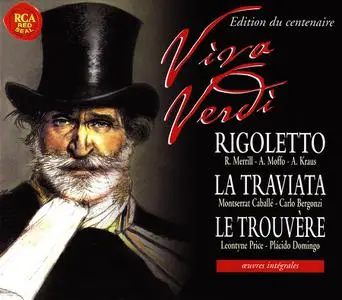 Georg Solti, Georges Pretre, Zubin Mehta - Viva Verdi: Rigoletto, La Traviata, Il Trovatore (2000)
EAC | FLAC | Image (Cue & Log) ~ 1.58 Gb | Total time: 53:37+59:35+71:36+53:08+70:47+65:57 | Scans included
Classical | Label: RCA | # 74321 799622 | Recorded: 1963, 1967, 1970
Verdi, child of the people, king of popular opera, began life as the son of an innkeeper. He was brought up in modest circumstances. He first received lessons from the village priest, who was amazed by the young musician's talents. Verdi's musical education was rounded and complete: at the age of sixteen, the composer wrote fugues, masses and symphonies, which he would later destroy. As he met with reticence in Milan, he settled in Busseto where he fell victim to the pettiness of the town. However, his strong willpower enabled him to pursue his musical path without paying heed to what people said.
As early as 1838, Verdi was thinking of the opera and composed his first theatrical works in the style of Donizetti and Bellini. His first great success came in 1842 with the premiere of Nabucco at the Scala. Verdi was admired, celebrated, copied and envied. Without respite, Verdi composed numerous works and won great acclaim for his Romantic opera. Rigoletto, Il Trovatore, La Traviata and Aida bear witness to Verdi's art.
With refined orchestral colours, a unique sense of lyricism and lively choral writing, Verdi strengthened dramatic cohesion and attained an apogee with Othello and Falstaff, which transpose Shakespeare's universe into music. Taking that Italy is the homeland of opera, Verdi was worshipped there like a god. "Viva Verdi!" was chalked on walls and the musician remained fervently patriotic. Far from Wagner, Verdi shines for his humanism and his great moral strength, which is brilliantly reflected in his music.
Performer:
Rigoletto (CD1 & CD2)
Rigoletto - Robert Merrill
Gilda - Anna Moffo
Duc de Mantoue - Alfredo Kraus
Maddalena - Rosalind Elias
Sparafucile - Ezio Flagello
Comte Monterone – David Ward
Giovanna – Anna di Stasio
Marullo – Robert Kerns
Borsa – Piero de Palma
Comte Ceprano – Nario Rinaudo
Comtesse Ceprano – Corinna Vozza
Un page – Tina Toscano
Un herault – Enzo Titta
Choeur et Orchester RCA d'Opera Italien
Direction – Georg Solti
La Traviata (CD3 & CD4)
Violetta Valery - Montserrat Caballé
Alfredo Germont - Carlo Bergonzi
Giorgio Germont - Sherrill Milnes
Flora Bervoix - Dorothy Krebill
Gastone - Fernando Jacopucci
Barón Douphol - Gene Boucher
Marqués D'Obigny - Thomas Jamerson
Docteur Grenvil - Harold Enns
Annina - Nancy Stokes
Giuseppe - Camilo Sforza
Un messager - Franco Ruta
Un serviteur - Flavio Tasin
Choeur et Orchester RCA d'Opera Italien
Direction – Georges Prêtre
Il Trovatore (CD5 & CD6)
Leonora - Leontyne Price
Manrico - Plácido Domingo
Comte de la Luna - Sherrill Milnes
Azucena - Fiorenza Cossotto
Ferrando - Bonaldo Giaiotti
Ines - Elizabeth Bainbridge
Ruiz - Ryland Davies
Un vieux gitan - Stanley Riley
Un messager - Neilson Taylor
Choeur Ambrosian
Orchestre New Philharmonia
Direction – Zubin Mehta
Track List:
Rigoletto
CD1:
01. Preludio
02. Atto I. Della mia bella incognita borghese (Duca, Borsa)
03. Questa o quella (Duca)
04. Partite? Crudele! (Duca, Contessa di Ceprano, Rigoletto, Coro)
05. Gran nuova! (Duca, Rigoletto, Marullo, Borsa, Coro)
06. Ch'io gli parli (Duca, Rigoletto, Monterone, Coro)
07. Atto II. Quel vecchio maledivami! (Rigoletto, Sparafucile)
08. Pari siamo! Io la gingua (Rigoletto)
09. Figlia! - Mio padre! (Rigoletto, Gilda, Giovanna)
10. Ah! veglia, o donna (Rigoletto, Gilda, Duca, Giovanna)
11. Giovanna, ho dei rimorsi (Gilda, Giovanna, Duca)
12. Che m'ami, deh! ripetimi (Gilda, Duca)
13. Gualtier Maldè; Caro nome (Gilda)
14. Riedo! perchè? (Rigoletto, Borsa, Ceprano, Marullo)
15. Zitti, zitti, moviamo a vendetta (Rigoletto, Borsa, Ceprano, Marullo, Coro)
CD2:
01. Atto III. Ella mi fu rapita!; Parmi! veder le lagrime (Duca)
02. Duca, Duca? (Duca, Tutti)
03. Possente amor mi chiama (Duca, Tutti)
04. Povero Rigoletto! (Rigoletto, Borsa, Ceprano, Marullo, Coro)
05. Cortiginai, vil razza dannata (Rigoletto)
06. Mio Padre! - Dio! mia Gilda! (Rigoletto, Gilda)
07. Tutte le feste al tempio (Rigoletto, Gilda)
08. Schiudete! (Rigoletto, Monterone, Usciere di corte)
09. Si, vendetta, tremenda vendetta (Rigoletto, Gilda)
10. Atto IV. E l'ami? - Sempre (Rigoletto, Gilda, Duca, Sparafucile)
11. La donna è mobile (Duca)
12. È là il vostr'uomo (Sparafucile, Rigoletto)
13. Un dì, se ben rammentomi (Duca, Gilda, Maddalena, Rigoletto)
14. Bella figlia dell'amore (Duca, Gilda, Rigoletto, Maddalena)
15. Venti scudi hai tu detto? (Rigoletto, Sparafucile, Duca, Maddalena)
16. Ah, più non ragiono! (Gilda, Maddalena, Sparafucile)
17. Ancor c'è mezz'ora (Sparafucile, Maddalena, Gilda)
18. Della vendetta alfin (Rigoletto, Sparafucile, Duca)
19. Chi è mai? (Rigoletto, Gilda)
20. V'ho ingannato, colpevole fui (Gilda, Rigoletto)
21. Lassù in cielo (Gilda, Rigoletto)
La Traviata
CD3:
01. Preludio
02. Atto I. Dell'invito trascorsa è già l'ora (Violetta, Flora, Alfredo, Gastone, Marchese, Dottore, Coro)
03. Libiamo ne'lieti calici (Brindisi) (Violetta, Alfredo, Coro)
04. Che è ciò? (Violeta, Flora, Alfredo, Gastone, Marchese, Dottore, Coro)
05. Un dì felice eterea (Alfredo, Violetta)
06. Ebben? Che diavol fate? (Gastone, Violetta)
07. Si ridesta in ciel l'aurora (Coro)
08. È strano, è strano! Ah, fors'è lui (Violetta)
09. Follie! Follie! Delirio vano (Violetta)
10. Sempre libera (Violetta, Alfredo)
11. Atto II. Scene 1. Lunge da lei; De' miei bollenti spiriti (Alfredo, Annina)
12. Oh, mio rimorso! (Alfredo)
13. Alfredo? Per Parigi or partiva (Violetta, Annina, Germont)
14. Pura siccome un angelo (Germont, Violetta)
15. Non sapete quale affetto (Germont, Violetta)
16. Ah, dite alla giovine (Germont, Violetta)
17. Morrò! Morrò! (Germont, Violetta)
18. Dammi tu forza, o cielo! (Violetta, Alfredo)
19. Ah, vive sol quel core all'amor mio! (Alfredo, Germont)
20. Di Provenza (Germont)
21. Nè rispondi (Alfredo, Germont)
22. Non, non udrai rimproveri (Alfredo, Germont)
CD4:
01. Scene 2. Avrem lieta di maschere la notte (Flora, Marchese, Dottore)
02. Noi siamo zingarelle (Coro)
03. Di Madride noi siam mattadori (Coro)
04. Alfredo! Voi? (Flora, Gastone, Dottore, Marchese, Baron, Alfredo, Violetta, Coro)
05. Invitato a qui seguirmi (Violetta, Alfredo, Coro)
06. Ogni suo aver tal femmina (Alfredo, Coro)
07. Da sprezzo degno sè stesso rende (Germont, Alfredo, Violetta, Flora, Coro)
08. Atto III. Preludio
09. Annina? - Commandante? (Violetta, Annina, Dottore)
10. ''Teneste la promessa…'' (Violetta)
11. Addio del passato (Violetta)
12. Largo al quadrupede (Coro)
13. Signora - Che t'accadde? (Annina, Violetta, Alfredo)
14. Parigi, o cara (Alfredo, Violetta)
15. Ah, non più (Violetta, Alfredo)
16. Ah, gran Dio, morir sì giovine (Violetta, Alfredo)
17. Ah, Violetta! - Voi, signor! (Germont, Violetta, Alfredo)
18. Prendi, quest'è l'immagine (Violetta, Alfredo, Germont)
19. È strano! (Violetta, Germont, Alfredo, Annina, Dottore)
Il Trovatore
CD5:
01. Atto I. Scena 1. All'erta! all'erta! (Ferrando, Coro)
02. Die due figli vivea (Ferrando, Coro)
03. Scena 2. Che più t'arresti? (Ines Leonora)
04. Tacea la notte placida (Leonora, Ines)
05. Di tale amor, che dirsi (Leonora, Ines)
06. Tace la notte! (Luna)
07. Deserto sulla terra (Manrico, Luna)
08. Non m'inganno (Luna, Leonora, Manrico)
09. Di geloso amor sprezzato (Luna, Leonora, Manrico)
10. Atto II. Scena 1. Vedi! Le fosche notturne spoglie (Coro)
11. Stride la vampa! (Azucena, Un vecchio zingaro, Coro, Manrico)
12. Soli or siamo! (Manrico, Azucena)
13. Condotta ell'era in ceppi (Azucena, Manrico)
14. Non son tuo figlio? (Manrico, Azucena)
15. Mal reggendo all'aspro assalto (Manrico, Azucena)
16. Inoltra il piè (Manrico, Un messo, Azucena)
17. Perigliarti ancor languente (Azucena, Manrico)
18. Scena 2. Tutto è deserto (Luna, Ferrando)
19. Il balen del suo sorriso (Luna)
20. Quel suono! Oh ciel! (Luna, Ferrando, Coro)
21. Per me ora fatale (Luna, Ferrando, Coro)
22. Ah! se l'error t'ingombra (Luna, Ferrando, Coro)
23. Perchè piangete? (Leonora, Ines, Luna, Coro)
24. E deggio e posso crederlo? (Leonora, Luna, Manrico, Ines, Ferrando, Ruiz, Coro)
CD6:
01. Atto III. Scena 1. Or co' dadi (Coro, Ferrando)
02. Squilli, echeggi la tromba guerriera (Ferrando, Coro)
03. In braccio al mio rival! (Luna, Ferrando, Azucena, Coro)
04. Scena 2. Quale d'armi fragor poc'anzi intesi? (Leonora, Manrico)
05. Ah sì, ben mio (Manrico)
06. L'onda de' suoni mistici (Leonora, Manrico, Ruiz)
07. Di quella pira (Manrico, Leonora, Ruiz, Coro)
08. Atto IV. Scena 1. Siam giunti: ecco la torre (Leonora, Ruiz)
09. D'amor sull'ali rosee (Leonora)
10. Miserere d'un'alma già vicina (Coro, Leonora, Manrico)
11. Tu vedrai che amore in terra (Leonora)
12. Udiste? Come albeggi, la scure al figlio (Luna, Leonora)
13. Mira, di acerbe lagrime (Leonora, Luna)
14. Vivrà! … Contende il giubilo (Leonora, Luna)
15. Scena 2. Madre, non dormi? (Manrico, Azucena)
16. Ai nostri monti ritorneremo (Azucena, Manrico)
17. Che … Non m'inganna! (Manrico, Leonora, Azucena, Luna)

Exact Audio Copy V1.6 from 23. October 2020

EAC extraction logfile from 25. March 2022, 17:32

Georg Solti, RCA Italiana Opera Orchestra / Verdi - Rigoletto CD1

Used drive : PIONEER DVD-RW DVR-218L Adapter: 1 ID: 0

Read mode : Secure
Utilize accurate stream : Yes
Defeat audio cache : Yes
Make use of C2 pointers : No

Read offset correction : 6
Overread into Lead-In and Lead-Out : No
Fill up missing offset samples with silence : Yes
Delete leading and trailing silent blocks : No
Null samples used in CRC calculations : Yes
Used interface : Native Win32 interface for Win NT & 2000

Used output format : User Defined Encoder
Selected bitrate : 768 kBit/s
Quality : High
Add ID3 tag : No
Command line compressor : C:\Program Files\Exact Audio Copy\FLAC\FLAC.EXE
Additional command line options : -6 -V -T "ARTIST=%artist%" -T "TITLE=%title%" -T "ALBUM=%albumtitle%" -T "DATE=%year%" -T "TRACKNUMBER=%tracknr%" -T "GENRE=%genre%" -T "COMMENT=%comment%" -T "BAND=%albuminterpret%" -T "ALBUMARTIST=%albuminterpret%" -T "COMPOSER=%composer%" %haslyrics%–tag-from-file=LYRICS="%lyricsfile%"%haslyrics% -T "DISCNUMBER=%cdnumber%" -T "TOTALDISCS=%totalcds%" -T "TOTALTRACKS=%numtracks%" %hascover%–picture="%coverfile%"%hascover% %source% -o %dest%


TOC of the extracted CD

Track | Start | Length | Start sector | End sector
––––––––––––––––––––––––––––-
1 | 0:00.32 | 2:20.38 | 32 | 10569
2 | 2:20.70 | 1:38.32 | 10570 | 17951
3 | 3:59.27 | 1:44.65 | 17952 | 25816
4 | 5:44.17 | 2:07.70 | 25817 | 35411
5 | 7:52.12 | 2:33.43 | 35412 | 46929
6 | 10:25.55 | 4:30.50 | 46930 | 67229
7 | 14:56.30 | 4:10.35 | 67230 | 86014
8 | 19:06.65 | 3:35.22 | 86015 | 102161
9 | 22:42.12 | 6:06.35 | 102162 | 129646
10 | 28:48.47 | 5:04.10 | 129647 | 152456
11 | 33:52.57 | 5:57.05 | 152457 | 179236
12 | 39:49.62 | 1:50.45 | 179237 | 187531
13 | 41:40.32 | 6:53.65 | 187532 | 218571
14 | 48:34.22 | 2:23.65 | 218572 | 229361
15 | 50:58.12 | 2:42.68 | 229362 | 241579


Range status and errors

Selected range

Filename D:\ArlegZ\Verdi - Rigoletto - Georg Solti CD1.wav

Peak level 97.7 %
Extraction speed 1.8 X
Range quality 99.9 %
Test CRC 678E3658
Copy CRC 678E3658
Copy OK

No errors occurred


AccurateRip summary

Track 1 cannot be verified as accurate (confidence 2) [06DE7165], AccurateRip returned [9E6101C0] (AR v2)
Track 2 cannot be verified as accurate (confidence 2) [8FD3BE57], AccurateRip returned [6FE88E0E] (AR v2)
Track 3 cannot be verified as accurate (confidence 2) [B022122B], AccurateRip returned [4E33EA0B] (AR v2)
Track 4 cannot be verified as accurate (confidence 2) [EDAF81D9], AccurateRip returned [607F0596] (AR v2)
Track 5 cannot be verified as accurate (confidence 2) [CFF61290], AccurateRip returned [0A4C7B33] (AR v2)
Track 6 cannot be verified as accurate (confidence 2) [A61225DE], AccurateRip returned [D51EAD84] (AR v2)
Track 7 cannot be verified as accurate (confidence 2) [DDAEEA1B], AccurateRip returned [7E210294] (AR v2)
Track 8 cannot be verified as accurate (confidence 2) [357180AD], AccurateRip returned [083F9A2B] (AR v2)
Track 9 cannot be verified as accurate (confidence 2) [8F3E77D4], AccurateRip returned [125B40B2] (AR v2)
Track 10 cannot be verified as accurate (confidence 2) [889649CB], AccurateRip returned [C4FAD145] (AR v2)
Track 11 cannot be verified as accurate (confidence 2) [0BBEE12E], AccurateRip returned [EB772CD2] (AR v2)
Track 12 cannot be verified as accurate (confidence 2) [77FB4236], AccurateRip returned [CB8B99AB] (AR v2)
Track 13 cannot be verified as accurate (confidence 2) [293BB5E2], AccurateRip returned [F17D7C44] (AR v2)
Track 14 cannot be verified as accurate (confidence 2) [4EACB171], AccurateRip returned [F236808B] (AR v2)
Track 15 cannot be verified as accurate (confidence 2) [16DC8D2C], AccurateRip returned [F2138E04] (AR v2)

No tracks could be verified as accurate
You may have a different pressing from the one(s) in the database

End of status report

–– CUETools DB Plugin V2.1.6

[CTDB TOCID: 0zGcRFGZaHjRIFt4TWnVjhB_Io8-] found
Submit result: 0zGcRFGZaHjRIFt4TWnVjhB_Io8- has been submitted
Track | CTDB Status
1 | (7/7) Accurately ripped
2 | (7/7) Accurately ripped
3 | (7/7) Accurately ripped
4 | (7/7) Accurately ripped
5 | (7/7) Accurately ripped
6 | (7/7) Accurately ripped
7 | (7/7) Accurately ripped
8 | (7/7) Accurately ripped
9 | (7/7) Accurately ripped
10 | (7/7) Accurately ripped
11 | (7/7) Accurately ripped
12 | (7/7) Accurately ripped
13 | (7/7) Accurately ripped
14 | (7/7) Accurately ripped
15 | (7/7) Differs in 60 samples @00:49:33-00:49:34
If you are sure that your rip contains errors, you can use CUETools to repair it.


==== Log checksum 0B77E084D575C645CC56E070994F6209FE6BBB8E725AEB37450D327623B0B0D3 ====


Exact Audio Copy V1.6 from 23. October 2020

EAC extraction logfile from 25. March 2022, 18:44

Georg Solti, RCA Italiana Opera Orchestra / Verdi - Rigoletto CD2

Used drive : PIONEER DVD-RW DVR-218L Adapter: 1 ID: 0

Read mode : Secure
Utilize accurate stream : Yes
Defeat audio cache : Yes
Make use of C2 pointers : No

Read offset correction : 6
Overread into Lead-In and Lead-Out : No
Fill up missing offset samples with silence : Yes
Delete leading and trailing silent blocks : No
Null samples used in CRC calculations : Yes
Used interface : Native Win32 interface for Win NT & 2000

Used output format : User Defined Encoder
Selected bitrate : 768 kBit/s
Quality : High
Add ID3 tag : No
Command line compressor : C:\Program Files\Exact Audio Copy\FLAC\FLAC.EXE
Additional command line options : -6 -V -T "ARTIST=%artist%" -T "TITLE=%title%" -T "ALBUM=%albumtitle%" -T "DATE=%year%" -T "TRACKNUMBER=%tracknr%" -T "GENRE=%genre%" -T "COMMENT=%comment%" -T "BAND=%albuminterpret%" -T "ALBUMARTIST=%albuminterpret%" -T "COMPOSER=%composer%" %haslyrics%–tag-from-file=LYRICS="%lyricsfile%"%haslyrics% -T "DISCNUMBER=%cdnumber%" -T "TOTALDISCS=%totalcds%" -T "TOTALTRACKS=%numtracks%" %hascover%–picture="%coverfile%"%hascover% %source% -o %dest%


TOC of the extracted CD

Track | Start | Length | Start sector | End sector
––––––––––––––––––––––––––––-
1 | 0:00.32 | 5:03.73 | 32 | 22829
2 | 5:04.30 | 2:37.47 | 22830 | 34651
3 | 7:42.02 | 2:59.60 | 34652 | 48136
4 | 10:41.62 | 3:29.40 | 48137 | 63851
5 | 14:11.27 | 4:09.58 | 63852 | 82584
6 | 18:21.10 | 1:47.40 | 82585 | 90649
7 | 20:08.50 | 6:39.05 | 90650 | 120579
8 | 26:47.55 | 0:56.60 | 120580 | 124839
9 | 27:44.40 | 2:08.32 | 124840 | 134471
10 | 29:52.72 | 1:51.10 | 134472 | 142806
11 | 31:44.07 | 2:05.55 | 142807 | 152236
12 | 33:49.62 | 0:41.73 | 152237 | 155384
13 | 34:31.60 | 1:27.05 | 155385 | 161914
14 | 35:58.65 | 4:01.72 | 161915 | 180061
15 | 40:00.62 | 4:06.55 | 180062 | 198566
16 | 44:07.42 | 2:14.00 | 198567 | 208616
17 | 46:21.42 | 2:54.18 | 208617 | 221684
18 | 49:15.60 | 4:17.12 | 221685 | 240971
19 | 53:32.72 | 1:50.03 | 240972 | 249224
20 | 55:23.00 | 1:20.15 | 249225 | 255239
21 | 56:43.15 | 2:56.25 | 255240 | 268464


Range status and errors

Selected range

Filename D:\ArlegZ\Verdi - Rigoletto - Georg Solti CD2.wav

Peak level 100.0 %
Extraction speed 1.9 X
Range quality 100.0 %
Test CRC 9B87BB20
Copy CRC 9B87BB20
Copy OK

No errors occurred


AccurateRip summary

Track 1 cannot be verified as accurate (confidence 2) [E2EEAD03], AccurateRip returned [E6A965DA] (AR v2)
Track 2 cannot be verified as accurate (confidence 2) [82F3EDC3], AccurateRip returned [572510EF] (AR v2)
Track 3 cannot be verified as accurate (confidence 2) [AB8D4C4E], AccurateRip returned [CD6C0BBC] (AR v2)
Track 4 cannot be verified as accurate (confidence 2) [66BEAFDA], AccurateRip returned [7C2E571A] (AR v2)
Track 5 cannot be verified as accurate (confidence 2) [9FA1D68D], AccurateRip returned [D13C0D6A] (AR v2)
Track 6 cannot be verified as accurate (confidence 2) [4CF4F407], AccurateRip returned [E7F6929C] (AR v2)
Track 7 cannot be verified as accurate (confidence 2) [74661FE2], AccurateRip returned [BF8B535A] (AR v2)
Track 8 cannot be verified as accurate (confidence 2) [D7745D0F], AccurateRip returned [C6AFA02C] (AR v2)
Track 9 cannot be verified as accurate (confidence 2) [9103B035], AccurateRip returned [36829890] (AR v2)
Track 10 cannot be verified as accurate (confidence 2) [4CC0D920], AccurateRip returned [6152D6B2] (AR v2)
Track 11 cannot be verified as accurate (confidence 2) [C3D9E67B], AccurateRip returned [7FB810D8] (AR v2)
Track 12 cannot be verified as accurate (confidence 2) [A6168739], AccurateRip returned [F0B2990F] (AR v2)
Track 13 cannot be verified as accurate (confidence 2) [1DDD58BF], AccurateRip returned [E95F91C5] (AR v2)
Track 14 cannot be verified as accurate (confidence 2) [067188E5], AccurateRip returned [486BA887] (AR v2)
Track 15 cannot be verified as accurate (confidence 2) [2E0508D4], AccurateRip returned [8E9AD7D0] (AR v2)
Track 16 cannot be verified as accurate (confidence 2) [134C6709], AccurateRip returned [2D8A5008] (AR v2)
Track 17 cannot be verified as accurate (confidence 2) [C74C84D8], AccurateRip returned [302BCE54] (AR v2)
Track 18 cannot be verified as accurate (confidence 2) [1832F55D], AccurateRip returned [AB96CB7C] (AR v2)
Track 19 cannot be verified as accurate (confidence 2) [BB69717A], AccurateRip returned [8F5050E1] (AR v2)
Track 20 cannot be verified as accurate (confidence 2) [57315AFD], AccurateRip returned [7199EEE6] (AR v2)
Track 21 cannot be verified as accurate (confidence 2) [5D5C879C], AccurateRip returned [02E711AB] (AR v2)

No tracks could be verified as accurate
You may have a different pressing from the one(s) in the database

End of status report

–– CUETools DB Plugin V2.1.6

[CTDB TOCID: ZQibVXDx98Nv_VYIvQdpYOrXnlw-] found
Submit result: ZQibVXDx98Nv_VYIvQdpYOrXnlw- has been confirmed
Track | CTDB Status
1 | (7/7) Accurately ripped
2 | (7/7) Accurately ripped
3 | (7/7) Accurately ripped
4 | (7/7) Accurately ripped
5 | (7/7) Accurately ripped
6 | (7/7) Accurately ripped
7 | (7/7) Accurately ripped
8 | (7/7) Accurately ripped
9 | (7/7) Accurately ripped
10 | (7/7) Accurately ripped
11 | (7/7) Accurately ripped
12 | (7/7) Accurately ripped
13 | (7/7) Accurately ripped
14 | (7/7) Accurately ripped
15 | (7/7) Accurately ripped
16 | (7/7) Accurately ripped
17 | (7/7) Accurately ripped
18 | (7/7) Accurately ripped
19 | (7/7) Accurately ripped
20 | (7/7) Accurately ripped
21 | (7/7) Accurately ripped


==== Log checksum BA10DEEEB84BBEAA5F6F87EAD88EA0B2A112180EBF24066CA9364FE9F79ACAE4 ====


Exact Audio Copy V1.6 from 23. October 2020

EAC extraction logfile from 26. March 2022, 11:49

Georges Prêtre, RCA Italiana Opera Orchestra / Verdi - La Traviata CD1

Used drive : PIONEER DVD-RW DVR-218L Adapter: 1 ID: 0

Read mode : Secure
Utilize accurate stream : Yes
Defeat audio cache : Yes
Make use of C2 pointers : No

Read offset correction : 6
Overread into Lead-In and Lead-Out : No
Fill up missing offset samples with silence : Yes
Delete leading and trailing silent blocks : No
Null samples used in CRC calculations : Yes
Used interface : Native Win32 interface for Win NT & 2000

Used output format : User Defined Encoder
Selected bitrate : 768 kBit/s
Quality : High
Add ID3 tag : No
Command line compressor : C:\Program Files\Exact Audio Copy\FLAC\FLAC.EXE
Additional command line options : -6 -V -T "ARTIST=%artist%" -T "TITLE=%title%" -T "ALBUM=%albumtitle%" -T "DATE=%year%" -T "TRACKNUMBER=%tracknr%" -T "GENRE=%genre%" -T "COMMENT=%comment%" -T "BAND=%albuminterpret%" -T "ALBUMARTIST=%albuminterpret%" -T "COMPOSER=%composer%" %haslyrics%–tag-from-file=LYRICS="%lyricsfile%"%haslyrics% -T "DISCNUMBER=%cdnumber%" -T "TOTALDISCS=%totalcds%" -T "TOTALTRACKS=%numtracks%" %hascover%–picture="%coverfile%"%hascover% %source% -o %dest%


TOC of the extracted CD

Track | Start | Length | Start sector | End sector
––––––––––––––––––––––––––––-
1 | 0:00.32 | 3:33.38 | 32 | 16044
2 | 3:33.70 | 4:44.12 | 16045 | 37356
3 | 8:18.07 | 3:03.48 | 37357 | 51129
4 | 11:21.55 | 2:23.15 | 51130 | 61869
5 | 13:44.70 | 3:17.72 | 61870 | 76716
6 | 17:02.67 | 1:16.00 | 76717 | 82416
7 | 18:18.67 | 1:33.05 | 82417 | 89396
8 | 19:51.72 | 6:11.38 | 89397 | 117259
9 | 26:03.35 | 1:07.15 | 117260 | 122299
10 | 27:10.50 | 3:49.45 | 122300 | 139519
11 | 31:00.20 | 4:07.22 | 139520 | 158066
12 | 35:07.42 | 3:02.00 | 158067 | 171716
13 | 38:09.42 | 3:49.63 | 171717 | 188954
14 | 41:59.30 | 1:37.12 | 188955 | 196241
15 | 43:36.42 | 4:41.68 | 196242 | 217384
16 | 48:18.35 | 5:39.27 | 217385 | 242836
17 | 53:57.62 | 3:34.50 | 242837 | 258936
18 | 57:32.37 | 3:50.48 | 258937 | 276234
19 | 61:23.10 | 2:15.32 | 276235 | 286391
20 | 63:38.42 | 3:59.30 | 286392 | 304346
21 | 67:37.72 | 0:29.03 | 304347 | 306524
22 | 68:07.00 | 3:32.12 | 306525 | 322436


Range status and errors

Selected range

Filename D:\ArlegZ\Verdi - La Traviata - Georges Prêtre CD1.wav

Peak level 88.3 %
Extraction speed 2.1 X
Range quality 100.0 %
Test CRC B016D2FB
Copy CRC B016D2FB
Copy OK

No errors occurred


AccurateRip summary

Track 1 cannot be verified as accurate (confidence 1) [92F624C0], AccurateRip returned [632DF8B8] (AR v2)
Track 2 cannot be verified as accurate (confidence 1) [4A3AE97A], AccurateRip returned [926FEAC7] (AR v2)
Track 3 cannot be verified as accurate (confidence 1) [ABB0F0B4], AccurateRip returned [91C1644A] (AR v2)
Track 4 cannot be verified as accurate (confidence 1) [493ECD97], AccurateRip returned [88601432] (AR v2)
Track 5 cannot be verified as accurate (confidence 1) [B92E35B6], AccurateRip returned [84FFC471] (AR v2)
Track 6 cannot be verified as accurate (confidence 1) [4C7058BA], AccurateRip returned [37A236DB] (AR v2)
Track 7 cannot be verified as accurate (confidence 1) [7E8B181A], AccurateRip returned [8CD5DF22] (AR v2)
Track 8 cannot be verified as accurate (confidence 1) [59BF5279], AccurateRip returned [40A7121E] (AR v2)
Track 9 cannot be verified as accurate (confidence 1) [B015FD51], AccurateRip returned [46BF65D8] (AR v2)
Track 10 cannot be verified as accurate (confidence 1) [525C5535], AccurateRip returned [921F4142] (AR v2)
Track 11 cannot be verified as accurate (confidence 1) [54CB539A], AccurateRip returned [84A8E38B] (AR v2)
Track 12 cannot be verified as accurate (confidence 1) [6985D27C], AccurateRip returned [CD9D27B9] (AR v2)
Track 13 cannot be verified as accurate (confidence 1) [B240C33F], AccurateRip returned [DC039FF2] (AR v2)
Track 14 cannot be verified as accurate (confidence 1) [7359CF92], AccurateRip returned [3FD98B6E] (AR v2)
Track 15 cannot be verified as accurate (confidence 1) [89638A9F], AccurateRip returned [1C929323] (AR v2)
Track 16 cannot be verified as accurate (confidence 1) [AC2F70F1], AccurateRip returned [62DC2D30] (AR v2)
Track 17 cannot be verified as accurate (confidence 1) [FBF5BB7D], AccurateRip returned [82134A11] (AR v2)
Track 18 cannot be verified as accurate (confidence 1) [E400C010], AccurateRip returned [22C9C7EA] (AR v2)
Track 19 cannot be verified as accurate (confidence 1) [FC61849A], AccurateRip returned [60B86FB7] (AR v2)
Track 20 cannot be verified as accurate (confidence 1) [8044F50A], AccurateRip returned [B845FC07] (AR v2)
Track 21 cannot be verified as accurate (confidence 1) [1B2AAC2E], AccurateRip returned [40EBCF8F] (AR v2)
Track 22 cannot be verified as accurate (confidence 1) [5E96FA2F], AccurateRip returned [434FB1A7] (AR v2)

No tracks could be verified as accurate
You may have a different pressing from the one(s) in the database

End of status report

–– CUETools DB Plugin V2.1.6

[CTDB TOCID: ..zWnjdcoFJYg8Skde9L_jGRfZI-] found
Submit result: ..zWnjdcoFJYg8Skde9L_jGRfZI- has been confirmed
Track | CTDB Status
1 | (6/6) Accurately ripped
2 | (6/6) Accurately ripped
3 | (6/6) Accurately ripped
4 | (6/6) Accurately ripped
5 | (6/6) Accurately ripped
6 | (6/6) Accurately ripped
7 | (6/6) Accurately ripped
8 | (6/6) Accurately ripped
9 | (6/6) Accurately ripped
10 | (6/6) Accurately ripped
11 | (6/6) Accurately ripped
12 | (6/6) Accurately ripped
13 | (6/6) Accurately ripped
14 | (6/6) Accurately ripped
15 | (6/6) Accurately ripped
16 | (6/6) Accurately ripped
17 | (6/6) Accurately ripped
18 | (6/6) Accurately ripped
19 | (6/6) Accurately ripped
20 | (6/6) Accurately ripped
21 | (6/6) Accurately ripped
22 | (5/6) Accurately ripped


==== Log checksum 7D7625B14A3E1F421C3155170A44D3CD78657968D791411BA63EB15770FF21AA ====


Exact Audio Copy V1.6 from 23. October 2020

EAC extraction logfile from 26. March 2022, 12:50

Georges Prêtre, RCA Italiana Opera Orchestra / Verdi - La Traviata CD2

Used drive : PIONEER DVD-RW DVR-218L Adapter: 1 ID: 0

Read mode : Secure
Utilize accurate stream : Yes
Defeat audio cache : Yes
Make use of C2 pointers : No

Read offset correction : 6
Overread into Lead-In and Lead-Out : No
Fill up missing offset samples with silence : Yes
Delete leading and trailing silent blocks : No
Null samples used in CRC calculations : Yes
Used interface : Native Win32 interface for Win NT & 2000

Used output format : User Defined Encoder
Selected bitrate : 768 kBit/s
Quality : High
Add ID3 tag : No
Command line compressor : C:\Program Files\Exact Audio Copy\FLAC\FLAC.EXE
Additional command line options : -6 -V -T "ARTIST=%artist%" -T "TITLE=%title%" -T "ALBUM=%albumtitle%" -T "DATE=%year%" -T "TRACKNUMBER=%tracknr%" -T "GENRE=%genre%" -T "COMMENT=%comment%" -T "BAND=%albuminterpret%" -T "ALBUMARTIST=%albuminterpret%" -T "COMPOSER=%composer%" %haslyrics%–tag-from-file=LYRICS="%lyricsfile%"%haslyrics% -T "DISCNUMBER=%cdnumber%" -T "TOTALDISCS=%totalcds%" -T "TOTALTRACKS=%numtracks%" %hascover%–picture="%coverfile%"%hascover% %source% -o %dest%


TOC of the extracted CD

Track | Start | Length | Start sector | End sector
––––––––––––––––––––––––––––-
1 | 0:00.32 | 1:06.45 | 32 | 5026
2 | 1:07.02 | 2:52.55 | 5027 | 17981
3 | 3:59.57 | 2:36.48 | 17982 | 29729
4 | 6:36.30 | 3:51.65 | 29730 | 47119
5 | 10:28.20 | 2:26.15 | 47120 | 58084
6 | 12:54.35 | 1:33.65 | 58085 | 65124
7 | 14:28.25 | 5:47.45 | 65125 | 91194
8 | 20:15.70 | 3:23.17 | 91195 | 106436
9 | 23:39.12 | 4:17.58 | 106437 | 125769
10 | 27:56.70 | 1:36.12 | 125770 | 132981
11 | 29:33.07 | 5:59.38 | 132982 | 159944
12 | 35:32.45 | 0:45.27 | 159945 | 163346
13 | 36:17.72 | 1:44.68 | 163347 | 171214
14 | 38:02.65 | 4:23.00 | 171215 | 190939
15 | 42:25.65 | 1:46.20 | 190940 | 198909
16 | 44:12.10 | 2:54.57 | 198910 | 212016
17 | 47:06.67 | 1:40.65 | 212017 | 219581
18 | 48:47.57 | 3:10.20 | 219582 | 233851
19 | 51:58.02 | 1:13.53 | 233852 | 239379


Range status and errors

Selected range

Filename D:\ArlegZ\Verdi - La Traviata - Georges Prêtre CD2.wav

Peak level 80.0 %
Extraction speed 1.8 X
Range quality 100.0 %
Test CRC 973AF58E
Copy CRC 973AF58E
Copy OK

No errors occurred


AccurateRip summary

Track 1 accurately ripped (confidence 1) [CA3A9DA7] (AR v2)
Track 2 accurately ripped (confidence 1) [6536D8A7] (AR v2)
Track 3 accurately ripped (confidence 1) [A0344AD2] (AR v2)
Track 4 accurately ripped (confidence 1) [18470791] (AR v2)
Track 5 accurately ripped (confidence 1) [810B2E0E] (AR v2)
Track 6 accurately ripped (confidence 1) [A5099D51] (AR v2)
Track 7 accurately ripped (confidence 1) [A02D2C00] (AR v2)
Track 8 accurately ripped (confidence 1) [F71A7E00] (AR v2)
Track 9 accurately ripped (confidence 1) [DAAA7A24] (AR v2)
Track 10 accurately ripped (confidence 1) [82748037] (AR v2)
Track 11 accurately ripped (confidence 1) [47A67DE1] (AR v2)
Track 12 accurately ripped (confidence 1) [524E50C1] (AR v2)
Track 13 accurately ripped (confidence 1) [983E0431] (AR v2)
Track 14 accurately ripped (confidence 1) [010BBCCD] (AR v2)
Track 15 accurately ripped (confidence 1) [81FC91F6] (AR v2)
Track 16 accurately ripped (confidence 1) [E12D48CF] (AR v2)
Track 17 accurately ripped (confidence 1) [42B8E48A] (AR v2)
Track 18 accurately ripped (confidence 1) [66D19AA5] (AR v2)
Track 19 accurately ripped (confidence 1) [5D556E21] (AR v2)

All tracks accurately ripped

End of status report

–– CUETools DB Plugin V2.1.6

[CTDB TOCID: IKChJu9u3rUKlzTzwLoJavR2EPQ-] found
Submit result: IKChJu9u3rUKlzTzwLoJavR2EPQ- has been confirmed
Track | CTDB Status
1 | (5/5) Accurately ripped
2 | (5/5) Accurately ripped
3 | (5/5) Accurately ripped
4 | (5/5) Accurately ripped
5 | (5/5) Accurately ripped
6 | (5/5) Accurately ripped
7 | (5/5) Accurately ripped
8 | (5/5) Accurately ripped
9 | (5/5) Accurately ripped
10 | (5/5) Accurately ripped
11 | (5/5) Accurately ripped
12 | (5/5) Accurately ripped
13 | (5/5) Accurately ripped
14 | (5/5) Accurately ripped
15 | (5/5) Accurately ripped
16 | (5/5) Accurately ripped
17 | (5/5) Accurately ripped
18 | (5/5) Accurately ripped
19 | (5/5) Accurately ripped


==== Log checksum B9EB46989168D2F7A9A17874EA24884164ABFB1E803C0FAF4E0B50DC54985796 ====


Exact Audio Copy V1.6 from 23. October 2020

EAC extraction logfile from 26. March 2022, 14:39

Zubin Mehta, New Philharmonia Orchestra / Verdi - Il Trovatore CD1

Used drive : PIONEER DVD-RW DVR-218L Adapter: 1 ID: 0

Read mode : Secure
Utilize accurate stream : Yes
Defeat audio cache : Yes
Make use of C2 pointers : No

Read offset correction : 6
Overread into Lead-In and Lead-Out : No
Fill up missing offset samples with silence : Yes
Delete leading and trailing silent blocks : No
Null samples used in CRC calculations : Yes
Used interface : Native Win32 interface for Win NT & 2000

Used output format : User Defined Encoder
Selected bitrate : 768 kBit/s
Quality : High
Add ID3 tag : No
Command line compressor : C:\Program Files\Exact Audio Copy\FLAC\FLAC.EXE
Additional command line options : -6 -V -T "ARTIST=%artist%" -T "TITLE=%title%" -T "ALBUM=%albumtitle%" -T "DATE=%year%" -T "TRACKNUMBER=%tracknr%" -T "GENRE=%genre%" -T "COMMENT=%comment%" -T "BAND=%albuminterpret%" -T "ALBUMARTIST=%albuminterpret%" -T "COMPOSER=%composer%" %haslyrics%–tag-from-file=LYRICS="%lyricsfile%"%haslyrics% -T "DISCNUMBER=%cdnumber%" -T "TOTALDISCS=%totalcds%" -T "TOTALTRACKS=%numtracks%" %hascover%–picture="%coverfile%"%hascover% %source% -o %dest%


TOC of the extracted CD

Track | Start | Length | Start sector | End sector
––––––––––––––––––––––––––––-
1 | 0:00.00 | 2:52.10 | 0 | 12909
2 | 2:52.10 | 7:29.65 | 12910 | 46649
3 | 10:22.00 | 2:19.27 | 46650 | 57101
4 | 12:41.27 | 5:01.38 | 57102 | 79714
5 | 17:42.65 | 2:41.30 | 79715 | 91819
6 | 20:24.20 | 1:56.12 | 91820 | 100531
7 | 22:20.32 | 1:24.00 | 100532 | 106831
8 | 23:44.32 | 2:07.08 | 106832 | 116364
9 | 25:51.40 | 2:46.62 | 116365 | 128876
10 | 28:38.27 | 2:51.03 | 128877 | 141704
11 | 31:29.30 | 4:56.47 | 141705 | 163951
12 | 36:26.02 | 1:06.43 | 163952 | 168944
13 | 37:32.45 | 5:02.05 | 168945 | 191599
14 | 42:34.50 | 2:28.42 | 191600 | 202741
15 | 45:03.17 | 3:36.63 | 202742 | 219004
16 | 48:40.05 | 1:03.37 | 219005 | 223766
17 | 49:43.42 | 2:42.70 | 223767 | 235986
18 | 52:26.37 | 1:28.33 | 235987 | 242619
19 | 53:54.70 | 3:33.47 | 242620 | 258641
20 | 57:28.42 | 0:49.50 | 258642 | 262366
21 | 58:18.17 | 2:52.05 | 262367 | 275271
22 | 61:10.22 | 3:08.65 | 275272 | 289436
23 | 64:19.12 | 2:17.70 | 289437 | 299781
24 | 66:37.07 | 4:10.23 | 299782 | 318554


Range status and errors

Selected range

Filename D:\ArlegZ\Verdi - Il Trovatore - Zubin Mehta CD1.wav

Peak level 99.0 %
Extraction speed 2.1 X
Range quality 100.0 %
Test CRC 41596856
Copy CRC 41596856
Copy OK

No errors occurred


AccurateRip summary

Track 1 cannot be verified as accurate (confidence 23) [F72EBE1A], AccurateRip returned [7C3EC8E1] (AR v2)
Track 2 cannot be verified as accurate (confidence 23) [5F762776], AccurateRip returned [4E365896] (AR v2)
Track 3 cannot be verified as accurate (confidence 23) [75508BD4], AccurateRip returned [7BD858F1] (AR v2)
Track 4 cannot be verified as accurate (confidence 23) [A5093D50], AccurateRip returned [E42ADABB] (AR v2)
Track 5 cannot be verified as accurate (confidence 23) [325E56EF], AccurateRip returned [5C5C3D93] (AR v2)
Track 6 cannot be verified as accurate (confidence 23) [62CEF88E], AccurateRip returned [B43E1743] (AR v2)
Track 7 cannot be verified as accurate (confidence 23) [5AEED6CA], AccurateRip returned [0E4C30BE] (AR v2)
Track 8 cannot be verified as accurate (confidence 23) [4D8FBA66], AccurateRip returned [948E689E] (AR v2)
Track 9 cannot be verified as accurate (confidence 23) [6C816DE3], AccurateRip returned [57488C04] (AR v2)
Track 10 cannot be verified as accurate (confidence 23) [0A1AB7EB], AccurateRip returned [B2F72A3C] (AR v2)
Track 11 cannot be verified as accurate (confidence 23) [C2611C31], AccurateRip returned [E4605842] (AR v2)
Track 12 cannot be verified as accurate (confidence 23) [9A738218], AccurateRip returned [C72D271A] (AR v2)
Track 13 cannot be verified as accurate (confidence 22) [8A5EBCC8], AccurateRip returned [5324AAB2] (AR v2)
Track 14 cannot be verified as accurate (confidence 23) [D1BE37EE], AccurateRip returned [3D799013] (AR v2)
Track 15 cannot be verified as accurate (confidence 23) [5BABA427], AccurateRip returned [AEC48803] (AR v2)
Track 16 cannot be verified as accurate (confidence 23) [016887B5], AccurateRip returned [E13B84DF] (AR v2)
Track 17 cannot be verified as accurate (confidence 23) [F005ED7B], AccurateRip returned [F4C7B745] (AR v2)
Track 18 cannot be verified as accurate (confidence 23) [E1D48501], AccurateRip returned [85D79019] (AR v2)
Track 19 cannot be verified as accurate (confidence 23) [65B8DA4E], AccurateRip returned [AB32ED8C] (AR v2)
Track 20 cannot be verified as accurate (confidence 23) [9757D36C], AccurateRip returned [81CBCDEF] (AR v2)
Track 21 cannot be verified as accurate (confidence 23) [809325DD], AccurateRip returned [FC1CB8D5] (AR v2)
Track 22 cannot be verified as accurate (confidence 23) [FD8620F1], AccurateRip returned [53D508EC] (AR v2)
Track 23 cannot be verified as accurate (confidence 23) [2832BE81], AccurateRip returned [27AFCF7E] (AR v2)
Track 24 cannot be verified as accurate (confidence 23) [1846C295], AccurateRip returned [BF9BED56] (AR v2)

No tracks could be verified as accurate
You may have a different pressing from the one(s) in the database

End of status report

–– CUETools DB Plugin V2.1.6

[CTDB TOCID: YXoz5fuF95sEwU4GJW4t9nPCqJs-] found
Submit result: YXoz5fuF95sEwU4GJW4t9nPCqJs- has been confirmed
Track | CTDB Status
1 | (125/161) Accurately ripped
2 | (125/161) Accurately ripped
3 | (125/161) Accurately ripped
4 | (125/161) Accurately ripped
5 | (125/161) Accurately ripped
6 | (125/161) Accurately ripped
7 | (125/161) Accurately ripped
8 | (125/161) Accurately ripped
9 | (125/161) Accurately ripped
10 | (125/161) Accurately ripped
11 | (125/161) Accurately ripped
12 | (125/161) Accurately ripped
13 | (125/161) Accurately ripped
14 | (125/161) Accurately ripped
15 | (125/161) Accurately ripped
16 | (125/161) Accurately ripped
17 | (125/161) Accurately ripped
18 | (125/161) Accurately ripped
19 | (125/161) Accurately ripped
20 | (125/161) Accurately ripped
21 | (125/161) Accurately ripped
22 | (125/161) Accurately ripped
23 | (125/161) Accurately ripped
24 | (125/161) Accurately ripped


==== Log checksum 9506DC6EF4616032CC94069AEA4BFB9EBE7EC0EE8544D32EE779CC96D3733484 ====


Exact Audio Copy V1.6 from 23. October 2020

EAC extraction logfile from 26. March 2022, 16:02

Zubin Mehta, New Philharmonia Orchestra / Verdi - Il Trovatore CD2

Used drive : PIONEER DVD-RW DVR-218L Adapter: 1 ID: 0

Read mode : Secure
Utilize accurate stream : Yes
Defeat audio cache : Yes
Make use of C2 pointers : No

Read offset correction : 6
Overread into Lead-In and Lead-Out : No
Fill up missing offset samples with silence : Yes
Delete leading and trailing silent blocks : No
Null samples used in CRC calculations : Yes
Used interface : Native Win32 interface for Win NT & 2000

Used output format : User Defined Encoder
Selected bitrate : 768 kBit/s
Quality : High
Add ID3 tag : No
Command line compressor : C:\Program Files\Exact Audio Copy\FLAC\FLAC.EXE
Additional command line options : -6 -V -T "ARTIST=%artist%" -T "TITLE=%title%" -T "ALBUM=%albumtitle%" -T "DATE=%year%" -T "TRACKNUMBER=%tracknr%" -T "GENRE=%genre%" -T "COMMENT=%comment%" -T "BAND=%albuminterpret%" -T "ALBUMARTIST=%albuminterpret%" -T "COMPOSER=%composer%" %haslyrics%–tag-from-file=LYRICS="%lyricsfile%"%haslyrics% -T "DISCNUMBER=%cdnumber%" -T "TOTALDISCS=%totalcds%" -T "TOTALTRACKS=%numtracks%" %hascover%–picture="%coverfile%"%hascover% %source% -o %dest%


TOC of the extracted CD

Track | Start | Length | Start sector | End sector
––––––––––––––––––––––––––––-
1 | 0:00.00 | 2:00.30 | 0 | 9029
2 | 2:00.30 | 2:23.10 | 9030 | 19764
3 | 4:23.40 | 7:35.35 | 19765 | 53924
4 | 11:59.00 | 2:16.67 | 53925 | 64191
5 | 14:15.67 | 3:16.60 | 64192 | 78951
6 | 17:32.52 | 1:38.08 | 78952 | 86309
7 | 19:10.60 | 3:26.12 | 86310 | 101771
8 | 22:36.72 | 3:06.38 | 101772 | 115759
9 | 25:43.35 | 4:25.70 | 115760 | 135704
10 | 30:09.30 | 5:37.32 | 135705 | 161011
11 | 35:46.62 | 4:06.23 | 161012 | 179484
12 | 39:53.10 | 1:43.57 | 179485 | 187266
13 | 41:36.67 | 3:23.60 | 187267 | 202551
14 | 45:00.52 | 2:19.23 | 202552 | 212999
15 | 47:20.00 | 6:42.10 | 213000 | 243159
16 | 54:02.10 | 2:04.50 | 243160 | 252509
17 | 56:06.60 | 9:50.45 | 252510 | 296804


Range status and errors

Selected range

Filename D:\ArlegZ\Verdi - Il Trovatore - Zubin Mehta CD2.wav

Peak level 99.9 %
Extraction speed 2.1 X
Range quality 100.0 %
Test CRC EB7DB7A5
Copy CRC EB7DB7A5
Copy OK

No errors occurred


AccurateRip summary

Track 1 cannot be verified as accurate (confidence 18) [DBDE8CC7], AccurateRip returned [8302021F] (AR v2)
Track 2 cannot be verified as accurate (confidence 18) [7F0C3223], AccurateRip returned [544F17AF] (AR v2)
Track 3 cannot be verified as accurate (confidence 18) [9DB6789B], AccurateRip returned [F0331C04] (AR v2)
Track 4 cannot be verified as accurate (confidence 18) [5B294F1A], AccurateRip returned [88A360B0] (AR v2)
Track 5 cannot be verified as accurate (confidence 18) [F1593ADA], AccurateRip returned [29401464] (AR v2)
Track 6 cannot be verified as accurate (confidence 18) [2744ADFA], AccurateRip returned [07F11EB3] (AR v2)
Track 7 cannot be verified as accurate (confidence 18) [A715D858], AccurateRip returned [F63C7AA0] (AR v2)
Track 8 cannot be verified as accurate (confidence 18) [9560B1A0], AccurateRip returned [2008EADA] (AR v2)
Track 9 cannot be verified as accurate (confidence 18) [4F609AC5], AccurateRip returned [22410511] (AR v2)
Track 10 cannot be verified as accurate (confidence 18) [056C290F], AccurateRip returned [86462C86] (AR v2)
Track 11 cannot be verified as accurate (confidence 18) [B5A69D4B], AccurateRip returned [D56134F1] (AR v2)
Track 12 cannot be verified as accurate (confidence 18) [1B4304BE], AccurateRip returned [A16609E9] (AR v2)
Track 13 cannot be verified as accurate (confidence 18) [EF51A527], AccurateRip returned [0415BBF4] (AR v2)
Track 14 cannot be verified as accurate (confidence 18) [32730BF4], AccurateRip returned [707E6263] (AR v2)
Track 15 cannot be verified as accurate (confidence 18) [077B284F], AccurateRip returned [EE72F8EB] (AR v2)
Track 16 cannot be verified as accurate (confidence 18) [A4EA0812], AccurateRip returned [AEEF8A7E] (AR v2)
Track 17 cannot be verified as accurate (confidence 18) [53D48696], AccurateRip returned [6C3D474A] (AR v2)

No tracks could be verified as accurate
You may have a different pressing from the one(s) in the database

End of status report

–– CUETools DB Plugin V2.1.6

[CTDB TOCID: YmD_SepZWoA1jtuVCY_UiM56bCM-] found
Submit result: YmD_SepZWoA1jtuVCY_UiM56bCM- has been confirmed
Track | CTDB Status
1 | (128/128) Accurately ripped
2 | (128/128) Accurately ripped
3 | (128/128) Accurately ripped
4 | (128/128) Accurately ripped
5 | ( 83/128) Accurately ripped, or (45/128) differs in 35 samples @02:34:44,03:08:34,03:10:08
6 | (128/128) Accurately ripped
7 | (128/128) Accurately ripped
8 | (128/128) Accurately ripped
9 | (128/128) Accurately ripped
10 | (128/128) Accurately ripped
11 | (128/128) Accurately ripped
12 | (128/128) Accurately ripped
13 | (128/128) Accurately ripped
14 | (128/128) Accurately ripped
15 | (128/128) Accurately ripped
16 | (128/128) Accurately ripped
17 | (128/128) Accurately ripped


==== Log checksum C1F39EC9A116B0AB8860AAF680ACEDE9ADAA4547CF3183EAD66E9F3EBC73583E ====