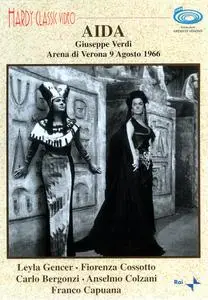 Franco Capuana, Orchestra e Coro dell' Arena di Verona - Verdi: Aida (2005/1966)
NTSC 4:3 (720x480) | Italiano | Dolby AC3, 1 ch | 6.60 Gb (DVD9) | 160 min
Classical | Hardy Classic | Sub.: Italiano, English, Francais
The tradition of presenting operas in the Arena of Verona was inaugurated by Aida when it was performed there in 1913. The wide-open spaces of this opera-the blue skies and fragrant forests of Ethiopia, the starry nights on the Nile-and its picture of Egypt's ancient civilisation found their ideal setting in the grandeur of this centuries-old Roman amphitheatre and in the open air of Verona's summer nights.