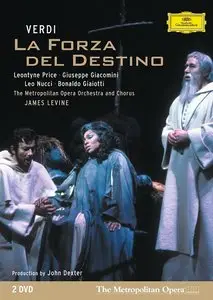 James Levine, Metropolitan Opera Orchestra, Leontyne Price, Giuseppe Giacomini - Verdi: La Forza del Destino [2005/1984]
NTSC 4:3 (720x480) VBR | Italiano (LinearPCM, 2 ch) | (DTS, 6 ch) | (Dolby AC3, 6 ch) | 7.07 Gb+3.24 Gb (DVD9+DVD5) | 180 min
Classical | Deutsche Grammophon | Sub: Italiano, English, Deutsch, Francais, Espanol, Chinese
This John Dexter production was premiered in 1975 and filmed in 1984. The incomparable Leontyne Price delivered a series of unforgettable performances as Leonora, imprinting the role with the uniqueness of her voice and her superlative acting. James Levine's conducting was hailed by The New York Times for being "full of drive and fire" with "the grandeur of the magnificent score coming through."