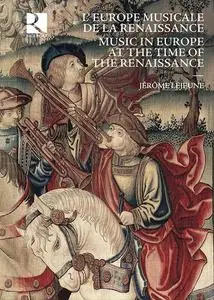 Jérôme Lejeune - L'Europe Musicale de la Renaissance / Music in Europe at the Time of the Renaissance [8CDs] (2013)
EAC | FLAC | Image (Cue & Log) ~ 2.88 Gb | Total time: 10h35' | Scans included
Classical | Label: Ricercar | # RIC 106
Jérôme Lejeune continues his History of Music series with this boxed set devoted to the Renaissance. The next volume in the series after Flemish Polyphony (RIC 102), this set explores the music of the 16th century from Josquin Desprez to Roland de Lassus. After all of the various turnings that music took during the Middle Ages, the music of the Renaissance seems to be a first step towards a common European musical style. Josquin Desprez's example was followed by every composer in every part of Europe and in every musical genre, including the Mass setting, the motet and all of the various new types of solo song. Instrumental music was also to develop considerably from the beginning of the 16th century onwards. The musical excerpts that we have chosen include works by the most important composers of France, Italy, Germany, England, Spain and the Netherlands active during the 16th century. This boxed set is released in collaboration with the Château d'Écouen (Musée national de la Renaissance) in connection with the exhibition devoted to Renaissance music that has opened there in September 2013.

CD1:
Josquin DESPREZ
01. Nymphe des bois
Vox Luminis, Lionel Meunier
02. Ile Fantaisies
Ensemble Leones, Marc Lewon
03. Illibata dei Virgo a 5
Cappella Pratensis, Rebecca Stewart
04. Allégez moy a 6
05. Faulte d'argent a 5
Ensemble Clément Janequin, Dominique Visse
06. La Spagna
Syntagma Amici
07. El Grillo
Ensemble Clément Janequin, Dominique Visse
08. Missa Lesse faire a mi: Sanctus
09. Missa Lesse faire a mi: Agnus Dei
Cappella Pratensis, Rebecca Stewart
10. Mille regretz
Vox Luminis, Lionel Meunier
Luys de Narvaez
11. Narvaez: Mille regretz (after Josquin)
Rolf Lislevand, vihuela
ITALY: Secular music (from the Frottole to the Madrigal)
12. Anonymous: Giù per la mala via
Ensemble Daedalus, Roberto Festa
13. Anonymous: Spero haver felice - Giovanne tutte siano (Frottola)
Vincent Bouchot (baritone), Frédéric Martin (lira da braccio)
14. Heinrich Isaac: Fammi una gratia amore
15. Heinrich Isaac: Donna di dentro
16. Heinrich Isaac: Quis dabit capiti meo aquam?
Capilla Flamenca, Dirk Snellings
17. Anonymous: Cor mio volonturioso (Strambotto)
18. Baldassare Donato: Chi la gagliarda
Ensemble Daedalus, Roberto Festa
19. Philippe Verdelot: Ultimi mei sospiri
Doulce Mémoire, Denis Raisin Dadre
20. Adriaen Willaert: Vecchie letrose
21. Adriaen Willaert: Qual docezza giamai
Romanesque, Philippe Malfeyt
CD2:
ITALY: Sacred music
Giovanni Pierluigi da Palestrina
01. Missa papae Marcelli: Kyrie
02. Missa papae Marcelli: Gloria
03. Missa papae Marcelli: Sanctus
04. Missa papae Marcelli: Agnus Dei
Odhecaton, Paolo da Col
05. Adriaen Willaert: Magnificat a 4
06. Adriaen Willaert: Lauda Jerusalem a 8
Capilla Flamenca, Dirk Snellings
07. Giaches de Wert: Vox in rama
Odhecaton, Paolo da Col
08. Carlo Gesualdo: O vos omnes
Ensemble vocal européen de la Chapelle royale, Philippe Herreweghe
09. Giovanni Gabrieli: Domine Dominus noster
Chœur de Chambre de Namur, La Fenice, Jean Tubéry
10. Alessandro Striggio: Missa sopra Ecco sì beato giorno: Credo
Le Concert Spirituel, Hervé Niquet
ITALY: Secular vocal music
11. Cipriano de Rore: Ancor che co'l partire
Vox Luminis, Lionel Meunier
12. Nicola Vicentino: Solo e pensoso
13. Luca Marenzio: Se quel dolor che va inanzi al morire
Ensemble Daedalus, Roberto Festa
14. Giaches de Wert: Vezzosi augelli
Cantus Cölln, Konrad Junghänel
15. Carlo Gesualdo: Mercè grido paingendo
Ensemble Daedalus, Roberto Festa
16. Luzzasco Luzzaschi: Non sa che sia dolore
Helena Afonso, Cristina Miatello & Marinella Pennichi (sopranos); Sergio Vartolo (harpsichord)
17. Adriano Banchieri: Barca di Venetia per Padova
Ensemble Clément Janequin, Dominique Visse
CD3:
ITALY: Instrumental music
01. Jacob Obrecht: Tandernaken
Philippe Canguilhelm, Elsa Franck & Alain Sobczak (shawms)
02. Jacob Obrecht: La Stangetta
Le Miroir de Musique, Baptiste Romain
03. Joan Anrosio Dalza: Tastar de corde & Ricercar dietro
Wim Maeseele (lute)
04. Marco Antonio Cavazzoni: Ricercata
Liuwe Tamminga (organ)
05. Vincenzo Ruffo: La Piva
Hannelore Devaere (harp), Vincent Dumestre & Philippe Malfeyt (lutes)
06. Francesco Bendusi: La mala vecchia & Il stocco
Le Miroir de Musique
07. Silvestro Ganassi: Ricercar
Philippe Pierlot (bass viol)
08. Adriaen Willaert: Ricercar X a 4
Joris Verdin (organ)
09. Palestrina: Vestiva i colli
Vox Luminis, Lionel Meunier
10. Giovanni Antonio Terzi: Vestiva i collicontrapunto per sonar in concerto
Christina Pluhar (harp), Matthias Spaeter (archlute)
11. Giovanni de Macque: Consonanze stravaganti
Jean Ferrard (organ)
12. Oratio Bassani: Vergine bella di Cipriano dimiuito per la viola
Imke David (bass viol), Christina Pluhar (harp)
13. Andrea Gabrieli: Intonatione primi toni
Bernard Foccroulle (organ)
14. Claudio Merulo: Toccata decima del 10 tono
Siebe Henstra (harpsichord)
15. Andrea Gabrieli: Canzon alla Francese: Petit Jacquet
Siebe Henstra (harpsichord)
16. Giovanni Gabrieli: Canzon Primi Toni a 8
La Fenice, Jean Tubéry
17. Giovanni Gastoldi: Balletti (La Sirena, Amor vittorioso, L'innamorato)
La Caccia, Marleen Leicher (cornet)
FRANCE: Sacred misic
18. Jean Mouton: Ave Maria a 5
Odhecaton, Paolo da Col
19. Nicolas de Marle: Missa O gente brunette: Kyrie
20. Nicolas de Marle: Missa O gente brunette: Gloria
21. Nicolas de Marle: Missa O gente brunette: Sanctus
22. Nicolas de Marle: Missa O gente brunette: Agnus Dei
Odhecaton, Paolo da Col
23. Claude Le Jeune: Chantez à Dieu nouveau cantique
Ludus Modalis, Bruno Boterf
24. Claudin de Sermisy: Tant que vivray
Ensemble Clément Janequin, Dominique Visse
CD4:
FRANCE: Secular vocal music
01. Clément Janequin: Ce moy de may
02. Claudin de Sermisy: Au joly boys
Ensemble Clément Janequin, Dominique Visse
03. Clément Janequin: Il estoit une fillette
Syntagma Amici
04. Clément Janequin: La Bataille
Ensemble Clément Janequin, Dominique Visse
05. Claudin de Sermisy: Languir me fais
Doulce Mémoire
06. Nicolle des Celliers d'Hesdin: Ramonez moy ma cheminée
Ensemble Clément Janequin, Dominique Visse
07. Henry Fresneau: La Fricassée
Ensemble Clément Janequin, Dominique Visse
08. Guillaume Costeley: Mignonne, allon voir si la roze
Ludus Modalis, Bruno Boterf
09. Antoine de Bertrand: Ah Seigneur Dieu
Ensemble Clément Janequin, Dominique Visse
10. Claude Le Jeune: Qu'est devenu
11. Claude Le Jeune: Povre cœur entourné
12. Claude Le Jeune: Monsieur l'Abbé
Ensemble Clément Janequin, Dominique Visse
13. Cipriano de Rore: Mon petir cueur
Huelgas-Ensemble, Paul Van Nevel
14. Pierre Sandrin: Doulce Mémoire
Capilla Flamenca, Dirk Snellings
15. Albert de Rippe: Doulce Mémoire
Jan Van Outryve (lute)
FRANCE: Instrumental music
16. Thoinot Arbeau: Branle d'Ecosse
Carles Mas (galoubet), Frédéric Martin (violin)
17. Pierre Attaingnant: Basse dance La Magdalena & Tourdion
18. Étienne du Tertre: Bransles d'Écosse
Doulce Mémoire, Denis Raisin Dadre
19. Pierre Attaingnant: Prélude
Pascale Boquet (lute)
20. Pierre Attaingnant: Pavane
Pascale Boquet (lute), Angélique Mauillon (harp)
21. Pierre Attaingnant: Bransles Gays
Doulce Mémoire
22. Claude Le Jeune: Troisième Fantaisie à 5 ad imitationem Moduli
Ensemble Mare Nostrum
23. Pierre Attaingnant: Magnificat
Jean Ferrard (organ)
FLANDERS & NETHERLANDS: Sacred music
24. Pierre de la Rue: Missa pro defunctis (Introïtus & Kyrie)
Ensemble Clément Janequin, Dominique Visse
25. Jan Pieterszoon Sweelinck: Du fonds de ma pensée
Cappella Amsterdam, Daniel Reuss
CD5:
FLANDERS & NETHERLANDS: Secular vocal works
01. Alexander Agricola, Josquin Desprez: O venus bant
02. Tielman Susato: Salve quae roseo
03. Benedictus Appenzeller: Se dire je l'oisoie
04. Benedictus Appenzeller: Gentils galans
05. Andreas Pevernage: Ardo, Donna, per voi
Capilla Flamenca, Dirk Snellings
FLANDERS & NETHERLANDS: Instrumental music
06. Géry de Ghersem: Agnus Dei
La Caccia
Marleen Leicher (cornett)
Mirella Ruigrok, Patrick Denecker (shawm)
Simen van Mechelen (trombone)
Bernhard Stilz (bassoon)
07. Pierre Phalèse: Allemande & Saltarello "Bruynsmedelyn" / Allemande & Saltarello "Poussinghe"
La Caccia
Bernhard Stilz, Mirella Ruigrok, Patrick Denecker, Peter Van Heyghen (Recorders)
08. Tielman Susato: Pavane & Gaillarde "Mille ducats"
Syntagma Amici
Bernhard Stilz, Elsa Frank, Jérémie Papasergio, Patrick Denecker (Crumhorns)
09. Emanuel Adriaenssen: Fantasia prima
Karl-Ernst Schröder (Lute)
10. Jan Pieterszoon Sweelinck: Toccata
Bernard Foccroulle (Organ)
SPAIN: Secular vocal works
11. Juan Del Encina: Triste España
La Colombina
12. Anonymous: Dindirin
13. Anonymous: Al alva venid
La Morra
Arianna Savall (voice)
Michal Gondko (gittern, vihuela)
14. Juan Vasquez: Lagrimas de mi consuelo
15. Mateo Flecha: La Guerra
Ensemble Clément Janequin, Dominique Visse
16. Alonso Mudarra: Claros y frescos rios
Ay Luna
Guillemette Laurens (voice)
Françoise Johannel (harp)
Francis Lassus (percussion)
17. Matheo Romero: A la dulce risa del alva
Cappella Mediterranea, Clematis, Leonardo Garcia Alarcón
SPAIN: Instrumental music
18. Antonio de Cabezón: Doulce Mémoire
Doulce Mémoire, Denis Raisin-Dadre
19. Diego Ortiz: Recercada sobre Doulce Mémoire
Capilla Flamenca
20. Antonio de Cabezón: Diferencias Sobre La Gallarda Milanese
Doulce Mémoire
Elisabeth Geiger (spinett)
Pascale Boquet (lute)
21. Francisco Correa de Arauxo: Tiento y Discurso de segundo tono
Bernard Foccroulle (organ)
CD6:
SPAIN: Sacred music
01. Nicolas Gombert: In illo tempore
Odhecaton, Paolo da Col
02. Cristóbal de Morales: Pastore, dicite, quidnam vidistis?
La Colombina
03. Philippe Rogier: Da pacem Domine
04. Philippe Rogier: Missa Domine Dominus noster: Kyrie
05. Philippe Rogier: Missa Domine Dominus noster: Gloria
Chœur de Chambre de Namur, La Fenice, Ricercar Consort, Doulce Mémoire, Jean Tubéry
06. Matheo Romero: In devotione a 8
Chœur de Chambre de Namur, La Fenice, Jean Tubéry
07. Tomás Luis de Victoria: Missa Pro Defunctis (Introïtus & Kyrie)
Collegium Vocale Gent, Philippe Herreweghe
GERMANY: Secular vocal works
08. Heinrich Isaac / Ludwig Senfl: Ich stund an einem morgen
Capilla Flamenca, Dirk Snellings
09. Ludwig Senfl: Es het ein Biederman ein Weib
10. Heinrich Isaac: Innsbruck ich muss dich lassen
Syntagma Amici
Kathelijne Van Laethem (soprano)
Dirk Snellings (bass)
Bernhard Stilz, Elsa Frank, Patrick Denecker (crumhorns & recorders)
Jérémie Papasergio (crumhorn)
11. Paul Lütkemann: Fantasia "Innsbruck ich muss dich lassen"
Flanders Recorder Quartet
12. Alexander Utendal: Petite nymphe folatre
13. Alexander Utendal: Jane en te baisant
14. Alexander Utendal: Mein Mann der ist in Krieg zogen
Romanesque, Philippe Malfeyt
Kathelijne Van Laethem (soprano)
Stephan MacLeod (bass)
Sophie Watillon, Piet Stryckers, Liam Fennelly (viols)
Bart Coen (recorder)
Hannelore Devaere (harp)
GERMANY: Sacred music
15. Organ Preludium (improvisation in the style of Hofhaimer)
16. Heinrich Isaac: Pascha nostrum immolatus est Christus
17. Heinrich Isaac: Missa Paschale (Kyrie)
Cappella Pratensis
Wim Diepenhorst (organ)
18. Joachim von Burgk: Vom Ölenberge zeucht daher Christus
Vox Luminis, Lionel Meunier
19. Hans Leo Hassler: Vater unser im Himmelreich
Ensemble vocal européen de la Chapelle royale, Philippe Herreweghe
20. Philippe de Monte: Beata es virgo Maria
Capilla flamenca, Bart Demuyt
21. Lamberto de Sayve: Venite exultemus a 16
Chœur de Chambre de Namur, La Fenice, Jean Tubéry
CD7:
GERMANY: Instrumental music
01. Simon Lohet: Nun welche Hoffnung
Bernard Foccroulle (organ)
02. Hans Leo Hassler: Ricercar
Léon Berben (harpsichord)
03. Michael Praetorius: Ballet des Sorciers, Ballet du Roy
La Bande de Violons du Ricercar Consort, François Fernandez
04. Johann Hermann Schein: Suite XIII g-moll: Padouana, Gaillarda, Corrente, Allemande
Flanders Recorder Quartet
ENGLAND: Secular vocal music
05. Robert Fayrfax: Ah Robin
06. Henry VIII: Helas, Madame
07. Henry VIII: Pastime with good company
Vox Luminis, Lionel Meunier
08. Henry VIII: Taunder naken
Mezzaluna, Peter Van Heyghen
09. Thomas Morley: Now is the month of maying
10. Luca Marenzio: Zephyrus breathing
Vox Luminis, Lionel Meunier
11. Thomas Weelkes: O care thou willt despach me
12. Thomas Weelkes: The Cries Of London (Part I)
Deller Consort
Jaye Consort of Viols
Neil Jenkins (tenor)
13. Giovanni Coperario: O grief
Ensemble Céladon
Paulin Bündgen (countertenor)
Rémi Cassaigne (lute)
Florence Bolton, Eleanor Lewis-Cloué, Luc Gaugler (viols)
14. John Dowland: Can she excuse
Ruby Hughes (soprano)
Reinoud Van Mechelen, Paul Agnew (tenors)
Alain Buet (bass)
Thomas Dunford (lute & direction)
15. John Dowland: I saw my lady weep
Alfred Deller (countertenor)
Robert Spencer (lute)
16. William Byrd: O Death, rock me asleep
James Bowman (countertenor)
Ricercar Consort
17. Anonymous: When Daphne from Fair Phoebus Did Fly
Susan Hamilton (soprano)
Ricercar Consort
18. Anonymous: Fortune my foe
Susan Hamilton (soprano)
La Caccia, Patrick Denecker
ENGLAND: Instrumental music
19. Alfonso Ferrabosco: In Nomine a 6
20. William Byrd: Fantasia a 6
Ricercar Consort, Philippe Pierlot
21. John Dowland: The King of Denmarke his Galliard
Thomas Dunford (lute)
22. Richard Allison: Goe from my window
La Caccia, Patrick Denecker
23. Anonymous: The Quadran Pavin
Guy Penson (virginal)
CD8:
ENGLAND: Sacred music
01. Thomas Tallis: The first lamentation of Jeremiah
Deller Consort
02. Orlando Gibbons: This is the record of John
The Choir of Magdalen College, Oxford
Rogers Covey-Crump (countertenor)
Fretwork, Bill Ives
03. Orlando Gibbons: O clap your hands together
The Choir of Magdalen College, Oxford; Bill Ives
04. Thomas Morley: Out of the Deep
Philippe Froeliger (tenor)
Jorge López-Escribano (organ)
Vox Luminis, Lionel Meunier
Roland DE LASSUS
05. Prophetiae Sibyllarum (Prologus & Sibylla Persica)
Ensemble Daedalus, Roberto Festa
06. Chi chilichi
Ensemble Clément Janequin, Dominique Visse
07. Cantai, hor piango
Huelgas-Ensemble, Paul Van Nevel
08. Cantione sine textu n° 16
Jean Tubéry, Mélanie Flahaut (recorders)
09. Chanter je veux
Delphine Collot (soprano)
Ricercar Consort, Philippe Pierlot
10. Sauter, danser, faire des tours
Capilla Flamenca, Dirk Snellings
11. Susanne un jour
Vox Luminis, Lionel Meunier
12. Girolamo Dalla Casa: Susanne un jour
Jean Tubéry (cornet)
Ricercar Consort, Philippe Pierlot
13. Hispanum ad coenam mercator belga
Chœur de Chambre de Namur, La Fenice, Jean Tubéry
14. Peter Philips: Martgot, labourez les vignes
Siebe Henstra (harpsichord)
15. Du fond de ma pensée
Delphine Collot (soprano)
Ricercar Consort, Philippe Pierlot
16. Zu dir von Herzensgrunde
Vox Luminis, Lionel Meunier
17. Timor et tremor
Chœur de Chambre de Namur, Peter Phillips
18. Missa ad imitationem Bonum Vinum: Kyrie
19. Missa ad imitationem Bonum Vinum: Gloria
20. Missa ad imitationem Bonum Vinum: Credo
21. Missa ad imitationem Bonum Vinum: Sanctus
22. Missa ad imitationem Bonum Vinum: Agnus Dei
Chœur de Chambre de Namur, La Fenice, Ricercar Consort, Peter Phillips
23. In hora ultima
Chœur de Chambre de Namur, La Fenice, Jean Tubéry


Exact Audio Copy V1.3 from 2. September 2016

EAC extraction logfile from 3. November 2019, 15:13

Vox Luminis / Music In Europe At The Time Of The Renaissance

Used drive : TSSTcorpDVDWBD SE-406AB Adapter: 1 ID: 2

Read mode : Secure
Utilize accurate stream : Yes
Defeat audio cache : Yes
Make use of C2 pointers : No

Read offset correction : 6
Overread into Lead-In and Lead-Out : No
Fill up missing offset samples with silence : Yes
Delete leading and trailing silent blocks : No
Null samples used in CRC calculations : Yes
Used interface : Native Win32 interface for Win NT & 2000

Used output format : User Defined Encoder
Selected bitrate : 1024 kBit/s
Quality : High
Add ID3 tag : No
Command line compressor : C:\Program Files (x86)\Exact Audio Copy\FLAC\FLAC.EXE
Additional command line options : -8 -e -p -V -T "ARTIST=%artist%" -T "TITLE=%title%" -T "ALBUM=%albumtitle%" -T "DATE=%year%" -T "TRACKNUMBER=%tracknr%" -T "GENRE=%genre%" -T "PERFORMER=%albuminterpret%" -T "COMPOSER=%composer%" %haslyrics%–tag-from-file=LYRICS="%lyricsfile%"%haslyrics% -T "ALBUMARTIST=%albumartist%" -T "DISCNUMBER=%cdnumber%" -T "TOTALDISCS=%totalcds%" -T "TOTALTRACKS=%numtracks%" -T "COMMENT=%comment%" %source% -o %dest%


TOC of the extracted CD

Track | Start | Length | Start sector | End sector
––––––––––––––––––––––––––––-
1 | 0:00.00 | 4:45.73 | 0 | 21447
2 | 4:45.73 | 2:48.49 | 21448 | 34096
3 | 7:34.47 | 8:48.02 | 34097 | 73698
4 | 16:22.49 | 1:05.57 | 73699 | 78630
5 | 17:28.31 | 2:05.74 | 78631 | 88079
6 | 19:34.30 | 2:50.19 | 88080 | 100848
7 | 22:24.49 | 1:35.55 | 100849 | 108028
8 | 24:00.29 | 7:21.69 | 108029 | 141172
9 | 31:22.23 | 4:38.71 | 141173 | 162093
10 | 36:01.19 | 2:02.67 | 162094 | 171310
11 | 38:04.11 | 2:19.56 | 171311 | 181791
12 | 40:23.67 | 6:52.42 | 181792 | 212733
13 | 47:16.34 | 2:24.14 | 212734 | 223547
14 | 49:40.48 | 4:36.11 | 223548 | 244258
15 | 54:16.59 | 1:49.33 | 244259 | 252466
16 | 56:06.17 | 5:05.54 | 252467 | 275395
17 | 61:11.71 | 4:48.00 | 275396 | 296995
18 | 65:59.71 | 4:21.22 | 296996 | 316592
19 | 70:21.18 | 2:59.69 | 316593 | 330086
20 | 73:21.12 | 1:38.02 | 330087 | 337438
21 | 74:59.14 | 4:25.04 | 337439 | 357317


Range status and errors

Selected range

Filename K:\Rips\Various - L'Europe Musicale de la Renaissance - Lejeune\CD1\Vox Luminis - Music In Europe At The Time Of The Renaissance CD1.wav

Peak level 100.0 %
Extraction speed 2.3 X
Range quality 100.0 %
Test CRC DD152E8E
Copy CRC DD152E8E
Copy OK

No errors occurred


AccurateRip summary

Track 1 accurately ripped (confidence 13) [0BB7328B] (AR v2)
Track 2 accurately ripped (confidence 13) [786225F7] (AR v2)
Track 3 accurately ripped (confidence 13) [736CB685] (AR v2)
Track 4 accurately ripped (confidence 13) [FB094801] (AR v2)
Track 5 accurately ripped (confidence 13) [A73CA486] (AR v2)
Track 6 accurately ripped (confidence 13) [CF9FD10A] (AR v2)
Track 7 accurately ripped (confidence 13) [10EB119A] (AR v2)
Track 8 accurately ripped (confidence 13) [BDCCD573] (AR v2)
Track 9 accurately ripped (confidence 13) [A1253F4D] (AR v2)
Track 10 accurately ripped (confidence 13) [3E5CD3A3] (AR v2)
Track 11 accurately ripped (confidence 13) [2786A312] (AR v2)
Track 12 accurately ripped (confidence 13) [F9BE4D2B] (AR v2)
Track 13 accurately ripped (confidence 13) [66A75880] (AR v2)
Track 14 accurately ripped (confidence 13) [6A17A5B2] (AR v2)
Track 15 accurately ripped (confidence 13) [C2567671] (AR v2)
Track 16 accurately ripped (confidence 13) [E6ABD5B6] (AR v2)
Track 17 accurately ripped (confidence 13) [90B26DCA] (AR v2)
Track 18 accurately ripped (confidence 13) [CF741803] (AR v2)
Track 19 accurately ripped (confidence 13) [C85D7ECB] (AR v2)
Track 20 accurately ripped (confidence 13) [0170C083] (AR v2)
Track 21 accurately ripped (confidence 12) [7C9B624F] (AR v2)

All tracks accurately ripped

End of status report

–– CUETools DB Plugin V2.1.6

[CTDB TOCID: Icqo9WuSEdAZ_8zMvVIGOSkZKNg-] found
Submit result: already submitted
Track | CTDB Status
1 | (18/18) Accurately ripped
2 | (18/18) Accurately ripped
3 | (18/18) Accurately ripped
4 | (18/18) Accurately ripped
5 | (18/18) Accurately ripped
6 | (18/18) Accurately ripped
7 | (18/18) Accurately ripped
8 | (18/18) Accurately ripped
9 | (18/18) Accurately ripped
10 | (18/18) Accurately ripped
11 | (18/18) Accurately ripped
12 | (18/18) Accurately ripped
13 | (18/18) Accurately ripped
14 | (18/18) Accurately ripped
15 | (18/18) Accurately ripped
16 | (18/18) Accurately ripped
17 | (18/18) Accurately ripped
18 | (18/18) Accurately ripped
19 | (18/18) Accurately ripped
20 | (18/18) Accurately ripped
21 | (17/18) Accurately ripped


==== Log checksum E6ACF5FC860EA926B8BA58B0DCDF26795491F8D4D56B7D5029A4C0DFD79D547E ====


Exact Audio Copy V1.3 from 2. September 2016

EAC extraction logfile from 3. November 2019, 16:11

Odhecaton, Direction Paolo DA COL / Music In Europe At The Time Of The Rnaissance

Used drive : TSSTcorpDVDWBD SE-406AB Adapter: 1 ID: 2

Read mode : Secure
Utilize accurate stream : Yes
Defeat audio cache : Yes
Make use of C2 pointers : No

Read offset correction : 6
Overread into Lead-In and Lead-Out : No
Fill up missing offset samples with silence : Yes
Delete leading and trailing silent blocks : No
Null samples used in CRC calculations : Yes
Used interface : Native Win32 interface for Win NT & 2000

Used output format : User Defined Encoder
Selected bitrate : 1024 kBit/s
Quality : High
Add ID3 tag : No
Command line compressor : C:\Program Files (x86)\Exact Audio Copy\FLAC\FLAC.EXE
Additional command line options : -8 -e -p -V -T "ARTIST=%artist%" -T "TITLE=%title%" -T "ALBUM=%albumtitle%" -T "DATE=%year%" -T "TRACKNUMBER=%tracknr%" -T "GENRE=%genre%" -T "PERFORMER=%albuminterpret%" -T "COMPOSER=%composer%" %haslyrics%–tag-from-file=LYRICS="%lyricsfile%"%haslyrics% -T "ALBUMARTIST=%albumartist%" -T "DISCNUMBER=%cdnumber%" -T "TOTALDISCS=%totalcds%" -T "TOTALTRACKS=%numtracks%" -T "COMMENT=%comment%" %source% -o %dest%


TOC of the extracted CD

Track | Start | Length | Start sector | End sector
––––––––––––––––––––––––––––-
1 | 0:00.00 | 4:26.10 | 0 | 19959
2 | 4:26.10 | 4:58.61 | 19960 | 42370
3 | 9:24.71 | 6:25.58 | 42371 | 71303
4 | 15:50.54 | 6:04.64 | 71304 | 98667
5 | 21:55.43 | 8:26.12 | 98668 | 136629
6 | 30:21.55 | 4:44.08 | 136630 | 157937
7 | 35:05.63 | 3:37.26 | 157938 | 174238
8 | 38:43.14 | 4:09.18 | 174239 | 192931
9 | 42:52.32 | 3:44.49 | 192932 | 209780
10 | 46:37.06 | 8:16.09 | 209781 | 246989
11 | 54:53.15 | 2:32.52 | 246990 | 258441
12 | 57:25.67 | 2:15.04 | 258442 | 268570
13 | 59:40.71 | 2:42.29 | 268571 | 280749
14 | 62:23.25 | 2:19.25 | 280750 | 291199
15 | 64:42.50 | 4:57.07 | 291200 | 313481
16 | 69:39.57 | 4:13.30 | 313482 | 332486
17 | 73:53.12 | 5:00.33 | 332487 | 355019


Range status and errors

Selected range

Filename K:\Rips\Various - L'Europe Musicale de la Renaissance - Lejeune\CD2\Odhecaton, Direction Paolo DA COL - Music In Europe At The Time Of The Rnaissance CD2.wav

Peak level 95.9 %
Extraction speed 4.3 X
Range quality 100.0 %
Test CRC 39112468
Copy CRC 39112468
Copy OK

No errors occurred


AccurateRip summary

Track 1 accurately ripped (confidence 13) [758687AF] (AR v2)
Track 2 accurately ripped (confidence 13) [6BD8177C] (AR v2)
Track 3 accurately ripped (confidence 13) [7D0A53BC] (AR v2)
Track 4 accurately ripped (confidence 13) [D2B5D36F] (AR v2)
Track 5 accurately ripped (confidence 13) [91E516F0] (AR v2)
Track 6 accurately ripped (confidence 13) [CDDB673B] (AR v2)
Track 7 accurately ripped (confidence 13) [8ED63D6A] (AR v2)
Track 8 accurately ripped (confidence 13) [F1A15166] (AR v2)
Track 9 accurately ripped (confidence 13) [49C0C8B9] (AR v2)
Track 10 accurately ripped (confidence 13) [B410353F] (AR v2)
Track 11 accurately ripped (confidence 13) [B0BD67B6] (AR v2)
Track 12 accurately ripped (confidence 13) [24EF1A99] (AR v2)
Track 13 accurately ripped (confidence 13) [6F50E3FD] (AR v2)
Track 14 accurately ripped (confidence 13) [76325062] (AR v2)
Track 15 accurately ripped (confidence 13) [F07C27EA] (AR v2)
Track 16 accurately ripped (confidence 13) [0F7B97E8] (AR v2)
Track 17 accurately ripped (confidence 13) [C0BB8574] (AR v2)

All tracks accurately ripped

End of status report

–– CUETools DB Plugin V2.1.6

[CTDB TOCID: 4kPptCBhuo7fpIons5wiOxCeURo-] found
Submit result: already submitted
Track | CTDB Status
1 | (14/14) Accurately ripped
2 | (14/14) Accurately ripped
3 | (14/14) Accurately ripped
4 | (14/14) Accurately ripped
5 | (14/14) Accurately ripped
6 | (14/14) Accurately ripped
7 | (14/14) Accurately ripped
8 | (14/14) Accurately ripped
9 | (14/14) Accurately ripped
10 | (14/14) Accurately ripped
11 | (14/14) Accurately ripped
12 | (14/14) Accurately ripped
13 | (14/14) Accurately ripped
14 | (14/14) Accurately ripped
15 | (14/14) Accurately ripped
16 | (14/14) Accurately ripped
17 | (14/14) Accurately ripped


==== Log checksum C1BBBA8521D8B8380456B768E9B1D18671FB15BA639E682A9ECDE1777AEE60B3 ====


Exact Audio Copy V1.3 from 2. September 2016

EAC extraction logfile from 4. November 2019, 8:01

Le Tourdion / Music In Europe At The Time Of The Renaissance

Used drive : TSSTcorpDVDWBD SE-406AB Adapter: 1 ID: 2

Read mode : Secure
Utilize accurate stream : Yes
Defeat audio cache : Yes
Make use of C2 pointers : No

Read offset correction : 6
Overread into Lead-In and Lead-Out : No
Fill up missing offset samples with silence : Yes
Delete leading and trailing silent blocks : No
Null samples used in CRC calculations : Yes
Used interface : Native Win32 interface for Win NT & 2000

Used output format : User Defined Encoder
Selected bitrate : 1024 kBit/s
Quality : High
Add ID3 tag : No
Command line compressor : C:\Program Files (x86)\Exact Audio Copy\FLAC\FLAC.EXE
Additional command line options : -8 -e -p -V -T "ARTIST=%artist%" -T "TITLE=%title%" -T "ALBUM=%albumtitle%" -T "DATE=%year%" -T "TRACKNUMBER=%tracknr%" -T "GENRE=%genre%" -T "PERFORMER=%albuminterpret%" -T "COMPOSER=%composer%" %haslyrics%–tag-from-file=LYRICS="%lyricsfile%"%haslyrics% -T "ALBUMARTIST=%albumartist%" -T "DISCNUMBER=%cdnumber%" -T "TOTALDISCS=%totalcds%" -T "TOTALTRACKS=%numtracks%" -T "COMMENT=%comment%" %source% -o %dest%


TOC of the extracted CD

Track | Start | Length | Start sector | End sector
––––––––––––––––––––––––––––-
1 | 0:00.00 | 2:42.63 | 0 | 12212
2 | 2:42.63 | 1:17.31 | 12213 | 18018
3 | 4:00.19 | 2:44.12 | 18019 | 30330
4 | 6:44.31 | 3:38.03 | 30331 | 46683
5 | 10:22.34 | 2:16.65 | 46684 | 56948
6 | 12:39.24 | 2:09.26 | 56949 | 66649
7 | 14:48.50 | 1:03.17 | 66650 | 71391
8 | 15:51.67 | 5:14.62 | 71392 | 95003
9 | 21:06.54 | 3:57.19 | 95004 | 112797
10 | 25:03.73 | 4:49.37 | 112798 | 134509
11 | 29:53.35 | 2:22.54 | 134510 | 145213
12 | 32:16.14 | 3:47.40 | 145214 | 162278
13 | 36:03.54 | 1:23.06 | 162279 | 168509
14 | 37:26.60 | 6:44.58 | 168510 | 198867
15 | 44:11.43 | 2:05.08 | 198868 | 208250
16 | 46:16.51 | 3:46.55 | 208251 | 225255
17 | 50:03.31 | 3:43.41 | 225256 | 242021
18 | 53:46.72 | 6:35.39 | 242022 | 271685
19 | 60:22.36 | 1:43.12 | 271686 | 279422
20 | 62:05.48 | 2:59.45 | 279423 | 292892
21 | 65:05.18 | 5:02.33 | 292893 | 315575
22 | 70:07.51 | 4:38.24 | 315576 | 336449
23 | 74:46.00 | 3:28.60 | 336450 | 352109
24 | 78:14.60 | 1:14.07 | 352110 | 357666


Range status and errors

Selected range

Filename K:\Rips\Various - L'Europe Musicale de la Renaissance - Lejeune\CD3\Le Tourdion - Music In Europe At The Time Of The Renaissance CD3.wav

Peak level 93.0 %
Extraction speed 3.6 X
Range quality 100.0 %
Test CRC C000ACDF
Copy CRC C000ACDF
Copy OK

No errors occurred


AccurateRip summary

Track 1 accurately ripped (confidence 13) [BD22A532] (AR v2)
Track 2 accurately ripped (confidence 13) [C5146FF9] (AR v2)
Track 3 accurately ripped (confidence 13) [4A08868F] (AR v2)
Track 4 accurately ripped (confidence 13) [6D75A3EA] (AR v2)
Track 5 accurately ripped (confidence 13) [F39EFDDF] (AR v2)
Track 6 accurately ripped (confidence 13) [8449EE95] (AR v2)
Track 7 accurately ripped (confidence 13) [BF804B10] (AR v2)
Track 8 accurately ripped (confidence 13) [F1E9BCD4] (AR v2)
Track 9 accurately ripped (confidence 13) [A7437449] (AR v2)
Track 10 accurately ripped (confidence 13) [64629FA6] (AR v2)
Track 11 accurately ripped (confidence 13) [EF889F8B] (AR v2)
Track 12 accurately ripped (confidence 13) [4DCA317B] (AR v2)
Track 13 accurately ripped (confidence 13) [F3048737] (AR v2)
Track 14 accurately ripped (confidence 13) [0495EC53] (AR v2)
Track 15 accurately ripped (confidence 13) [2823F66B] (AR v2)
Track 16 accurately ripped (confidence 13) [320B1B01] (AR v2)
Track 17 accurately ripped (confidence 13) [79175701] (AR v2)
Track 18 accurately ripped (confidence 13) [98E3D853] (AR v2)
Track 19 accurately ripped (confidence 13) [B824379F] (AR v2)
Track 20 accurately ripped (confidence 13) [5BA6E784] (AR v2)
Track 21 accurately ripped (confidence 13) [954C7836] (AR v2)
Track 22 accurately ripped (confidence 13) [C27D67C0] (AR v2)
Track 23 accurately ripped (confidence 13) [BB5FCA01] (AR v2)
Track 24 accurately ripped (confidence 13) [08466906] (AR v2)

All tracks accurately ripped

End of status report

–– CUETools DB Plugin V2.1.6

[CTDB TOCID: 9Y831QljGmc6Is_aJlHd1nbhOdw-] found
Submit result: 9Y831QljGmc6Is_aJlHd1nbhOdw- has been confirmed
Track | CTDB Status
1 | (15/15) Accurately ripped
2 | (15/15) Accurately ripped
3 | (15/15) Accurately ripped
4 | (15/15) Accurately ripped
5 | (15/15) Accurately ripped
6 | (15/15) Accurately ripped
7 | (15/15) Accurately ripped
8 | (15/15) Accurately ripped
9 | (15/15) Accurately ripped
10 | (15/15) Accurately ripped
11 | (15/15) Accurately ripped
12 | (15/15) Accurately ripped
13 | (15/15) Accurately ripped
14 | (15/15) Accurately ripped
15 | (15/15) Accurately ripped
16 | (15/15) Accurately ripped
17 | (15/15) Accurately ripped
18 | (15/15) Accurately ripped
19 | (15/15) Accurately ripped
20 | (15/15) Accurately ripped
21 | (15/15) Accurately ripped
22 | (15/15) Accurately ripped
23 | (15/15) Accurately ripped
24 | (15/15) Accurately ripped


==== Log checksum A69A696B6CA6C46EDDF2771D2442A97E4F9EB7C333C7667BC64AB996A8B393CD ====


Exact Audio Copy V1.3 from 2. September 2016

EAC extraction logfile from 4. November 2019, 16:36

Ensemble Clément Janequin / Music In Europe At The Time Of The Renaissance

Used drive : TSSTcorpDVDWBD SE-406AB Adapter: 1 ID: 2

Read mode : Secure
Utilize accurate stream : Yes
Defeat audio cache : Yes
Make use of C2 pointers : No

Read offset correction : 6
Overread into Lead-In and Lead-Out : No
Fill up missing offset samples with silence : Yes
Delete leading and trailing silent blocks : No
Null samples used in CRC calculations : Yes
Used interface : Native Win32 interface for Win NT & 2000

Used output format : User Defined Encoder
Selected bitrate : 1024 kBit/s
Quality : High
Add ID3 tag : No
Command line compressor : C:\Program Files (x86)\Exact Audio Copy\FLAC\FLAC.EXE
Additional command line options : -8 -e -p -V -T "ARTIST=%artist%" -T "TITLE=%title%" -T "ALBUM=%albumtitle%" -T "DATE=%year%" -T "TRACKNUMBER=%tracknr%" -T "GENRE=%genre%" -T "PERFORMER=%albuminterpret%" -T "COMPOSER=%composer%" %haslyrics%–tag-from-file=LYRICS="%lyricsfile%"%haslyrics% -T "ALBUMARTIST=%albumartist%" -T "DISCNUMBER=%cdnumber%" -T "TOTALDISCS=%totalcds%" -T "TOTALTRACKS=%numtracks%" -T "COMMENT=%comment%" %source% -o %dest%


TOC of the extracted CD

Track | Start | Length | Start sector | End sector
––––––––––––––––––––––––––––-
1 | 0:00.00 | 0:50.06 | 0 | 3755
2 | 0:50.06 | 2:07.18 | 3756 | 13298
3 | 2:57.24 | 1:59.45 | 13299 | 22268
4 | 4:56.69 | 6:46.31 | 22269 | 52749
5 | 11:43.25 | 2:12.40 | 52750 | 62689
6 | 13:55.65 | 1:18.16 | 62690 | 68555
7 | 15:14.06 | 2:17.25 | 68556 | 78855
8 | 17:31.31 | 2:22.47 | 78856 | 89552
9 | 19:54.03 | 2:48.03 | 89553 | 102155
10 | 22:42.06 | 2:12.25 | 102156 | 112080
11 | 24:54.31 | 4:24.36 | 112081 | 131916
12 | 29:18.67 | 2:02.33 | 131917 | 141099
13 | 31:21.25 | 5:11.24 | 141100 | 164448
14 | 36:32.49 | 5:10.59 | 164449 | 187757
15 | 41:43.33 | 2:51.73 | 187758 | 200655
16 | 44:35.31 | 1:51.24 | 200656 | 209004
17 | 46:26.55 | 3:04.72 | 209005 | 222876
18 | 49:31.52 | 3:26.56 | 222877 | 238382
19 | 52:58.33 | 1:31.33 | 238383 | 245240
20 | 54:29.66 | 3:00.66 | 245241 | 258806
21 | 57:30.57 | 3:08.62 | 258807 | 272968
22 | 60:39.44 | 4:41.59 | 272969 | 294102
23 | 65:21.28 | 4:05.30 | 294103 | 312507
24 | 69:26.58 | 5:27.45 | 312508 | 337077
25 | 74:54.28 | 4:34.35 | 337078 | 357662


Range status and errors

Selected range

Filename K:\Rips\Various - L'Europe Musicale de la Renaissance - Lejeune\CD4\Ensemble Clément Janequin - Music In Europe At The Time Of The Renaissance CD4.wav

Copy aborted

End of status report

==== Log checksum 4AD6DD6266D2D74062CF6DF47FAE7683EB42A904E6EA129ABBC6AB43DBE0CD55 ====

––––––––––––––––––––––––––––––

Exact Audio Copy V1.3 from 2. September 2016

EAC extraction logfile from 4. November 2019, 18:00

Ensemble Clément Janequin / Music In Europe At The Time Of The Renaissance

Used drive : TSSTcorpDVDWBD SE-406AB Adapter: 1 ID: 2

Read mode : Secure
Utilize accurate stream : Yes
Defeat audio cache : Yes
Make use of C2 pointers : No

Read offset correction : 6
Overread into Lead-In and Lead-Out : No
Fill up missing offset samples with silence : Yes
Delete leading and trailing silent blocks : No
Null samples used in CRC calculations : Yes
Used interface : Native Win32 interface for Win NT & 2000

Used output format : User Defined Encoder
Selected bitrate : 1024 kBit/s
Quality : High
Add ID3 tag : No
Command line compressor : C:\Program Files (x86)\Exact Audio Copy\FLAC\FLAC.EXE
Additional command line options : -8 -e -p -V -T "ARTIST=%artist%" -T "TITLE=%title%" -T "ALBUM=%albumtitle%" -T "DATE=%year%" -T "TRACKNUMBER=%tracknr%" -T "GENRE=%genre%" -T "PERFORMER=%albuminterpret%" -T "COMPOSER=%composer%" %haslyrics%–tag-from-file=LYRICS="%lyricsfile%"%haslyrics% -T "ALBUMARTIST=%albumartist%" -T "DISCNUMBER=%cdnumber%" -T "TOTALDISCS=%totalcds%" -T "TOTALTRACKS=%numtracks%" -T "COMMENT=%comment%" %source% -o %dest%


TOC of the extracted CD

Track | Start | Length | Start sector | End sector
––––––––––––––––––––––––––––-
1 | 0:00.00 | 0:50.06 | 0 | 3755
2 | 0:50.06 | 2:07.18 | 3756 | 13298
3 | 2:57.24 | 1:59.45 | 13299 | 22268
4 | 4:56.69 | 6:46.31 | 22269 | 52749
5 | 11:43.25 | 2:12.40 | 52750 | 62689
6 | 13:55.65 | 1:18.16 | 62690 | 68555
7 | 15:14.06 | 2:17.25 | 68556 | 78855
8 | 17:31.31 | 2:22.47 | 78856 | 89552
9 | 19:54.03 | 2:48.03 | 89553 | 102155
10 | 22:42.06 | 2:12.25 | 102156 | 112080
11 | 24:54.31 | 4:24.36 | 112081 | 131916
12 | 29:18.67 | 2:02.33 | 131917 | 141099
13 | 31:21.25 | 5:11.24 | 141100 | 164448
14 | 36:32.49 | 5:10.59 | 164449 | 187757
15 | 41:43.33 | 2:51.73 | 187758 | 200655
16 | 44:35.31 | 1:51.24 | 200656 | 209004
17 | 46:26.55 | 3:04.72 | 209005 | 222876
18 | 49:31.52 | 3:26.56 | 222877 | 238382
19 | 52:58.33 | 1:31.33 | 238383 | 245240
20 | 54:29.66 | 3:00.66 | 245241 | 258806
21 | 57:30.57 | 3:08.62 | 258807 | 272968
22 | 60:39.44 | 4:41.59 | 272969 | 294102
23 | 65:21.28 | 4:05.30 | 294103 | 312507
24 | 69:26.58 | 5:27.45 | 312508 | 337077
25 | 74:54.28 | 4:34.35 | 337078 | 357662


Range status and errors

Selected range

Filename K:\Rips\Various - L'Europe Musicale de la Renaissance - Lejeune\CD4\Ensemble Clément Janequin - Music In Europe At The Time Of The Renaissance CD4.wav

Peak level 82.5 %
Extraction speed 3.6 X
Range quality 99.9 %
Test CRC 8C2C0006
Copy CRC 8C2C0006
Copy OK

No errors occurred


AccurateRip summary

Track 1 accurately ripped (confidence 9) [A0ED33D6] (AR v2)
Track 2 accurately ripped (confidence 9) [A0382221] (AR v2)
Track 3 accurately ripped (confidence 9) [AD959FD5] (AR v2)
Track 4 accurately ripped (confidence 9) [4CE35690] (AR v2)
Track 5 accurately ripped (confidence 9) [E3400158] (AR v2)
Track 6 accurately ripped (confidence 9) [6C7A6E1B] (AR v2)
Track 7 accurately ripped (confidence 9) [26FA3076] (AR v2)
Track 8 accurately ripped (confidence 9) [5A25D022] (AR v2)
Track 9 accurately ripped (confidence 9) [60A23A5C] (AR v2)
Track 10 accurately ripped (confidence 9) [05B08342] (AR v2)
Track 11 accurately ripped (confidence 9) [CF6FB06D] (AR v2)
Track 12 accurately ripped (confidence 9) [81A40E9E] (AR v2)
Track 13 accurately ripped (confidence 9) [73043F2F] (AR v2)
Track 14 accurately ripped (confidence 9) [17E944D1] (AR v2)
Track 15 accurately ripped (confidence 9) [662934BF] (AR v2)
Track 16 accurately ripped (confidence 9) [B9EC9EBB] (AR v2)
Track 17 accurately ripped (confidence 9) [E2090CEA] (AR v2)
Track 18 accurately ripped (confidence 9) [5D9F1894] (AR v2)
Track 19 accurately ripped (confidence 9) [4E3EF92C] (AR v2)
Track 20 accurately ripped (confidence 9) [34446369] (AR v2)
Track 21 accurately ripped (confidence 9) [E977FFE0] (AR v2)
Track 22 accurately ripped (confidence 9) [81CCBA02] (AR v2)
Track 23 accurately ripped (confidence 9) [E879A637] (AR v2)
Track 24 accurately ripped (confidence 9) [01AFB5A1] (AR v2)
Track 25 accurately ripped (confidence 9) [47CB273F] (AR v2)

All tracks accurately ripped

End of status report

–– CUETools DB Plugin V2.1.6

[CTDB TOCID: OkQAb.6EJCruO_ViZoU5n9RpjTk-] found
Submit result: OkQAb.6EJCruO_ViZoU5n9RpjTk- has been confirmed
Track | CTDB Status
1 | (15/15) Accurately ripped
2 | (15/15) Accurately ripped
3 | (15/15) Accurately ripped
4 | (15/15) Accurately ripped
5 | (15/15) Accurately ripped
6 | (15/15) Accurately ripped
7 | (15/15) Accurately ripped
8 | (15/15) Accurately ripped
9 | (15/15) Accurately ripped
10 | (15/15) Accurately ripped
11 | (15/15) Accurately ripped
12 | (15/15) Accurately ripped
13 | (15/15) Accurately ripped
14 | (15/15) Accurately ripped
15 | (15/15) Accurately ripped
16 | (15/15) Accurately ripped
17 | (15/15) Accurately ripped
18 | (15/15) Accurately ripped
19 | (15/15) Accurately ripped
20 | (15/15) Accurately ripped
21 | (15/15) Accurately ripped
22 | (15/15) Accurately ripped
23 | (15/15) Accurately ripped
24 | (15/15) Accurately ripped
25 | (15/15) Accurately ripped


==== Log checksum F609D03D38DB6AD1A3C6E55A8873C8546F383451F8BB426A01869FB9082031F9 ====


Exact Audio Copy V1.3 from 2. September 2016

EAC extraction logfile from 4. November 2019, 20:28

Capilla Flamenca / Music In Europe At The Time Of The Renaissance

Used drive : TSSTcorpDVDWBD SE-406AB Adapter: 1 ID: 2

Read mode : Secure
Utilize accurate stream : Yes
Defeat audio cache : Yes
Make use of C2 pointers : No

Read offset correction : 6
Overread into Lead-In and Lead-Out : No
Fill up missing offset samples with silence : Yes
Delete leading and trailing silent blocks : No
Null samples used in CRC calculations : Yes
Used interface : Native Win32 interface for Win NT & 2000

Used output format : User Defined Encoder
Selected bitrate : 1024 kBit/s
Quality : High
Add ID3 tag : No
Command line compressor : C:\Program Files (x86)\Exact Audio Copy\FLAC\FLAC.EXE
Additional command line options : -8 -e -p -V -T "ARTIST=%artist%" -T "TITLE=%title%" -T "ALBUM=%albumtitle%" -T "DATE=%year%" -T "TRACKNUMBER=%tracknr%" -T "GENRE=%genre%" -T "PERFORMER=%albuminterpret%" -T "COMPOSER=%composer%" %haslyrics%–tag-from-file=LYRICS="%lyricsfile%"%haslyrics% -T "ALBUMARTIST=%albumartist%" -T "DISCNUMBER=%cdnumber%" -T "TOTALDISCS=%totalcds%" -T "TOTALTRACKS=%numtracks%" -T "COMMENT=%comment%" %source% -o %dest%


TOC of the extracted CD

Track | Start | Length | Start sector | End sector
––––––––––––––––––––––––––––-
1 | 0:00.00 | 4:37.16 | 0 | 20790
2 | 4:37.16 | 8:41.57 | 20791 | 59922
3 | 13:18.73 | 1:48.61 | 59923 | 68083
4 | 15:07.59 | 1:13.32 | 68084 | 73590
5 | 16:21.16 | 2:51.33 | 73591 | 86448
6 | 19:12.49 | 2:55.25 | 86449 | 99598
7 | 22:07.74 | 2:52.27 | 99599 | 112525
8 | 25:00.26 | 1:35.34 | 112526 | 119684
9 | 26:35.60 | 4:23.68 | 119685 | 139477
10 | 30:59.53 | 5:41.06 | 139478 | 165058
11 | 36:40.59 | 3:56.42 | 165059 | 182800
12 | 40:37.26 | 1:29.57 | 182801 | 189532
13 | 42:07.08 | 3:46.35 | 189533 | 206517
14 | 45:53.43 | 5:10.18 | 206518 | 229785
15 | 51:03.61 | 8:36.37 | 229786 | 268522
16 | 59:40.23 | 2:52.47 | 268523 | 281469
17 | 62:32.70 | 3:07.18 | 281470 | 295512
18 | 65:40.13 | 3:20.28 | 295513 | 310540
19 | 69:00.41 | 2:46.56 | 310541 | 323046
20 | 71:47.22 | 1:50.23 | 323047 | 331319
21 | 73:37.45 | 5:17.62 | 331320 | 355156


Range status and errors

Selected range

Filename K:\Rips\Various - L'Europe Musicale de la Renaissance - Lejeune\CD4\Capilla Flamenca - Music In Europe At The Time Of The Renaissance CD5.wav

Peak level 67.3 %
Extraction speed 2.3 X
Range quality 100.0 %
Test CRC 165F3451
Copy CRC 165F3451
Copy OK

No errors occurred


AccurateRip summary

Track 1 accurately ripped (confidence 13) [69BE02DF] (AR v2)
Track 2 accurately ripped (confidence 13) [D6268264] (AR v2)
Track 3 accurately ripped (confidence 13) [0E07E6AE] (AR v2)
Track 4 accurately ripped (confidence 13) [0A433A2C] (AR v2)
Track 5 accurately ripped (confidence 13) [53D4DF5D] (AR v2)
Track 6 accurately ripped (confidence 13) [B7C12DE0] (AR v2)
Track 7 accurately ripped (confidence 13) [1026B941] (AR v2)
Track 8 accurately ripped (confidence 13) [985AE162] (AR v2)
Track 9 accurately ripped (confidence 13) [A3553322] (AR v2)
Track 10 accurately ripped (confidence 13) [6D8002EA] (AR v2)
Track 11 accurately ripped (confidence 13) [3368ECA4] (AR v2)
Track 12 accurately ripped (confidence 13) [2AAC2FD5] (AR v2)
Track 13 accurately ripped (confidence 13) [067B6D4A] (AR v2)
Track 14 accurately ripped (confidence 13) [5D196BC6] (AR v2)
Track 15 accurately ripped (confidence 13) [9907BEF8] (AR v2)
Track 16 accurately ripped (confidence 13) [D467AA30] (AR v2)
Track 17 accurately ripped (confidence 13) [3ECDBBD2] (AR v2)
Track 18 accurately ripped (confidence 13) [8F0E126D] (AR v2)
Track 19 accurately ripped (confidence 13) [1094EFDE] (AR v2)
Track 20 accurately ripped (confidence 13) [99C6F240] (AR v2)
Track 21 accurately ripped (confidence 13) [55CBD080] (AR v2)

All tracks accurately ripped

End of status report

–– CUETools DB Plugin V2.1.6

[CTDB TOCID: RNc7AwC3DP6xvNOCOsJkBMFJM4s-] found
Submit result: RNc7AwC3DP6xvNOCOsJkBMFJM4s- has been confirmed
Track | CTDB Status
1 | (11/11) Accurately ripped
2 | (11/11) Accurately ripped
3 | (11/11) Accurately ripped
4 | (11/11) Accurately ripped
5 | (11/11) Accurately ripped
6 | (11/11) Accurately ripped
7 | (11/11) Accurately ripped
8 | (11/11) Accurately ripped
9 | (11/11) Accurately ripped
10 | (11/11) Accurately ripped
11 | (11/11) Accurately ripped
12 | (11/11) Accurately ripped
13 | (11/11) Accurately ripped
14 | (11/11) Accurately ripped
15 | (11/11) Accurately ripped
16 | (11/11) Accurately ripped
17 | (11/11) Accurately ripped
18 | (11/11) Accurately ripped
19 | (11/11) Accurately ripped
20 | (11/11) Accurately ripped
21 | (11/11) Accurately ripped


==== Log checksum 56F5499F9F183E6BB3E8362F694BC1D8F57D6C90A953ED0828F6E17434F084E2 ====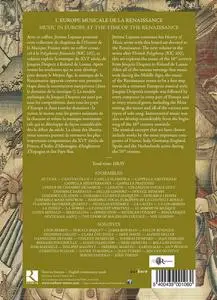 Thanks to the original releaser